Separating winning quarterbacks from just good ones
He's Got It
By Ivan Maisel, ESPN.com
Jeremiah Masoli won't win any national awards this season. A slow start and a midseason knee injury proved too much for the Oregon quarterback to overcome.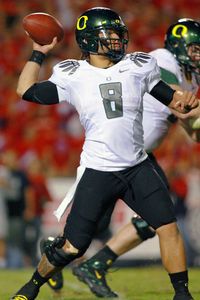 Chris Morrison-US PRESSWIRE
Jeremiah Masoli turned up his performance to another level late in the game.
Even if Masoli had begun the season without a mental or physical hiccup, his greatest gift can't be seen with a cursory look at his statistics. To appreciate Masoli, you have to watch him play the way he played Saturday night at Arizona.
After Masoli led the Ducks back from a 10-point, fourth-quarter deficit to win 44-41 in double overtime, Oregon coach Chip Kelly called Masoli "unflappable."
The ability not to flap can separate good quarterbacks from winning ones. Not flapping may come from experience or talent or temperament or some combination thereof. Look at the guys who flapped Saturday.
All season long, Stanford redshirt freshman Andrew Luck played much older than his experience. He helped lead the Cardinal to Rose Bowl contention. In the last two minutes, with Stanford trailing archrival Cal by six points, 34-28, Luck drove the Cardinal to the Bears' 13. There, on second-and-10, Luck flapped. He underthrew a pass into the middle of the field right into the hands of Cal linebacker Mike Mohamed. Game, set, Axe.
Michigan freshman quarterback Tate Forcier fumbled once in his own end zone, giving Ohio State a touchdown. With the Wolverines trailing 21-10 in the fourth quarter, Forcier threw two interceptions deep in Buckeyes territory.
Georgia freshman tailback Washaun Ealey fumbled the ball at the Kentucky 1 with 2:21 to play and the Bulldogs going in for the tying touchdown. When the Georgia defense got the ball back near midfield with about 2:00 to play, senior Joe Cox threw his second interception of the quarter.
Freshman, freshman, freshman, senior and ninth-year head coach. LSU's Les Miles was caught unprepared when a Hail Mary pass left the Tigers on the Ole Miss 6 with :01 on the clock and no timeouts. The field goal team is still looking for its helmets.
By comparison, read again what Arizona defensive coordinator Mark Stoops said about Masoli. "The plays he made in critical situations are remarkable," Stoops said in Ted Miller's blog.
Past tense shifted to present. A day later, Masoli's plays remain remarkable, especially -- as Stoops pointed out -- because of when Masoli made them. In the first three quarters, Masoli completed 11 of 22 passes for 137 yards and one touchdown. He also rushed 10 times for 40 yards and a touchdown. In three quarters the Ducks scored 14 points.
In the fourth quarter and two overtimes, Masoli completed 15 of 25 passes for 147 yards and two touchdowns. He rushed six times for 21 yards and two touchdowns. The Ducks scored 30 points.
Masoli scored twice as many points in half the time. He didn't flap. Two years ago, Oregon took its Rose Bowl hopes to Arizona and watched them fragment when quarterback Dennis Dixon was lost to a torn ACL. Last night, Oregon left Tucson with its Rose Bowl hopes intact, thanks in no small part to the cool of Jeremiah Masoli.
Mangino Still Focused
By Mark Schlabach, ESPN.com
AUSTIN, Texas -- Kansas coach Mark Mangino's coaching methods are being scrutinized, and his once-promising career might very well be in danger.
But even after No. 3 Texas handed the Jayhawks their sixth straight defeat in a 51-20 rout at Darrell K Royal-Texas Memorial Stadium on Saturday night, Mangino defended the way he coaches his players and built his program.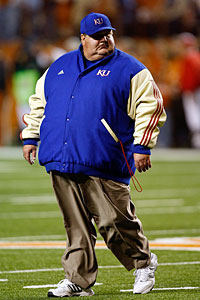 Ronald Martinez/Getty Images
Despite being under fire, Mark Mangino says he focused on the games at hand.
"Football for me is fun," Mangino said. "The coaching, watching tape and being on the practice field is something that we love to do."
Earlier this week, Kansas athletic director Lew Perkins announced the school had launched an internal investigation into charges that Mangino physically and verbally abused players. Starting linebacker Arist Wright alleged Mangino poked him in the chest during a recent practice.
Mangino said the allegations did not affect his team's preparations for the Longhorns. Kansas is 5-6 overall and has to beat rival Missouri in Kansas City on Saturday to be eligible for a postseason bowl game.
"This is a very prideful bunch of kids, maybe that's the best way to describe them," Mangino said. "They have tremendous pride. Distracted? No. Let me tell you what's on my mind. This week, it was Texas. As soon as I walk out of this room, Missouri."
Perkins hasn't said exactly how long the school's internal investigation will take to complete. If Kansas fires Mangino without cause, it would owe him more than $6 million to buy out the rest of his contract.
The school renewed Mangino's contract before the 2008 season, after he led the Jayhawks to a 12-1 record and the school's first victory in a BCS bowl game in 2007.
Mangino, who has a 50-47 record in eight seasons at Kansas, said he's trying to keep things in perspective.
"Let me tell you something that's really important that's on my mind: I have a player, D.J. Marshall, who's in Tulsa, Oklahoma, in a cancer center," Mangino said. "He just started his chemotherapy this week. That's called a bad week. I've had a great week."
Close One For Huskies
By Brian Bennett, ESPN.com
SOUTH BEND, Ind. -- No one on the Connecticut sidelines could avoid the feeling. Another painful loss was coming.
After the Huskies had two potential winning touchdown runs by Andre Dixon called back by holding penalties and missed a field goal at the end of regulation at Notre Dame, the déjà vu became inescapable. This team, after all, had lost five games by a total of 15 points this year, including three straight heartbreakers since the death of teammate Jasper Howard.
"It starts to feel like those other games," Dixon said. "Those thoughts pop into your head."
Even coach Randy Edsall, who's been so strong through the ordeals of a most trying season, said he couldn't help thinking "Here we go again" once Dave Teggart's missed 37-yarder sent the game to overtime against the Irish.
UConn had to draw strength from somewhere, and it did so behind its strength. The running game, a staple since Edsall took over this program, overpowered Notre Dame in the second half and in overtime as the Huskies won 33-30 in two extra periods.
To read the rest of Brian Bennett's story, click here.
Gritty Defense Leads Nebraska
By Tim Griffin, ESPN.com
LINCOLN, Neb. -- Larry Asante arrived on the field Saturday blinking away tears as he prepared for his final home game.
As he left the field, the Nebraska senior safety again was dabbing at his eyes.
But after a big performance in the Cornhuskers' 17-3 North Division-clinching victory, Asante was trying to get rid of the remnants of a postgame Gatorade shower he and Nebraska coach Bo Pelini got along the sidelines.
"He was giving me a hug, telling me how much he loved me and how far along I'd come as a player," Asante said, chuckling at the memory. "Then out of nowhere, I got dumped. But I didn't get mad. It was joyous. I was happy."
So were the Cornhuskers, who rode a gritty defensive effort into the Dec. 5 Big 12 championship game for the first time since 2006.
"We want to be known as a hard-hitting, hard-nosed defense," defensive tackle Ndamukong Suh said. "One where everybody is making tackles and making things happen."
Asante keyed a stellar defensive performance by Nebraska which limited the Wildcats to a field goal on their first drive and no more scoring after that. It was the 10th time in 11 games that a Nebraska opponent has scored 17 points or less, including the Cornhuskers' past five opponents.
To read the rest of Tim Griffin's story, click here.
Change Is Here
By David Bearman, ESPN Stats & Information
In August, the Oklahoma Sooners had designs on a return trip to the BCS title game and a possible revenge matchup with Florida. The Notre Dame Fighting Irish looked at the schedule and had their own designs on a 10-win season and a BCS bowl. Three months later, the results couldn't be more different than the predictions.
Injuries hit early and often for the Sooners, starting with TE Jermaine Gresham before the first game and then Heisman Trophy-winning QB Sam Bradford in the season-opening loss to BYU. Three losses to ranked teams by a combined five points with a backup QB playing most of the time is hardly a reason for concern. However, the past two losses raised red flags. Oklahoma was held to three points against Nebraska, failing to score a TD for the first time since 1998. And on Saturday, the Sooners allowed 549 yards in losing by 28 to Texas Tech. The Red Raiders had never beaten Oklahoma by more than 10 points before Saturday.
Most Losses in Year After Losing in BCS Title Game (since 1998)
| | |
| --- | --- |
| Team | W-L |
| '02 Nebraska | 7-7 |
| '09 Oklahoma | 6-5 |
| '05 Oklahoma | 8-4 |
| '01 Florida State | 8-4 |
Oklahoma's five losses are now the second most for a team that lost in the BCS title game the year before (since 1998's first BCS title game). Only Nebraska in 2002 had more, finishing at 7-7, but it was highly controversial that Nebraska even made the title game in 2001 after failing to win its only division, not to mention conference.
In South Bend, the Irish's 4-1 start did nothing to stop the BCS bowl predictions. However, a deeper look at the first half of the Notre Dame season showed the potential for the second-half collapse. Two wins were by three points, and one was in OT. The lone loss was to Michigan, which just finished the season 1-7 in the Big Ten. The Irish defense, even with a shutout, was allowing close to 24 points per game and 140 rushing yards per game.
Irish First Five Games
| | |
| --- | --- |
| W-L | 4-1 |
| PPG Allowed | 23.8 |
| Rush YPG Allowed | 139.6 |
The close wins and poor defense have caught up with Notre Dame, which is 2-4 since, including the current three-game losing skid. The Irish have allowed 24.5 points per game and 177.5 rushing yards per game during the six games, including an astounding 257.3 rushing yards per game in losses to Navy, Pittsburgh and Connecticut. Was this the last home game for Charlie Weis? Here are the numbers athletic director Jack Swarbrick might be looking at:
• 20 losses over the past three seasons, the most in a three-year span in Notre Dame history
• The Irish record under Weis is 35-26 (.574), a worse win percentage than his predecessors, Tyrone Willingham and Bob Davie
• Two losses in the past three years to Navy after the Irish had won 43 consecutive games versus the Midshipmen
• 16-22 over the past 38 games
Three Weekend Observations
By Ivan Maisel, ESPN.com

1.
It is interesting that Alabama and Florida could be the first two SEC teams to ever go 8-0 in regular-season league play. But it may be as much a reflection on the mediocrity of the rest of the league as it is on the Gators and the Crimson Tide. If Mississippi State beats Ole Miss and Arkansas beats LSU, none of the other 10 SEC teams will finish better than 4-4 in league play.

Dalton
2.
The Davey O'Brien Award announces its finalists Monday, not soon enough for the 15 semifinalists. Since that announcement last month, Cincinnati's
Tony Pike
, Oklahoma State's
Zac Robinson
and Iowa's
Ricky Stanzi
got hurt.
Matt Barkley
of USC,
Jacory Harris
of Miami and
Jake Locker
of Washington cooled off. Meanwhile, top quarterbacks
Jeremiah Masoli
of Oregon,
Andrew Luck
of Stanford and
Andy Dalton
of TCU aren't on the list because of slow starts.

3.
Before the Pac-10's best spewed points from all over the field Saturday night, the best offense yesterday may have been the North Carolina defense. The Tar Heels scored two defensive touchdowns for the second straight week and lead the ACC in turnovers gained with 28. That's the critical stat this week as Carolina prepares to play rival North Carolina State. Last year, the Heels committed six turnovers and forced none in a 41-10 loss to the Wolfpack.
GameDay Crew Recap
GameDay Crew Final Thoughts
RECE DAVIS

Masoli
Oregon's
Jeremiah Masoli
is just a gamer. He doesn't always look pretty throwing the ball. He's not the prototypical quarterback, but he makes winning plays when it matters. As the kids say, he's a baller. Now the Ducks can host their archrival for a spot in the Rose Bowl on the strength of his arm and his legs.
Helmet stickers go to:
• QB
Levi Brown
, Troy
27-36, 477 passing yards, 3 TDs in 47-21 win vs. Florida Atlantic
• QB
Jeremiah Masoli
, Oregon
345 total yards, 6 total TDs in 44-41 (2OT) win at Arizona
---
LOU HOLTZ

Kafka
There were a lot of great games Saturday that didn't look so great on paper. Most people expected Oregon-Arizona to be a thriller, but UConn-Notre Dame and Maryland-Florida State were both very exciting. As we look forward, we really get into the rivalry games. These are the games that you have to live with for an entire year and beyond, and sometimes it can make or break a season.
Helmet stickers go to:
• QB
Mike Kafka
, Northwestern
26-40, 326 passing yards, 2 TDs in 33-31 win vs. Wisconsin
• RB
Shane Vereen
, California
42 rushes, 193 yards, 3 TDs in 34-28 win at Stanford
---
MARK MAY

The top three teams looked impressive once again, dominating in the fashion that each team was expected to do. However, you have to look at the other side at Oklahoma and Georgia. These are two teams that were in the top 15 in the preseason AP poll, and both of them now sit at 6-5. The Sooners have struggled mightily on offense with
Sam Bradford
going out, and Georgia has struggled all season, especially on defense. Also, a big congratulations is in order for UConn. That's a signature win for that program, and I'm sure it means a lot to finally pull one out after so many close losses.
Helmet stickers go to:
• RB
Jordan Todman
/
Andre Dixon
, Connecticut
46 rushes, 244 yards, 3 total TDs in 33-30 (2OT) win at Notre Dame
• LB Doug Hogue, Syracuse
7 tackles, 6.5 TFL, 3.5 sacks in 31-13 win vs. Rutgers
Highlights: Oregon-Arizona
Blog Network: What We Learned

Boston College's offense hasn't made enough progress against better defenses.
ACC

Revenge was sweet for the Red Raiders, and Kansas State was bitten by its weak nonconference schedule.
Big 12

UConn is going bowling, and Syracuse is determined to make Rutgers a rivalry.
Big East

Mike Kafka and Joey Elliott should gain All-Big Ten consideration, and the Iowa-Penn State debate is on.
Big Ten

After a frenzy of a race, the smoke has cleared and two teams are still standing.
Pac-10

Ole Miss seems to be getting hot at just the right time for the second straight season.
SEC

Non-AQ:
For those who thought Boise State could skate through its conference schedule to another WAC title, think again.
Around the nation
Highlights: Cal-Stanford
Blog Network: Helmet Stickers
Every week our bloggers will hand out helmet stickers to the week's top players, coaches, teams or anything else worth this honor.
Highlights: UConn-Notre Dame