Rivalry Week breathes new life into this season
Thank Goodness For Rivalry Week
By Ivan Maisel, ESPN.com
In case anyone needed a reminder, this is why rivalries are the foundation of college football. Six ranked teams were upset by their bitterest enemies, and a fresh breeze washed over the land.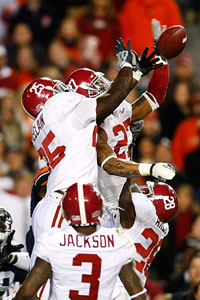 Kevin C. Cox/Getty Images
Alabama needed to wait until Auburn's Hail Mary hit the ground in the final seconds before the Tide could breathe easily against the Tigers.
Before this weekend, the upset had become as rare as a banker with money to lend. This season has been a 180-degree spin from the chaos of 2007, when the teams at the top of the polls looked as steady as a first-day snowboarder.
This season has been the story of how the mighty have not fallen. When the polls come out Sunday, we will have had the same top five teams for the fourth consecutive week. That's as long as some presidential terms (well, one, anyway: William Henry Harrison). November began with seven undefeated teams and ends with six. But Thanksgiving week, aka Rivalry Week, chipped away at the foundation on which this season has been built. At the top of the polls, only No. 1 Florida trounced an in-state rival. The Gators' 37-10 defeat of Florida State is a welcome sign heading into the SEC championship game. It should be noted that Florida played at home. No. 2 Alabama and No. 3 Texas escaped road games with their records intact, if not their reputations. The Crimson Tide trailed unranked Auburn for 45:50 on Friday, which is about 12 minutes more than Alabama had trailed its 11 previous opponents combined. Alabama didn't take the lead until 1:24 remained in its 26-21 victory, and still had to knock down a Hail Mary pass. The Longhorns trailed unranked Texas A&M for 10:02 on Thursday night, and didn't put the 49-39 victory away until the Aggies' Randy Bullock missed a 23-yard field goal with 3:05 to play. At least Texas and Alabama survived, which is more than No. 7 Georgia Tech, No. 9 Pittsburgh, No. 12 Oklahoma State, No. 18 Clemson, No. 24 North Carolina and No. 25 Ole Miss can say. The most shocking loss came at Norman. The Cowboys, standing on the brink of their first BCS bid, responded by playing their worst game of the season, a 27-0 loss to Oklahoma. If Sooners coach Bob Stoops tires of speculation about him and Notre Dame, he can relish the choice of any elective office in Idaho. Where the BCS is concerned, Oklahoma State's loss is No. 6 Boise State's gain. Georgia Tech and Clemson, the ACC division champions, lost to Georgia and South Carolina, respectively. The Dawgs and Gamecocks, residing in the middle of the SEC East, settled any argument the ACC may have thought of making about its national status. It is a cliché to say that beating an archrival, especially a favored one, is the definition of a successful season. At the very least, Georgia coach Mark Richt reminded Bulldogs fans why they once loved him. In college football's Bill of Rights, Article I is bragging rights.
Sound Of Silence
By Gene Wojciechowski, ESPN.com
STANFORD, Calif. -- Charlie Weis and his boss, Notre Dame athletic director Jack Swarbrick, boarded the same Delta team charter from San Francisco to South Bend on Saturday night.
Weis left the Bay Area with his 27th and, undoubtedly, final loss as the Irish's head coach. Swarbrick left with a decision (pause for laughter) to make.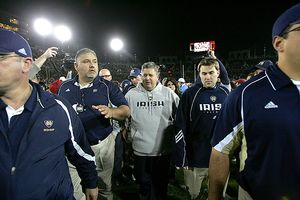 Ezra Shaw/Getty Images
Charlie Weis avoided the media following Notre Dame's loss to Stanford.
After the Irish's 45-38 loss to Stanford -- their fourth consecutive defeat to end a disastrous 6-6 season -- there can be no doubt of Weis' fate. The official announcement of his dismissal could come as early as Sunday, probably no later than Monday.
If so, Weis' 62-game Irish coaching career ended with his sneaking out a side door of the Stanford Stadium visitors locker room and into one of the four team buses waiting at the top of a steep stairway. Five years earlier, in his introductory news conference, he had been so full of bluster and football proclamations. Now, silence. "He just declined," a Notre Dame spokesperson said of Weis' decision to stiff the media. "No reason given." Weis did conduct an interview with WNDU sports director Jeff Jeffers inside the double doors of Notre Dame's locker room. Those comments were later distributed in the press box. "There's a bunch of 22-, 23-year-old young men right there finishing out their career losing the last four games," Weis told Jeffers. "They feel miserable, and I feel miserable for them." Weis wouldn't talk to reporters, but his players did. Quarterback Jimmy Clausen, who will explore leaving Notre Dame early for the NFL, took a seat in a makeshift interview tent and spoke glowingly of his coach. "Like I've told you all many times, the reason why I stepped on campus was because of Coach Weis," said Clausen, whose left eye was still black and blue from a punch he took in a bar last weekend. "To be honest, I wouldn't be here right now if it wasn't for him." And wide receiver Golden Tate, his eyes reddened by tears, said of Weis: "It hurts because [of] the thought that that might be the last time he coaches me. That might be the last time he's coaching for Notre Dame." This loss was like so many others in 2009: Clausen threw for huge numbers (23-of-30 for 340 yards and five touchdowns), Tate was uncoverable (10 catches, 201 yards, three touchdowns), yet the defense was, well, defenseless.
To read the rest of Gene Wojciechowski's story, click here.
Generosity Of Spirit Separates Tebow
By Pat Forde, ESPN.com
GAINESVILLE, Fla. -- As the most impactful player in college football history made his way around the edge of Florida Field for the last time, the poignancy of the moment was etched on thousands of faces.
The little girl in tears, saying, "Timmy, I love you." She got a hug. The little boy with special needs who comes to practices got a hug, too. Women from ages 12 to 60 screamed with delight after Tebow touched their hands (some of the younger ones simply burst out crying). Men shouted their thanks. Some rubbed his head; some smacked his shoulder pads. Thousands of fans of all ages and colors paid tribute by mimicking his trademark eye black, the wife and daughters of the head coach among them.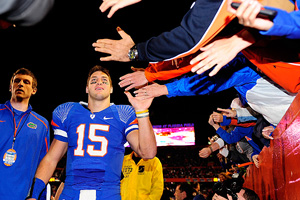 Sam Greenwood/Getty Images
Love him or hate him, Tim Tebow will go down as one of the most impactful players in college football history.
There were even a few seconds of slapstick, when he accidentally stepped on the ankle of a Florida cheerleader and sent her sprawling to the turf. She got a helping hand up from No. 15 and an apologetic embrace -- and a story to tell for decades to come.
As usual, so many people wanted something from Tim Tebow. As usual, he enthusiastically gave it. He gave them the customary heroic performance during the game: 221 yards passing and three touchdowns; 90 yards rushing and two more scores. Once again, he was the driving force in a dominant 37-10 Florida victory over its fading rival, Florida State. Then he gave them more when it was over, as his traditional postgame lap to commune with the fans turned into an eight-minute lovefest of startling intensity. Emotion fermenting for four years turned into a vintage outpouring. The record crowd of 90,907 wasn't leaving before throwing a goodbye party fit for a folk hero. We can vigorously debate Tebow's place in college football history as a player. What's not up for debate is his unparalleled ability to provoke the deepest of feelings in fans of the sport. He said afterward that he wants the fans to remember him for "how much I cared." The fact is, fans have never cared so much about a player before.
To read the rest of Pat Forde's story, click here.
Bowden Left To Contemplate His Future
By Mark Schlabach, ESPN.com
GAINESVILLE, Fla. -- More than 90,000 fans packed Florida's Ben Hill Griffin Stadium on Saturday to celebrate the career of one of college football's greatest players.
Florida quarterback Tim Tebow -- who helped the Gators win BCS national championships in 2006 and '08 and has them in position to win another title this season -- was playing his final home game at The Swamp. But as Florida fans celebrated the 2007 Heisman Trophy winner, an equally extraordinary career might have been ending on the opposite sideline. Florida State coach Bobby Bowden -- who, with 388 career victories, trails only Penn State's Joe Paterno as the sport's all-time winningest coach -- seems to be weighing whether his career will end after this season, too. After saying for weeks that he intended to return to the FSU sideline in 2010, Bowden doesn't seem sure his 34-year tenure with the Seminoles will extend beyond his team's upcoming bowl game. "Yeah, I want to coach next year," Bowden said, when asked whether he intended to return to the sideline in 2010. "But let me say I need to go home and do some soul-searching." It's the first time Bowden has hinted that he's considering immediate retirement. In the past, Bowden always said he'd leave Florida State on his own terms and wouldn't be forced out the door. But Bowden, who turned 80 last month, also always said he'd come back only if the Seminoles were winning. Florida State hasn't won much at all recently. After winning 10 games or more every season from 1987 to 2000, the Seminoles have won 10 games only once in the past nine seasons. FSU's 37-10 loss to the No. 1-ranked Gators on Saturday night left the Noles with a 6-6 record, the third time in the past four seasons they've lost six games.
The Seminoles' sixth straight loss to the Gators might have finally been the breaking point for Bowden.
In fact, it might have showed him how far his program has fallen behind programs such as Florida. "There's not much you can say about that ballgame," Bowden said. "It was a pretty good whipping."
To read the rest of Mark Schlabach's story, click here.
Tide Display Iron Will In Comeback Win
By Ivan Maisel, ESPN.com
AUBURN, Ala. -- Lord knows, Nick Saban tries. The Alabama coach never claimed to be a poet of the podium. When he speaks to the media, he edits as he goes, interrupting his own rhythm, his thoughts doing to him what his defenses do to opposing quarterbacks.
The emotion that burst forth from the coach of the No. 2 Crimson Tide on Friday after their 26-21 comeback over Auburn hit some heartfelt notes, if not always in the right order. "I've never probably been prouder of a football team than I am proud of our guys in this game," Saban said. "The character we showed, and the adversity we showed, to overcome the adversity we overcame in the game, on the road, getting behind, I don't think you can say enough about the competitive character this team showed today, and that's what I'm most proud of." But to his team? That's another story. Saban speaks with all the comfort of broken-in loafers. This is what he said to the Crimson Tide after the game: "Only the strong survive," Saban said. "But the strong still get their ass whipped." Alabama finished great but did not play well. That's what archrivals can do to you, no matter your ranking. Texas A&M drew from that well Thursday night against No. 3 Texas. For more than 51 minutes Friday, in front of a roaring crowd of 87,451 at Jordan-Hare Stadium, that's exactly what Auburn did, too.
To read the rest of Ivan Maisel's story, click here.
Three Weekend Observations
By Ivan Maisel, ESPN.com

1.
Of all the signs that Florida State has fallen -- and there are many -- the jaw-dropper happened Saturday, when Florida coach Urban Meyer's team, leading 24-0 with 53 seconds to play in the first half, took a knee twice at the Florida 28 rather than trying to add another touchdown. Meyer rarely takes the trouble to conceal his hunger for the opponent's throat. That gesture, whether out of respect, compassion or caution, captured the state of Bobby Bowden and the Seminoles.
2.
Whether or not the Pac-10 is the best conference, it is becoming the chippiest. Two weeks after Stanford coach Jim Harbaugh taunted USC by going for two points with a 48-21 lead, USC coach Pete Carroll responded to a UCLA timeout with 52 seconds to play and the Trojans leading 21-7 by allowing Matt Barkley to throw a 48-yard touchdown pass. Bruins coach Rick Neuheisel took the high road after the game. There hasn't been a whole lot of traffic on it lately.

McCoy
3.
The play of the top Heisman contenders this week will reveal as much about the criteria of the individual voters as it does the players. Do you place more value on play at the end of the season? Colt McCoy and Tim Tebow hope so. Consistent All-American play? Toby Gerhart's your guy. Allow for one bad game no matter when or why? Mark Ingram still has a shot.
Weis Era Nearing End
GameDay Crew Final Thoughts
RECE DAVIS

Gerhart
People say this has been a nondescript season in terms of having any memorable upset. But when you have a memorable upset, sometimes it means the best team doesn't necessarily play in the national championship. Florida, Alabama and Texas are still alive, and they look like the three best teams as of right now. If the season stays true to form, we'll have a great championship game in Pasadena, Calif.
Helmet stickers go to:
• RB
Toby Gerhart
, Stanford
29 rushes, 205 yards, 4 total TDs in 45-38 win vs. Notre Dame
• RBs
Washaun Ealey
and
Caleb King
, Georgia
Combined for 38 rushes, 349 yards, 2 TDs in 30-24 win at Georgia Tech
---
LOU HOLTZ

Spencer
You could tell it was rivalry weekend. The emotion was higher. The hits were harder, and it was definitely more intense. The emotion also caused some big upsets. Rivalry games can be as important as an entire season for some teams, and because of that, teams will play their hearts out. That's why I love rivalry week.
Helmet stickers go to:
• WR
Owen Spencer
, NC State
4 receptions, 130 yards, 2 TDs in 28-27 win vs. North Carolina
• DE C.J. Wilson, East Carolina
3 tackles, blocked PAT returned for 2 points in 25-20 win vs. Southern Miss
---
MARK MAY

Tebow
Tim Tebow played well in his last regular-season game and, as expected, went out with a bang. It's rare for a highly rated recruit to actually exceed expectations, and he did that. Whether or not he wins another Heisman Trophy or national championship, he will still go out as one of the greatest winners in the history of the game. As for Notre Dame, if I'm Jack Swarbrick, my top three coaching candidates would be Tony Dungy, Kirk Ferentz and Bob Stoops. Swarbrick must hire a coach with credentials and charisma, and somebody who has
won big games
. I don't think Brian Kelly will get the job. He's politicked harder than Barack Obama to get it, but I don't think he'd be a good fit there.
Helmet stickers go to:
• QB
Tim Tebow
, Florida
311 total yards, 5 total TDs in 37-10 win vs. Florida State
• QB
Colt McCoy
, Texas
479 total yards, 5 total TDs in 49-39 win at Texas A&M
Herbstreit on Bowden's Future At FSU
Blog Network: What We Learned

The ACC's best isn't good enough to beat the SEC's average.
ACC

Texas' struggling defensive performance at Texas A&M has to be a cause of concern.
Big 12

Suddenly, the Pitt-Cincinnati game doesn't glimmer quite so brightly.
Big East

The Big Ten should once again send multiple teams to BCS bowls.
Big Ten

Toby Gerhart's Heisman Trophy candidacy is legit.
Pac-10

Alabama's Greg McElroy hadn't had to win a game in the fourth quarter … until Friday.
SEC

Non-AQ:
TCU made school history with a 12-0 regular-season record and the Horned Frogs' first BCS bowl berth.
Around the nation
Tebow's Final Game At The Swamp
Blog Network: Helmet Stickers
Every week our bloggers will hand out helmet stickers to the week's top players, coaches, teams or anything else worth this honor.
Sidelines Clear At USC-UCLA