Title hopes take a tumble for several teams
Dreams Come Crashing Down
By Mark Schlabach, ESPN.com
The first Saturday of October introduced a more definitive pecking order to college football.
Alabama, Florida and Texas still seem to be the teams to beat in the race for the BCS national championship, and one-loss teams such as Virginia Tech, Ohio State and USC have positioned themselves in case two (or three) of those undefeated teams fall.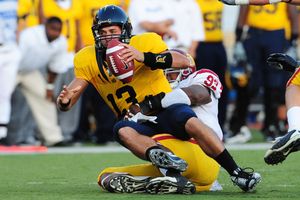 Kyle Terada-US PRESSWIRE
Cal went from No. 8 in the country to unranked in two short weeks.
But the first Saturday of October also ended the BCS championship hopes of several teams, including California, Houston, Michigan and Oklahoma. A couple of other traditional powers, including Florida State, also saw their seasons take a turn for the worse.
Just two weeks ago, after Washington upset USC 16-13 in Seattle on Sept. 19, California suddenly looked like the Pac-10's best BCS championship contender. The Bears had Jahvid Best, perhaps the best tailback in the country, and quarterback Kevin Riley was playing better than ever before.
During the past two weeks, though, California has seldom looked worse. The Bears were routed at Oregon 42-3 on Sept. 26 and then lost to USC 30-3 at home Saturday. A team that once seemed like a BCS national title contender is 0-2 in Pac-10 play.
"I have confidence in these guys," Cal coach Jeff Tedford told reporters after Saturday night's loss to the Trojans. "There is a lot of football left to be played. There is no way in the world that we are folding our tent. I don't believe that about this team."
Defending Big 12 champion Oklahoma probably isn't ready to fold its tent yet, even though its chances of winning a BCS championship vanished after its 21-20 loss at Miami on Saturday night. The Sooners lost reigning Heisman Trophy winner Sam Bradford during their opening 14-13 loss to BYU on Sept. 5, and he still hasn't returned from a right shoulder injury.
The Sooners also have played without star tight end Jermaine Gresham, who will miss the entire season with a knee injury, and leading receiver Ryan Broyles suffered a shoulder injury against the Hurricanes that might sideline him for more than a month.
The good news for the Sooners? They're still 0-0 in Big 12 play, and Bradford might be coming back soon. They play Baylor at home Saturday and No. 2 Texas in Dallas on Oct. 17.
"I'm not going to sit here and accept it," Stoops told reporters in Miami on Saturday night. "I understand that it makes things more challenging and different. As I told the team, we're not going to sit here and say that's why we can't win. In the end, we've got to be able to overcome injuries, regardless of who they are."
Houston isn't looking for excuses, either. The Cougars can only blame themselves after they were blasted by UTEP 58-41 on Saturday night. Houston, which had grand visions of a BCS bowl game after upsetting then-No. 5 Oklahoma State and Texas Tech, allowed 581 yards of offense Saturday, including 305 rushing.
Michigan, which seemed so improved from last season's 3-9 debacle, didn't even win its state title. The Wolverines lost to rival Michigan State 26-20 in OT, after the Spartans lost three of their first four games. Michigan doesn't have much time to regroup either, with a road trip to No. 12 Iowa looming Saturday.
But perhaps no team lost more Saturday than Florida State. Since blasting then-No. 7 BYU 54-28 on Sept. 19, the Seminoles haven't won since. They lost at Boston College 28-21 on Saturday, dropping their record to 2-3 for the first time since 1976, which was Bobby Bowden's first season at FSU. The Seminoles also are 0-2 in ACC play for the first time since joining the league in 1992.
After the loss to Boston College, even the iconic Bowden sounded like he wondered if the end of his legendary coaching career was near.
"What would I gain by stepping down right now?" Bowden asked reporters. "What would you do? Fire everybody and bring in a whole new coaching staff? You can't do that, you know? I'll evaluate myself. I'll wait until the end of the year."
Wild Tigers
By Chris Low, ESPN.com
ATHENS, Ga. -- The sweat was still thick on Charles Scott's brow Saturday evening when he ignited the official countdown to The Game.
LSU hadn't even had time to celebrate its thrilling 20-13 victory over Georgia when the subject invariably turned to next week.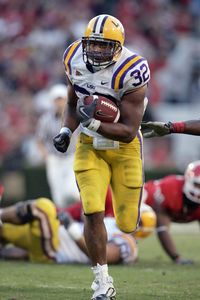 Todd Kirkland/Icon SMI
LSU RB Charles Scott helped the Tigers run away from Georgia.
The Florida Gators.
"We'll feel great for another hour or so and then we'll start thinking about Florida," said Scott, whose 33-yard touchdown run with 46 seconds to play won it for the Tigers.
It was another skin-of-their-teeth win for the Tigers, who have pretty much experienced this all this season.
They've gone all the way across the country to face Washington in the opener in a game that was closer than anyone expected at the time. They played just well enough to win the next week at home against Vanderbilt and then came up with a goal-line stand for the ages last week to escape at Mississippi State.
They head back home to Tiger Stadium to face the No. 1-ranked Gators after coming alive offensively in the final three minutes against Georgia.
"My heart can't take too many more of these," LSU coach Les Miles joked.
Something says he'd probably better get used to it, because the SEC race is shaping up as a wild one.
To read the rest of Chris Low's story, click here.
Moving In Fast Forward
By Ted Miller, ESPN.com
BERKELEY, Calif. -- The Matt Barkley Experience is moving forward. It's not taking baby steps. That sells his rapid maturation short. But as prodigies go, USC's touted true freshman quarterback is not yet blowing anyone's mind.
His performance in USC's methodical 30-3 demolition of California suggested he and the Trojans aren't going away quietly in 2009, either in the Pac-10 or, perhaps, in the national race.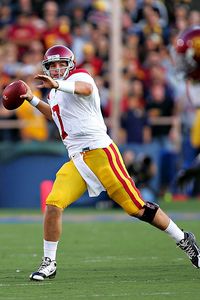 Ezra Shaw/Getty Images
Quarterback Matt Barkley looked good in USC's pounding of Cal.
Barkley completed 20 of 35 passes for 283 yards against Cal. He tossed an interception, which was basically him just launching a ball skyward and hoping his gleaming smile might guide it to somebody in the right jersey. That experiment failed.
He was good enough to win, though, and even better than that at times.
"He is playing as good of football as anybody we have ever had, already," coach Pete Carroll said.
Holy Carson Palmer, Matt Leinart and Mark Sanchez -- that's high praise!
The No. 7 Trojans piled up 457 yards but only scored two offensive touchdowns. Jordan Congdon was called on to boot three field goals of under 30 yards when the offensive sputtered in the red zone.
No worries.
"If our defense is playing like that, then we don't need a whole lot of offense," Barkley noted.
To read the rest of Ted Miller's story, click here.
Golden In Victory
By Brian Bennett, ESPN.com
SOUTH BEND, Ind. -- On the first play of overtime, Notre Dame receiver Golden Tate caught a 22-yard pass and tried to leap into the end zone. He flipped upside down before landing at the 3-yard line.
"He jumped from like the 7-yard line," quarterback Jimmy Clausen said, using some hyperbole. "He thought he was Superman."
At times it was hard to distinguish Tate from a superhero in the Irish's 37-30 overtime win over Washington. The junior wide receiver piled up 275 total yards, including 244 receiving yards, second-most in Notre Dame history.
Tate did all this despite being the Irish's sole wide receiver threat since Michael Floyd's broken collarbone against Michigan State. Late last year when Floyd went down, defenses doubled up on Tate, and the Notre Dame passing offense came to a halt. All Tate knew to counter that was run a go route. Not now.
"This year, I expect to get rolled up on," he said. "So I practice as if I'm going to have Cover 2 on me. And I have other routes that can I beat them with."
To read the rest of Brian Bennett's story, click here.
Lucky Or Good?
By David Bearman, ESPN Stats & Information
Fourth-ranked LSU has been battle-tested in the past two weeks, barely pulling out wins over Mississippi State and Georgia. Two weeks ago, it took a fourth-down goal-line stand to slip by Mississippi State at home. This week, the Tigers had to put up two TDs in the last 3 minutes to emerge from Athens unscathed. Will their luck hold next week against top-ranked, reigning national champion Florida?
Tale Of The Tape, Since 2000
| | | |
| --- | --- | --- |
| | Florida | LSU |
| BCS Titles | 2 | 2 |
| SEC Titles | 3 | 3 |
| Head-To-Head Wins | 5 | 4 |
Each team will enter the game undefeated. Florida and LSU have combined to win the past three national titles. For the second straight season, the Gators and the Tigers face each other as the past two BCS champs. Before last year's showdown (which was No. 4 LSU versus No. 11 Florida), the last time the previous two national champions had met was 1990 ('88 Notre Dame versus '89 Miami).
LSU and Florida have been dominant in recent years, going a combined 95-20 since Les Miles and Urban Meyer took over their respective programs in 2005. Between them, the schools have 13 appearances in SEC title games, but oddly, they have never faced each other there. However, they have played each other in the regular season every year since 1971.
Next week's game could potentially have big implications: It could eliminate a championship contender, or it could foreshadow a rematch in the SEC title game that could send a team to the BCS title game in Pasadena.
Three Weekend Observations
By Ivan Maisel, ESPN.com

Pike
1.
Cincinnati quarterback
Tony Pike
's dark-horse Heisman campaign may be limited by a rarely seen problem: He can't get on the field. For the second consecutive week, the Bearcats' time of possession didn't climb out of the teens. Cincinnati is last in the Big East with an average TOP under 24 minutes. Pike is averaging 299 passing yards per game and has thrown 13 touchdown passes. He gives a whole new meaning to the phrase "passing efficiency."

2.
We know two things about Notre Dame: (1) the Irish can win a close game, and (2) they took good notes on USC's victory at Notre Dame Stadium in 2005. Did you see the scrum that crossed the goal line with Irish fullback
Robert Hughes
in the middle of it? Guard Chris Stewart pulled the pile from the goal-line side, while center Eric Olsen shoved it forward from the rear. Reggie Bush himself couldn't have Bush-Pushed Hughes over the goal line any better.

Bowden
3.
It's beginning to look as if it won't matter whether the NCAA allows Florida State and Bobby Bowden to keep those 14 vacated victories or not. In five weeks, Bowden has fallen from one victory behind Joe Paterno of Penn State to three behind, 387-384. If you assume Bowden won't coach past 2010, that leaves him three back with 21 to play. No one's calculating a magic number just yet, but the race isn't turning into much of a race.
GameDay Crew Recap
GameDay Crew Final Thoughts
RECE DAVIS

There are certain teams like Auburn, Stanford, Wisconsin and Missouri that are doing well but are flying under the radar. The next step is finding out how they handle attention. Houston had some great wins against Oklahoma State and Texas Tech but couldn't handle the attention and lost at UTEP.
Helmet Stickers Go To:
• S Taylor Mays, USC
10 tackles, INT in 30-3 win at California
• RB
Donald Buckram
, UTEP
32 rushes, 262 rush yards, 4 TDs in 58-41 win vs. Houston
---
LOU HOLTZ

Another week and another batch of great games with some surprises. Some teams' dreams were dashed Saturday. Michigan suffered its first loss, and Houston's BCS chances are likely done. Meanwhile, teams like USC and Notre Dame keep their BCS dreams alive. From week to week, there will be great excitement and great disappointment.
Helmet Stickers Go To:
• WR
Golden Tate
, Notre Dame
9 rec, 244 rec yards, TD in 37-30 (OT) win vs. Washington
• LB Demetrius Hartsfield, Maryland
10 tackles, 2.5 TFL, sack, FF, fumble recovery in 24-21 win vs. Clemson
---
MARK MAY

I was really impressed with LSU. Once again, they found a way to finish in a hostile environment on the road. Now the showdown is set with Florida next week. The Tigers have been dominant at home, especially at night. Florida better be ready to play. I'd also like to mention the job Robb Akey has done at Idaho. The Vandals are now 4-1 for the first time since returning to the FBS level in 1996.
Helmet Stickers Go To:
• RB
John Clay
, Wisconsin
32 rushes, 184 rush yards, 3 TDs in 31-28 win at Minnesota
• RB
Montel Harris
, Boston College
25 rushes, 179 rush yards, 2 TDs in 28-21 win vs. Florida State
Highlights: Oklahoma-Miami
Blog Network: What We Learned

Miami is a top-10 team, and Boston College showed you're never too old to play quarterback.
ACC

Texas A&M's defense is improved, but still untested. Meanwhile, Mike Leach's decision was an inexplicable gamble.
Big 12

South Florida is back in the national picture, but Pitt has a major defensive crisis.
Big East

Iowa is for real. Wisconsin QB Scott Tolzien is also for real. And Tressel ball still works.
Big Ten

Oregon might get the last laugh, and Arizona and Washington State found their QBs of the future.
Pac-10

A month into the season, the pecking order in the SEC is starting to take shape. And at this point, it's hard to argue that Alabama isn't tops.
SEC

Non-AQ:
Houston is out, and that leaves just two teams to be the BCS busters.
Around the nation
Highlights: LSU-Georgia
Blog Network: Helmet Stickers
Every week our bloggers will hand out helmet stickers to the week's top players, coaches, teams or anything else worth this honor.
Highlights: Michigan-Michigan State