25 Reasons To Be Excited About The Upcoming Season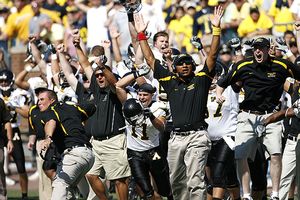 Leon Halip/Getty Images
Appalachian State pulled off the upset of the season last year. Could more follow this season?
The 2008 college football season begins Thursday, followed by a Labor Day weekend chock-full of big games and potential upsets.
Grab your TV remote and hug your spouse and children goodbye. Over the next four months, the college football season figures to be as unpredictable and exciting as a year ago, when several teams temporarily took residence at the top of the polls. In the end, LSU was left standing at No. 1.
More than anything else, just be happy college football season is finally here.
1. The 2008 season might be as unpredictable as 2007.
The early-season schedule offers a smorgasbord of potential upsets: Alabama over Clemson. Utah over Michigan. East Carolina over Virginia Tech. Appalachian State at LSU. And that's just the beginning.
2. The Big 12 has better quarterbacks than the NFC North.
The Big 12 has four legitimate Heisman Trophy candidates playing under center: Oklahoma's Sam Bradford, Texas Tech's Graham Harrell, Missouri's Chase Daniel and Kansas' Todd Reesing.
3. A Harvard man is leading the defending national champions.
With former starter Ryan Perrilloux playing at Division I-AA Jacksonville (Ala.) State, Harvard transfer Andrew Hatch takes the reins of LSU's offense. At least we know the Tigers' team IQ will be higher.
4. Paul Johnson's offense will work in the ACC.
Johnson has better players and more athletes at Georgia Tech to run his triple-option spread offense. And he finally has a defense to keep opponents out of the end zone.
5. West Virginia fans will forget about Rich Rodriguez.
With quarterback Pat White and tailback Noel Devine returning to West Virginia, new coach Bill Stewart is poised to lead the Mountaineers to a Big East championship.
6. Georgia's defense will lead the way.
Quarterback Matthew Stafford and tailback Knowshon Moreno are Heisman Trophy candidates and garner most of the attention, but Georgia's defense -- the fastest it has ever put on the field -- will lead it to an SEC championship.
7. Notre Dame won't stink.
Whether you love them or hate them, it's hard to argue college football isn't better when the Fighting Irish are winning. With 16 starters returning, Charlie Weis will lead Notre Dame to a bowl game in 2008.
8. It's all about revenge in the SEC.
Florida wants to beat Georgia because the Bulldogs danced in the end zone last year. Arkansas wants to beat Ole Miss because Houston Nutt coaches there. LSU wants to beat Alabama because Nick Saban is there.
9. Ohio State plays a meaningful game before January.
The Buckeyes will either silence their critics or further fuel their doubters when they play at Southern California on Sept. 13. A victory over the Trojans will probably punch Ohio State's ticket to the Jan. 8 BCS Championship Game.
10. They're playing football on Tobacco Road.
Wake Forest will contend for an ACC championship because the Demon Deacons have one of the best coaches in the country. So will North Carolina, which will be much improved in coach Butch Davis' second season.
11. Mike Leach will raid your ship.
With Harrell and record-setting receiver Michael Crabtree coming back, Texas Tech is poised to shake up the Big 12 South. Leach finally has a defense to defend his own ship, too.
12. Tim Tebow won't slow down.
The Gators want their Heisman Trophy-winning quarterback to run the football less often. But Tebow will still be lowering his shoulder and leveling safeties and linebackers whenever he can.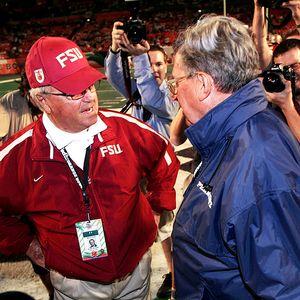 Al Bello/Getty Images
Bobby Bowden and Joe Paterno could go out on winning notes.
13. Joe Paterno and Bobby Bowden will be winners again.
The Nittany Lions are good enough to finish second or third in the Big Ten. Florida State can win eight or nine games in a pretty mediocre ACC. Each coach can retire while he's still near the top.
14. Matadors don't wear black shirts.
After allowing 30 points or more in eight games in 2007, including a whopping 76 in a loss to Kansas, Nebraska's defense will have more bite under new coach Bo Pelini.
15. Clemson will be a rock.
With quarterback Cullen Harper, tailbacks James Davis and C.J. Spiller and receiver Aaron Kelly leading one of the country's best offenses, Clemson is too good to screw it up this time.
16. The Trojans have competition.
Winning a seventh consecutive Pac-10 championship won't be as easy for USC. The Trojans have to replace a boatload of players, and Arizona State, California, Oregon and Oregon State will offer competitive games.
17. The Big East will be a great race.
West Virginia is the preseason favorite, at least on paper, but South Florida, Rutgers and Pittsburgh are each capable of spoiling the Mountaineers' dream season.
18. All eyes are on Utah.
The state is home to two teams capable of crashing the BCS: Utah and BYU. The Utes and Cougars meet at Rice-Eccles Stadium on Nov. 22.
19. SMU football matters again.
The program that was devastated by the NCAA's death penalty finally has hope with former Hawaii coach June Jones walking the sideline. It won't be long before the Mustangs are scoring points in bunches.
20. Fresno State will shock somebody.
The Bulldogs have three chances to beat teams from BCS conferences: at Rutgers on Monday, versus Wisconsin on Sept. 13 and at UCLA on Sept. 27. Fresno State is good enough to win at least one of those games -- and maybe all three.
21. The best quarterback in Indiana plays at Ball State.
The Cardinals are absolutely loaded on offense with quarterback Nate Davis and receiver Dante Love. David Letterman has never been prouder of his alma mater.
22. Temple will finish the season with a winning record.
And you thought rebuilding Rutgers was hard. Al Golden is close to doing the unimaginable at Temple after finishing 4-8 last season. There's a reason other coaches call him the "Golden Boy."
23. Receivers are the rage.
Missouri's Jeremy Maclin. Texas Tech's Crabtree. Florida's Percy Harvin. Rutgers' Kenny Britt. Illinois' Arrelious Benn. Fast receivers are the rage in college football.
24. Old school still rules in the Big Ten.
Illinois, Purdue and Michigan are trying to revolutionize the way football is played in the Midwest, but Ohio State and Wisconsin are still the Big Ten's best by playing "three yards and a cloud of dust."
25. The Big 12 North rises again.
After being dominated by Oklahoma and Texas for years, Missouri and Kansas are good enough to win the Big 12. Colorado will be much improved, too.


Five Guys You'll Know By Labor Day
1. DE Da'Quan Bowers, Clemson
The Tigers freshman might make Alabama quarterback
John Parker Wilson
's opening Saturday night a painful one.
2. WR A.J. Green, Georgia
The freshman receiver might be the deep threat the Bulldogs desperately need on offense. Georgia fans will get their first glimpse of Green in Saturday's game against Division I-AA Georgia Southern at Sanford Stadium.

Rainey
3. RB Chris Rainey, Florida
With
Percy Harvin
still nursing a sore foot, the freshman tailback becomes Florida's biggest weapon (other than
Tim Tebow
) against Hawaii on Saturday.
4. QB Terrelle Pryor, Ohio State
Buckeyes coach Jim Tressel probably won't wait long to unveil his Pryor package in Saturday's game against Division I-AA Youngstown State.
5. WR Julio Jones, Alabama
Jones is the most talented player among nearly a dozen Crimson Tide freshmen who will see the field against Clemson on Saturday night.
Five Guys On The Spot On Saturday
1. QB Peter Lalich, Virginia
The sophomore makes his first college start Saturday against Southern Cal's ferocious defense.
2. QB Nick Sheridan, Michigan
The homegrown former walk-on might make his first start Saturday in Michigan's new spread offense against Utah.
3. QB Kevin Riley, California
Bears coach Jeff Tedford picked the sophomore over incumbent
Nate Longshore
, and Riley needs to play well Saturday night against Michigan State.

Smith
4. QB Rusty Smith, Florida Atlantic
Owls coach Howard Schnellenberger called Texas soft. The Longhorns will make sure Smith knows they aren't in Saturday's game in Austin.
5. RB Daniel Dufrene, Illinois
The junior replaces Rashard Mendenhall, who led the Big Ten with 1,681 rushing yards in 2007, starting with Saturday night's game against Missouri.
Five Things You Might Hear This Week

Edwards
1. "Man, I wish that guy was our quarterback."
LSU coach Les Miles as he watches Appalachian State's
Armanti Edwards
at Tiger Stadium.
2. "What in the hell was that?"
South Carolina coach Steve Spurrier to his son, Steve Spurrier Jr., the Gamecocks' new offensive coordinator.
3. "Only 11 more to go."
Syracuse fans watching the Orange lose to Northwestern on Saturday at Ryan Field in Evanston, Ill.
4. "Boy, I wish we were playing Alabama."
Louisiana-Monroe coach Charlie Weatherbie, whose Warhawks open the season Saturday at Auburn.
5. "Take me home, country roads."
Rodriguez, the former West Virginia coach, who opens his Michigan tenure Saturday against upstart Utah at Michigan Stadium.
Five Openers That Matter
1. Missouri vs. Illinois (ESPN, Saturday, 8:30 p.m. ET)
Saturday's game at Edward Jones Dome in St. Louis might go a long way in determining whether the Tigers are BCS championship contenders -- and if the Illini will contend for a Big Ten title.
2. Clemson vs. Alabama (ABC, Saturday, 8 p.m. ET)
Saturday night's game in Atlanta's Georgia Dome is a major test for the Tigers, who are seeking their first ACC championship since 1991.
3. Fresno State at Rutgers (ESPN, Monday, 4 p.m. ET)
Who would have imagined that Monday's game at Rutgers Stadium might have BCS implications?

Dantonio
4. Michigan State at California (ABC, Saturday, 8 p.m. ET)
The Spartans are hoping to build on Mark Dantonio's first season; the Bears are hoping to recover from last season's late collapse.
5. Tennessee at UCLA (ABC, Monday, 8 p.m. ET)
The Volunteers unveil their new offense Monday night in Los Angeles, where the Rick Neuheisel era officially begins for the Bruins.
Five Potential Upsets

1. Utah over Michigan
The Wolverines opened the 2007 season by losing to Division I-AA Appalachian State 34-32 at Michigan Stadium. The Utes are more than capable of beating them in the Big House.
2. East Carolina over Virginia Tech
The Pirates must replace star running back Chris Johnson. The Hokies must replace a lot more playmakers, including tailback Branden Ore, their entire receiver corps and star linebackers Vince Hall and Xavier Adibi.
3. Miami (Ohio) over Vanderbilt
OK, so it's not much of an upset. But the Commodores make a rare trip to Yager Stadium, where the RedHawks have their sights set on winning the MAC East.
4. Northern Illinois over Minnesota
The Gophers, who lost to Bowling Green, Florida Atlantic and North Dakota State last season, are still vulnerable in Tim Brewster's second season.
5. Memphis over Ole Miss
Can the improved Tigers spoil Houston Nutt's debut in Oxford, Miss.?
Five Comeback Players To Watch
1. DE Lawrence Wilson, Ohio State
The junior broke his leg in the 2007 opener and missed the rest of the season. The Buckeyes are counting on Wilson to replace top pass rusher Vernon Gholston.

2. WR Sammie Stroughter, Oregon State
Stroughter led the Pac-10 in receiving yards in 2006, but he battled depression and then a lacerated kidney last season. Stroughter adds another dimension to the OSU offense.

3. S Demetrice Morley, Tennessee
Morley spent last season at a community college because of poor academics, but worked his way back to Tennessee. He teams with sophomore Eric Berry to form the best safety tandem in the country.

4. LB Brian Toal, Boston College
The senior sat out the 2007 season to rehabilitate an injured shoulder. He came back stronger and faster, and Eagles coach Jeff Jagodzinski plans on using Toal on both offense and defense.

5. WR Artrell Woods, Oklahoma State
After suffering a severe back injury last season while weightlifting, Woods will be in the mix to help replace the production of the departed Adarius Bowman.