Under The Microscope
Southern California quarterback Mark Sanchez is coming off the best game of his young career. Ohio State quarterback Todd Boeckman is coming off one of his worst games in a career that has seemingly lasted forever.
So which team has the edge going into Saturday night's showdown between No. 1 USC and No. 5 Ohio State at the Coliseum (ABC, 8 p.m. ET)?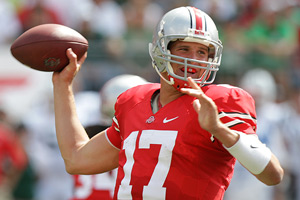 AP Photo/Jay LaPrete
Todd Boeckman is 13-2 as a starter for Ohio State.
"We'll have to play better than we did this game, that's for sure," Buckeyes coach Jim Tressel said after his team narrowly escaped with a 26-14 win over Ohio on Saturday. "I think everyone knows [USC] is a great football team, but the key to the game for us will be us."
The key for the Buckeyes might be Boeckman, especially if All-American running back Chris "Beanie" Wells remains sidelined with a right toe injury. Wells, who ran for 1,609 yards last season, didn't play against Ohio after injuring his toe in a 43-0 win over FCS opponent Youngstown State on Aug. 30.
Wells is expected to return against the Trojans, but his status remained largely uncertain as the Buckeyes began preparations for USC.
Ohio State couldn't have been happy looking in the mirror on Sunday morning. Playing without Wells, the Buckeyes managed only 272 yards of offense against the Bobcats. Ohio State trailed for much of the game, before finally taking a 19-14 lead on Brandon Saine's 2-yard touchdown run one minute into the fourth quarter.
Boeckman, who completed 14 of 19 passes for 187 yards with two touchdowns against Youngstown State, struggled mightily against Ohio. He completed 16 of 26 passes for 110 yards, averaging only 4.2 yards per attempt. Boeckman was under pressure for much of the game, as his offensive line struggled to block the seemingly overmatched Ohio defensive linemen.
But Boeckman delivered when Ohio State needed it most, completing five of six passes during two second-half touchdown drives.
"Offensively, we need to get a lot better," Boeckman said after the Ohio game. "We did some things out there we're not very proud of. We made some mistakes. We've got to go out there play harder, faster, stronger and just do everything a little bit better."

I think everyone knows [USC] is a great football team, but the key to the game for us will be us.
--Ohio State coach Jim Tressel
The USC game offers Boeckman a chance for redemption. Boeckman waited four years to become Ohio State's starting quarterback. After leading the Buckeyes to an 11-1 record during the regular season in 2007, he was largely ineffective in a 38-24 loss to LSU in the BCS Championship Game.
Boeckman completed 15 of 26 passes for 208 yards with two interceptions against LSU. He was sacked five times, but threw two touchdowns after the Tigers had taken a 31-10 lead.
In his sixth season in Ohio State's program, Boeckman hopes it's finally his time to shine.
"I'm going on six years," Boeckman said. "It's been awhile."
Boeckman has played much of his career in an underdog role. Tressel said Boeckman was given a scholarship only after quarterback Brady Quinn chose Notre Dame over Ohio State in 2003. Boeckman was gray shirted during his freshman season in 2003, joining the Buckeyes for preseason camp and then leaving the team when classes started that fall. He rejoined the Buckeyes in January 2004 and spent the next three seasons behind 2006 Heisman Trophy winner Troy Smith.
It only seems as if Boeckman has been at Ohio State for a decade, Tressel joked.
"I think Ohio State is very important to him and he's going to lay it out on the line for Ohio State," Tressel said. "He did it when he was 18 and he's doing it when he's 35."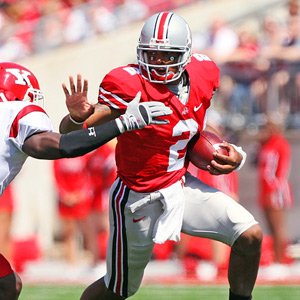 Jamie Sabau/Getty Images
Will Terrelle Pryor be a factor on Saturday against USC?
Ohio State freshman
Terrelle Pryor
won't have to wait as long to play in a big game for the Buckeyes. Pryor, who was widely considered the country's top quarterback prospect, will probably take the field at some point against USC. He didn't play much against Ohio, getting a three-and-out series in the first half. Pryor didn't re-enter the game until the outcome was decided with about three minutes left in the fourth quarter.
Pryor threw two incomplete passes and ran five times for 37 yards against the Bobcats. His college debut against Youngstown State was more impressive. He completed four of six passes for 35 yards and ran nine times for 52 yards and one touchdown.
Tressel wanted to test Pryor under fire on Saturday. The coach said he wanted to put Pryor into the Ohio game when the Buckeyes were leading 19-14 with about six minutes to play. But Ray Small returned a punt 69 yards for a touchdown, keeping the Buckeyes' offense off the field.
"I felt like we were going to get the ball near midfield," Tressel said. "I said to [offensive coordinator Jim Bollman], 'Why don't we have Terrelle see if he could take this?' Coach Bolls says, 'You sure you want to put him under pressure like that?' I said, 'When would you like his first pressure to be?'"
Sanchez, a junior from Mission Viejo, Calif., already has faced pressure at USC. He started three times during the 2007 season after senior John David Booty broke a finger. Sanchez beat Arizona 20-13 in his first start, then threw four touchdowns in a 38-0 victory over Notre Dame.
At Oregon on Oct. 27, Sanchez nearly led the Trojans to a come-from-behind victory. But Sanchez threw an interception at the Ducks' 15-yard line with only nine seconds left in a 24-17 loss. Booty returned to the lineup the following week, and Sanchez spent much of the offseason remembering his mistake against the Ducks.

The difference between Mark's ability to run our offense and the other kids is obvious.
--USC coach Pete Carroll on Mark Sanchez
Sanchez was finally given the keys to USC's offense this season. But his first season as the Trojans' full-time starter was nearly derailed during preseason camp. On Aug. 8, Sanchez dislocated his left knee cap during practice.
"I felt like I had played very well in the first few days of camp and then my knee goes out," Sanchez said. "Getting injured really made me take a step back and think about what I wanted this season to be."
Sanchez returned to practice 17 days after injuring his knee and had less than a week to prepare for the Aug. 30 opener at Virginia. He played brilliantly against the Cavaliers, completing 26 of 35 passes for 338 yards with three touchdowns and one interception.
The Trojans were so impressive they jumped Georgia and Ohio State for the No. 1 ranking in each of college football's major polls.
"It's really a testament to a great running game, and the receivers making some big-time catches, bailing me out on the sideline quite a few times," Sanchez said. "Then, there's the offensive line. When you get that kind of time, you should be able to make the right decisions."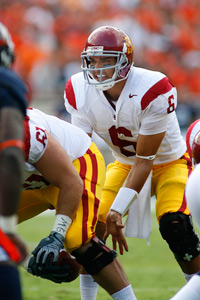 Geoff Burke-US PRESSWIRE
Mark Sanchez shined in his season debut against Virginia.
Sanchez doesn't figure to have as much time to throw against the Ohio State defense, which is led by All-American linebacker James Laurinaitis and cornerback Malcolm Jenkins. Nine starters returned from a unit that led the country in total defense and pass defense last season.
The Buckeyes didn't allow a touchdown pass in their first two games this year and rank second in total defense, allowing only 164 yards per game.
USC offensive coordinator Steve Sarkisian said he was encouraged by what he saw from Sanchez in the opener.
"We did a lot of things right," Sarkisian said. "We really wanted to get Mark into a rhythm early in that game and he responded very well. He's got such a great grasp of what we want him to do and he's playing with a lot of confidence."
Sanchez is playing much better than his backups, making his health perhaps the Trojans' biggest concern this season. When Sanchez was sidelined during preseason camp, Arkansas transfer Mitch Mustain and freshman Aaron Corp struggled in his absence.
"The difference between Mark's ability to run our offense and the other kids is obvious," Trojans coach Pete Carroll said. "He's just that much farther along and he's so much more experienced in the system. The tempo's so much faster. It makes such a difference. He calls plays impeccably and gets the guys out of the huddle so much faster. It really helps everything, especially the line."
On Saturday, there will be plenty on the line for the quarterbacks of both teams.
On The Mark: Top offensive performers

Brown
1. Donald Brown, RB, Connecticut
The Huskies needed all of Brown's 214 rushing yards at Temple. He scored the winning touchdown in the 12-9 overtime victory.
2. Jahvid Best, RB, California
Is it too soon to call Best a dark-horse candidate for the Heisman Trophy? He ran for an 80-yard touchdown on his first carry in Saturday's 66-3 win at Washington State, then scored on an 86-yard run on his second carry of the second half.
3. David Johnson, QB, Tulsa
The senior threw for six touchdowns and ran for a score in a 56-26 win at North Texas. In two games, Johnson has completed 78.9 percent of his passes with nine touchdowns and no interceptions.
4. Todd Reesing, QB, Kansas
The junior was nearly flawless in a 29-0 victory over Louisiana Tech on Saturday, completing 32 of 38 passes for 412 yards with three touchdowns.
5. Dez Bryant, WR, Oklahoma State
The sophomore had nine catches for 236 yards and three touchdowns in a 56-37 victory over Houston. He also scored on a 71-yard punt return.

Royster
6. Evan Royster, RB, Penn State
Joe Paterno has to feel better about his running game after Royster ran for 141 yards and three touchdowns in a 45-14 rout of Oregon State.
7. Sam Bradford, QB, Oklahoma
The sophomore might be the best quarterback in the Big 12. He threw for 395 yards and five touchdowns on 29-for-38 passing in a 52-26 blowout of Cincinnati.
8. Knowshon Moreno, RB, Georgia
Now the Bulldogs sophomore leaps defenders in a single bound. Moreno ran for 168 yards and three touchdowns in a 56-17 rout of Central Michigan. He has six touchdowns in two games.
9. Juice Williams, QB, Illinois
After nearly beating Missouri with his arm, Williams ran for 174 yards and two touchdowns in a 47-21 victory over Eastern Illinois. It is the highest rushing total in a game by an Illini quarterback.
10. Matt Grothe, QB, South Florida
Grothe completed 23 of 40 passes for 346 yards with three touchdowns, including the game winner in overtime, in a 31-24 victory over Central Florida.
Off The Mark: Struggling players
1. Army
Coach Stan Brock apologized to everyone from the United States Military to the Corps of Cadets after the Black Knights had four turnovers and allowed an 87-yard kickoff return in a 28-10 loss to New Hampshire.

2. Florida running backs
The Gators' running attack still features quarterback
Tim Tebow
and receiver
Percy Harvin
and no one else. Tailbacks
Chris Rainey
,
Jeffrey Demps
and
Kestahn Moore
combined to run for 7 yards on nine carries in a 26-3 win over Miami.
3. Pat White, QB, West Virginia
White's Heisman Trophy campaign was derailed in a 24-3 loss at East Carolina. The senior passed for 72 yards, ran for 97 yards and lost a fumble.
4. John Parker Wilson, QB, Alabama
Crimson Tide coach Nick Saban was looking for consistency from his senior quarterback. Wilson completed 11 of 23 passes for 73 yards in a lackluster 20-6 win over Tulane.
5. Tavita Pritchard, QB, Stanford
The hero of last season's upset of USC wasn't effective in a 41-17 loss at Arizona State. He completed 11 of 18 passes for 97 yards and threw two interceptions.

Crane
6. Chris Crane, QB, Boston College
Matt Ryan's replacement completed 18 of 35 passes for 142 yards with two interceptions in a 19-16 loss to Georgia Tech.
7. Sean Glennon, QB, Virginia Tech
Neither Glennon nor Tyrod Taylor was very good in a 24-7 win over FCS opponent Furman. Glennon completed 3 of 8 passes for 42 yards; Taylor completed 4 of 5 passes for 26 yards.
8. Chris Turner, QB, Maryland
Turner started under center because Jordan Steffy is hurt. Turner threw three interceptions in a 24-14 loss at Middle Tennessee State.
9. Washington State defense
The Cougars allowed 505 yards of offense in a 66-3 loss to California, the worst defeat in school history.
10. Notre Dame
The Fighting Irish had to score two touchdowns in the fourth quarter to beat San Diego State 21-13. The Irish rushed for 105 yards against the Aztecs. Cal Poly ran for 263 yards against San Diego State a week earlier.
On The Mark: Hot coaches
1. Skip Holtz, East Carolina
Holtz has guided the Pirates to three consecutive upsets of nationally ranked foes. If East Carolina can navigate its way through a rather soft C-USA schedule, it might crash the BCS party.
2. Paul Johnson, Georgia Tech


Johnson
Who said the triple-option offense wouldn't work in the ACC? The Yellow Jackets are in the driver's seat in the ACC's Coastal Division after beating Boston College on the road. Tech might be 6-0 when it plays at Clemson on Oct. 18.
3. Bobby Johnson, Vanderbilt
Johnson hasn't won 30 percent of his games in seven seasons at Vanderbilt. But you'd be hard-pressed to find a better-prepared team in the country.
4. Mike Gundy, Oklahoma State
Gundy is again the man in Stillwater. He took over the offensive play calling after Larry Fedora left for Southern Miss. The Cowboys' totals in their first two games: 1,066 yards and 95 points.
5. Tim Brewster, Minnesota
There's reason for hope after last season's 1-11 disaster. The Gophers are 2-0, doubling their win total from 2007, after beating Bowling Green 42-17.
Off The Mark: Struggling coaches
1. Bobby Petrino, Arkansas


Petrino
Petrino had to know it wouldn't be easy at Arkansas. Who knew the Hogs would have to come from behind to beat Western Illinois and Louisiana-Monroe?
2. Greg Robinson, Syracuse
It seems to be only a matter of time before Syracuse pulls the plug on this disaster. Robinson's record fell to 7-30 after a 42-28 loss to Akron at the Carrier Dome.
3. Mike Price, UTEP
Can Price continue to hang on? The Miners allowed 42 points for the second consecutive game, losing to Texas 42-17 on Saturday night.
4. Tyrone Willingham, Washington
Willingham can thank Pac-10 officials if he's fired at the end of the season. After losing to Oregon and BYU, the Huskies get No. 3 Oklahoma on Saturday.
5. Steve Spurrier, South Carolina
The Head Ball Coach's patience has to be wearing thin in Columbia, S.C., after the Gamecocks lost to Vanderbilt for the second season in a row. Spurrier still has Georgia fans restless this week.