Coaches Leading Hot Teams
Over the past month, Stanford coach Jim Harbaugh has implored his team to focus on its remaining season like it was on a Super Bowl run.
If college football crowned its national champion through a playoff, No. 17 Stanford would be one of the teams opponents would want to avoid in a winner-takes-all scenario.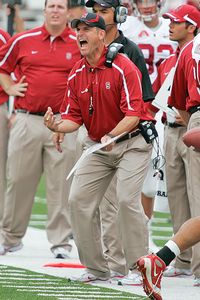 Steve Conner/Icon SMI
Jim Harbaugh has been treating the back-half of Stanford's schedule as if it were a playoff.
Opponents probably wouldn't want to face No. 4 TCU or No. 7 Georgia Tech right now, either.
The Cardinal, Horned Frogs and Yellow Jackets are playing as well as any teams in the country, even though they have little chance of playing for the national championship.
"Our mindset has been that it's like an NFL playoff situation," Harbaugh said. "Each week is put-up-or-shut-up time. The way you stay in the discussion is you stay alive. If you don't, then you're out. That's kind of where we're at."
After upsetting then-No. 8 Oregon and then-No. 9 USC in consecutive weeks, the Cardinal are 7-3 and bowl eligible for the first time since 2001. Stanford also remains in the hunt for the Pac-10 championship and corresponding trip to the Rose Bowl. Oregon has a one-game lead over Stanford in the Pac-10 standings, but the Cardinal own the tiebreaker because they beat the Ducks 51-42 on Nov. 7.
To win the Pac-10, Stanford would have to beat No. 25 California on Saturday at home, and hope Oregon, Oregon State and Arizona each loses again. The Beavers and Wildcats beat the Cardinal in consecutive games in October.
Regardless of what happens the rest of the way, Harbaugh has transformed Stanford into a winner. When he was hired to replace Walt Harris after the 2006 season, the Cardinal were coming off a 1-11 season, which set a school record for most losses in a season. In the five seasons before Harbaugh arrived, Stanford won only 16 games under Harris and former coach Buddy Teevens.
Stanford went 4-8 in Harbaugh's first season in 2007 and 5-7 last season.
"It's been from horrible to bad to great," Harbaugh said. "It's been a lot of work by a lot of people."
Harbaugh hasn't let anything or anyone stand in his way, either. Before coaching his first game at Stanford, he criticized Michigan, his alma mater, for what he described as lax academic programs for its student-athletes. He also took verbal jabs at Pac-10 king Southern California, sarcastically calling the Trojans "the best team in the history of college football" before the 2007 season. On Oct. 6, 2007, Stanford upset USC 24-23 at the Coliseum. The Cardinal were 41-point underdogs in the game, making it the largest point-spread upset in the history of the sport.
Stanford's 55-21 rout of USC on Saturday was nearly as stunning. It was USC's most lopsided defeat since a 51-0 loss to Notre Dame in 1966. Coach Pete Carroll had never lost a November game at USC, and it was only the Trojans' second defeat in their past 49 games at the Coliseum (both against the Cardinal).
After tailback Toby Gerhart's third touchdown, which gave Stanford a 48-21 lead in the fourth quarter, Harbaugh even tried a two-point conversion. The run failed, but the Cardinal added another touchdown with only 2:19 to play.
Afterward, Carroll told reporters, "I don't know what they were thinking with that."
Georgia Tech and TCU carry their coaches' personalities onto the field, too. The Yellow Jackets are 10-1 and clinched the ACC's Coastal Division with a 49-10 victory Saturday at Duke. Opponents can't stop Tech's triple-option spread attack, and Paul Johnson has as much trust in his players as they have in him.
On Nov. 7, Georgia Tech trailed Wake Forest 27-24 in overtime and faced fourth-and-inches at the Demon Deacons' 5. Instead of trying for a tying field goal, Johnson went for the first down, even though his team went 0-for-4 on fourth down in regulation. Quarterback Josh Nesbitt gained 2 yards for a first down and scored the winning touchdown on the next play for a 30-27 victory.
"I play to win," Johnson said afterward. "The kids work hard, and put in a lot of time and effort. If we can't make an inch there, we don't deserve to win the game."
Johnson put in more than enough time, too. He coached five seasons at Georgia Southern, winning two Division I-AA national championships. In six seasons at Navy, he won 45 games and ended the academy's 43-game losing streak to Notre Dame.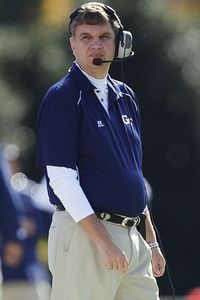 Josh D. Weiss-US PRESSWIRE
Paul Johnson's triple-option offense has worked at every stop he's made.
But larger schools still scoffed at Johnson's triple-option offense, saying it was outdated and wouldn't work in a tougher BCS conference. Georgia Tech went 9-4 in Johnson's first season in 2008, finished No. 4 in the country in rushing and beat rival Georgia for the first time in eight seasons.
The Yellow Jackets now are one victory away from playing in their first BCS bowl game since the 1966 Orange Bowl. Georgia Tech plays the Atlantic Division champion in the Dec. 5 ACC championship game in Tampa, Fla.
"There needs to be a playoff; it's ridiculous," Johnson said last week. "It would be great if seven teams were undefeated at the end. I would like to see how they would explain that."
TCU would be difficult to beat in a playoff, too. Gary Patterson was hired as the team's defensive coordinator in 1998 and was promoted to head coach when Dennis Franchione left for Alabama at the end of the 2000 season. TCU has won 83 games under Patterson, who has instilled his blue-collar mentality in the program.
After blasting then-No. 16 Utah 55-28 on Saturday, the Horned Frogs are 10-0 and No. 4 in the BCS standings, the highest rating ever for a team from a non-BCS conference.
Under Patterson, the Horned Frogs consistently have beaten teams from BCS conferences, including Clemson, Oklahoma and Texas Tech.
"We've beaten everybody in the Big 12 except Texas," Patterson said. "Nobody else is going to admit that."
With games left at Wyoming on Saturday and home against winless New Mexico on Nov. 28, TCU should finish the regular season with an unblemished record.
But barring an upset loss by No. 1 Florida, No. 2 Alabama or No. 3 Texas, the Horned Frogs probably won't get a chance to play for the BCS national championship.
And that might be a good thing for the Gators, Crimson Tide and Longhorns.
"I've always felt like the only way to judge that is head to head," Patterson said. "You've got to go play the ballgame. That's the only way to judge anything."
On The Mark: Precision Passers

Mallett
1. Ryan Mallett, Arkansas
The Michigan transfer passed for 405 yards with five touchdowns in a 56-20 rout of Troy, breaking the school's single-season record for passing yards in the process.
2. Landry Jones, Oklahoma
A week after throwing five interceptions, Jones passed for a career-high 392 yards with five touchdowns in a 65-10 blowout of Texas A&M.
3. Joe Webb, UAB
One of the country's best-kept secrets, Webb passed for 378 yards with three touchdowns and ran for one score in the Blazers' 31-21 victory at Memphis.
4. Dan LeFevour, Central Michigan
The senior continues to be one of the sport's best dual threats, throwing for 341 yards with two touchdowns and running for four scores in a 56-28 victory over Toledo.
5. Kellen Moore, Boise State
The sophomore helped the Broncos stay perfect, passing for 299 yards and tying his career high with five touchdowns in a 63-25 rout of rival Idaho.
Off The Mark: Defenseless
1. Southern California
The Trojans allowed the most points in school history in a 55-21 loss to Stanford and surrendered 102 points in their past two defeats.

2. Texas A&M
The Aggies were shredded for 640 yards of offense in their loss to Oklahoma, and they allowed 100 points in their past two games.
3. Michigan
The Wolverines allowed 469 yards in a 45-24 loss at Wisconsin, the seventh time they allowed 30 points or more in a game this season.
4. Fresno State
The Bulldogs surrendered 461 rushing yards in a 52-14 loss at Nevada, giving up a whopping 9.2 yards per carry.
5. Utah
Last season's BCS buster was pushed around in a 55-28 loss at TCU, allowing 549 yards of offense.
On The Mark: Ground-Churning Tailbacks
1. Toby Gerhart, Stanford
The Cardinal's bruising senior ran 29 times for 178 yards with three touchdowns in the rout of Southern California, his eighth 100-yard game of the season.

Pead
2. Isaiah Pead, Cincinnati
Pead ran 18 times for a career-high 175 yards with two touchdowns in a 24-21 victory over West Virginia, which moved the Bearcats to 10-0 for the first time in school history.
3. Vai Taua, Nevada
Taua helped the Wolf Pack run over Fresno State, carrying 17 times for 179 yards with two touchdowns. Teammate Luke Lippincott added 149 yards and three scores.
4. Dion Lewis, Pittsburgh
The country's top freshman running back had 152 yards, including a 50-yard touchdown, in the Panthers' 27-22 victory over Notre Dame.
5. Shane Vereen, California
Filling in for injured Jahvid Best, Vereen ran 30 times for 159 yards with one touchdown in the Bears' 24-16 upset of Arizona.
Off The Mark: Coaches On The Hot Seat
1. Charlie Weis, Notre Dame
A second consecutive loss left Weis with a 35-25 record at Notre Dame, giving him the same winning percentage as predecessors Bob Davie and Tyrone Willingham.
2. Al Groh, Virginia
The Cavaliers fell to 3-7 after losing their fourth game in a row, 14-10 to Boston College at home.

Friedgen
3. Ralph Friedgen, Maryland
Maryland faces some difficult decisions after the Terps fell to 2-8 with a 36-9 loss to Virginia Tech.
4. J.D. Brookhart, Akron
The Zips are 2-8 after getting routed by Temple 56-17 on Friday night at home.
5. Rich Rodriguez, Michigan
The Wolverines have to beat Ohio State on Saturday to avoid missing a bowl game for the second season in a row. His job is probably safe, but staff changes are likely coming.
On The Mark: Big-Play Weapons
1. Dexter McCluster, Ole Miss
McCluster did it all in the Rebels' 42-17 rout of Tennessee, rushing for a school-record 282 yards with four touchdowns and finishing with 324 all-purpose yards.
2. C.J. Spiller, Clemson
The Tigers tailback ran for a touchdown, passed for a touchdown and caught a touchdown -- the first Clemson player to accomplish the trifecta -- in a 43-23 win at NC State.
3. Danario Alexander, Missouri
Alexander caught 10 passes for 200 yards with three touchdowns in a 38-12 win at Kansas State, ending the Tigers' late-season slide.
4. Greg Salas, Hawaii
The junior caught a school-record 16 passes for 196 yards with one touchdown in the Warriors' 24-6 victory over New Mexico State.
5. Kendric Burney, North Carolina
The Tar Heels cornerback intercepted three passes, returning one 77 yards for a touchdown, and set an ACC record with 170 interception return yards in a 33-24 upset of Miami.