Roller-Coaster Redux
And you thought the roller-coaster ride of 2007 was over.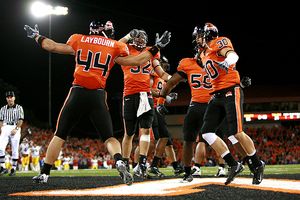 Craig Mitchelldyer/US Presswire
Oregon State's upset of USC was just the first of what's likely to be many twists and turns this season.
College football fans on campuses at Florida, Georgia and Wisconsin awoke Friday morning with renewed dreams of winning a BCS National Championship.
But the euphoria from Oregon State's 27-21 upset of No. 1 Southern California on Thursday night lasted less than 48 hours for most of those fans.
No. 3 Georgia laid a golden egg in a 41-30 loss to No. 8 Alabama at Sanford Stadium on Saturday night. No. 4 Florida lost to Ole Miss 31-30 in the Swamp on, of all things, a blocked extra-point attempt. No. 9 Wisconsin blew a 19-point lead and lost to unranked Michigan 27-25 in the Big House.
In all, nine ranked teams lost last week, including six teams that were upset by unranked opponents. Three of the top four teams and four of the top 10 in The Associated Press Top 25 were among those that fell.
Think the madness is over? Hardly. If anything, recent history suggests the craziness has just started.
"There's a lot of great football left to be played," Florida coach Urban Meyer told reporters Sunday.
A year ago, college football had already been turned upside down at this point of the season. The fifth week of the 2007 regular season produced eight Top-25 upsets, one fewer than what we just witnessed in the last four days.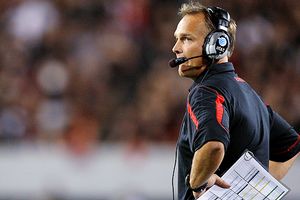 Doug Benc/Getty Images
Mark Richt will likely get a second chance to make a run at the BCS title.
The last weekend of September 2007 started with No. 18 South Florida beating No. 5 West Virginia 21-13 on Thursday night, a loss that seemed to end the Mountaineers' national championship hopes. The madness that ensued claimed four more top-10 teams: Maryland upset No. 10 Rutgers, Kansas State stunned No. 7 Texas, Auburn beat No. 4 Florida and Colorado shocked No. 3 Oklahoma.
Here's the real scary part for teams currently sitting atop college football's polls: On the first Saturday of October 2007, 11 more ranked teams were beaten, including four teams ranked in the top 10. Unranked Illinois surprised No. 5 Wisconsin 31-26, and unranked Stanford produced the biggest upset of the season, stunning No. 2 Southern California 24-23 at the Coliseum.
So recent lessons show us the season is just getting started. And it's not yet over for teams like Ohio State, Florida and Georgia. In fact, it's just beginning.
"I think it's comforting for the team that we're not having to rearrange our goals right now," Bulldogs coach Mark Richt told reporters Sunday.
Teams such as the Bulldogs just have to reassess how they're going to get to the BCS Championship Game in Miami. Here's a closer look at how once-beaten teams can recover and climb back into the national championship race:
Florida

Good news
: Even after losing to an unranked team at home, Florida still controls its fate in the SEC East. The Gators play at least three more games against ranked opponents: No. 3 LSU at home, No. 11 Georgia in Jacksonville, Fla., and at No. 19 Vanderbilt. If the Gators win the SEC East, they'd probably get another date against a ranked team in the SEC championship game.
Bad news: The Rebels showed there's not much to Florida's offense outside of quarterback Tim Tebow and receiver Percy Harvin. Florida can't run the football between the tackles or, at least, coach Urban Meyer refuses to try. Florida's defense, which surrendered only 19 points in victories over Hawaii, Miami and Tennessee, suddenly looked vulnerable against the Rebels.
Its road to Miami: Florida has to win the SEC championship game and hope it's ranked among the top three teams at the end of the regular season. And hope Ohio State is one of the other top teams.
Georgia

Good news
: Georgia will have plenty of chances to impress voters during the next two months. The No. 11 Bulldogs still play four ranked teams: No. 19 Vanderbilt, No. 3 LSU, No. 12 Florida and No. 13 Auburn. If Georgia recovers and wins the SEC East, it could earn a rematch against either No. 2 Alabama, LSU or Auburn in the SEC championship game. Georgia wasn't expected to finish the season with an unbeaten record because of its difficult schedule, and its first loss came against an SEC West foe, so the Bulldogs still control their fate in the SEC East.
Bad news: Alabama exposed Georgia's weaknesses Saturday night, taking a 31-0 lead at the half on the Bulldogs' home field. The Crimson Tide overpowered Georgia's offensive and defensive lines, constantly putting pressure on quarterback Matthew Stafford. The Bulldogs rarely pressured Tide quarterback John Parker Wilson. LSU might have a better defensive front than Alabama.
Its road to Miami: Georgia can't afford another loss and would have to beat Alabama in the SEC championship game. The Bulldogs will have to be impressive to make voters forget about their awful first-half performance against the Crimson Tide.
Ohio State

Good news
: The Buckeyes welcomed back tailback
Chris "Beanie" Wells
in a 34-21 win over Minnesota on Saturday. Wells, who had missed the previous two games with a foot injury, ran 14 times for 106 yards. Freshman quarterback
Terrelle Pryor
has more big-play potential than former starter
Todd Boeckman
. Pryor ran for 97 yards and two touchdowns and threw for 70 yards and one score in his second start.
Bad news: How forgiving will voters be? The Buckeyes not only have to make voters forget about their 35-3 loss at USC on Sept. 13, but also about their performances in the last two BCS Championship Games. Fair or not, Ohio State is fighting a national perception that it can't perform in big games.
Its road to Miami: The Buckeyes have to beat No. 18 Wisconsin and No. 6 Penn State and hope USC isn't one of the last one-loss teams left at season's end.
Southern California

Good news
: The Trojans are probably as talented as any team in the country and have the firepower to recover from another stunning loss to an unranked opponent. Southern California often gets the benefit of the doubt from voters because of its recent success under coach Pete Carroll. After losing to Stanford and Oregon last season, the Trojans were still considered one of the country's best teams at season's end.
Bad news: The Pac-10 doesn't appear to be very good outside of USC, California and Oregon. The No. 9 Trojans and No. 23 Ducks are the only ranked Pac-10 teams, so USC will have limited opportunities to impact voters.
Its road to Miami: USC will have to be very, very impressive in every game it plays. California, Notre Dame and Oregon will have to continue to play well to strengthen USC's schedule.
On The Mark: Ground-churning tailbacks

Rodgers
1. Jacquizz Rodgers, Oregon State
The 5-foot-6 freshman ripped No. 1 USC's defense for 186 yards and two touchdowns in a 27-21 victory Thursday night.
2. Javon Ringer, Michigan State
The bruising tailback keeps grinding out yards, gaining 198 and scoring once in a 42-29 rout at Indiana.
3. Curtis Steele, Memphis
The man of Steele helped the Tigers get a much-needed win, gaining 203 yards and scoring once in a 29-17 victory over Arkansas State.
4. Antone Smith, FSU
The FSU senior finally broke out in a 39-21 rout of Colorado, running for 154 yards and three touchdowns.
5. Charles Scott, LSU
Great Scott! The LSU runner has gained 100 yards or more in four straight games to open the season; he had 141 yards and two touchdowns in a 34-24 win over Mississippi State.
Off The Mark: Turnover machines

Skinner
1. Riley Skinner, Wake Forest
Skinner had the worst game of his college career in a 24-17 loss to Navy, throwing four interceptions and losing a fumble.
2. Harrison Beck, NC State
The Wolfpack backup completed only 9 of 32 passes and threw three interceptions in a 41-10 loss to South Florida.
3. Marc Verica, Virginia
The Cavaliers' new quarterback threw four interceptions in a 31-3 loss to Duke.
4. Jonathan Crompton, Tennessee
Crompton completed only 8 of 23 passes for 67 yards and lost a fumble into his team's end zone in a 14-12 loss at Auburn.
5. Karsten Sween, Wyoming
Sween was one of three Cowboys quarterbacks to throw an interception in a 45-16 loss to Bowling Green.
On The Mark: Precision passers
1. Colin Kaepernick, Nevada
The dual threat ran for 240 yards and three touchdowns and completed 11 of 16 passes for 176 yards and two scores in a 49-27 rout of UNLV.

Clausen
2. Jimmy Clausen, Notre Dame
We're starting to learn why Clausen was so highly regarded. He completed 20 of 35 passes for 275 yards and three touchdowns in a 38-21 victory over Purdue.
3. Colt McCoy, Texas
The Longhorns junior is working his way back into the Heisman Trophy race, running for 84 yards and two touchdowns and completing 17 of 19 passes for 185 yards and three scores in a 52-10 rout of Arkansas.
4. Chase Clement, Rice
Clement was spectacular against North Texas, completing 22 of 28 passes for 298 yards and five touchdowns and running for two scores in a 77-20 blowout.
5. Sam Bradford, Oklahoma
The Sooners sophomore stayed hot against TCU, completing 19 of 34 passes for 411 yards and four touchdowns in a 35-10 rout.
Off The Mark: Coaches on the hot seat

Groh
1. Al Groh, Virginia
His Cavaliers were outscored 28-0 in the second half of a 31-3 loss to Duke, which ended the Blue Devils' 25-game losing streak against ACC foes.
2. George O'Leary, Central Florida
The Knights gave up 403 yards and lost six turnovers in a 58-13 loss at previously winless UTEP.
3. Tommy Bowden, Clemson
The Tigers blew a 17-6 lead in a 20-17 loss to Maryland. It was the seventh time under Bowden that a ranked Clemson team lost to an unranked team at home.
4. Greg Robinson, Syracuse
After getting ripped by his athletic director last week, Robinson watched the Orange blow a 14-3 lead in a 34-24 loss to Pitt.
5. Tom Amstutz, Toledo
The Rockets lost to Florida International 35-16 at home, the Panthers' first-ever road win over an FBS nonconference opponent.
On The Mark: Game-breaking receivers
1. Percy Harvin, Florida
The speedy junior was the lone bright spot in a 31-30 loss to Ole Miss, running 10 times for 82 yards and one score and catching 13 passes for 186 yards and one touchdown.

Nicks
2. Hakeem Nicks, North Carolina
Nicks, one half of college football's best receiver duo, caught five passes for 133 yards and one touchdown in a 28-24 victory at Miami.
3. Michael Floyd, Notre Dame
The freshman helped the Fighting Irish open up their passing game against Purdue, catching six passes for 100 yards in a 38-21 victory.
4. Jarett Dillard, Rice
Chase Clement's favorite target caught eight passes for 114 yards and four touchdowns in a 77-20 rout of North Texas.
5. Dez Bryant, Oklahoma State
The sophomore has caught 15 passes for 354 yards and six touchdowns in his last two games, hauling in six passes for 118 yards and three touchdowns in a 55-24 rout of Troy.