They Aren't Who We Thought
A quarter of the 2009 college football season is in the rearview mirror for most teams, and conference play is beginning to take center stage across the country.
What did we learn during the first three weeks of the season? That what we thought we knew over the summer wasn't exactly true.
Florida and Texas still seem worthy of their lofty rankings, but neither team looked unbeatable in its first three games. Notre Dame and Southern California aren't as good as we thought they'd be, and Michigan and the Big East aren't nearly as bad as we believed.
On the Mark breaks down the myths and truths of the first quarter of the season:
What we thought we knew: Defending BCS national champion Florida was the team to beat again.
What we learned: The Gators are actually pretty vulnerable.

After blasting FCS foe Charleston Southern 62-3 and Troy 56-6, the Gators were supposed to steamroll Tennessee in Saturday's SEC opener at the Swamp. Instead, Florida looked rather ordinary in its 23-13 victory.
Quarterback Tim Tebow turned the ball over twice, and the Gators couldn't generate much offense against Tennessee's stingy defense. The Gators still seem to be relying too much on Tebow, who ran 24 times against the Volunteers (15 more carries than any other Florida player). After three weeks of the season, it's pretty evident that the Gators really miss departed receivers Percy Harvin and Louis Murphy -- and former offensive coordinator Dan Mullen -- and still lack an every-down running back.
The No. 1 Gators face four more potential land mines: at No. 7 LSU on Oct. 10, against No. 21 Georgia in Jacksonville, Fla., on Oct. 31, against No. 18 Florida State at home on Nov. 28 and potentially a date in the SEC championship game in Atlanta.
What we thought we knew: There would be a memorable Heisman Trophy race between three quarterbacks.
What we learned: The Heisman Trophy race is wide open.
With the last two Heisman winners -- Tebow and Oklahoma's Sam Bradford -- returning to school, it was supposed to be a three-way race among those two and Texas quarterback Colt McCoy.
McCoy and Tebow still seem to be the front-runners, but neither has done anything spectacular to date. Bradford sprained his shoulder in Oklahoma's stunning 14-13 loss to BYU in the opener and hasn't played since. Bradford isn't expected back in the Sooners' lineup for at least a couple more weeks.
California running back Jahvid Best and quarterbacks Jacory Harris of Miami and Case Keenum of Houston also have emerged as strong Heisman candidates.
What we thought we knew: There are at least three potential BCS busters.
What we know: There are still three left, but it's not exactly who we expected.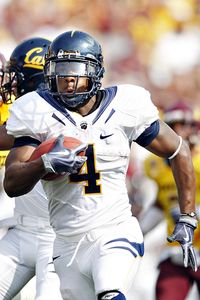 Jason O. Watson/US Presswire
Boise State is still running toward a BCS berth.
Boise State, BYU and Utah were considered potential BCS busters entering the season, but only one of them is still standing after three weeks. Boise State beat Oregon 19-8 in its opener and defeated Fresno State 51-34 on the road Friday night. The No. 8 Broncos will be heavily favored in each of their last nine regular-season games, including an Oct. 14 road trip to Tulsa, which on paper appears to be its toughest game.
BYU climbed as high as No. 7 after beating Oklahoma, but it fell on its face in an ugly 54-28 loss to Florida State on Saturday. Utah, which stunned Alabama 31-17 in the 2009 Sugar Bowl, saw its 16-game winning streak end in a 31-24 loss at Oregon.
Who could join Boise State as potential BCS busters? Houston, Southern Mississippi and TCU. The Horned Frogs play at Clemson on Saturday, which could help their national reputation.
What we thought we knew: Southern California simply reloads its roster.
What we know: Even the Trojans have to rebuild every once in a while.

Even after losing 11 players to the NFL draft, including three first-rounders, the Trojans were still the favorite to win at least a share of their eighth consecutive Pac-10 championship. Never mind that USC lost quarterback Mark Sanchez, the fifth pick in the draft, and linebackers Brian Cushing, Clay Matthews and Rey Maualuga.
The Trojans recruit so well, they simply reload their roster, right? Wrong. Even before USC was stunned by Washington 16-13 on Saturday, it was evident that the Trojans had some deficiencies. The USC offense was rather mediocre before its game-winning drive in an 18-15 victory at Ohio State on Sept. 12. Quarterback Matt Barkley was calm and confident in a big stadium on the road, but he's still a freshman. And the Trojans still don't seem to have many playmakers besides Joe McKnight.
Here's the really scary part for USC coach Pete Carroll: After hosting Washington State on Saturday, the Trojans play four of their next five games on the road (at No. 6 California, at Notre Dame, at Oregon and at Arizona State). The Oct. 24 home game is against Oregon State, which beat USC last season.
What we thought we knew: Notre Dame is back.
What we know: The Fighting Irish aren't there yet.

After three games, it's pretty clear that Charlie Weis has upgraded Notre Dame's talent. But the Fighting Irish lost to Michigan 38-34 in their second game and nearly fell to Michigan State before holding on for a 33-30 victory Saturday.
Now Notre Dame has to play the rest of the season without its best player, wide receiver Michael Floyd, who broke his collarbone against the Spartans. Notre Dame's soft schedule doesn't seem so fluffy now, either. After playing at Purdue on Saturday, the Irish face consecutive home games against ranked opponents: No. 24 Washington and No. 12 Southern California. The three-game stretch to close the season looks more daunting, too: at Pittsburgh, home against Connecticut and at Stanford.
What we thought we knew: Rich Rod was in trouble.
What we know: Rich Rod could run for governor (in Michigan, not West Virginia).

Remember all the accusations about improper practices and failed condo deals? It seems like ancient history after the Wolverines opened the season by winning their first three games, including the victory over Notre Dame.
Michigan fans could only hope the Wolverines would be better after last season's 3-9 disaster, and so far Rich Rodriguez has delivered. Tate Forcier looks like a quarterback tailor-made for Rodriguez's spread offense, and the Wolverines are better on defense. They play only two ranked opponents the rest of the way and get both of them at home: No. 5 Penn State on Oct. 24 and No. 13 Ohio State in the Nov. 21 regular-season finale.
But Michigan is still a young football team and plays four potentially difficult road games: Michigan State, Iowa, Illinois and Wisconsin.
What we thought we knew: Oklahoma State was ready to join the Big 12 elite.
What we know: The Cowboys still aren't as good as Oklahoma and Texas.
The Cowboys appeared ready to challenge the Longhorns and Sooners after their 24-10 victory over Georgia in the Sept. 5 opener. But the Pokes came crashing down to earth only a week later, losing to Houston 45-35 at home.
Oklahoma State's defense still looks pretty suspect, allowing 512 yards of offense in the loss to Houston and 377 yards in last week's 41-24 victory over lowly Rice. Quarterback Zac Robinson hasn't been especially sharp (58.9 percent accuracy), and tailback Kendall Hunter has been slowed by a leg injury.
The Cowboys will have to get better before they host No. 2 Texas on Oct. 31.
What we thought we knew: Alabama had too much to replace.
What we know: The Crimson Tide might be the best team in the country.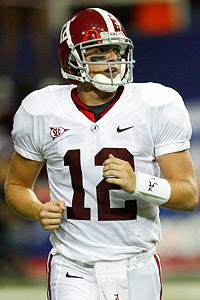 Kevin C. Cox/Getty Images
Greg McElroy has stepped right in at QB for the Crimson Tide.
After losing its last two games in 2008, Alabama entered this season with plenty of concerns. The Crimson Tide lost three starting offensive linemen, including All-America left tackle Andre Smith, along with quarterback John Parker Wilson and leading rusher Glen Coffee.
But through three games, the Crimson Tide look like the team to beat in the SEC West. Quarterback Greg McElroy has been fantastic, and Alabama has four tailbacks -- Mark Ingram, Trent Richardson, Roy Upchurch and Terry Grant -- who would start for a lot of teams. The offensive line has held up pretty well, and Alabama's defense might be the best in the country.
Alabama also has the easiest road among the SEC West contenders. It plays at No. 4 Ole Miss on Oct. 10, but gets No. 7 LSU at home Nov. 7. The Tide do not play Florida or Georgia, the two best teams in the SEC East.
What we thought we knew: The Big East would be terrible.
What we know: It's really not that bad.

Has there been a bigger surprise than defending Big East champion Cincinnati? The Bearcats blasted Rutgers 47-15 on the road to start the season and then beat Oregon State 28-18 on the road Saturday. Senior quarterback
Tony Pike
is completing 70.8 percent of his passes with eight touchdowns and two interceptions, and Cincinnati's revamped defense is allowing only 12 points per game.
Preseason favorite Pittsburgh and South Florida are off to 3-0 starts, although the Bulls will have to play the rest of the season without star quarterback Matt Grothe, who suffered a torn ACL in his knee. Connecticut was impressive in its 30-22 win at Baylor on Saturday, and the Huskies nearly beat North Carolina before losing, 12-10.
What we thought we knew: The Mountain West would be BCS-worthy.
What we know: The MWC is good, but let's not get carried away.
The MWC cheers could be heard loud and clear after BYU upset Oklahoma, Colorado State beat Colorado and TCU won at Virginia. But the MWC missed golden opportunities for national respect the last two weeks. Air Force lost at Minnesota, 20-13, followed by deflating losses for BYU and Utah last weekend.
On The Mark: Precision Passers
These quarterbacks put up eye-popping numbers in their teams' big victories.

Harris
1. Jacory Harris, Miami
Is it too early to crank up the sophomore's Heisman Trophy campaign? Maybe not, after Harris completed 20 of 25 passes for 270 yards with three touchdowns in a 33-17 victory over Georgia Tech.
2. Christian Ponder, Florida State
The junior led FSU's offensive explosion in its 54-28 rout at BYU, passing for 195 yards and two touchdowns and running for 77 yards with one score. He completed 21 of 26 passes.
3. Joe Cox, Georgia
Who said his arm was dead? Cox was terrific in the Bulldogs' 52-41 shootout at Arkansas, throwing for 375 yards on 18-for-26 accuracy and tying a school record with five touchdown passes.
4. Tony Pike, Cincinnati
How long before Pike is considered one of the country's best? Not much longer, after he completed 31 of 49 passes for 332 yards with two touchdowns in the Bearcats' 28-18 win at Oregon State.
5. Dwight Dasher, Middle Tennessee
Dasher threw for 324 yards with two touchdowns on 27-for-44 passing and ran for another score in a 32-31 upset at Maryland. He went 4-for-4 on MTSU's winning field-goal drive in the final two minutes.
Off The Mark: Defenseless
These defenses had far too many holes in their teams' losses.
1. BYU
The Cougars were completely overmatched against Florida State, allowing 512 total yards, including 313 rushing.
2. Arkansas
The Hogs were the SEC's worst defense in 2008 and again were porous against Georgia, allowing 530 yards in a shootout.

3. Maryland
The Terrapins struggled against a smaller school for the second week in a row, allowing 438 yards in a loss to Middle Tennessee.
4. Virginia
The Cavaliers allowed 214 rushing yards and 27 second-half points in a 37-34 loss at Southern Mississippi.
5. Fresno State
The Bulldogs didn't have a chance to outscore Boise State in a 51-34 loss, as the Broncos averaged 10.3 rushing yards per attempt.
On The Mark: Ground-Churning Tailbacks
These running backs carried their teams for most of the game.

Mathews
1. Ryan Mathews, Fresno State
Mathews did all he could in the Bulldogs' loss to Boise State, running 19 times for 234 yards with two touchdowns. He had three touchdown runs of 60 yards or longer.
2. Jeremy Avery, Boise State
Avery nearly upstaged Mathews on Friday night, running 11 times for 186 yards. Avery also caught five passes for 83 yards, including a 67-yard touchdown.
3. LaMichael James, Oregon
LeGarrette Blount's replacement ran 27 times for a career-high 152 yards with one touchdown in the Ducks' 31-24 upset of Utah, which ended the Utes' 16-game winning streak.
4. Me'co Brown, Northern Illinois
The sophomore ran 26 times for 150 yards and one touchdown in the Huskies' 28-21 upset of Purdue. His 67-yard touchdown run helped the Huskies beat a Big Ten team for the first time since 1988.
5. Jahvid Best, California
Best ran for 131 yards and tied a school record with five touchdown runs in the Bears' 35-21 win at Minnesota. It was his seventh straight game with 100 rushing yards or more.
Off The Mark: Offensive
These offenses were stuck in neutral in their teams' losses.
1. Boston College
The Eagles had 54 yards of offense -- 25 passing and 29 rushing -- in a 25-7 loss at Clemson. At least BC was balanced.

2. Vanderbilt
The Commodores appear headed back to the SEC cellar after totaling 10 first downs and 157 yards of offense in a 15-3 loss to Mississippi State.
3. Southern California
The Trojans went 0-for-10 on third down in their stunning 16-13 loss at Washington.
4. Georgia Tech
The Yellow Jackets' vaunted triple-option spread offense produced only 95 rushing yards (2.4 yards per carry) in the loss at Miami.
5. Tulsa
The Golden Hurricane were shut out for the first time since 2004 in a 45-0 loss at Oklahoma.
On The Mark: Big-Play Receivers
Quarterbacks were looking for these wideouts early and often in their games.
1. Mike Williams, Syracuse
Williams has emerged as Greg Paulus' favorite target, with 11 catches for 209 yards with two touchdowns in the Orange's 37-34 win over Northwestern.

Bryant
2. Dez Bryant, Oklahoma State
Bryant had nine catches for 161 yards with two touchdowns, helping the Pokes get back on track in a 41-24 victory over Rice.
3. Ryan Broyles, Oklahoma
Broyles is helping the Sooners win without Sam Bradford, catching a career-high 11 passes for 128 yards with three touchdowns in a 45-0 rout of Tulsa.
4. A.J. Green, Georgia
The sophomore might already be the best receiver ever to play for the Bulldogs. Green caught seven passes for 137 yards with two touchdowns in the victory at Arkansas.
5. Erik Highsmith, North Carolina
The freshman wears departed star Hakeem Nicks' No. 88 jersey, and looked like him while hauling in six passes for 113 yards with one touchdown in a 31-17 defeat of East Carolina.
On The Mark: Injuries
Season-ending injuries continue to pile up, and the 2009 season won't be the same without these star players.
1. Jermaine Gresham, Oklahoma
Not only did the Sooners lose reigning Heisman Trophy winner Sam Bradford for several weeks, but Gresham was probably the best tight end in the country before injuring his knee.
2. Matt Grothe, South Florida
The senior quarterback helped put the Bulls on college football's map, but his college career ended with a torn ACL suffered against FCS foe Charleston Southern.
3. Michael Floyd, Notre Dame
Floyd emerged as the Fighting Irish's best downfield threat in several years, but a broken collarbone might keep him sidelined until a potential bowl game.
4. Darren Evans, Virginia Tech
The Hokies seem to be getting along without Evans, who ran for more than 1,200 yards as a freshman and tore his ACL in preseason camp.
5. Rob Gronkowski, Arizona
The big tight end caught 47 passes with 10 touchdowns last year but will miss the rest of the 2009 season because of a back injury.
Highlights: Saturday's 10 Best