Undefeated, Under The Radar
There's an undefeated college football team in Alabama with one of the most balanced offenses in the country.
Its quarterback ranks among the most efficient passers in the country, and it has a pair of running backs who are capable of running for 100 yards in the same game.
Sounds a lot like No. 3 Alabama, right?
It's No. 17 Auburn, too.
The Tigers are 5-0 under first-year coach Gene Chizik, whose December hiring was greeted with mixed reviews after his less-than-spectacular tenure at Iowa State. Auburn ranks in the top five nationally in total offense (512.8 yards per game), scoring (41.4 points per game) and rushing (253.8 yards per game).
Behind quarterback Chris Todd and tailbacks Ben Tate and Onterio McCalebb, the Tigers have already scored 207 points in five games -- one fewer than they had in 12 games last season.
"At this point in the season, we've only played five games," Chizik told reporters Sunday. "At this point, [our ranking] is really somewhat insignificant. It doesn't matter where you are now, it only matters where you are at the end of November and December. Obviously, we're happy to get the recognition. I think our kids have worked really hard and our coaches have worked really hard."
After beating Tennessee 26-22 in its first road game Saturday night, Auburn faces a somewhat tougher schedule. The Tigers play at Arkansas on Saturday and still face three ranked teams: at No. 4 LSU on Oct. 24, home against No. 20 Ole Miss on Oct. 31 and home against Alabama in the annual Iron Bowl on Nov. 27.
The Tigers aren't the only undefeated team flying under the radar in college football.
Here are six more:

Iowa
: The No. 12 Hawkeyes are 5-0, but it might be a few more weeks before we really know how good they are.
After beating then-No. 5 Penn State 21-10 on the road on Sept. 26, Iowa struggled to beat Arkansas State 24-21 on Saturday. The Hawkeyes don't rank in the top 50 nationally in rushing, passing or scoring, but their pass efficiency defense and scoring defense rank in the top 10.
Iowa plays consecutive road games at Wisconsin and Michigan State and plays at No. 9 Ohio State on Nov. 14.

Kansas
: Few teams have been as explosive as the Jayhawks, who scored 34 points or more in each of their first four games. Kansas ranks No. 6 nationally in scoring (40.5 points per game), No. 6 in total offense (511.5 yards per game), No. 12 in passing (302.3) and No. 16 in rushing (209.3).
It would be a surprise if Kansas doesn't get to 6-0 -- it hosts Iowa State on Saturday and plays at Colorado on Oct. 17 -- but the back end of its schedule is brutal. The Jayhawks host No. 19 Oklahoma on Oct. 24, No. 21 Nebraska on Nov. 14, play at No. 2 Texas on Nov. 21 and play No. 24 Missouri in Kansas City on Nov. 28.

Missouri
: After losing star quarterback Chase Daniel and receiver Jeremy Maclin, the Tigers were supposed to rebuild this season.
But they're 4-0 going into Thursday night's home game against Nebraska, after beating three FBS opponents with a combined record of 3-10. After hosting the Cornhuskers, Missouri plays at No. 15 Oklahoma State on Oct. 17 and hosts Texas on Oct. 24.
Sophomore quarterback Blaine Gabbert has been spectacular, throwing for 1,161 yards with 11 touchdowns. He ranks No. 4 nationally in pass efficiency and hasn't thrown an interception in 131 attempts.

South Florida
: Can the No. 23 Bulls maintain this pace without star quarterback
Matt Grothe
?
Since losing Grothe to a season-ending knee injury, South Florida has won road games at then-No. 18 Florida State 17-7 and at Syracuse 34-20 on Saturday. Freshman quarterback B.J. Daniels has thrown four touchdowns with two interceptions in two starts.
The Bulls face their toughest Big East opponents in the next three games: home against No. 8 Cincinnati on Oct. 15, at Pittsburgh on Oct. 24 and home against West Virginia on Oct. 30.

TCU
: The Horned Frogs moved to No. 10 in The Associated Press Top 25 poll and are closing the gap on No. 6 Boise State. Since BYU, Houston and Utah lost in the first five weeks of the season, TCU might have the best shot at crashing the BCS party at season's end.
TCU has already won at Virginia and Clemson and plays a more difficult schedule than Boise State the rest of the way. The Horned Frogs play at Air Force on Saturday and at No. 18 BYU on Oct. 24. They host defending Mountain West champion Utah on Nov. 14.
TCU is again winning with its defense -- it leads the country in run defense (47 yards per game) and ranks No. 7 in total defense (239.8). But the Horned Frogs also rank in the top 25 nationally in rushing (220) and scoring (34.75 points per game).

Wisconsin
: The Badgers are unranked after an impressive 5-0 start, and they've returned to their roots in coach Brett Bielema's fourth season.
Wisconsin leads the Big Ten in scoring (35 points per game) and rushing (217.2 yards per game), and its mammoth offensive line has allowed only two sacks in five games.
Running back John Clay had 100 rushing yards or more in three of the first five games, including 184 yards and three touchdowns in a 31-28 win at Minnesota on Saturday.
We'll know a lot more about the Badgers in two weeks; they play at No. 9 Ohio State on Saturday and host Iowa on Oct. 17.
Let's Celebrate The Rules
When the NCAA instituted new unsportsmanlike conduct rules before the 1995 season, the intent was to sanitize the college game from the "look-at-me" antics of the NFL, according to former Georgia coach and athletic director Vince Dooley, who was chairman of the NCAA rules committee when the celebration penalty was enacted.
"The idea was to try to encourage team celebration," Dooley said. "We were trying to discourage what they do in the NFL -- the drawing attention to yourself, dancing, jiving and all that."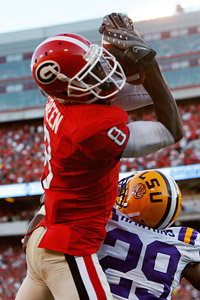 Kevin C. Cox/Getty Images
Georgia was hit with a celebration penalty after A.J. Green's go-ahead score.
More than a decade later, the celebration penalty had a profound effect on Dooley's former team. In No. 4 LSU's 20-13 victory over No. 18 Georgia at Sanford Stadium on Saturday, the Bulldogs were penalized 15 yards for celebrating sophomore receiver A.J. Green's 16-yard touchdown catch with 1:09 left, which briefly put Georgia ahead by a 13-12 score.
The Bulldogs were forced to kick off from their 15-yard line after the penalty, and LSU's Trindon Holliday returned the kick to Georgia's 43-yard line. Two plays later, Tigers tailback Charles Scott ran 33 yards for the winning touchdown with 46 seconds left.
Just to make things fair, the Tigers were penalized for celebrating Scott's touchdown.
"To me, if you're losing a game and it's late in the game and it looks like all hope is lost and you get down the field and you score a touchdown, I think that probably was the right amount of celebration," Georgia coach Mark Richt said. "I don't know if it was excessive for the moment. I didn't think we went too crazy."
SEC officials released a statement Saturday night explaining the penalty. Game officials said that "following a brief team celebration, Green made a gesture to the crowd calling attention to himself."
The celebration rule came under fire last season, too, after Washington quarterback Jake Locker was penalized for flipping the football over his shoulder after a late touchdown run against BYU. The Huskies were penalized 15 yards and the longer point-after kick was blocked. BYU won the game 28-27.
Despite those outcomes, Dooley believes the celebration rule has been good for college football.
"Over a long period of time, it's done well," Dooley said. "There is too much individualism. It's a team game. It's hard for these guys because they see what the NFL players are doing on Sunday. I think it's controlled college football for 15 years. The rule is good. It hurts when it goes against you, and it's great when it goes for you."
On The Mark: Precision Passers

Keenum
1. Case Keenum, Houston
The Cougars might have fallen out of the BCS hunt, but Keenum remains a Heisman Trophy candidate with his performance in a 58-41 loss to UTEP. Keenum completed 51 of 76 passes for 536 yards with five touchdowns.
2. Jimmy Clausen, Notre Dame
Clausen keeps delivering fourth-quarter comebacks for the Fighting Irish; he completed 23 of 31 passes for 422 yards and two touchdowns in a 37-30 overtime victory over Washington.
3. Tyrod Taylor, Virginia Tech
If Taylor keeps improving as a passer, the Hokies might become a legitimate BCS title contender. He had 327 yards on 17-for-22 passing with two touchdowns in a 34-26 win over Duke.
4. Jacory Harris, Miami
Bouncing back from a dreadful start, Harris completed 19 of 28 passes for 202 yards and three touchdowns in the Hurricanes' 21-20 win over Oklahoma.
5. Aaron Opelt, Toledo
Opelt was nearly perfect in the Rockets' 37-30 win at Ball State, completing 30 of 38 passes for 422 yards with a career-high five touchdowns. He threw the winning 51-yard touchdown with 27 seconds left.
Off The Mark: Coaches On The Hot Seat
1. Bobby Bowden, Florida State
As sad as it is to say, it's probably time for the Bowden era to end. The Seminoles are 2-3 for the first time since 1976 -- his first season in Tallahassee.
2. Steve Kragthorpe, Louisville
It's hard to decide which was worse: the Cardinals' woeful performance in a 35-10 loss to Pitt or having "The Ville" across the front of their jerseys.

Hawkins
3. Dan Hawkins, Colorado
The Buffaloes are 1-3 after a 35-24 loss at West Virginia on Thursday night. The score probably would have been much worse if the Mountaineers hadn't turned the ball over four times.
4. Ron Zook, Illinois
The Illini's trip to the 2008 Rose Bowl sure seems like a long time ago. They fell to 1-3 after their 35-17 home loss to Penn State.
5. Mike Locksley, New Mexico
Can it get any worse for the Lobos' new coach? He's under investigation for punching an assistant and his team is 0-5 after Saturday's 48-28 loss to Texas Tech.
On The Mark: Ground-Churning Tailbacks
1. Donald Buckram, UTEP
Buckram rammed Houston's BCS bowl hopes in a 58-41 rout, running 32 times for 262 yards with four touchdowns. The junior from Copperas Cove, Texas, ran for 348 yards last season.
2. Noel Devine, West Virginia
It would be hard to find a faster player on the field anywhere. Devine ran 22 times for 220 yards with a touchdown in the Mountaineers' win over Colorado on Thursday night.
3. Brynn Harvey, Central Florida
The sophomore from Largo, Fla., carried a career-high 42 times for 219 yards with one touchdown in the Knight's 32-14 victory over Memphis.

Clay
4. John Clay, Wisconsin
Clay helped the Badgers stay unbeaten, running 32 times for 184 yards with three touchdowns in a 31-28 win at Minnesota. He gained 159 yards in the second half, including a 1-yard touchdown with three minutes to play.
5. Mike Ball, Nevada
The seldom-used reserve ran for 184 yards and the first five touchdowns of his career in a 63-28 rout over rival UNLV. Quarterback Colin Kaepernick (173 rushing yards) and tailback Luke Lippincott (170) helped the Wolf Pack gain 559 rushing yards and 773 yards of offense.
Off The Mark: Big Disappointments

1. North Carolina
The Tar Heels were supposed to be ready to make a move in the ACC's Coastal Division, but they're 0-2 in conference play after losing to lowly Virginia 16-3 on Saturday. UNC scored 10 points combined in losses to Georgia Tech and Virginia.
2. Southern Miss
Playing without star tailback Damion Fletcher, the high-flying Golden Eagles were grounded in a 30-17 loss at UAB on Thursday night. It was the Blazers' first win over Southern Miss.
3. Florida State
Since blasting then-No. 7 BYU 54-28 on Sept. 19, the Seminoles have lost consecutive games to fall to 0-2 in ACC play for the first time since joining the league in 1992.
4. California
The Bears hoped to end a 50-year drought of having not played in the Rose Bowl. It probably won't end this year, after they lost to Oregon and USC by a combined score of 72-6.
5. Clemson
Even with speedy tailback C.J. Spiller, the Tigers have lost three of their last four games, including a 24-21 loss at Maryland on Saturday.
On The Mark: Big-Play Receivers
1. Golden Tate, Notre Dame
Tate helped the Fighting Irish overcome the loss of Michael Floyd, catching nine passes for a career-high 244 yards with one touchdown in the win over Washington.

Williams
2. Stephen Williams, Toledo
Williams caught 10 passes for 231 yards with two touchdowns against Ball State, including the 51-yarder with 27 seconds to go. The game winner came after Ball State scored a go-ahead touchdown and two-point conversion with 42 seconds left.
3. Demaryius Thomas, Georgia Tech
The Yellow Jackets usually do most of their damage on the ground, but Thomas caught eight passes for 174 yards with one score in a 42-31 win at Mississippi State.
4. Max Komar, Idaho
The senior helped the surprising Vandals move to 4-1 by catching 12 passes for 152 yards with one touchdown in a 31-29 victory over Colorado State. Komar had 13 receptions in the previous four games combined.
5. Carlton Mitchell, South Florida
The junior caught six passes for 139 yards with two touchdowns, helping the Bulls beat Syracuse 34-20 on the road. He had an 85-yard touchdown catch on the first play from scrimmage in the second half.
Highlights: Saturday's 10 Best