On A Need To Know Basis
What did we learn from the first Bowl Championship Series standings released on Sunday?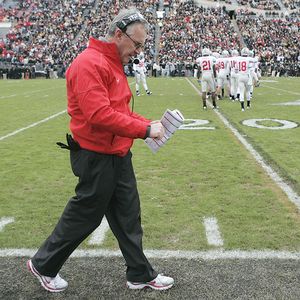 AP Photo/Darron Cummings
You won't have Ohio State to kick around in the BCS title game this season.
For starters, Florida and Alabama are in the driver's seat in the race for the Jan. 7 BCS National Championship Game in Pasadena, Calif.
Defending BCS national champion Florida is No. 1 in the initial BCS standings, followed by No. 2 Alabama and No. 3 Texas.
In the first 11 years of the BCS, the top two teams in the initial standings have reached the title game once (Texas and Southern California in 2005). Nearly half of the 22 teams that debuted at No. 1 or 2 advanced to the BCS National Championship Game.
So as long as the Gators and Crimson Tide win the rest of their regular-season games, the Dec. 7 SEC championship game in Atlanta's Georgia Dome will be a play-in game for the BCS National Championship Game.
The bad news for those SEC teams? Ohio State and Oklahoma won't be their sacrificial lambs for the fourth straight season.
The Buckeyes, who lost badly to Florida and LSU in two of the past three BCS championship games, were all but eliminated from the BCS championship race with their stunning 26-18 loss at Purdue on Saturday. Oklahoma fell to 3-3 following its 16-13 loss to Texas in the Red River Rivalry game in Dallas.
Here are a half-dozen other things to know about the initial BCS standings:

1. Could we have an Alabama-Florida rematch in Pasadena?
It seems unlikely, and Big Ten commissioner Jim Delany might threaten secession from the BCS if it happened. The last such scenario happened in 2006, when No. 1 Ohio State defeated No. 2 Michigan 42-39 in the teams' regular-season finale.
Two weeks later, after UCLA upset No. 2 USC 13-9 and No. 4 Florida beat Arkansas 38-28 in the SEC championship game, the Gators jumped to No. 2 in the final BCS standings. The one-loss Gators, instead of the one-loss Wolverines, got a shot at the undefeated Buckeyes. Florida blasted Ohio State 41-14 in the BCS title game.
The Crimson Tide have a sizable advantage (.0615 points) over No. 3 Texas in the initial BCS standings. The gap between Alabama and No. 4 Boise State is more than twice as large (.1443). So if the No. 3 Longhorns lose one of their final six regular-season games, an SEC rematch in Pasadena might not be completely out of the question.

2. Why is Florida ranked ahead of Alabama?
Using the eyeball test, Alabama looks like the country's most complete team right now. But Florida is ranked No. 1 in each of the three components of the BCS formula -- the coaches' poll, Harris Interactive Poll and average in six computer rankings (the Crimson Tide are No. 1 in The Associated Press Top 25 poll, which is no longer used in the BCS recipe).
The BCS computers love the Gators, who are No. 1 in four of the six computer polls. I'm not sure which season the computers have been watching. The Crimson Tide have already beaten two teams ranked in the BCS standings: No. 14 Virginia Tech and No. 24 South Carolina. Florida has beaten one ranked team: No. 9 LSU.

3. So how many teams are left in the BCS hunt?
Historical data suggests about a dozen teams are still in the race. Since the BCS began in 1998, no team ranked No. 13 or worse in the initial BCS standings has reached the national championship game. LSU debuted at No. 12 in 2003 -- the lowest initial ranking for an eventual BCS national champion -- before climbing its way to the title game.
That means Georgia Tech is the last team with any championship hopes. The No. 12 Yellow Jackets have already played the meat of their schedule, including a 28-23 upset of then-No. 4 Virginia Tech on Saturday night. Only two of Georgia Tech's remaining five regular-season opponents currently have a winning record, and both of those teams -- Wake Forest and Georgia -- will play at Bobby Dodd Stadium.
No. 7 USC is in the best position among the one-loss teams, but the Trojans are being heavily penalized for their 16-13 loss to Washington on Sept. 19. USC is No. 11 in computer average behind teams like Oregon and Georgia Tech, but with games left at the No. 11 Ducks and home against No. 22 Arizona, USC can greatly improve its computer profile.


4. Does Boise State really have a chance to play for the BCS championship?
It would probably take a doomsday scenario for the teams from BCS conferences for it to happen. For Boise State to reach the BCS Championship Game, there could be only one unbeaten team from the ranks of Alabama, Florida, Texas, Cincinnati, Iowa and TCU. And even that scenario might not be enough for the Broncos to reach Pasadena.
Even if Boise State finished the regular season with a 12-0 record, it might be passed by one-loss teams such as USC, LSU and Miami.
The Broncos are No. 4 in the BCS standings, but it's hard to imagine them going any higher because of their future schedule strength (104th, according to the NCAA). They lost 17 points in the coaches' poll last week, even after winning at Tulsa 28-21.
The good news for Boise State? It has seven more chances to impress voters and the computers (the Broncos play a 13-game regular-season schedule because they play at Hawaii). The bad news? Its remaining seven opponents have a combined record of 19-25.
Boise State really needs No. 8 TCU to lose. The Horned Frogs would probably pass the Broncos in the BCS standings if they win at No. 16 BYU on Saturday and beat No. 18 Utah at home Nov. 14.
Only one team from a non-BCS league is guaranteed a spot in a BCS bowl game -- if it finishes in the top 12 of the final BCS standings, or in the top 16 and is ranked ahead of one of the six champions of the BCS leagues.


5. Does Cincinnati or Iowa have a better chance of reaching Pasadena?
Based on schedule strength, the Hawkeyes seem to be in a much better position than the Bearcats. Iowa has played the country's ninth-toughest schedule, according to the NCAA, and it's getting a lot of mileage out of its nonconference victory over No. 22 Arizona and road win at No. 13 Penn State.
Iowa plays only five more games, starting Saturday at improving Michigan State. The Hawkeyes' future schedule is ranked No. 36 by the NCAA and they could get a big bump by winning at No. 19 Ohio State on Nov. 14, too.
Cincinnati's schedule strength (tied-67th, according to the NCAA) is worse than Boise State's, which is surprising. The Bearcats have already won at Oregon State and South Florida. The Bearcats can make up ground by beating No. 23 West Virginia at home Nov. 13 and No. 20 Pittsburgh in their Dec. 5 regular-season finale. But Cincinnati's future schedule is ranked 80th-toughest in the country, according to the NCAA.

6. So how does Texas get jobbed this season?
As long as the Longhorns win their final six games, it's hard to imagine them being left out of the BCS Championship Game. The Longhorns don't have to worry about Oklahoma, so a three-way tie in the Big 12 South seems like a very remote possibility.
Texas still plays two ranked opponents: at No. 15 Oklahoma State on Oct. 31 and No. 25 Kansas at home Nov. 21.
"We were sitting here in this same position last year and after we lost to Texas Tech we let it go back into a system and the system kept us out," Texas coach Mack Brown told reporters after beating Oklahoma. "Now next week's game becomes bigger than this one and it'll progress like that for the rest of the year."
On The Mark: Precision Passers

Foles
1. Nick Foles, Arizona
The sophomore from Austin has turned around the Wildcats' season, throwing for 415 yards with three touchdowns on 40-for-51 passing in a 43-38 victory over Stanford.
2. Matt Barkley, Southern California
Barkley sure didn't look like a true freshman playing at Notre Dame, throwing for 380 yards with two touchdowns on 19-for-29 passing in a 34-27 win over the Fighting Irish.
3. Joey Elliott, Purdue
After receiving a text message of encouragement from former Purdue star Drew Brees, the senior passed for 281 yards and two third-quarter touchdowns in the Boilermakers' 26-18 upset of No. 7 Ohio State.
4. Levi Brown, Troy
Brown helped keep the Trojans atop the Sun Belt Conference standings, completing 28 of 37 passes for 391 yards with three touchdowns in a 42-33 win at Florida International.
5. Steven Sheffield, Texas Tech
The former walk-on won the starting job and then beat No. 15 Nebraska 31-10 on the road, completing 23 of 32 passes for 234 yards with one touchdown pass and two scoring runs.
Off The Mark: Coaches On Hot Seat
1. Steve Kragthorpe, Louisville
The Cardinals fell to 2-4 after a 38-25 loss at Connecticut, and Louisville fans are already mentioning former NFL coach Jon Gruden as a possible replacement. Yeah, right.
2. Ralph Friedgen, Maryland
Friedgen's successor is already in place, and James Franklin can't be excited about the program he's inheriting. The Terps are 2-5 after a 20-9 loss to Virginia.

Zook
3. Ron Zook, Illinois
We figured the Illini would collapse at some point under Zook, but not quite this fast. Illinois fell to 1-5, 0-4 in Big Ten play after losing at Indiana 27-14.
4. Mike Sherman, Texas A&M
The Aggies lost 62-14 to Kansas State, which lost to Texas Tech 66-14 the week before. What will the Red Raiders do to the Aggies on Saturday night?
5. Tommy West, Memphis
The Tigers fell to 2-5 after losing 36-16 at Southern Miss.
On The Mark: Ground-Churning Runners

Harris
1. Montel Harris, Boston College
Harris ran wild against an NC State defense that had previously allowed fewer than 63 rushing yards per game. He ran 27 times for a school-record 264 yards with five touchdowns in a 52-20 rout.
2. Mark Ingram, Alabama
Ingram continued his push for the Heisman Trophy, running 24 times for 246 yards -- the third-highest total in Alabama history -- in the Crimson Tide's 20-6 win over South Carolina.
3. Dion Lewis, Pittsburgh
Find me a better freshman running back in the country. Lewis ran 31 times for 180 yards with two touchdowns in the Panthers' 24-17 victory at Rutgers on Friday night.
4. Ryan Mathews, Fresno State
There might not be a more consistent runner in the country than Mathews, who ran for 233 yards and one touchdown on 20 carries in a 41-21 win over San Jose State. He has 100 yards or more in all six games, including two 200-yard efforts.
5. Josh Nesbitt, Georgia Tech
Nesbitt is Tech's quarterback, but he runs more like a fullback. He ran 23 times for 122 yards with three touchdowns in the Yellow Jackets' 28-23 upset of No. 4 Virginia Tech.
Off The Mark: Winless Teams

1. Rice
The Owls are 0-7 and have the worst defense in the country, allowing 45 points per game. The Nov. 28 finale at Houston should be fun.
2. Miami (Ohio)
Did former Notre Dame offensive coordinator Mike Haywood bring Charlie Weis' playbook to the MAC? Miami (Ohio) is 0-7 and has scored seven points or fewer in four games.
3. New Mexico
What happens if interim coach George Barlow leads the Lobos to their first victory against UNLV on Saturday? First-year coach Mike Locksley is 0-6 and serving a 10-day suspension for an altercation with a former assistant.
4. Ball State
The Cardinals went from 12-0 to 0-7. Was quarterback Nate Davis really that good?
5. Western Kentucky
Believe it or not, the 0-6 Hilltoppers have improved this season. They've scored 20 points or more in each of their past three games, including a 30-22 loss to Louisiana-Lafayette on Saturday.
On The Mark: Big-Play Receivers

White
1. Blair White, Michigan State
The Spartan senior came up big against Northwestern, catching 12 passes for 186 yards, including two touchdowns in the third quarter of a 24-14 victory.
2. Freddie Barnes, Bowling Green
Barnes, perhaps the country's most underrated player, caught 10 passes for 160 yards with three touchdowns in a 31-17 win at Ball State. He has 85 catches and eight touchdowns in seven games.
3. Anthony McCoy, Southern California
The Trojans' big tight end caught five passes for 153 yards against Notre Dame. Teammate Damian Williams added four catches for 108 yards with two touchdowns in USC's victory.
4. Hubert Anyiam, Oklahoma State
Dez who? Stepping in for suspended star Dez Bryant, Anyiam caught 10 passes for 119 yards with one touchdown in the Pokes' 33-17 victory over Missouri.
5. Dwayne Harris, East Carolina
Harris caught nine passes for 128 yards with two touchdowns in the Pirates' 49-13 rout of Rice, which keeps ECU alive in the Conference USA race.
Highlights: Saturday's 10 Best