Matchups To Watch
The first Saturday of October proved to be the calm before the storm.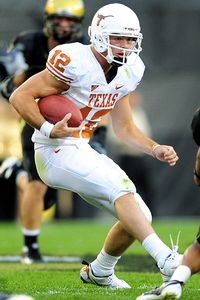 Dustin Bradford/Icon SMI
A win in the Red River Rivalry could put Colt McCoy and Texas in the BCS driver's seat.
The week started with another top-10 upset, albeit one that came without much suspense. Pittsburgh upset No. 10 South Florida 26-21 at Raymond James Stadium in Tampa on Thursday night, but that game proved to be the weekend's only upset of note.
Thankfully for college football fans, many of the country's best teams held serve, setting up a wild Saturday this coming weekend.
No. 1 Oklahoma routed Baylor 49-17. No. 5 Texas clobbered Colorado 38-14.
So, for the 10th time since 1950, both Big 12 powers are ranked in the top five of the Associated Press Top 25 poll as they prepare to play in Saturday's Red River Rivalry in Dallas.
"It's what these two teams should have midseason," Longhorns coach Mack Brown told reporters Saturday. "It's two top-five football teams that are playing really well. We'll have everybody in America talking about the game next week, and that's what we all want. It's fun. It's what Texas and OU have wanted forever, and we have got it back."
College football fans wanting a playoff will get at least a taste of winner-takes-all this weekend. Along with the Big 12 showdown at the Cotton Bowl, an SEC showcase might go a long way in determining which teams play for the national championship in Miami on Jan. 8.
Florida and LSU, the last two BCS national champions, meet Saturday night at the Swamp in Gainesville, Fla.
It will be the first time in nearly two decades and only the 10th time in history that the last two national champions play during the regular season. Notre Dame, the 1988 national champion, beat defending national champ Miami 29-20 in South Bend, Ind., on Oct. 20, 1990.
The home team has never lost in a matchup of the last two national champions. No. 4 LSU has beaten the No. 11 Gators three times in four meetings since 2004, including a 28-24 victory last season in Baton Rouge, La.
The Gators have been sluggish on offense and lost to Ole Miss 31-30 at home two weeks ago. Florida won 38-7 at Arkansas on Saturday. The Tigers haven't been tested and have a budding Heisman Trophy candidate in running back Charles Scott, who has 535 rushing yards and six touchdowns.
"Look at the history of this series," Florida coach Urban Meyer told reporters Sunday. "When you stop the run and play excellent defense [you usually win]."
Saturday is only the beginning in college football's national championship chase. Here's a look at other games that might decide which teams meet in Miami: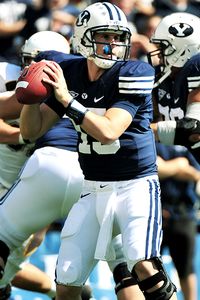 Boyd Ivey/Icon SMI
Max Hall and BYU have a couple of obstacles between them and an unbeaten season.
•
BYU at TCU, Oct. 16
: The No. 9 Cougars are 5-0 and largely untested. BYU still faces two major obstacles during the regular season: at TCU and at No. 14 Utah on Nov. 22. The Horned Frogs are 5-1, their only loss coming at No. 1 Oklahoma 35-10.
• Missouri at Texas, Oct. 18: If the Longhorns beat Oklahoma, the stakes will be even higher when No. 3 Missouri plays at Texas the next week. The Tigers are 5-0 and have steamrolled each of their opponents. Missouri plays No. 17 Oklahoma State on Saturday. The Longhorns would be one of the Tigers' last big tests; Missouri's next four opponents are a combined 10-10.
• Penn State at Ohio State, Oct. 25: Halfway through their season, the Nittany Lions look like the class of the Big Ten. But Penn State faces three consecutive tough tests: at Wisconsin on Saturday, at home against Michigan on Oct. 18 and at Ohio State. The Nittany Lions and Buckeyes have each gone back to the future. Penn State coach Joe Paterno has ditched his once-conservative offense for a spread attack, and the Nittany Lions are averaging 44.8 points and 499.7 yards of offense per game. The No. 12 Buckeyes have won three games in a row with freshman Terrelle Pryor starting at quarterback.
• Georgia vs. Florida, Nov. 1: The No. 10 Bulldogs climbed back into the top 10 a week after losing badly to Alabama 41-30. Georgia will have plenty of chances to climb up the rankings during the next month. After hosting struggling Tennessee at Sanford Stadium on Saturday, the Bulldogs play three consecutive games against ranked opponents: home against No. 13 Vanderbilt on Oct. 18, at No. 4 LSU on Oct. 25 and against No. 11 Florida in Jacksonville, Fla. If Georgia and Florida hold serve between now and then, the game might decide which team represents the SEC East in the SEC championship game in Atlanta's Georgia Dome.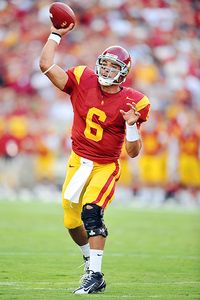 Kirby Lee/Image of Sport-US PRESSWIRE
USC bounced back nicely against Oregon, looking like one of the nation's top teams again.
•
California at USC, Nov. 8
: The No. 8 Trojans rebounded from their stunning 27-21 loss at Oregon State by blasting Oregon 44-10 on Saturday. The Trojans had nearly 600 yards of offense and once again looked like one of the best teams in the country. USC has little room for error, though, and will probably face their stiffest test against California. The Bears are 4-1 after beating Arizona State 24-14 on Saturday.
• Alabama at LSU, Nov. 8: The No. 2 Crimson Tide gets a week off after a closer-than-expected 17-14 victory over Kentucky on Saturday. Alabama shouldn't be tested in its next three games: home against Ole Miss, at Tennessee and home against Arkansas State. The Crimson Tide might be 9-0 when they play at LSU, which will be former Tigers coach Nick Saban's first trip back to Baton Rouge, La.
• Texas Tech at Oklahoma, Nov. 22: Even if the Sooners beat Texas, they'll have three games left against opponents that are currently ranked: Oklahoma hosts No. 16 Kansas on Oct. 18 and No. 7 Texas Tech and plays at No. 17 Oklahoma State on Nov. 29. The Red Raiders knocked Oklahoma out of the BCS national championship race last season, upsetting the Sooners 34-27 in Lubbock, Texas. Texas Tech knocked quarterback Sam Bradford out of the game with a concussion, and then scored 27 consecutive points.
On The Mark: Precision passers

Clausen
1. Jimmy Clausen, Notre Dame
The sophomore set career-high totals with 29 completions and 347 passing yards and threw three touchdowns in a 28-21 victory over Stanford.
2. Chris Crane, Boston College
Crane carried the Eagles on his back in a 38-31 win at NC State, throwing for 428 yards with two touchdowns and running for three scores.
3. Mark Sanchez, USC
Sanchez helped the Trojans forget about their loss to Oregon State, throwing for 332 yards with three touchdowns in a 44-10 rout of Oregon.
4. Graham Harrell, Texas Tech
Harrell put himself back in Heisman Trophy contention with 454 passing yards, six touchdown passes and a touchdown run in a 58-28 blowout of Kansas State.
5. Juice Williams, Illinois
Williams had 431 total yards -- most by a player in Michigan Stadium history -- in a 45-20 win over the Wolverines. Williams passed for 310 yards, ran for 121 and scored four times.
Off The Mark: Sleep Walking

1. Maryland
The Terrapins won three games in a row and then were walloped by rival Virginia 31-0 on Saturday.
2. Arkansas
Florida routed the Razorbacks 38-7 on Saturday. The Hogs have lost their last three games by a combined score of 139-31.
3. Ole Miss
After winning at Florida 31-30, the Rebels had three turnovers in a 31-24 loss to South Carolina.
4. Tulane
The Green Wave had four turnovers and allowed 291 rushing yards in a 44-13 loss to Army.
5. Auburn
Tigers coach Tommy Tuberville said changes were coming after Auburn had 98 passing yards in a 14-13 loss at Vanderbilt.
On The Mark: Big-play receivers
1. Rashaun Greer, Colorado State
The junior caught eight passes for 211 yards and one touchdown in a 41-28 win over UNLV.

Decker
2. Eric Decker, Minnesota
The Big Ten's leading receiver tied a school record with 13 catches and had 190 yards receiving in a 16-7 victory over Indiana.
3. Dez Bryant, Oklahoma State
The sophomore caught three touchdowns and returned a punt 78 yards for a score in a 56-28 rout of Texas A&M.
4. Demaryius Thomas, Georgia Tech
Thomas was the only Yellow Jacket to catch a pass in a 27-0 shutout of Duke; he caught nine passes for 230 yards, including an 88-yard touchdown.
5. Juaquin Iglesias, Oklahoma
Iglesias caught six passes for 133 yards and one touchdown in a 49-17 victory at Baylor.
Off The Mark: Coaches on the hot seat

Ferentz
1. Kirk Ferentz, Iowa
The Hawkeyes lost their third game in a row, falling 16-13 at Michigan State.
2. Doug Martin, Kent State
The not-so-Golden Flashes' record fell to 1-5 after a 30-27 overtime loss to Akron.
3. Shane Montgomery, Miami (Ohio)
The RedHawks are 1-4 after losing to Temple 28-10 at home on Saturday.
4. Chuck Long, San Diego State
The Aztecs put up little fight in a 41-7 loss to TCU, which dropped San Diego State's record to 1-4.
5. Phillip Fulmer, Tennessee
The Volunteers' 13-9 victory over Northern Illinois -- the score was tied 3-3 at the half -- did little to silence Fulmer's critics.
On The Mark: Ground-churning tailbacks

Coffee
1. Glen Coffee, Alabama
The Crimson Tide needed all of Coffee's 218 rushing yards in a 17-14 win over Kentucky.
2. Tyrell Fenroy, Louisiana-Lafayette
Fenroy set a school record with 297 rushing yards on 20 carries in a 44-35 victory over Louisiana-Monroe.
3. LeSean McCoy, Pittsburgh
"Shady" ran for 142 yards and two touchdowns in the Panthers' 26-21 upset of No. 10 South Florida on Thursday night.
4. Collin Mooney, Army
The senior ran 19 times for 187 yards and scored four touchdowns in a 44-13 rout at Tulane, helping the Black Knights end a 10-game losing streak.
5. Chris Ogbonnaya, Texas
The senior ran for 71 yards and one touchdown and caught six passes for 116 yards and one score in a 38-14 victory at Colorado.