On The Mark: Should Utah, Boise State and Ball State be in BCS mix?
Worthy Of Inclusion?
Three of the five unbeaten teams left in major college football reside in non-BCS conferences.
Do you really think they would be unbeaten if they played anywhere else?
With only four weeks left in the 2008 season, three teams from non-BCS leagues are in position to earn a lucrative spot in a BCS bowl game.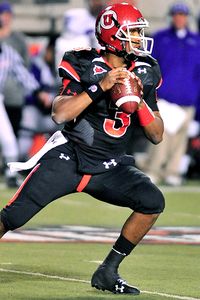 Boyd Ivey/Icon SMI
Brian Johnson and Utah probably have the most respectable resume among the non-BCS conferences teams in contention.
Utah is 10-0 with two regular-season games to play and sits at No. 7 in the BCS standings. No. 9 Boise State is 9-0 with three games to play. No. 14 Ball State, known more for its canning jars and alumnus David Letterman than football, also is a perfect 9-0.
Only one of the aforementioned teams is guaranteed a chance to play in one of the five BCS bowl games. Under the current BCS rules, a team from outside the six BCS conferences -- ACC, Big East, Big Ten, Big 12, Pac-10 and SEC -- automatically qualifies if it finishes in the top 12 of the final BCS standings.
Such a team also qualifies if it is ranked No. 16 or better and is higher than the champion of one of the BCS leagues. As it currently stands, No. 16 North Carolina is the highest-rated ACC team. No. 21 Pittsburgh is the highest-rated Big East team.
The Tar Heels and Panthers have done more to deserve a BCS berth than Ball State, Boise State or Utah.
The Utes have gotten a ton of mileage from their 25-23 upset of Michigan in the not-so-Big House in their Aug. 30 opener. That victory seemed pretty impressive until we all realized how bad the Wolverines really are in coach Rich Rodriguez's first season. Toledo, which is 2-7 and already in the market for a new coach, beat the Wolverines 13-10 in Ann Arbor, Mich., nearly a month ago.
Utah's signature win came Thursday night, a 13-10 victory over No. 12 TCU. Quarterback Brian Johnson drove the Utes 80 yards in the final minutes, throwing the winning 9-yard touchdown to Freddie Brown with 48 seconds to play. Utah won after the Horned Frogs missed two field goals in the fourth quarter.
"We needed this to solidify our [BCS] ranking," Utah coach Kyle Whittingham said after beating TCU. "It feels great we don't need any help from anybody. We can talk about the conference now, we still have some games and things are far from over, but what more can you say about what's transpired to this point in time?"
Utah is the only team from a non-BCS league with an argument to claim a BCS berth. The Utes won at Air Force 30-23 and beat Oregon State, which upset then-No. 1 Southern California 27-21 on Sept. 25. Utah plays at hapless San Diego State on Saturday and closes the regular season at home against No. 17 BYU on Nov. 22.
Victories over Oregon State, TCU and BYU would be enough to justify the Utes getting a chance to hand Oklahoma another postseason loss.
Of course, the Utes were the first team from a non-BCS league to break the BCS ceiling in 2004. Under then-coach Urban Meyer, the Utes capped a perfect 12-0 season by walloping Pittsburgh 35-7 in the 2005 Fiesta Bowl. Meyer left for Florida a few days later, and quarterback Alex Smith was the No. 1 pick of the NFL draft the next spring. The Utes have been trying to get back to that level ever since.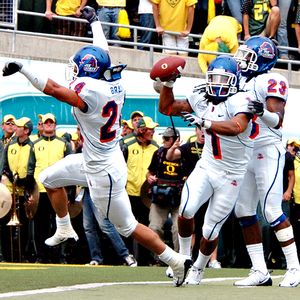 Sam Adams/US Presswire
Boise State would love to recreate its magic from the 2006 season when it capped a 13-0 year with a win over Oklahoma in the Fiesta Bowl.
Boise State became the poster child for teams from non-BCS leagues when it upset Oklahoma 43-42 in the 2007 Fiesta Bowl, finishing the 2006 season with a perfect 13-0 record. The Broncos might be capable of beating another BCS-conference school in the Fiesta Bowl again. But Boise State hasn't done enough this season to deserve another chance to do it.
Only three of the eight FBS teams the Broncos have beaten this season currently have a winning record. In fact, their eight FBS opponents have a combined record of 37-41.
Boise State's best victory was a 37-32 upset of then-No. 17 Oregon on Sept. 20. The Ducks played that game without their two best quarterbacks, and then lost their third-stringer to a concussion before halftime. Oregon finished the game with two freshman rotating under center.
Boise State blasted Utah State 49-14 on Saturday. The Broncos play at 2-8 Idaho on Saturday and close the regular season at Nevada and home against Fresno State. The Wolf Pack and Bulldogs each have 5-4 records.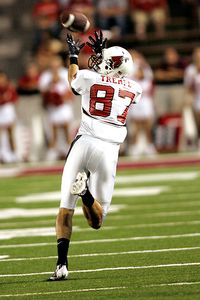 AJ Mast/Icon SMI
With Ball State's top nonconference wins over Navy and Indiana, it'll be hard for the Cardinals to reach a BCS bowl game without some help.
Ball State's résumé is even less impressive. Five of the eight FBS opponents the Cardinals have beaten have won three games or fewer. Ball State's most impressive victory to date was a 35-23 victory over Navy. Beating a team that's finally capable of beating Notre Dame doesn't carry as much weight as it used to.
After playing at Miami (Ohio) on Tuesday night (ESPN2, 7 p.m. ET), the Cardinals still face two big tests: at two-time defending MAC champion Central Michigan on Nov. 19 and home against Western Michigan on Nov. 25.
If the Cardinals win their last three games and finish 12-0, they would certainly be deserving of a date in the Motor City Bowl. But winning the MAC and beating Navy and Indiana doesn't entitle a team to a trip to the Orange Bowl.
The BCS tweaked its rules before the 2006 season to ensure that teams from non-BCS conferences would have an opportunity to play in the sport's biggest postseason games.
But equality and common sense still have to outweigh inclusion.
A few weeks ago, when Tulsa looked like the best team from a non-BCS league, Golden Hurricane coach Todd Graham said he was confident his team would qualify for a BCS bowl game if it finished unbeaten.
"All the ranking stuff will take care of itself," Graham said at the time. "I'm not worried one iota, if we go 13-0, about being left out. I think it's silly to even speculate."
The Golden Hurricane promptly lost to Arkansas, one of the worst teams in the SEC.
The Razorbacks, sitting at the bottom of the SEC West, are probably good enough to beat Ball State, Boise State and Utah, too.
On The Mark: Precision passers

Harrell
1. Graham Harrell, Texas Tech
The Heisman Trophy front-runner was nearly perfect in the Red Raiders' 56-20 rout of Oklahoma State, completing 40 of 50 passes for 456 yards with six touchdowns.
2. Nate Davis, Ball State
Davis kept the Cardinals' perfect season intact, throwing for 300 yards with four touchdowns and running for a score in a 45-14 victory over Northern Illinois on Wednesday night.
3. Matthew Stafford, Georgia
The junior threw for a career-high 376 yards with three touchdowns, including the winning score with 1:54 to go in a 42-38 win at Kentucky.
4. Cody Hawkins, Colorado
The much-maligned son of Buffaloes coach Dan Hawkins threw two touchdowns in the final 7:05 of a 28-24 victory over Iowa State.
5. Joe Ganz, Nebraska
The senior completed 28 of 37 passes for 324 yards with three touchdowns in a 45-35 victory over Kansas.
Off The Mark: Bowl-jeopardy losses

1. Louisville
The Cardinals were blasted 41-7 at Pittsburgh to drop their record to 5-4; they will have to beat Cincinnati, West Virginia or Rutgers to become bowl-eligible.
2. Illinois
A 23-17 loss to Western Michigan left the Illini with a 5-5 record. They'll have to upset Ohio State or Northwestern for a sixth victory.
3. Stanford
The Cardinal came up short in a 35-28 loss at Oregon, leaving them two more chances (USC and California) to become bowl-eligible.
4. Marshall
The Thundering Herd's 19-16 loss in overtime at East Carolina dropped their record to 4-5. Marshall will have to win two of its last three games -- against Central Florida, Rice and Tulsa -- to be eligible for the postseason.
5. Vanderbilt
The Commodores weren't expected to beat Florida, but their fourth consecutive loss leaves them three more chances for an elusive sixth victory. Vandy will have to beat Kentucky, Tennessee or Wake Forest to get a bowl invitation.
• To see all the teams eligible for bowl games this season, click here.
On The Mark: Ground-churning runners

Evans
1. Darren Evans, Virginia Tech
The Hokie freshman ran for a school-record 253 yards with one touchdown in a 23-13 win over Maryland on Thursday.
2. Vai Taua, Nevada
Taua ran for a career-high 263 yards with one touchdown in a 41-28 victory at Fresno State on Friday.
3. David Gilreath, Wisconsin
After running for 122 yards in the Badgers' first nine games, Gilreath had 168 yards and two scores in a 55-20 rout at Indiana. P.J. Hill added 126 yards and three touchdowns.
4. Beanie Wells, Ohio State
The junior finally appears to be healthy, running 28 times for 140 yards and two touchdowns in a 45-10 victory at Northwestern.
5. Shonn Greene, Iowa
The country's most underrated player ran 28 times for 117 yards and two touchdowns in the Hawkeyes' 24-23 upset of No. 3 Penn State.
Off The Mark: Coaches on the hot seat

Tuberville
1. Tommy Tuberville, Auburn
The Tigers were less than impressive in a 37-20 win over FCS opponent Tennessee-Martin, and they might have to beat Georgia or Alabama to save Tuberville's job.
2. Chuck Long, San Diego State
The former Iowa quarterback wasn't as fortunate as his alma mater, as the Aztecs fell to 1-9 after a 41-12 loss at BYU.
3. Greg Robinson, Syracuse
The Orange blew a 14-0 lead in a 35-17 loss at Rutgers, dropping their record to 2-7.
4. George O'Leary, Central Florida
The Knights were eliminated from the postseason with their fourth loss in a row, 17-6 to Southern Mississippi.
5. Hal Mumme, New Mexico State
The Aggies lost their fourth game in a row, 42-30 to Hawaii, dropping their record to 3-6.
On The Mark: Big-play receivers

Brown
1. Freddie Brown, Utah
Brown caught nine passes for 105 yards, including the winning touchdown with 48 seconds to play in the Utes' 13-10 win over TCU on Thursday.
2. Kenny McKinley, South Carolina
McKinley caught seven passes for 130 yards with one touchdown, sparking the Gamecocks' 34-21 victory over Arkansas.
3. Jamarko Simmons, Western Michigan
Simmons was the Broncos' star in a 23-17 upset of Illinois, catching 11 passes for 174 yards with one touchdown.
4. Dezmon Briscoe, Kansas
Briscoe caught six passes for 176 yards with one touchdown in a 45-35 loss at Nebraska.
5. Julio Jones, Alabama
The Crimson Tide freshman came up big in a 27-21 win at LSU, catching seven passes for 128 yards. His 23-yard catch in overtime set up Alabama's winning touchdown.