Bizarro World
In the category of strange bedfellows, politics has nothing on lifting the morale of the U.S. military.
I have seen Charlie Weis perform the UCLA Eight-Clap with an Air Force Bruin.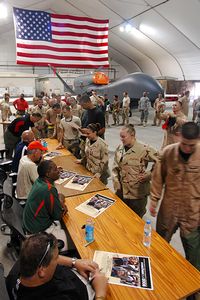 Todd Van Emst
The coaches signed all sorts of items on their tour.
I have seen Mark Richt sing Rocky Top with a faraway Vol and sign "Go Gators!" on a poster for a Florida fan.
I have seen Tommy Tuberville sign a Georgia shirt, and Randy Shannon sign a Notre Dame shirt.
Then came Bahrain and Master at Arms Petty Officer 3rd Class Ray Herrera of Chino, Calif. Herrera asked Weis if they could pose for a picture together. Herrera held a green Fighting Irish T-shirt, a gift for his wife. They married in January. He deployed in February.
But the shirt that Herrera wore sent Weis into mock outrage.
"I'm not taking a picture with you wearing that," Weis said.
That would be a cardinal USC shirt. Herrera's friends howled, and Weis, having sunk the hook in, started to reel him in.
"Let's have a vote," Weis said, looking at Herrera's pals. "Who thinks he should change shirts?"
The show of hands was unanimous. Herrera, who normally would have treated the T-shirt the way a 5-year-old would look at a plate of liver, put the shirt on and got the photo.
Herrera's post-mortem: "I can't believe I put that shirt on. My dad is going to kill me when he finds out. That's one of those things you do for love."
Weis' post-mortem: "A great ball-busting moment."
Military Style
In this age of the seven-figure salary, college football coaches are accustomed to having a private plane at their disposal and a luxury vehicle in their driveway, all courtesy of the university and its donors.
That's not how these kind of trips work. Here's a brief primer on the transportation provided for the Coaches Tour:
The KC-135 tanker. As first-class air travel goes, tankers make great flying gas stations.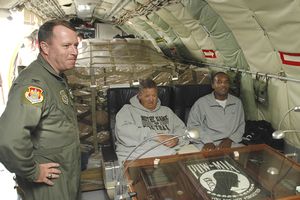 Todd Van Emst
It wasn't first class but the KC-135 tanker got the job done.
Picture a 12-foot wide warehouse with no windows, save for the plane doors, and overhead lights insufficient for reading. When shut in the heat, the temperature in the plane can soar well over 100 degrees. As we took off Monday morning for the U.S., the thermometer in the plane read 125.
The only thing separating us from the 100,000 pounds of jet fuel below us was a couple of inches of steel. Once the tanker got aloft, the subzero temperature of the atmosphere chilled the fuel. The temperature in the plane plummeted to around freezing, if the bottles of water on the floor that turned to ice are any indication.
I started out in a T-shirt and corduroys. I ended up wearing a T-shirt, turtleneck, wool coat, two pair of socks, gloves and a thick blanket.
The CH-53 helicopter. This flew the tour from Bahrain to the USS Nassau and back. Think of an elongated one-car garage made of steel with benches on each long wall. To get an idea of the noise, bring a lawn mower into the steel garage and crank it up. And that was with the headphones on.
Close Encounters
As much as the enlisted men enjoyed seeing the coaches, they didn't have any more fun than Weis, especially on the long flights. The Air Force arranged a demonstration of midair refueling that took place shortly after the plane left Scott AFB on May 21. A tanker flew up and positioned itself beneath the KC-135 carrying the tour.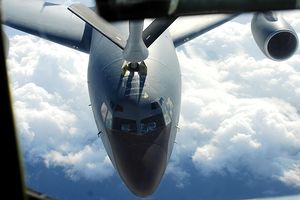 Todd Van Emst
Charlie Weis enjoyed the midair refueling demonstration.
In the back of our tanker, Tech. Sgt. Chris Norris, the boom operator for the nine-man crew from the 22nd Air Refueling Wing stationed at McConnell AFB in Kansas, lay on his stomach in a well at the back of the fuselage. On each side of Norris were two slanted wells. The members of the tour took turns lying on the stomach watching Norris jockey the boom from the same position.
Weis stayed for several minutes. He looked out the windows on a beautiful Midwestern afternoon, framed by puffy clouds above and farmland below, and there flew a plane right below him. When I say right below him, I don't mean 1,000 feet.
"How far away is he?" Weis asked Norris.
"Well, he's 15 feet from the end of that boom," Norris said. "Probably about 30 feet."
"That's pretty amazing when you think about it," Weis said.
"This guy," Norris said, referring to the other pilot, "is pretty stable. It's the guys who are all over the place that make the job hard."
Weis gave a thumbs up to the pilot in the other tanker, backed up the incline and toddled back to his seat. He shook his head in disbelief.
"Can you imagine being 30 feet away from another plane?" Weis asked.
Ivan Maisel is a senior writer for ESPN.com. Send your questions and comments to Ivan at ivan.maisel@espn3.com.
It's Always About Recruiting
Four of the coaches -- Weis, Shannon, Tuberville and Richt -- could invite a guest on the tour with them. Tuberville brought Auburn athletic department photographer Todd Van Emst. Weis brought Mike Bennett, who has been shooting pictures of Irish football since the Gerry Faust days. Shannon invited Miami Senior Associate Athletic Director Tony Hernandez, and Richt brought Air Force Col. Billy Francis, his brother-in-law.
Richt didn't arrive at Scott Air Force Base until May 21, several hours before the tour left for Germany. He stepped onto a shuttle bus, sat down and asked, "Does Tuberville have his son with him?"
"No, all he brought was his photographer."
Richt chewed on that for a second, and then it dawned on him.
"Aahhh," he said. "Recruiting."
A few minutes later, Tuberville got on the bus and sat down across from Richt. They began discussing how cold it might get on the plane.
"I brought five Georgia stocking caps if you get really cold," Richt offered.
That didn't faze Tubervile.
"I'll do anything to keep warm," Tub said.
"Good," Richt said. "I've got my picture phone."
Aahhh, recruiting.
(For the record, Van Emst sent an email Tuesday saying that he took 4,934 pictures in one week. And it wouldn't surprise me if Bennett surpassed that total).
Behind Enemy Lines?
Urban Meyer notwithstanding, the USS Nassau is called Top Gator because it is the Navy's largest amphibious attack ship. That's what provoked the double take upon seeing the last name on the right breast of an airman from Fredericksberg, Va. Yes, serving on Top Gator is Airman Cedric Nole.
All's Quiet
Calling Randy Shannon quiet is like calling Kevin Garnett tall. The Miami coach is not afraid of silence. He wears it like a custom-made suit.
On a trip with four other coaches whose personalities extend outward, Shannon could have easily remained in the background. As it turned out, he found his own way to connect. The best example: Sunday night, after the final program of the trip concluded and the coaches had three hours of personal time to prepare for the 15-hour flight home, Shannon sat at a table with a couple of airmen playing dominoes.
Quietly.
Giving Back
Of all the military men and women I met on the trip, one of them who stuck with me is Air Force 1st Lt. Saheba Dehenre of Laurel, Miss. Not because of her friendliness or because she made sure that Auburn coach Tommy Tuberville signed a T-shirt on a teddy bear that she bought for her brother, Onutase, a graduate of Ole Miss while Tuberville coached there.
No, just take a listen to why Lt. Dehenre joined the Air Force.
"We're down-home Mississippi folk but our bloodline goes back to Nigeria," she said. "My father [Malachy] was the first one to come over. My dad actually can say he came to America with $68 in his pocket and became a doctor because of all the opportunities that America has.
"What better way to say, 'Thank you,' than to serve in the Armed Forces?"
Needle Point I
Tuberville to Shannon, who played for him and coached under him at Miami: "I got 10 years invested in Miami! Virginia? You let Virginia beat you!"
Needle Point II
Weis to Richt: "We sing the fight song in the locker room if we win. If we beat Georgia, we might sing it twice."
Needle Point III
After the coaches' party toured the AWACS surveillance plane on Sunday, Weis returned to the bus.
"OK, Charlie," I said. "How many Bill Belichick jokes did you get on the plane?"
"I only had one," said Weis, a former Patriots offensive coordinator whose name arose in the Spygate case. Weis has not responded publicly, and he said that when someone makes a smart-aleck remark, as happened Sunday, "I take the high road."
He paused for a few seconds, thinking about the AWACS.
"It would be pretty cool to use," Weis said with a chuckle. "Think about it."