Midseason awards
By Mark Schlabach
ESPN.com
Six down. Six to go.
Or maybe even more for college football's best teams.
The first half of the 2010 season ended with an action-packed weekend. Defending BCS national champion Alabama lost for the first time this season, falling at South Carolina 35-21 on Saturday.
The Crimson Tide, who lost for the first time in 20 games, were among five ranked teams to lose on the last weekend of the first half of the season.
Traditional powerhouses such as Florida, Miami, Penn State and Southern California lost again, and upstarts such as Auburn, Michigan State, Missouri, Nevada and Oklahoma State kept winning.
Here's a look back at the first half of the season:
[+] Enlarge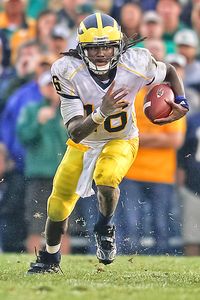 Robin Alam/Icon SMIDenard Robinson has been a one-man gang for 5-1 Michigan.
Offensive MVP: Denard Robinson, Michigan
Even after the player known as "Shoelace" threw three interceptions in Saturday's 34-17 loss to Michigan State, it would be hard to argue that anyone had a bigger impact than Robinson in the first half of the season.
Robinson ranks No. 2 in the country in rushing with 165.2 yards per game and No. 12 in pass efficiency with a 164.1 rating. The first-year starter has already accounted for more than 2,200 yards of total offense with 17 touchdowns, leading the Wolverines to a surprising 5-1 start and possibly saving embattled coach Rich Rodriguez's job.
Defensive MVP: Patrick Peterson, LSU
There's not a more effective shut-down cornerback in the country than Peterson, who also doubles as an explosive kick returner. Peterson is a big reason the unbeaten Tigers rank No. 5 in the country in total defense (246 yards per game), as opposing quarterbacks are so reluctant to throw to his side of the field.
Peterson had an 87-yard punt return for a touchdown in LSU's 30-24 victory over North Carolina in its opener, had two interceptions in a 29-7 win over Mississippi State, and had a 60-yard punt return for a touchdown and blocked a field goal in a 20-14 win over West Virginia.
Coach of the Year: Chip Kelly, Oregon
Kelly not only has the No. 2 Ducks at 6-0 and in position to play for the BCS national championship but also is the architect of the country's most explosive offense. The Ducks haven't missed a beat without Jeremiah Masoli, last year's starting quarterback who was dismissed from the team and transferred to Ole Miss. Oregon is averaging 54.3 points per game.
Freshman of the Year: Taylor Martinez, Nebraska
Martinez has made the Cornhuskers the team to beat in the Big 12 by bringing life to their once-pedestrian offense. He's completing 60.9 percent of his passes, but does even more damage with his legs. Martinez is averaging 147.4 rushing yards per game, fourth-best in the country, and has accounted for 15 touchdowns.
Junior College Transfer of the Year: Cameron Newton, Auburn
The former Florida quarterback, who played last season at Blinn College in Texas, has transformed the Tigers into major players in the SEC West. Newton ranks No. 17 nationally in rushing with 112 yards per game and is completing 64.8 percent of his passes for 1,138 yards with 12 touchdowns and five interceptions.
Game of the Year: Michigan State 34, Notre Dame 31
The Spartans are 6-0 at the midway point of the season thanks to their stunning overtime victory over the Fighting Irish on Sept. 18. After the Irish kicked a field goal to go ahead 31-28 in overtime, the Spartans lined up for a tying 46-yard field goal. But Michigan State coach Mark Dantonio called a play known as "Little Giants," and holder Aaron Bates threw a 29-yard touchdown to Charlie Gantt to end the thriller.
[+] Enlarge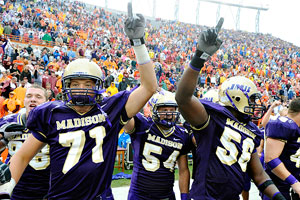 AP Photo/Don PetersenJames Madison took advantage of a Virginia Tech hangover for the season's biggest upset.
Upset of the Year: James Madison 21, Virginia Tech 16
Five days after the Hokies lost to Boise State 33-30 on a last-minute touchdown, FCS foe James Madison stunned them at home on Sept. 11. The Hokies became only the second ranked FBS team to lose to a lower-division team; No. 5 Michigan lost to Appalachian State 34-32 on Sept. 1, 2007.
Best finish: LSU 16, Tennessee 14
It wasn't exactly a thing of beauty, but college football fans probably will never see again what they witnessed in the final seconds of the Tigers' thrilling victory Oct. 2. It appeared that the Tigers had lost the game after they nearly let the clock run out and mishandled a snap on third-and-goal from the Tennessee 1. The Volunteers stormed the field to celebrate, but officials ruled they had 13 players on the field. Given new life, LSU won the game after tailback Stevan Ridley scored on a 1-yard touchdown run on the final play.
Best play: LSU's fake field goal vs. Florida
LSU fans might question coach Les Miles' intelligence at times, but they can never question his guts. With the Tigers trailing Florida 29-26 late in the fourth quarter Saturday, LSU lined up for a tying, 52-yard field goal. Instead, holder Derek Helton threw a no-look pitch over his shoulder to kicker Josh Jasper. The ball bounced off the turf and was scooped up by Jasper, who ran for a first down. Four plays later, Jarrett Lee threw a 3-yard touchdown to Terrence Toliver for a 33-29 victory.
Best coaching debut: Jimbo Fisher, Florida State
Fisher had the unenviable task of replacing legendary Seminoles coach Bobby Bowden, who was forced to retire after 34 seasons at FSU. After six games, Fisher has the Seminoles in control of the ACC's Atlantic Division with a 5-1 record. The Seminoles were walloped at Oklahoma 47-17 on Sept. 11, but they recovered to win their next four games, including a 45-17 rout of No. 13 Miami on the road Saturday.
Biggest disappointment: Georgia
The Bulldogs started the season ranked in the preseason Top 25, but lost four games in a row after beating Louisiana-Lafayette 55-7 in their opener. Georgia's 41-14 victory over Tennessee on Saturday ended its first four-game losing streak since 1990. Even more disappointing: Star receiver A.J. Green was suspended four games by the NCAA for selling his 2009 Independence Bowl jersey for $1,000.
Conference rankings
By Mark Schlabach
ESPN.com
Ranking the BCS conferences at the midpoint of the 2010 college football season:
1. SEC: Alabama's surprising 35-21 loss at South Carolina might seriously damage the SEC's hopes of winning a fifth consecutive BCS national championship. But the league still has five teams ranked in the top 12 of the Associated Press Top 25 poll: No. 7 Auburn, No. 8 Alabama, No. 9 LSU, No. 10 South Carolina and No. 12 Arkansas. No. 22 Florida's 33-29 loss to LSU exposed how mediocre the Gators are this season.
ESPN Stats & Info: Conference Rankings
Conference
AP Rank
Computers Rank
Rating
SEC
1
3
96.6
Big Ten
2
4
89.0
Pac-10
3
1
88.1
Big 12
5
2
85.4
MWC
4
6
75.2
WAC
6
7
58.5
ACC
7
5
38.9
Big East
8
8
24.8
C-USA
9
9
17.5
MAC
10
10
12.8
Sun Belt
11
11
9.1
• ESPN Stats & Info blog
2. Big Ten: No. 1 Ohio State and No. 13 Michigan State are in great position to play in BCS bowl games because they don't play each other in the regular season. No. 15 Iowa and No. 18 Wisconsin continue to rebound from earlier losses, but Michigan's defense -- along with quarterback Denard Robinson's inexperience -- finally caught up with the Wolverines in a 34-17 loss to the Spartans.
3. Pac-10: No. 2 Oregon might end up receiving the biggest boost from Alabama's unexpected loss. The Ducks survived with a 43-23 victory over Washington State even after losing quarterback Darron Thomas to a shoulder injury. No. 17 Arizona, the Pac-10's other undefeated team entering the weekend, lost to No. 24 Oregon State 29-27. No. 14 Stanford needed a last-second field goal to beat Southern California 37-35.
4. Big 12: There are still four undefeated teams in the Big 12 -- No. 5 Nebraska, No. 6 Oklahoma, No. 20 Oklahoma State and No. 21 Missouri. The Cornhuskers flexed their muscles in a 48-13 rout of previously unbeaten Kansas State on Thursday night, and the Tigers shut out Colorado 26-0.
5. ACC: No. 16 Florida State emerged as perhaps the league's best team after routing Miami 45-17 on the road Saturday. Virginia Tech, which lost two games in six days to start the season, defeated Central Michigan 45-21 to win its fourth game in a row. NC State and defending ACC champion Georgia Tech also are gaining steam.
6. Big East: No. 25 West Virginia is the league's only ranked team after blasting UNLV 49-10 at home Saturday. Syracuse is the league's biggest surprise after winning at South Florida 13-9, and Pitt is its biggest disappointment after losing at Notre Dame 23-17.
On the mark: Precision passers

1. Stephen Garcia, South Carolina
The much-maligned junior had a career day in the Gamecocks' 35-21 upset of No. 1 Alabama, throwing for 201 yards with three touchdowns on 17-for-20 passing.
2. Taylor Martinez, Nebraska
The freshman completed five of seven passes for 128 yards, including a 79-yard touchdown, and rushed 15 times for 241 yards with four scores in a 48-13 rout at Kansas State.
3. Taylor Potts, Texas Tech
Potts completed 15 passes in a row in the first half of a 45-38 win over Baylor and finished with 462 yards and four touchdowns on 42-for-59 passing.
4. Ryan Katz, Oregon State
Katz added his name to the long list of talented Pac-10 quarterbacks, completing 30 of 42 passes for a career-high 393 yards with two touchdowns (and a scoring run) in a 29-27 upset at Arizona.
5. Terrelle Pryor, Ohio State
Pryor had perhaps his best passing day in the Buckeyes' 38-10 rout of Indiana, throwing for a career-high 334 yards with three touchdowns on 24-for-30 passing.
Off the mark: First losses
1. Alabama
The Tide rushed for only 36 yards and allowed seven sacks in their 35-21 loss at South Carolina.
2. Arizona
The Wildcats lost to Oregon State 29-27, their 10th loss to the Beavers in the past 12 meetings.

3. Kansas State
The Wildcats allowed five touchdowns of 35 yards or longer in a 48-13 loss to Nebraska.
4. Michigan
Quarterback Denard Robinson threw three interceptions and the Wolverines allowed 536 yards of offense in a 34-17 loss to rival Michigan State.
5. Northwestern
The Wildcats missed a field goal and had another one blocked in a 20-17 loss to Purdue, spoiling a chance for them to match their best start in 48 seasons.
On the mark: Ground-gaining RBs
1. Bilal Powell, Louisville
The senior ran 18 times for 204 yards with four touchdowns in the Cardinals' 56-0 rout of Memphis, Powell's third game with 150 or more yards this season.
2. Isaiah Pead, Cincinnati
Pead's return from a knee injury might save the defending Big East champion's season. He ran 10 times for 197 yards with one touchdown in a 45-3 win over Miami (Ohio).

3. Anthony Allen, Georgia Tech
Allen ran for 195 yards with three touchdowns, helping the Yellow Jackets run for 477 yards in a 33-21 victory over Virginia, Tech's highest rushing total in an ACC game.
4. Chris Thompson, Florida State
Thompson put the finishing touches on FSU's 45-17 victory at Miami, running for a 90-yard touchdown, the longest ever allowed by the Hurricanes. Teammate Jermaine Thomas had 78 rushing yards and two touchdowns.
5. Edwin Baker, Michigan State
The sophomore ran for 147 yards and one touchdown on 22 carries in a 34-17 win at Michigan, helping the Spartans beat the Wolverines for the third season in a row.
Off the mark: Still winless

1. Eastern Michigan
The Eagles (0-6) lost their 18th game in a row Saturday, 52-6 at Vanderbilt.
2. Western Kentucky
The Hilltoppers (0-5) have dropped 25 consecutive games after losing 28-21 at Florida International.
3. New Mexico
The Lobos (0-6) lost their state's version of the Toilet Bowl, losing to rival New Mexico State 16-14 on a field goal with less than two minutes left.
4. Akron
The Zips (0-6) lost five turnovers in a 28-17 loss at Kent State, which scored on an interception return and a fumble recovery in the end zone.
5. Washington State
The Cougars (1-5) are still searching for their first victory over an FBS foe after losing to Oregon 43-23.
On the mark: Big-play WRs

1. Justin Blackmon, Oklahoma State
Blackmon continued his torrid pace with 13 catches for 190 yards with two touchdowns in a 54-28 victory over Louisiana-Lafayette, his fifth 100-yard game in a row.
2. Greg Salas, Hawaii
Salas caught nine passes for 148 yards with three touchdowns in a 49-27 win over Fresno State and has had seven touchdown receptions in his past three games.
3. Alshon Jeffery, South Carolina
Jeffery was the best player on the field in the Gamecocks' stunning upset of Alabama, catching seven passes for 127 yards with two touchdowns.
4. Mark Harrison, Rutgers
Harrison caught five passes for 112 yards with one touchdown in a 27-24 victory over Connecticut, including the tying 52-yard touchdown with 3:53 to play.
5. Terrence Toliver, LSU
Toliver had six catches for 111 yards with two touchdowns, and his 3-yard scoring catch with six seconds left was the winner in a 33-29 victory at Florida.