Getting Defensive
With 19 starters returning in 2007, including 10 from the Pac-10's No. 3 scoring defense, the general feeling around the Arizona program was if the offense became merely adequate then the Wildcats would earn their first bowl berth since 1998.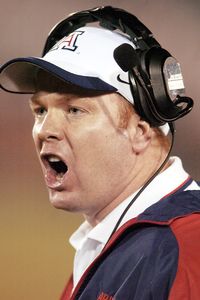 Kirby Lee/WireImage.com
Defensive coordinator Mark Stoops is focused on improving Arizona's defense.
The general feeling was wrong.
The offense was more than adequate after adopting a pass-happy spread scheme courtesy of new offensive coordinator Sonny Dykes. The Wildcats averaged 28 points per game, 12 more than the previous season, and set more than a dozen passing records.
That veteran defense? Despite across-the-board experience and solid talent, it was "terribly inconsistent," according to coordinator Mark Stoops. It gave up 26.8 points per game -- a touchdown more than in 2006 -- and allowed opponents to convert 43.2 percent of their third downs, which ranked ninth in the conference.
"We weren't putting people in bad situations," said Stoops, younger brother of head coach Mike Stoops. "We were letting people manage the game, manage their drives. We had trouble getting off the field."
The Wildcats will get a fresh start this spring whether they like it or not. Only four starters are back, with a particularly worrisome void at cornerback left by the departures of Antoine Cason, the Thorpe Award winner, and Wilrey Fontenot.
Oh, and that list of returning starters includes defensive end Jonathan Turner, who lost his job last year and will have to fight like crazy to win it back this spring.
Mark Stoops, however, didn't seem too worried. All the players on hand were recruited by the brothers, and the cupboard is hardly bare.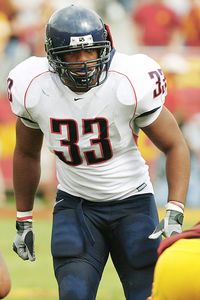 Kevin Terrell/Getty Images
Ronnie Palmer picked up 83 tackles for the Cats in 2007.
For one, the defense figures to be solid up the middle, with veteran middle linebacker Ronnie Palmer and safeties Cam Nelson and Nate Ness. What the defensive line will lack in experience, it will make up for in athleticism. Stoops said he's prepared to rotate four or five ends, a list led by sophomores D'Aundre Reed, Ricky Elmore and Brooks Reed.
Lolomana Mikaele and Donald Horton top the depth chart at tackle, but the coaches are intrigued by Earl Mitchell's position change from H-back. Word is Mitchell passes the sight test.
"He looks awfully good," Mark Stoops said. "It's hard for us to go out and recruit anybody who looks better than that, I know that much. I'd be shocked if he didn't come out of spring looking pretty good inside."
In another position change, Mike Turner moves back to corner after playing receiver last year. He'll challenge Marquis Hundley for the starting spot opposite Devin Ross, with incoming hotshot frosh Manuel Golden expected to make a push.
Stoops sounded optimistic that his defense will carry its fair share after underachieving a year ago. It needs to because there's considerable win-now-or-else pressure on his brother heading into 2008.
"We're not going to make any bold, crazy statements saying we're going to do this or do that," Mark Stoops said, "but I know what these guys are capable of."
Ty Preps For Success
While Washington coach Tyrone Willingham's ditching his longtime defensive coordinator Kent Baer in favor of Ed Donatell garnered more headlines, his decision to dip into the high school ranks for his new running backs coach might be more intriguing. And inspired.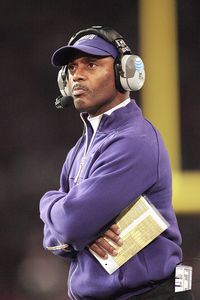 Otto Greule Jr/Getty Images
Tyrone Willingham turned to the high school ranks for his latest addition to Washington's staff.
For one, too few Division I-A coaches have the guts to hire a prep coach, which means a lot of talent gets marginalized. And Steve Gervais, 54, who split six state championships between two different schools while running up a 244-83 career record, is a true talent. Gervais adopted a high-powered spread offense at Skyline High School in Sammamish, Wash., and last year the Spartans averaged 37.4 points per game while rolling up a 14-0 record. His input will be valuable in Year 2 of the
Jake Locker
Era.
Willingham didn't blindly hire Gervais, either. His son, Nathaniel, played center for Skyline and he is good friends with Gervais' son Riley, who will be a walk-on linebacker for the Huskies this fall.
Beyond hiring a good coach, Willingham also scored a few PR points that could pay off in recruiting. Gervais, obviously, will be well-connected with in-state high school coaches, many of whom will take pride in one of their own getting the opportunity to play at Washington. It also doesn't hurt that Skyline churns out a pretty good cast of prospects, including quarterback Jake Heaps, who should be one of the state's top prospects in 2010.
Ted Miller is a college football writer for ESPN.com. Send your questions and comments to Ted at tedmillerespn@gmail.com.
Arresting Developments

A USC veteran and an incoming freshman ran into some trouble last week with law enforcement. Maurice Simmons, a linebacker signed in February out of Compton's Dominguez High, pleaded not guilty to charges of felony robbery and assault with a firearm. Simmons and co-defendant Lamont Lee Hall were arrested March 5 after they allegedly robbed a man at gunpoint on a Compton street, according to the Los Angeles Times, which also reported that Hall was convicted of burglary in Torrance in 2007.
Senior defensive tackle Fili Moala was arrested March 2 after a bar fight for obstructing and delaying an officer. He was not cited for participating in the fight, according to reports. Moala has started 25 games over the past three seasons for the Trojans.
Old And New At Wazzu

New Washington State coach Paul Wulff has been fretting about his Cougars' lack of depth, but he's found a partial solution even before the start of spring practices on March 17: Reinstate suspended players!
Five Cougars, previously suspended for academic woes or off-field problems, will participate in spring practices, and each is a potential starter next fall. The list includes Andy Roof, who has switched from offensive guard to defensive tackle (sat out 2007 because of multiple alcohol violations), outside linebacker Jason Stripling (academics), receiver Michael Willis (academics), defensive tackle Fevaea'i Ahmu (alcohol violation) and free safety Xavier Hicks (assault arrest).
Hicks gained a degree of infamy when the Seattle Post-Intelligencer reported he was arrested in January for second-degree assault for allegedly putting rubbing alcohol in teammate and roommate Grady Maxwell's contact lens case.
Peeling Out

California is out two defensive backs before spring practices begin after junior Robert Peele and sophomore Brandon Jones both left the program. Peele was expected to compete for a starting job at cornerback last fall but he lost out, sprained his ankle against Oregon and never played again. Jones was contributor on special teams in 2007 with considerable athletic upside.
While the Bears have only one vacancy in the secondary following the departure of free safety Thomas DeCoud, there's a decided lack of depth, meaning a couple of freshmen might win playing time. As for replacing DeCoud, senior Bernard Hicks tops the spring depth chart.
Extra Points

• Poor USC. It didn't finish in the top five of Scouts Inc.'s recruiting rankings in February. Clearly, Pete Carroll is losing his touch. Or not. USC already owns 10 elite commitments for its 2009 recruiting class. All 10 are on Scouts Inc.'s ESPN 150 watch list, including coveted quarterback Matt Barkley of Mater Dei High in Santa Ana, Calif.

• Most teams prefer lining up a few patsies before starting the conference schedule, but in the Pac-10, which breaks out of the gate with Oregon State's visit to Stanford on Aug. 28, a Thursday night showcase on ESPN2. Oregon also opens the following Saturday against Washington. Pac-10 teams have met in season openers only four times since 1998, and three of those matchups included Stanford. The Cardinal will play three conference games before the calendar flips into October in 2008.

• And that conference opener seems to lay out better for Stanford than Oregon State. For one, Oregon State in recent years has started slow and finished fast, and the Beavers will be completely rebuilding their defense. Second, quarterback Sean Canfield is recovering from offseason shoulder surgery and he won't start throwing again until July, not long before preseason practices start. And, perhaps most stressful for the Beavers, veteran starting safety Al Afalava will be suspended for at least the Stanford game due to a DUI arrest on Feb. 9, when he allegedly drove into an empty bus shelter and abandoned his vehicle. He also was charged with hit-and-run and criminal mischief, which is a felony.

• You may not know the name Ed Kezirian, but you know who he is if you've ever been to a UCLA football game. How about this: The Towel Waver. Ah, recognition. But Kezirian is hanging up his long, white, swirling towel, retiring after 32 years as a player, coach and administrator at UCLA.