Waiting To Exhale
They say good things come to those who wait, but that might not be the case for Gary Rogers, a fifth-year senior who's spent the past three seasons at Washington State backing up record-setting quarterback Alex Brink.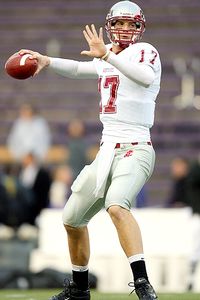 Otto Greule Jr/Getty Images
Gary Rogers has his sights set on the starting QB job for the Cougars.
A new staff under coach Paul Wulff and a new no-huddle spread offense means nothing is guaranteed.
Yet, while some might wonder if the 6-foot-7, 233-pound Rogers is the right fit for a rapid-fire offensive scheme, Wulff started spring practices Monday asserting that that Rogers will open as No. 1 and the job is "his to lose."
And Rogers said he welcomes a challenge, while making it clear he plans to take the reins immediately.
"I've definitely got to prove myself, but going into spring, I'm taking the leadership role and assuming I'm the No. 1 guy," he said. "And I'll go from there. I've definitely got to push myself."
Rogers has completed only 24 passes with three touchdowns in his career. Many Cougars fans, however, remember him stepping in two years ago at Auburn when Brink was struggling and leading a 90-yard drive that was highlighted by a 50-yard touchdown pass.
In fact, Rogers was not unaware that many fans thought he should unseat Brink, who put up huge numbers but was often inconsistent and didn't win enough to suit a fan base that recalls three consecutive 10-win seasons before he took over the offense.
"That's the life of a backup quarterback right there," Rogers said. "You get all the praise when the starter is not doing as well as expected. I just wanted to help out Alex. He's a great guy and a great quarterback. I was just waiting my turn."
It's not that Rogers didn't want to start. Or that, at times, he didn't believe he should. He just opted to play the role of team guy and hoped for a payoff this year.
Now, he's the lead dog with backups expected to support -- and hunt -- him.
The intriguing candidate to challenge for the No. 2 spot is redshirt freshman Marshall Lobbestael, who's more mobile than Rogers. Juniors Kevin Lopina, a Kansas State transfer who's also a good runner, and Cole Morgan also are in the mix.
By the way, Rogers takes exception to the notion that he's a lumbering giant, incapable of escaping pressure.
"I can run the ball a little bit," he said. "People look at me and see a big guy and think, 'His legs aren't good.' But I definitely can run the ball and throw as well."
Whoever wins the starting job will benefit from the presence of receiver Brandon Gibson, a potential All-American who opted to return for his senior season after piling up 1,180 receiving yards a year ago, as well as four starting offensive linemen.
Show Me The Money
Been reading the headlines lately about coaching salaries? Perhaps not if you're a die-hard Pac-10 fan because there's rarely eye-popping news. Yet down South, it's a bull market.
Consider.
Georgia's Mark Richt recently received an $800,000 raise to $2.8 million per season. That ties him for fifth among SEC coaches, well behind Alabama's Nick Saban and LSU's Les Miles, who earn $3.75 million annually.
Fifth.
The only Pac-10 coach in that range is USC's Pete Carroll, though California's Jeff Tedford is scheduled to receive a $1 million bonus at the end of the 2008 season that will increase his take to $2.8 million.
But, after that, no other Pac-10 coach makes $2 million annually. While the SEC average is more than $2 million, eight Pac-10 coaches make between $600,000 and $1.5 million.
Moreover, plug in some cost of living analysis between SEC cities -- Gainesville, Baton Rouge and Athens, etc. -- vs. Pac-10 cities -- Los Angeles, San Francisco and Seattle, etc. -- and the disparity widens dramatically.
For example, Carroll's $3.8 million (an estimate because the school doesn't release his contract) in L.A. is worth $2.35 million in Baton Rouge.
The explanation for this is obvious: The SEC generates the most revenue in college football, and four highly paid SEC coaches have won national titles -- three in the past five seasons.
Still, if the pay disparity continues to grown between the SEC and other major conferences, it could have worrisome long-term implications, at least outside of the Southeast.
Ted Miller is a college football writer for ESPN.com. Send your questions and comments to Ted at tedmillerespn@gmail.com.
Pryor Commitment

Oregon lost out on the Terrelle Pryor Sweepstakes -- Pryor picked Ohio State over Michigan on Wednesday -- but the Ducks even earning a spot at the table for the nation's No. 1 prospect provided a nice boost to their profile.
Moreover, replacing dynamic quarterback Dennis Dixon appears far less daunting after sophomore Justin Roper picked apart South Florida for four touchdown passes in a 56-21 Sun Bowl blowout that partially redeemed an embarrassing late-season slide after Dixon went down with a knee injury.
But Roper won't automatically walk into the starting job when spring practices start April 4. He'll first be challenged by sophomore Cody Kempt; but watch out for sophomore Nathan Costa, who was ahead of those two before blowing out his knee last season. Costa will be limited in spring but figures to enter the race in the fall.
Beyond that, a touted pair of freshmen, Darron Thomas and Chris Harper, reported early and will participate in spring drills. Thomas already has picked up a fan club on the popular Ducks blog, "Addicted to Quack ."
Bolt From Berkeley

Cal pushed back the start of spring practices from March 17 to March 31 in the hopes injured players would benefit from a couple more weeks of rest. But at least one projected starter used the time to decide to transfer: sophomore running back
James Montgomery
, the most experienced tailback heading into spring. Montgomery rushed for 171 yards and two touchdowns last season while playing behind senior
Justin Forsett
and fellow freshman
Jahvid Best
. With Montgomery gone,
Shane Vereen
,
Tracy Slocum
and
Covaughn DeBoskie
move up the depth chart. The flashy Best will be out until the fall nursing a hip injury.
Competition Bruin

It appears that UCLA quarterback
Patrick Cowan
is ahead of schedule rehabilitating his injured knee and will be available when spring practices begin April 3, according to the Los Angeles Daily News. At that point, he will renew his seemingly never-ending competition with
Ben Olson
, the favorite to eventually win the job. Cowan a senior, has started 13 games over the past two seasons, but only five in 2007 because of multiple injuries. Olson is also coming off a knee injury.
Good News/Bad News

Oregon State got some great news and some not so great news in the past week. First, receiver
Sammie Stroughter
received a hardship waiver and another year of eligibility, which means the Beavers get one of the conference's best receivers and return men back for another year. On the down side, Pernnell Booth, expected to start at defensive tackle, will miss spring while rehabbing a high-ankle sprain. The senior is the Beavers only experienced tackle.
Arresting Development

USC senior defensive tackle Fili Moala will not be charged after his March 2 arrest in connection with a bar fight in Newport Beach, Calif. Moala didn't participate in the fight but was arrested after he didn't follow police instructions to leave the bar, according to reports. Moala is the Trojans' most experienced defensive lineman and an All-American candidate.
Raising Arizona

Arizona practiced four times before spring break and will reconvene March 24. The early word on the junior college transfers participating this spring -- linebackers Sterling Lewis and Vuna Tuihalamaka, and offensive linemen Herman Hall, Mike Diaz and Phillip Garcia -- was positive. Lewis and Tuihalamaka could be in the mix to fill two vacancies at linebacker. Junior Xavier Kelley and senior Adrian McCovy also are in the running.