Huskies Expect Dramatic Defensive Improvement
SEATTLE -- At last, blame can finally be assessed for why Washington's defense stunk so badly last year, posting the worst numbers in school history.
And no, it's not because the Huskies dispatched coordinator Kent Baer.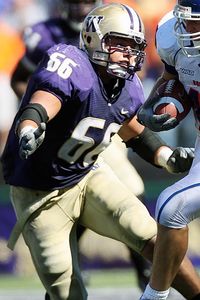 Otto Greule Jr/Getty Images
Daniel Te'o-Nesheim registered 8.5 sacks for the Huskies in 2007.
"It was probably because of me," senior defensive end Daniel Te'o-Nesheim said. "If I just would have made a couple more stops here and there."
Balderdash. Te'o-Nesheim led the Huskies with 15 tackles for loss and 8.5 sacks. The only returning lineman with any significant experience is avoiding the question.
Again: How could a veteran unit be so terrible?
"Jeez. That's a hard one," he said. "You always want to be on a record-setting defense, but not in that sense. God, that hurt. But I've got two more years and this program is going to be good."
If so, the defense will have to dramatically improve. The bad news is the line lost three starters. That's also the good news, considering the Huskies surrendered a Pac-10-worst 446.4 yards per game a year ago.
The early returns have been encouraging under new coordinator Ed Donatell, who spent 12 of the previous 13 seasons coaching in the NFL. Despite squaring off against a veteran offensive line with four starters back, the defense held its own during a scrimmage over the weekend and showed an aggressiveness that was missing a year ago.
"They're more physical than I've seen here in a while," offensive coordinator Tim Lappano said. "They gave us some tough blitz looks we weren't ready for."
Three of the line positions seem fairly set, with senior Darrion Jones at the end opposite Te'o-Nesheim and powerful junior Cameron Elisara lining up at one tackle.
The other tackle spot is up in the air. Before spring practices began, coaches moved underachieving, 280-pound tight end Johnie Kirton to tackle, and he was joined this past week by former defensive end De'Shon Matthews, a junior who tips the scales at only 253 pounds.
Three redshirt sophomores figure to contribute: tackles Tyrone Duncan and Nick Wood and 6-foot-7 end Kalani Aldrich. In the fall, three touted incoming freshmen could fight their way into the rotation: tackles Alameda Ta'amu and Craig Noble and end Everrette Thompson.
Another boost this week came a few yards from the line of scrimmage, when linebacker E.J. Savannah, the leading tackler in 2007, returned from a seven-practice suspension for falling short of team standards.
Te'o-Nesheim said he didn't feel overwhelmed by any massive scheme change, despite intimations that the Huskies will unveil an array of new fronts and stunts next fall. He said the biggest change is Donatell's hands-on approach.
"I talk to him a lot more, that's probably the biggest difference," he said.
The Huskies again face a brutal schedule in 2008, and expectations aren't terribly high, in large part because of issues on defense. But Te'o-Nesheim believes his crew might surprise some folks. Really, really surprise them.
"Oh, yeah," he said. "But I always think we're going to shut out everybody."
Bruin A QB Controversy?
In 2002, quarterback
Ben Olson
was the premier recruit in the country. In 2008, he may end up as UCLA's third quarterback or even transfer to a I-AA school.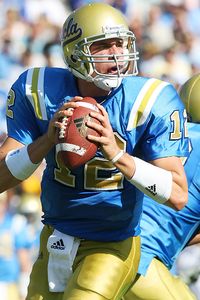 Lisa Blumenfeld/Getty Images
Patrick Cowan threw four touchdown passes for the Bruins in 2007.
At least that's what's swirling after new Bruins coach Rick Neuheisel announced just a week into spring practices that fellow fifth-year senior Patrick Cowan has earned the right to lead the first-team offense.
Beyond that, the Los Angeles Daily News reported that unnamed sources said junior college transfer Kevin Craft is being groomed for the backup job ahead of Olson.
Neuheisel emphasized that the decision wasn't set in stone. And it's possible that the new staff, including offensive coordinator Norm Chow, is trying to rattle Olson, who's twice before beaten out Cowan for the starting job, to see how he responds.
Or perhaps the coaches just think Cowan is a better leader than Olson, who implied to the Daily News that he wasn't given a fair chance to win the job.
Both quarterbacks are injury-prone and coming off knee surgeries, and neither has been consistent when given an opportunity to play. So this competition might have a few more chapters.
Ted Miller is a college football writer for ESPN.com. Send your questions and comments to Ted at tedmillerespn@gmail.com.