Star Search At Cal
Standout offensive skill-position players have distinguished the Jeff Tedford-era at California, from Kyle Boller to Aaron Rodgers to J.J. Arrington to Marshawn Lynch to DeSean Jackson. But that doesn't appear to be the case this spring, so feel free to crack wise about why Tedford handed off play-calling duties to new offensive coordinator Frank Cignetti, even though the lack of standouts had nothing to do with the decision.
It's not necessarily about a lack of talent, it's just the talent needs name tags. And good health. And consistency.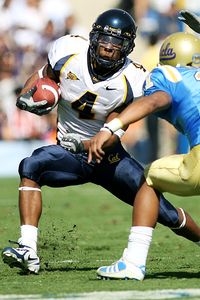 Tom Hauck/Getty Images
Jahvid Best is in the frontrunner at tailback, but a hip injury has slowed him down.
The only non-no-name of the bunch -- quarterback Nate Longshore -- is engaged in a tight competition with fan favorite Kevin Riley. At least he was until a pectoral muscle injury sidelined him and made it clear the competition will continue well into the fall.
Meanwhile, the pecking order at receiver and tailback remains hard to gauge, in large part because of injuries.
Elusive sophomore Jahvid Best would be the frontrunner at tailback, even if James Montgomery hadn't opted to transfer to Washington State, but he's out with a hip injury -- the type that makes coaches nervous even though Best's prognosis is optimistic. Redshirt sophomore Tracy Slocum, speedy redshirt freshman Shane Vereen -- who's been mostly sidelined by a hamstring injury -- and true freshman Covaughn DeBoskie have no carries to their credit, and all three are listed at less than 200 pounds.
The story is the same at receiver. Jeremy Ross exceeded expectations until spraining his ankle, while LaReylle Cunningham and Drew Glover also have been hounded by injuries. Redshirt freshman Michael Calvin and Florida transfer Nyan Boateng are physically talented -- and likely will be in the top three next fall -- but they were inconsistent until producing an uptick the final couple of workouts.
In other words, little has been settled heading into the offseason.
Little To Chow On
It's a good thing that Norm Chow is an offensive genius because UCLA is going to need one this season.
While that observation at first hangs on the Bruins' top two quarterbacks getting injured two days before the spring game (including a knee injury to star-crossed starter Pat Cowan that ended his 2008 season before it began), the most glaring weakness that Chow and first-year head coach Rick Neuheisel have inherited is a thin and inexperienced offensive line.
While it would be nice to believe the line has struggled because the defense -- particularly tackles Brigham Harwell and ready-for-his-close-up sophomore Brian Price -- would make life hard for anyone, it's clear that the Bruins lack difference-makers up front. Of the five topping the depth chart -- tackles Sean Sheller and Micah Kia, center Micah Reed and guards Darius Savage and Scott Glicksberg -- only Kia and Reed own starting experience. And Reed is a former walk-on.
Further, it doesn't help that this green crew, which took another hit when veteran Aleksey Lanis "retired" because of persistent knee pain, is learning its fourth offensive system under its fourth line coach, Bob Palcic.
Life's Not Fair Category
While UCLA's quarterback woes merited national mention, no team suffered a bigger blow than Washington when center Juan Garcia suffered a dreaded "Lisfranc" foot injury that could end his college career.
Garcia, second-team All-Pac-10 in 2007, started the last 25 games and was the unquestioned leader of a line that welcomed back four starters and was regarded as the Huskies' strength.
Garcia has come a long way. By his own admission, he is a reformed street tough who ran with gangs growing up. English was the second language in his home. He entered Washington as a partial qualifier, yet went on to win the program's academic excellence award. Instead of entering the NFL draft after last season -- he likely would have been a late-round pick -- he was granted a sixth year of eligibility because he missed the 2005 season with a severe ankle injury.
With Garcia out, Matt Sedillo will take over. Sedillo's experience? Two games last year.
Garcia still holds out hope for an early-season return. He's opted to put his foot in a cast and roll the dice on it healing naturally without surgery. His progress will be checked in late May, and he told reporters he's got about a 40 percent chance of success.
Ted Miller is a college football writer for ESPN.com. Send your questions and comments to Ted at tedmillerespn@gmail.com.
USC's Depth Perception

There are lots of "Or's" on USC's depth chart -- which means many starting jobs are still up in the air. Two players, however, used strong springs to play their way into their "Or's": sophomore nose guard Christian Tupou and junior tailback
Allen Bradford
.
Tupou will battle with junior Averell Spicer to succeed Sedric Ellis. Spicer sat out spring with a knee injury, while Tupou shined.
Bradford, a 230-pounder, turned in the most highlight reel plays this spring, grabbing a position in a crowded backfield that includes Joe McKnight, C.J. Gable and Stafon Johnson.
Punt This

While many competitions remain unresolved at Cal, there is no competition at punter, where redshirt freshman Bryan Anger is generating more than his fair share of wide-eyed exclamations, as in, "Golly -- did you just see him boot that ball into the stratosphere!"
Anger was a first-team USA Today All-American and has displayed not only a huge leg -- both in terms of distances and altitude -- but he also is very good at placing the ball deep into opposing territory. And with the Bears' offensive issues, he might end up with plenty of chances to show his stuff.
Cornering The Market

While Arizona is replacing a pair of outstanding cornerbacks in Antoine Cason and Wilrey Fontenot, the position doesn't look like a potential weakness this fall. Devin Ross is a sure thing at one corner, and senior Marquis Hundley and sophomore Mike Turner performed well in the spot opposite him.
Things figure to further heat up in the fall when the aptly named Robert Golden arrives. The big-shot incoming freshman figures to immediately compete for playing time.
Thunder & Lightning?

While Yvenson Bernard was the heart and soul of Oregon State's offense, the Beavers should be OK at tailback next fall.
Ryan McCants
(6-foot-1, 236 pounds) figures to provide the thunder, and coaches are excited about incoming freshman Jacquizz Rodgers. The Texas product and younger brother of receiver
James Rodgers
rushed for nearly 8,000 yards in high school.
Happy END-ing

Arizona State's deepest position might be defensive end. Junior Dexter Davis was second-team all-conference a year ago (10.5 sacks), while Luis Vasquez earned honorable mention honors (11.5 tackles for a loss).
Their backups, redshirt freshman James Brooks and sophomore Jamarr Robinson, turned in strong springs, capped by combining for four sacks -- three by Robinson -- in the spring game. This is as athletic a foursome as any in on the West Coast.