Tradition, competition, emotion, hospitality define the SEC experience
Ron Scheffler/US Presswire
Savory Southern Sojourn
By Pat Forde, ESPN.com
BIRMINGHAM, Ala. -- In the warm wee hours of an October Sunday, Mike Slive emerges from a small jet plane with his silk tie tugged down and his starched collar unbuttoned.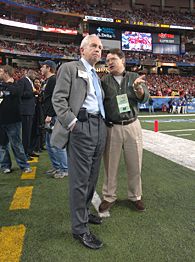 Southeastern Conference
Commissioner Mike Slive oversees a 12-team conference that produced eight national championship teams in 2006-07.
It's the only evidence that this has been a marathon day for the commissioner of the Southeastern Conference. Slive doesn't rumple easily.
He'd first cinched the tie tight around his Adam's apple at 5:30 Saturday morning. Since then he'd been on the job for 18½ hours -- flitting from breakfast in Birmingham to lunch in Auburn to dinner in Baton Rouge. He'd joined 175,567 football fans in two different SEC stadiums -- Vanderbilt at Auburn in the morning, Florida at LSU at night -- with another 50,000 feral fans circulating outside Tiger Stadium as an epic game raged. He'd squeezed in an afternoon pit stop at league headquarters to watch Georgia at Tennessee on TV.
As he does every weekend in the fall, Slive had simmered in the SEC's unique gumbo of ingredients: the reverence for tradition, the wild unpredictability, the fierce competition, the runaway emotions, the desperate stakes, the sticky heat, the sugary hospitality. When another Saturday's movable feast of football was over, the unlikely boss of the best and bawdiest league in the land pronounced it good.
"We saw two games and two full stadiums and it was only a sampling of what was going on throughout the South," Slive says on the midnight flight back home from No. 1 LSU's dramatic win over the defending national champions. "The intensity was replicated in Knoxville, Starkville, Oxford, Tuscaloosa, Little Rock -- and on Thursday night in Columbia. You'd see much the same thing if you were in any of those towns: incomparable athletes competing at the highest level, giving everything they have." Story
Calling All Hogs
By Elizabeth Merrill, ESPN.com
LITTLE ROCK, Ark. -- Hide the children, or cover their ears, because Robert Dacus is fumbling through his black Yukon for the CD that says "GAME DAY," and it's time to get psyched. Forget decorum. A block up the road, seemingly normal people are raising their hands to the sky, fluttering their fingers, and chanting, "Woooooooooo Pig! Sooie!" Forget the fact that Dacus is a middle-aged optometrist with a balding head and two grown boys.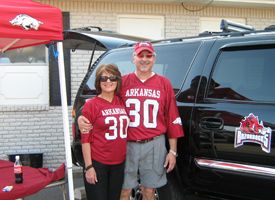 Elizabeth Merrill, ESPN.com
Robert Dacus and his wife, Nancy, wear their support for the Hogs on their sleeve ... and their car, tent and pretty much everywhere else.
His younger boy, Weston, is about to play football, and these proud moments are fleeting. Robert presses on the volume button and bobs his head as Kid Rock thumps through four open doors.
The fog has lifted, the earth has shifted and raised the gifted …
"Turn it down," Dacus' wife Nancy says between eye rolls. "There are children around."
The thing about Razorback football is that nobody, really, is playing for himself. It's way bigger than that. There are 53,187 square miles in the state of Arkansas, 600,000 acres of lakes and one common interest. Each fall, the 110 boys on the Razorback roster are worshipped, analyzed and scrutinized. Story
View From Above
By Chris Low, ESPN.com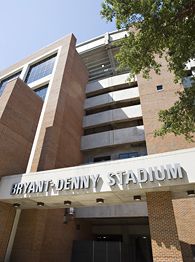 Wesley Hitt/Getty Images
The festivities at Bryant-Denny Stadium aren't limited to the action on the field.
"It never gets old," says Billingsley, soaking up the sights and sounds of what has long been a religion in this state. "You can just feel the energy in this stadium."
Not to mention an iconic shadow.
Billingsley's coach, the legendary Paul W. "Bear" Bryant, has been dead for nearly a quarter century, but his legacy endures. Everywhere at the Capstone, there are reminders.
Women don dangling houndstooth style earrings. Young kids wear houndstooth caps, and the Alabama faithful say his name with a quiet reverence.
"Coach Bryant ..."
A recording of his gravely voice, at least what you can decipher through the mumbling, greets Alabama fans prior to every home game from the JumboTron. The cheers are deafening, the adrenalin pumping and the pageantry something to behold. Story
Southern Comfort
By Bill Curry, ESPN.com
The Southeastern Conference is an intoxicant to a whole lot of folks. To a few, it is a virtual religion, bless their hearts. For the Southern addicts who take deep draughts of its sweet brew every day of the year, it is an unnatural high, and a way to make a statement to the rest of the country. In brief, the statement is as follows: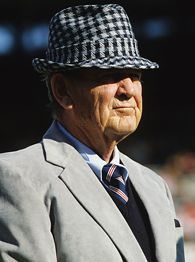 Ronald C. Modra/Sports Imagery/Getty Images
Paul "Bear" Bryant was one of the SEC's many coaching geniuses.
"We are better than y'all … all y'all!" Illusions can be reassuring if fervently believed.
I should know. My alma mater, Georgia Tech was a charter member of the SEC, and remained a member until my senior year, 1964. Later I coached at Alabama and Kentucky, also charter members.
To other defenders of regional bias, people in the Big Ten (11), Pac-10, or Big 12, the conference is characterized as a bunch of cheaters, which is usually not the case.
To thinking people who believe in the inherent worth of team sport, the conference simply possesses great football. At any given time the league is made up of well-coached teams who are trained in the fundamentals required to win. They are characterized by smart coaches, dedicated players, speed, execution, physical and mental toughness. It can be legitimately charged that academics have too often been given short shrift in the league. That culture is gradually being changed. Academic transgressions are now treated seriously in most instances, and severe sanctions have been levied against universities at which the priorities had been misplaced.
If Miami of Ohio is the cradle of coaches, the Southeastern Conference is the cradle of geniuses. Among them the legendary wizards roll off the tongue. John Heisman of Georgia Tech, Bob Neyland of Tennessee, Bobby Dodd of Georgia Tech, Johnny Vaught at Ole Miss, Paul "Bear" Bryant of Kentucky and Alabama, and Steve Spurrier of Florida and South Carolina are the ones who come to mind. Each of the aforementioned coaches transformed the sport with his unique contributions. Each of them won more than anyone thought possible, and did it his way. Each had a certain pizzazz that was irresistible to players, alumni and the press. Each could get his men to play harder than the competition. Each, in his own way, wanted to make his players better citizens. Story
To Be Like Mike
By Eric Adelson, ESPN The Magazine
BATON ROUGE, La. -- It's almost time. A rock band blares, and the brats brown, and the sun bakes, and a little boy waits.

He stands patiently by a fence, peering through the links, waiting for a moment he will never forget.
More than a dozen LSU officials wait, too, some with walkie-talkies, some with bugs in their ears, all with nervous looks on their faces. They all can feel the moment coming, along with thousands of LSU fans waiting just over a hill and out of sight.
That moment will come at 5:38 p.m., only 39 minutes from now. And when it does come, the camera phones will click and the spines will shiver and a woman will scream: "This is history! This is history!" Story
Get Your Grove On
Football Formal
By Mary Buckheit, ESPN.com

The Grove
OXFORD, Miss. -- Beneath the patchwork and the paisley; behind the seersucker, Skoal and Sperry Top-Siders -- it's another world in The Grove.
Literally, until you've seen it, you can't imagine what goes on at Ole Miss on game day. Story
Checkerboard Picasso
By Ron Higgins, Special to ESPN.com
KNOXVILLE, Tenn. -- Johnny Payne thinks of himself as just a normal blue collar guy who went to work for the University of Tennessee straight out of high school in 1978.

"If there's something to be painted around here," said Bob Campbell, the University of Tennessee's director of sports surface management, "Johnny's painted it. You name it."
To Tennessee fans, Payne, the school's senior sign painter, is not just a guy with a brush, sprayer and a paint can.
Nope, Johnny Payne is the Rocky Top Picasso, because he's the guy who paints Neyland Stadium's orange-and-white checkerboard end zones. Story
Rocking And Rolling

The Grove
From the War Eagle to the Tiger Walk, traditions at Auburn are special. But what happens in the center of town when students and alumni gather at Toomer's Corner after an Auburn win is a truly unique celebration.
Zoom gallery
Cristil Clear Delivery
By David Albright, ESPN.com
STARKVILLE, Miss. -- If you close your eyes and listen carefully, you can hear a little bit of Jack Cristil all across the Magnolia State each fall.

The voice of Mississippi State football has been a constant for better than half a century, so it's no surprise that there are imitators across the radio dial, calling high school football games from Aberdeen to Yazoo City.
It's something the Memphis, Tenn., native has been doing since 1953 in this SEC outpost. Story
Lights, Camera, Action
By Mark Schlabach, ESPN.com
COLUMBIA, S.C. -- Kenny Chesney, one of Steve Spurrier's good buddies, sings "No Shoes, No Shirt, No Problems."

For Spurrier, it was no socks, no tie and no problems, as the South Carolina football coach recorded his most recent weekly TV show at a Columbia television studio.
Less than nine hours after Spurrier guided the Gamecocks to one of their biggest wins, 38-23 over then-No. 8 Kentucky at Williams-Brice Stadium on Oct. 4, he was walking briskly through the WIS-TV building not far from the South Carolina campus. Former Gamecocks quarterback Todd Ellis, who hosts both Spurrier's TV show and weekly radio call-in show, was waiting for the Head Ball Coach, along with two camera men in a back studio. Story
Rock The Vote

Who is the best quarterback in SEC history? Which running back rates above the rest? What SEC team is the greatest? As the SEC celebrates its 75th anniversary, ESPN.com wants to know what SportsNation considers to be the best teams and players in the conference's storied history.
•
Vote: Who are the SEC's all-time best players?
•
Rank 'em: Which is the best SEC team ever?
•
Chat: Ron Higgins, Chris Low, noon ET
Week 6 in the SEC
Thursday, Oct. 4
:
No. 11 South Carolina 38, No. 8 Kentucky 23
Saturday, Oct. 6
:
Auburn 35, Vanderbilt 7
Ole Miss 24, Louisiana Tech 0
Mississippi State 30, UAB 13
Alabama 30, Houston 24
Tennessee 35, No. 12 Georgia 14
Arkansas 34, Chattanooga 15
No. 1 LSU 28, No. 9 Florida 24