Kickoff Classic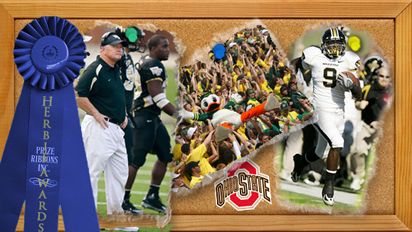 ESPN.com Illustration
The eighth annual Herbie Awards has something for everyone.
The start of the regular season is just days away, and what better way to kick it off than with the Herbie Awards?
Kirk Herbstreit
Must Read

Headlines
College Football Live (Mon., ESPN2, 3:30 ET)

More news. More analysis. More highlights. When too much is never enough, find more here.
•
Sound Off
:
Submit video
|
Send your questions
College GameDay (ESPN, Thur., 7 p.m. ET)

Join Chris, Lee and Kirk as they set the stage for the BCS National Championship Game.
•
January 8
: Miami (Florida-Oklahoma)
•
Experience the all-new CollegeGameDay.com
BLUE RIBBON PREVIEW
Looking for a preview of the Division I-A teams? Blue Ribbon is the source. Get the outlook for all the teams from the ACC to the WAC, conference predictions, all-conference teams and player awards. Blue Ribbon Index
ESPN.com Reference Guide