On one day every year, future college football stars are made and playoff teams are bolstered more than any other.
Yep, national signing day has arrived.
With three years of the College Football Playoff under our belt, the data shows what it really takes to contend for a title. Whether you subscribe to recruiting rankings or not, the evidence is conclusive: To win a national championship, your team must be an elite recruiter.
Here is a look at some of the recruiting statistics from the last three playoffs to prove that point:
The ranked players matter
When it comes to the playoffs, 13 is a lucky number. That is how many starters the last three national champions -- Ohio State, Alabama and Clemson -- had ranked in the ESPN 150/300 when they went through the recruiting process.
2014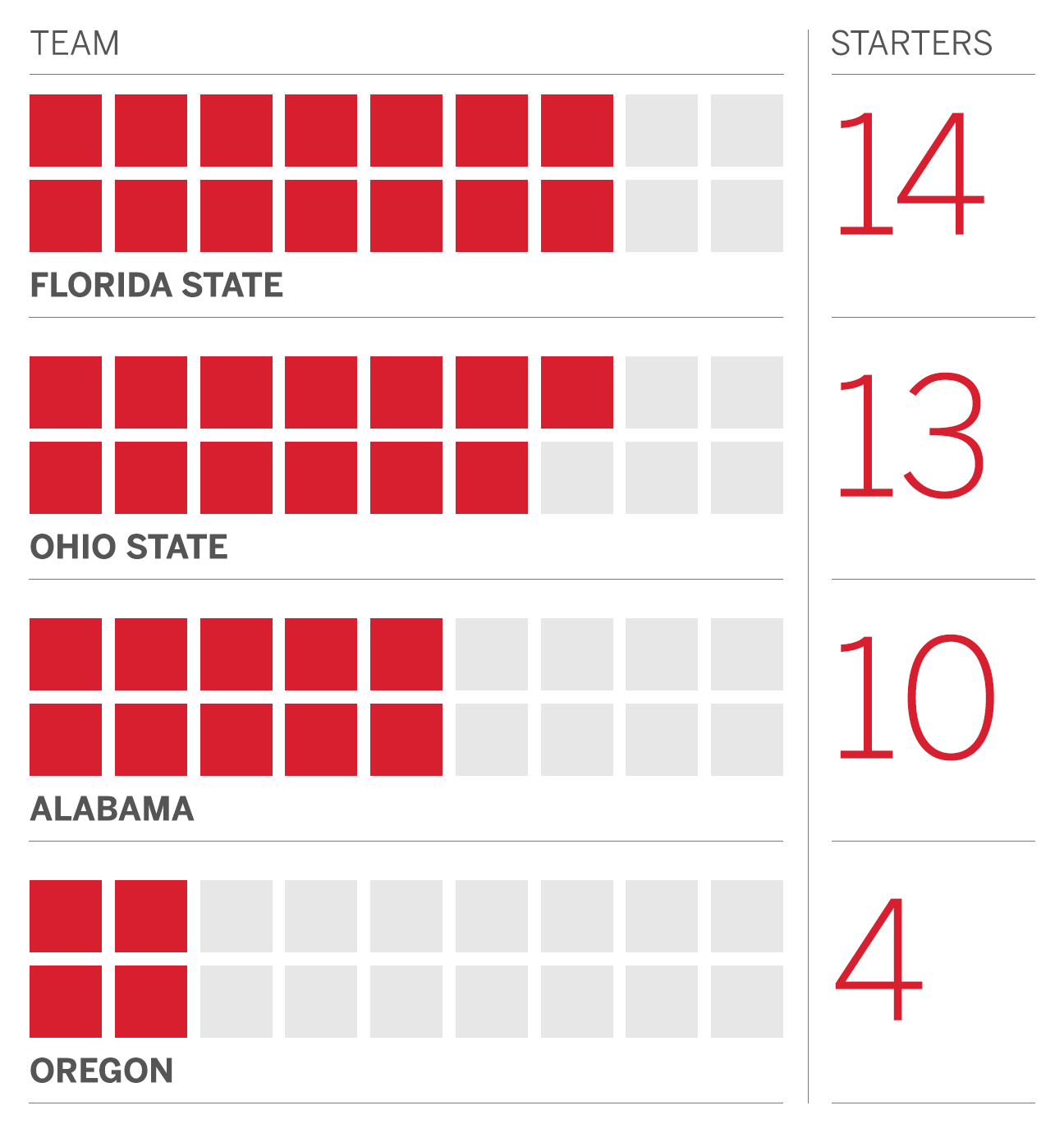 2015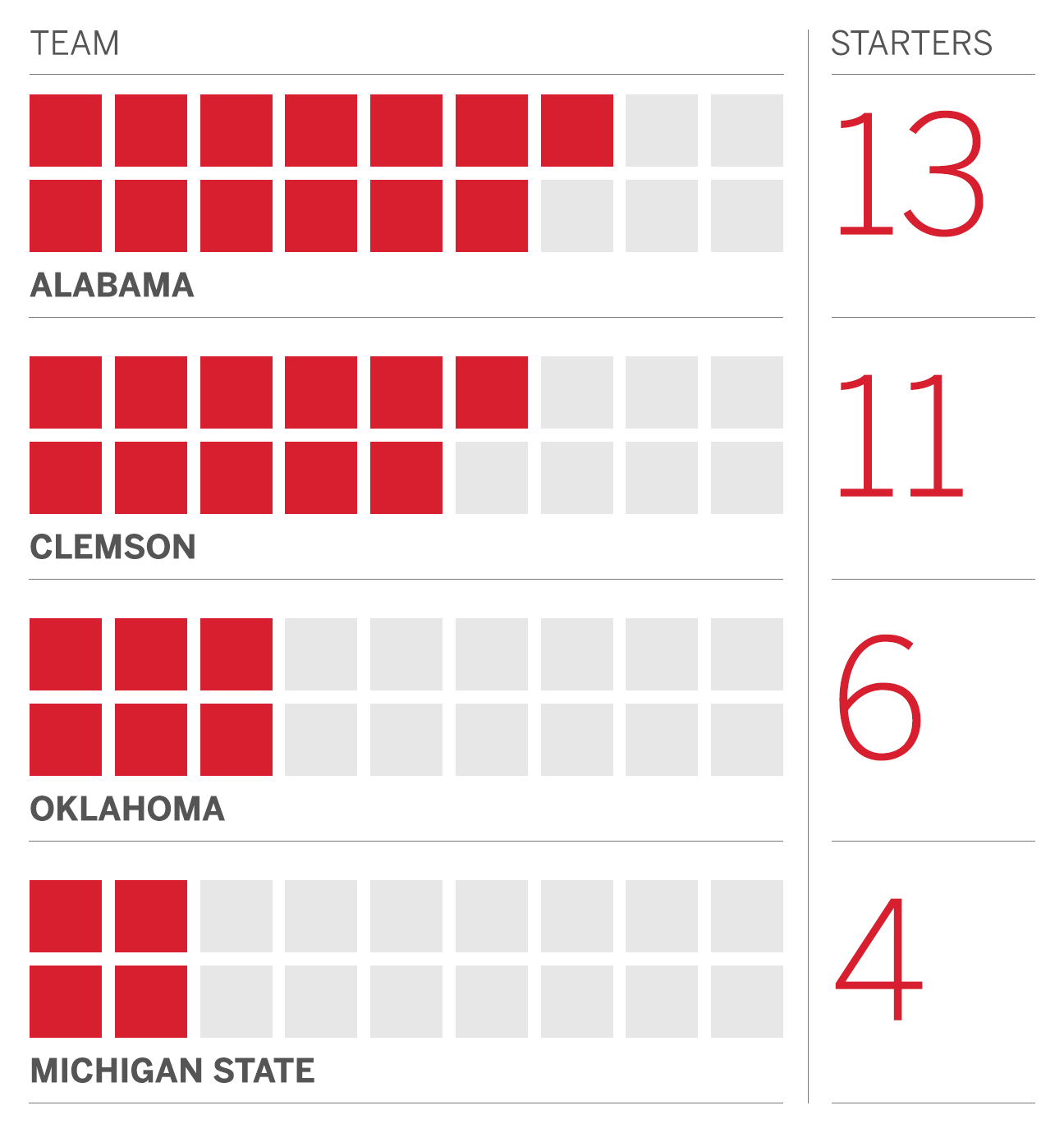 2016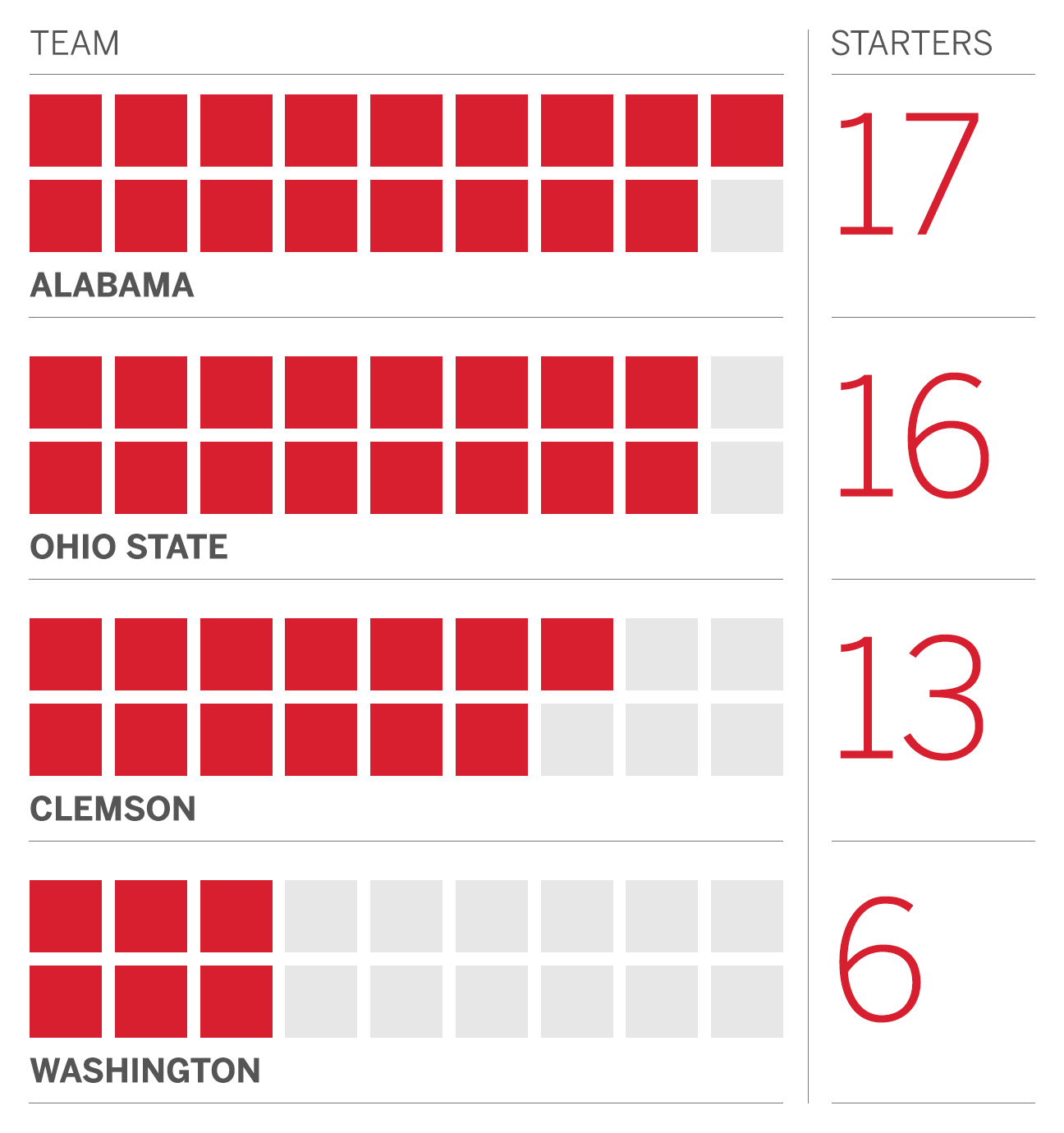 Those three programs averaged no less than 10 ESPN 300 signings over the previous four recruiting classes before they won the national championship. So it isn't just about the starters, it's also about having elite talent in reserve.
With conference championship games and two extra playoff games, attrition can play as big a factor to success as anything. Quality depth is something Alabama coach Nick Saban believes is a huge part of his team's playoff success.
"I think it factors into getting to this point in the season," Saban said. "If you don't have quality depth, maybe you can't make it to this point in the season. Because a lot of players have to fill in when you lose a guy for a week or two, and you have to be fortunate to keep some of the bell cow guys on your team healthy, so they can sustain their role."
When five-stars succeed
Recruiting ranked prospects seems obvious if you want to play at a high level, but teams also must target the best of the best. The numbers show where five-star signees boost a team.
2014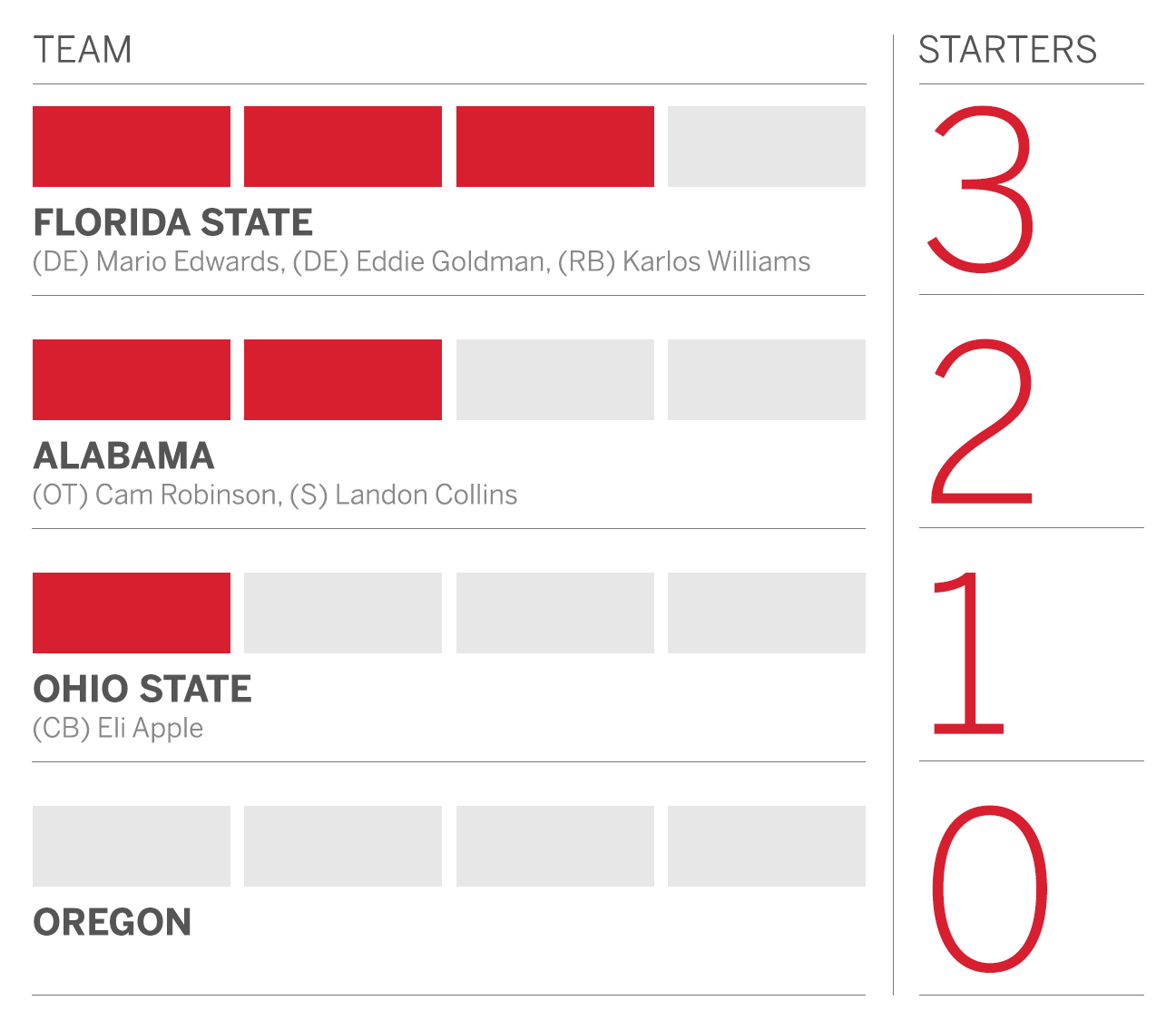 2015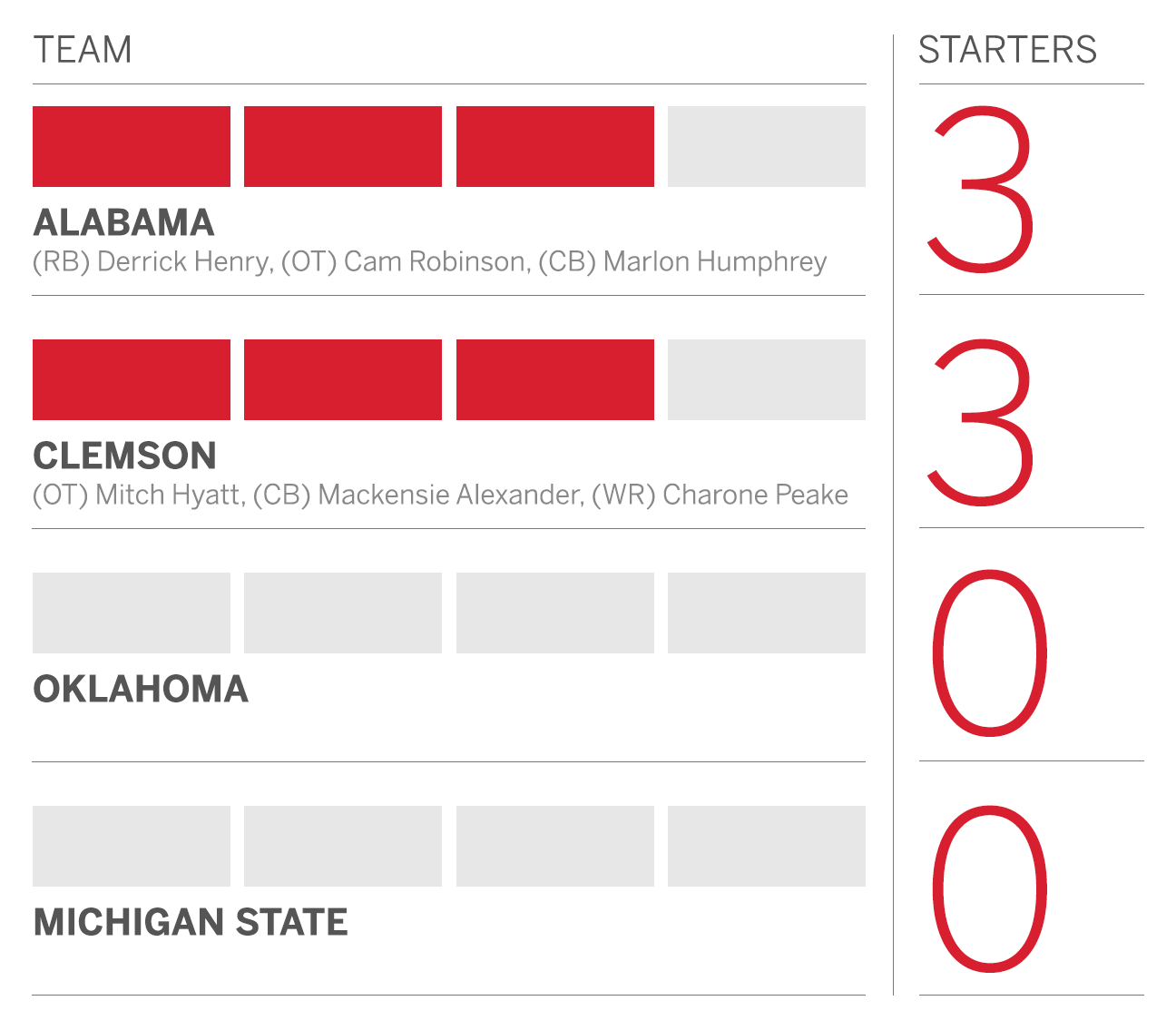 2016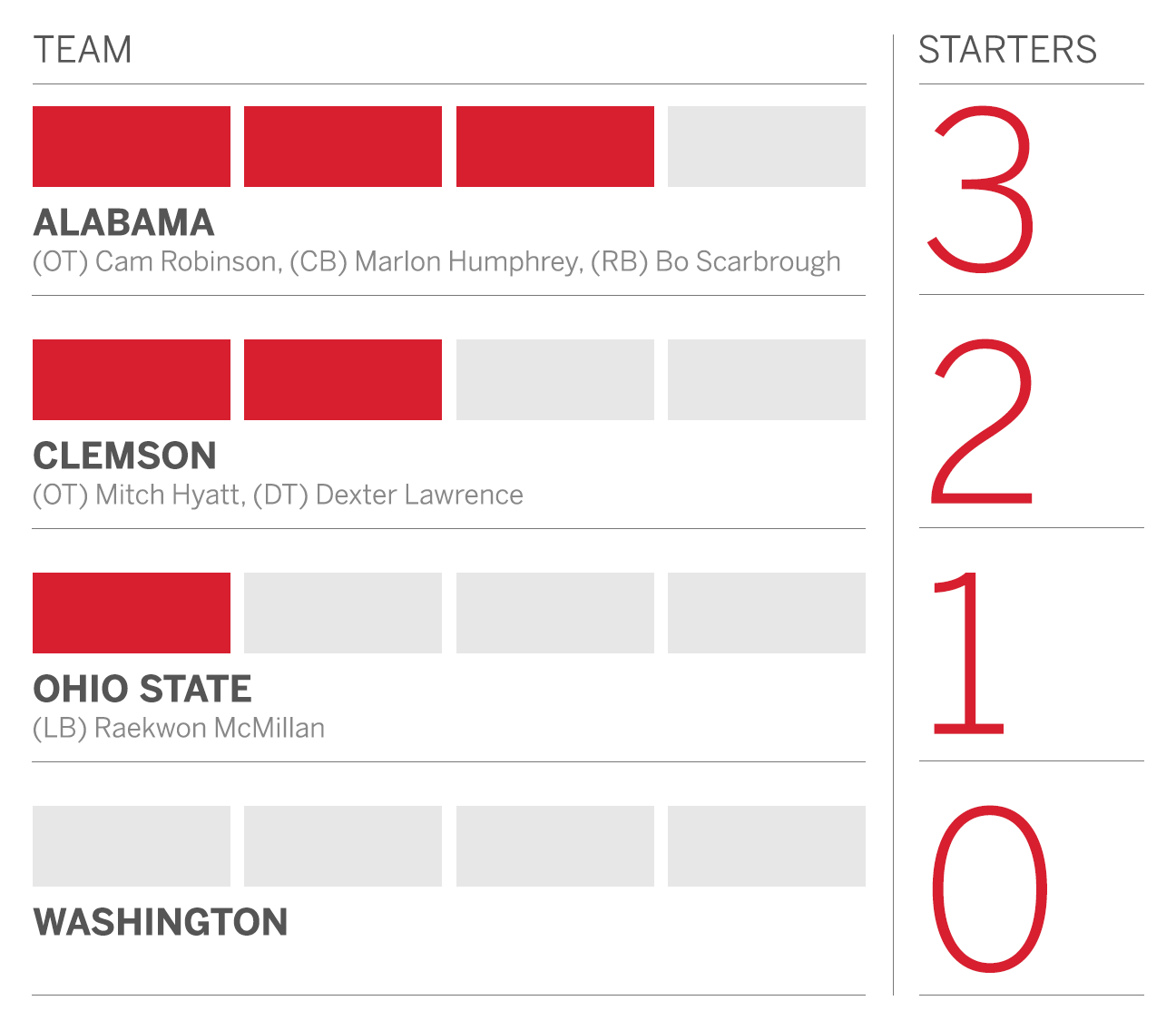 Beyond the playoff years, the past five national champions have had at least one five-star starter.
Outside of those starters, all three of these teams have signed at least three recruits ranked as five-stars over the previous four classes. Alabama signed a whopping 11 five-stars from the 2012 to 2015 classes.
Oftentimes those five-star players are ready to play right away, and having prospects ready to contribute early is a crucial aspect to staying in the playoff picture.
"The pressure is there to win every game, and it's more of the roster turnover with so many guys declaring early for the NFL," an FBS coach, who wished to remain anonymous, said. "You have to have the guys who can be ready to play by their second year and be ready to start and contribute. It's not so much the pressure to get to the playoff, it's the pressure of roster management and landing those guys."
Building a balanced roster and managing that year after year is one of the more difficult aspects of recruiting and sustaining success on the field. What does that mean for the future? In the class of 2017, Alabama has three five-star commitments. Ohio State and Florida State have two apiece. Georgia has the most in the class of 2017 with four.
The best at each position
This category is a little more difficult to measure because there is such a limited number of prospects ranked No. 1 at their respective positions.
Of the three playoff winners, Ohio State is the only team to win the championship without having a starter ranked No. 1 at his position during their recruitment. Each year the playoff has featured teams without a player ranked No. 1 at their position. That doesn't mean it doesn't matter.
2014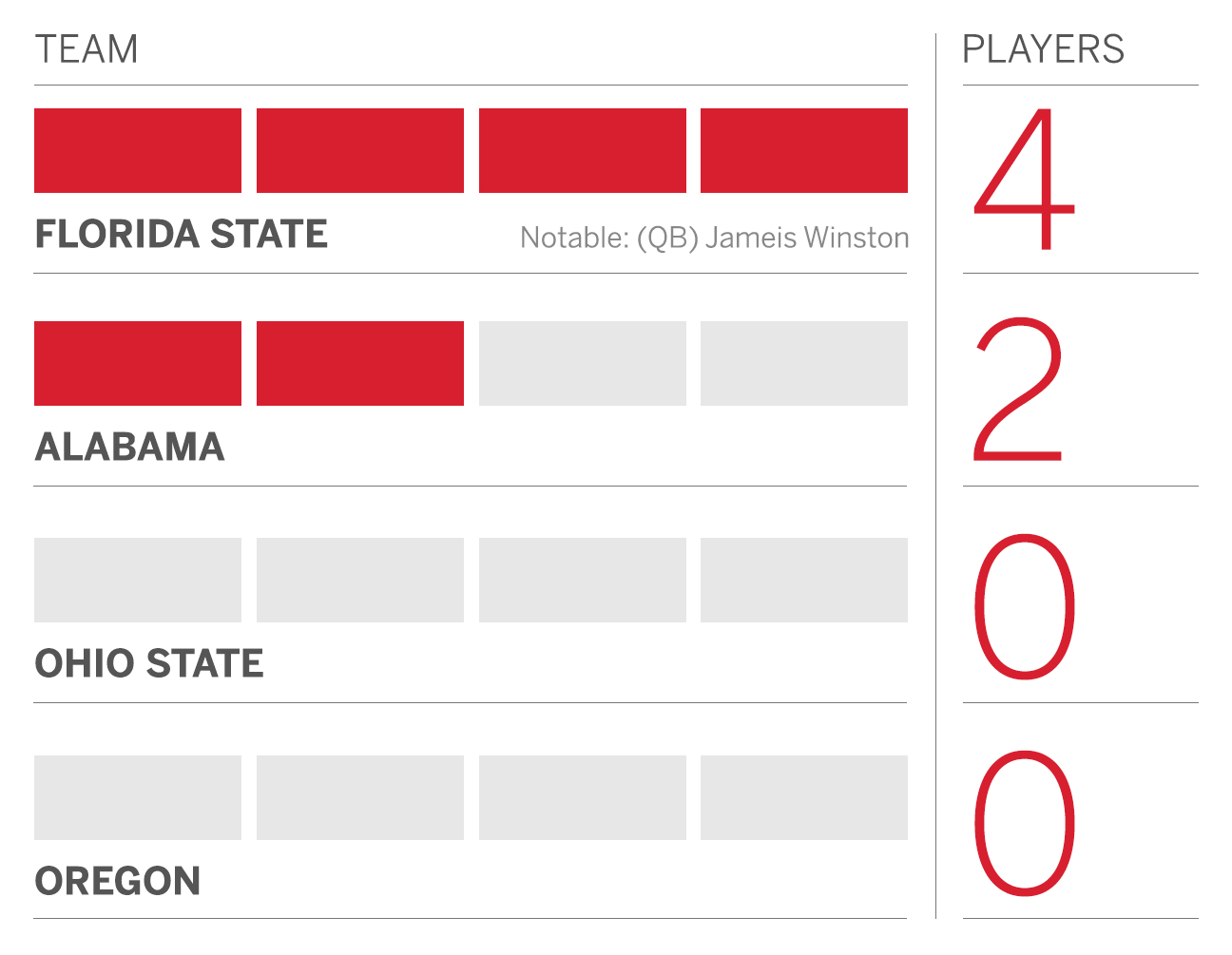 2015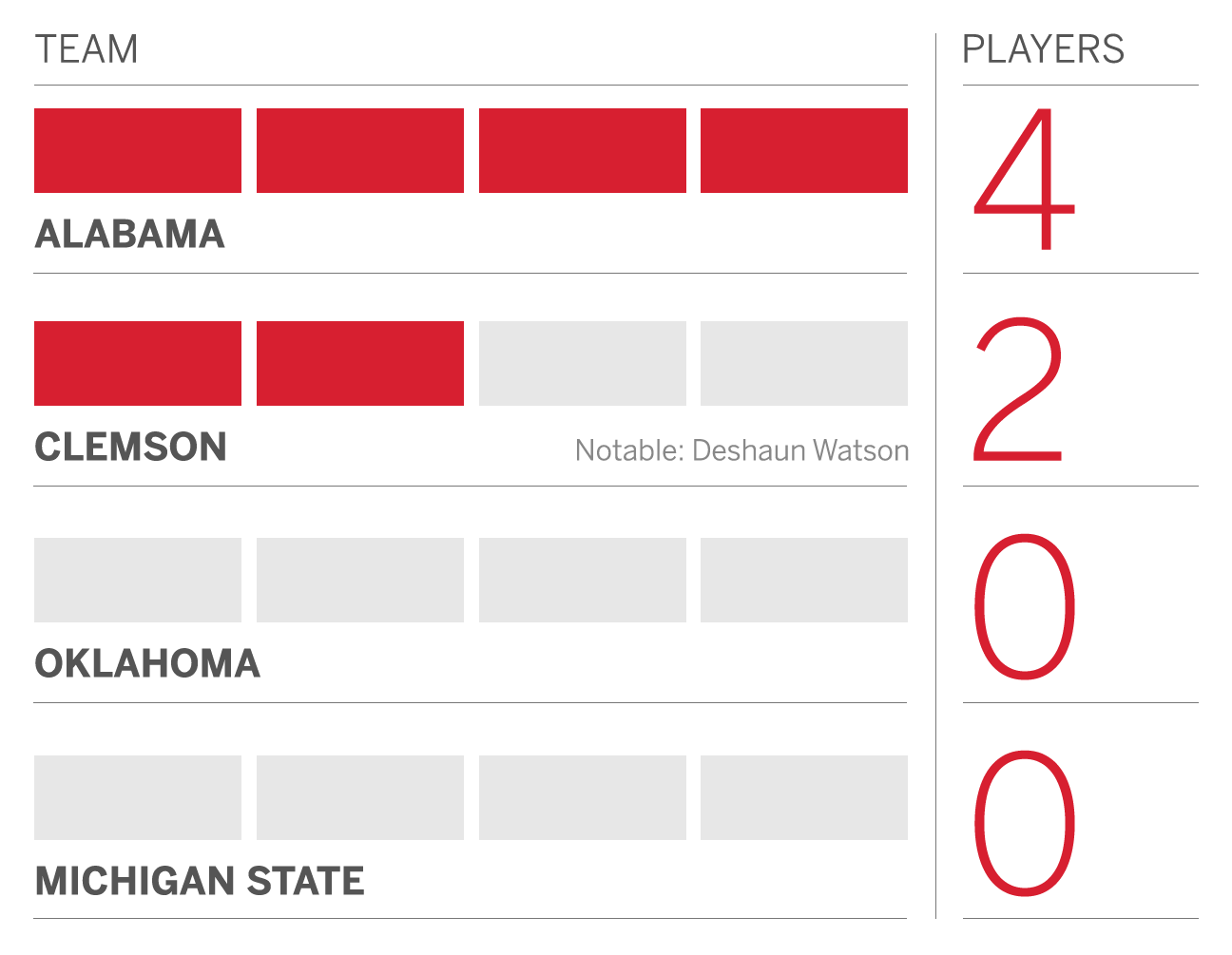 2016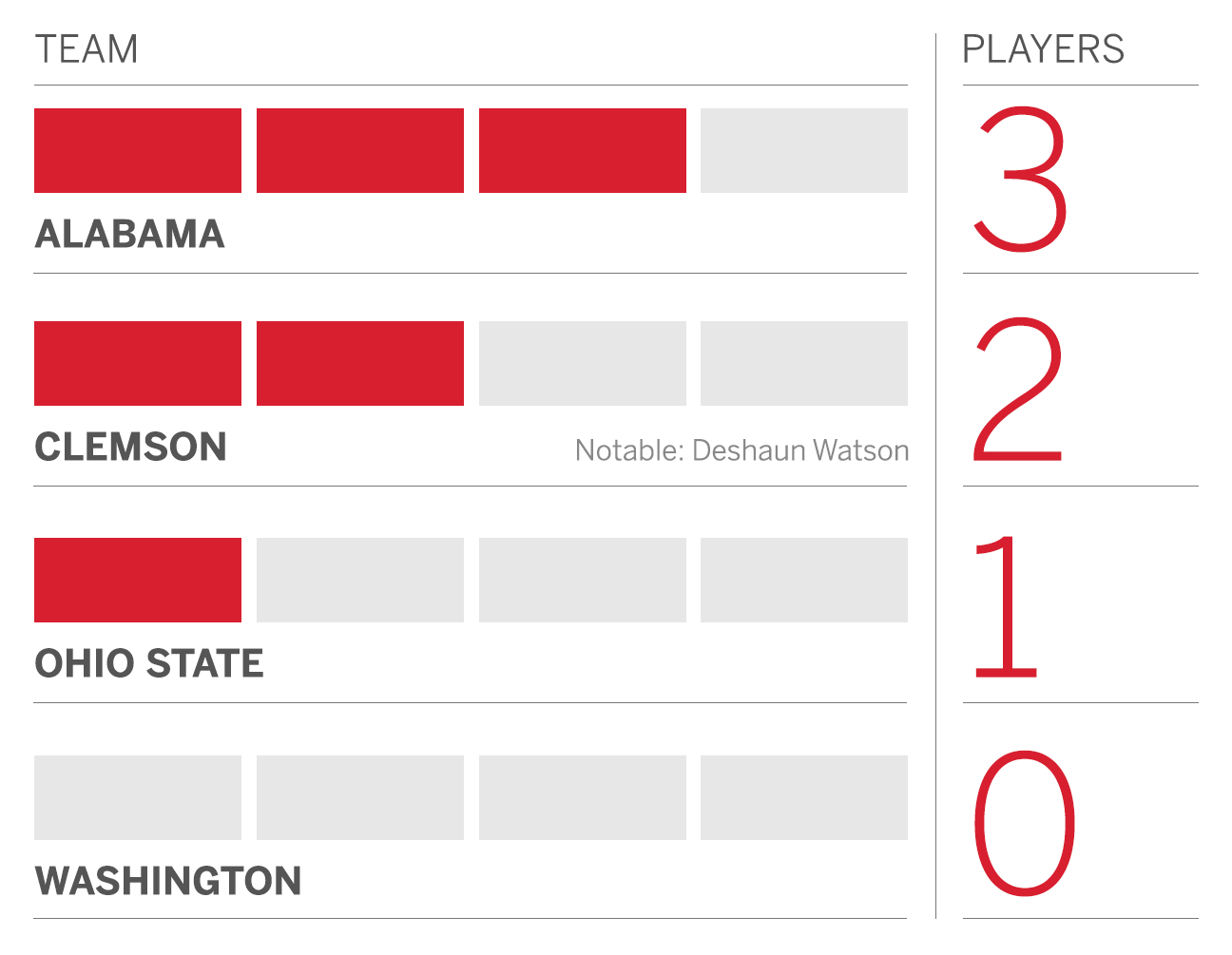 If your team has targeted a No. 1 and nailed that evaluation, it pays off.
Clemson had quarterback Deshaun Watson, who was the No. 1 ranked dual-threat quarterback in 2014, and Alabama had four total in 2015.
Immediately seeing the field
Like the NFL draft, signing day brings hopes of immediate success. The truly elite recruiters and evaluators will know which members of their classes, highly ranked or not, can arrive on campus and immediately play. Every team to appear in the playoff has relied on true freshmen.
2014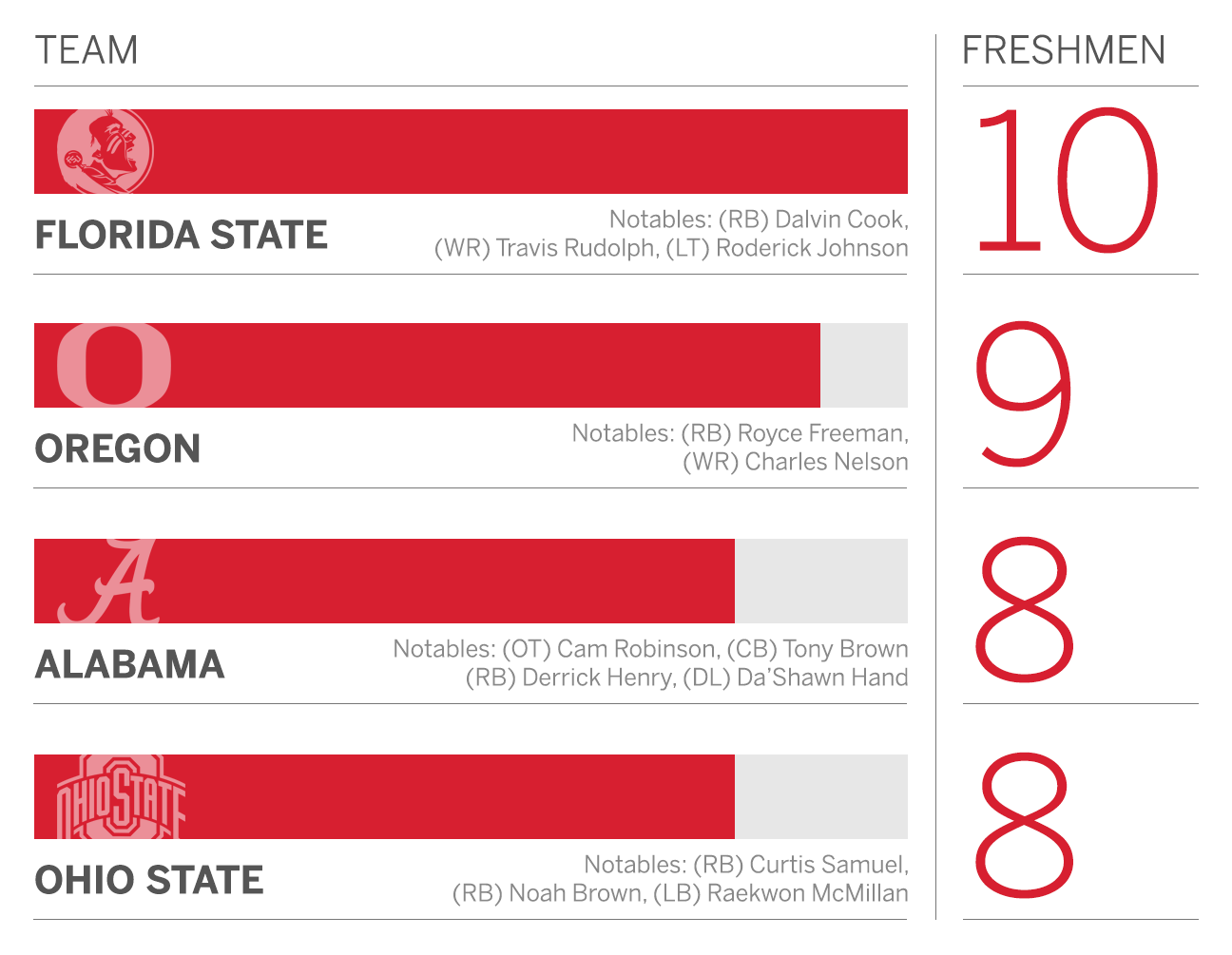 2015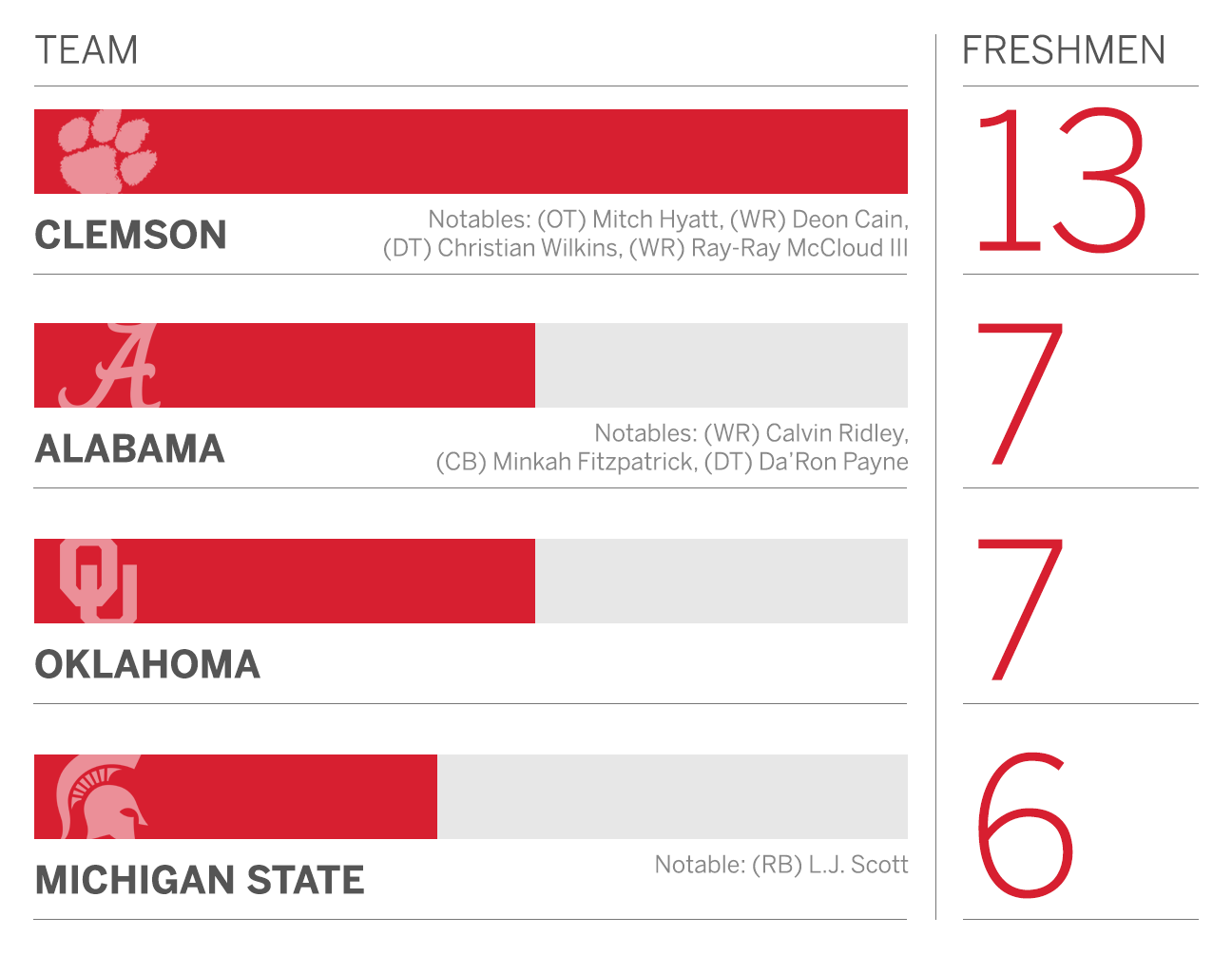 2016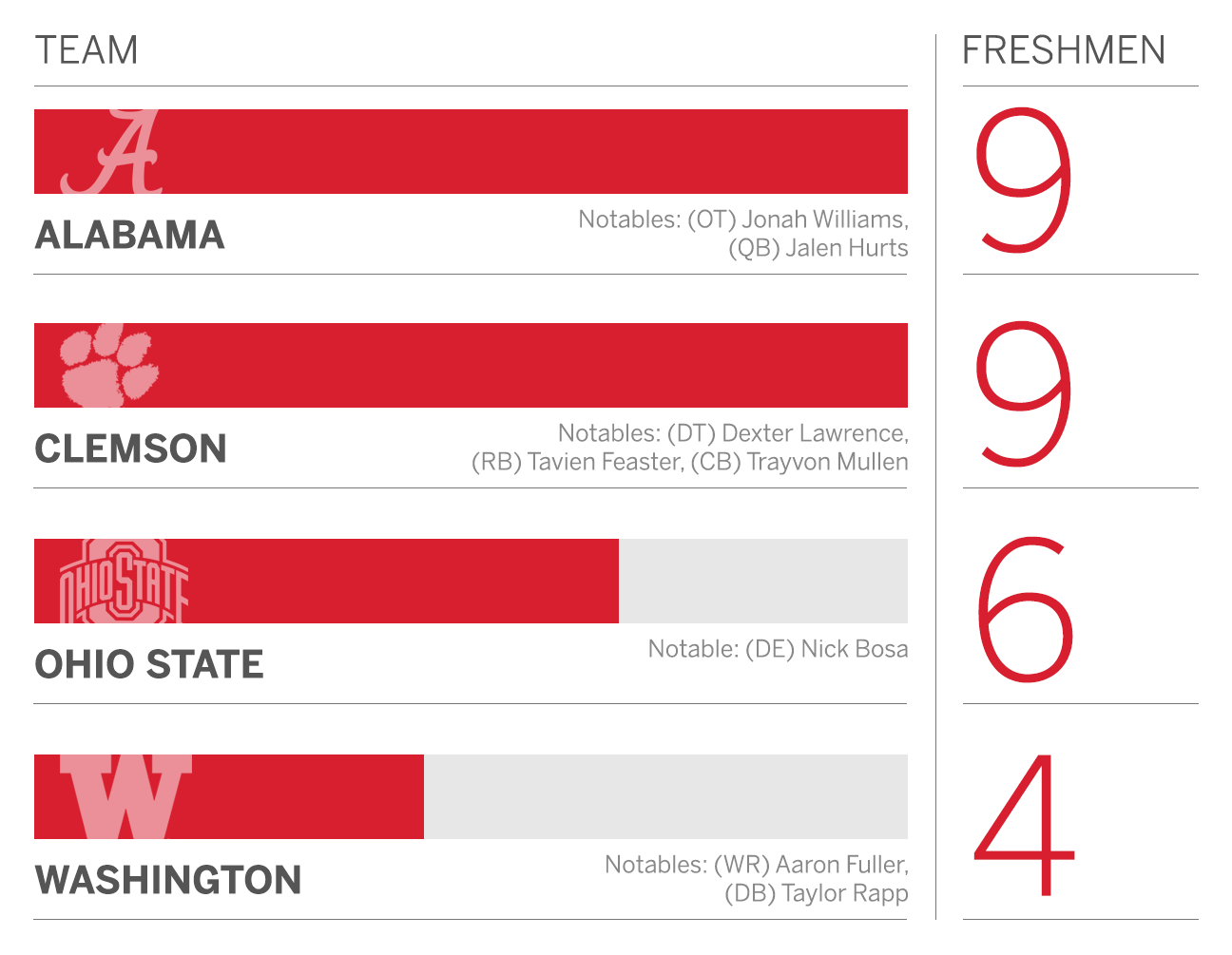 None of the three teams to win the national championship in the past three seasons has had less than eight true freshmen contributing to its championship season.
In fact, this past season, Clemson played 28 true or redshirt freshmen and won the national championship. The previous season when Alabama won the title, the Tide played a total of 22 freshmen. When Ohio State won it all, the Buckeyes played 29 total freshmen.
The elite teams are losing players earlier than before to the NFL draft, so it is imperative to have youth step in and fill those gaps. The youth infusion might be one of the more important factors in future playoffs. As more and more attrition pops up, and the expectations continue to rise, coaches need to find a way to consistently stay at the top of those rankings.
"This year I just lost my fifth receiver that has left with eligibility remaining in the last four years," Clemson co-offensive coordinator Jeff Scott said. "When you have that, it really requires that you bring in players that can play as freshmen. When that process happens over and over in a short amount of time, it really requires that you're bringing in elite players that can play as freshmen to stay competitive and keep your depth."