HOOVER, Ala. -- The two Vanderbilt football players who were shot while trying to recover a teammate's stolen cellphone last month are improving but will be suspended indefinitely, according to coach Derek Mason.
According to Nashville, Tennessee, police, Tae Daley suffered a gunshot wound to his leg, while Frank Coppet had bird-shot wounds to his arms. Both are redshirt freshman defensive backs for the Commodores.
"These young men are healing well," Mason said. "I'm just glad they're safe. ... I don't agree with the decision-making process of these young men all of the time, but I do know this: These young men are healthy and safe."
Sophomore wide receiver Donaven Tennyson tried to sell his phone online and met with a potential buyer at a restaurant parking lot on June 26, according to police. Tennyson told police that his phone was stolen during the meeting and later that night it was offered for sale on the same site he had first used.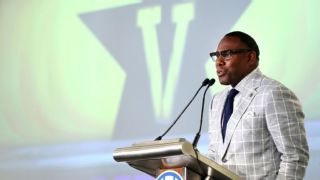 Tennyson arranged a meeting with the seller in a store parking lot, and Daley and Coppet accompanied him. Police said the three players brought a pellet pistol to help get the phone back. Coppet got out of Daley's vehicle with the pellet pistol when a man pulled up next to them in a Buick, got out and shot at the players with a pistol. Police also said another man in the car fired a shotgun at the players.
None of the injuries sustained by the players were life-threatening.
"I'm just trying to get young men from where they are to where they need to be," Mason said. "Making good decisions is what we're all about. I honestly believe that what occurred does not reflect the processes of our program. Growing up is what we have to do, and it's a daily process."
Tennyson is the only player who saw action last season, appearing in eight games and carrying the ball four times for 28 yards.