Jim McElwain might be a long way from his Montana roots, but he knows exactly what the stakes are when it comes to coaching football in the state of Florida.
Just this past January, on the heels of back-to-back SEC Eastern Division championships, Florida's head coach stood amid a mass of humanity and cameras on the sideline at Tampa's Raymond James Stadium before the College Football Playoff national championship game. He was there to provide ESPN Film Room analysis for the Alabama-Clemson clash, but sure enough, the subject quickly turned to the 2017 version of his Gators.
"Ah, we'll probably finish third in the [SEC] East just like we have the last two years," McElwain quipped.
It was vintage McElwain, who's anything but naive. The shadows of Steve Spurrier and Urban Meyer still loom large in Gainesville, and they're hardly the only ones in a football-crazed and talent-rich state that has produced 10 national championships in the past 30 years among its big three -- Florida, Florida State and Miami. In fact, since 2000, Florida, FSU and Miami have all won at least one national title.
And yet, the football landscape in the Sunshine State has undergone a significant face-lift over the past few years with a lineup of new coaches sporting sparkling résumés and divergent personalities -- from the reverence of Miami's Mark Richt to the steely resolve of South Florida's Charlie Strong to the brashness of Florida Atlantic's Lane Kiffin.
The dean of the state's seven FBS coaches is Florida State's Jimbo Fisher, and it's no coincidence he's also the guy everybody is chasing as he enters his eighth season in Tallahassee. He's 13-1 combined against Florida and Miami and 17-1 against all in-state opponents. Among active FBS head coaches, Fisher's average of 11.14 wins per season is tops nationally, which probably tells you why Fisher's name comes up every time a marquee head-coaching job becomes available.
"There's no reason for me to go anyplace else. This is a destination job," said Fisher, whose salary could exceed $6 million this year if he meets reasonable bonuses.
"Football is king. But at the same time, Florida is an immigrant state. People don't understand that. They think you get all the Florida players. You get access to them, but everybody comes to Florida to recruit. I did when I was at LSU and got good players out of here. When I was at Auburn, I got good players out of here. Everybody comes down here, and they find their little niche here and there, and you've got to fight that."
Strong and Kiffin, both of whom have strong Florida ties, aren't the only first-year coaches in the state. Butch Davis, who resurrected a Miami program riddled with NCAA sanctions two decades ago, is in his first season at Florida International. Scott Frost at UCF and Richt at Miami are entering their second seasons, and McElwain is entering his third season at Florida.
But while the faces of the programs have changed, the dizzying expectations haven't waned a bit, nor has the feeding frenzy for the wealth of football talent in the state.
"That's why so many schools are down here recruiting players and why all the schools in this state are fighting to keep players in this state," said ESPN 300 offensive lineman William Barnes (Apopka, Florida), who has Florida and Florida State on his list of finalists along with Alabama, Auburn, Georgia and Ohio State. "That's never going to change no matter who the coaches are. I really don't want to get into comparing them, but there's a little something for everybody."
On the surface, McElwain has the Gators swimming in the right waters ... or swamps. They've been to the SEC championship game each of his first two seasons, but both of those seasons have also ended with beatdowns at the hands of Florida State and then Alabama in the SEC title game. Hence the reason Florida fans aren't enamored with the fact that McElwain is the only coach in SEC history to win divisional titles in each of his first two seasons.
Then again, that distinction also rings hollow for McElwain, who was a part of two national championship teams at Alabama as Nick Saban's offensive coordinator in 2009 and 2011.
"It's like I tell our guys. I expect us to be there every year in the championship game," McElwain said. "Now, we've got to go break the door down. I'm proud of what we're doing. It's not to our expectation yet. Some things have fallen here, in terms of facilities and things like that, which doesn't have anything to do with the coaches. But they just kind of let things sit, and we're answering some of those things now."
Construction is set to begin after the completion of the 2017 regular season on a new three-story, $60 million football operations center and dining hall. The arms race never ends in college football in terms of facilities, but McElwain dispels the notion that there won't be enough good players to go around for everybody in the state.
"There's plenty, and for those who would say no, they're pretty insecure," McElwain said. "And let's face it. There are certain fits for each university and each school, and in some cases, we're not all recruiting the same guys for whatever reason. You know what you're getting into when you come here and have two of the best conferences in college football represented right here in one state."
John Brantley III, who coached high school football in the state for 15 years, can't remember a time when all of the programs in Florida had more to offer.
"With the quality of coaching you've got now in the state of Florida, it's the best situation it's been in for a long time from an overall basis," said Brantley, who played quarterback at Florida and was followed years later by his son, John Brantley IV, who played for the Gators under Meyer and Will Muschamp.
As a group, the seven FBS coaches in the state of Florida have won a combined 14 national championships as a player, assistant coach or head coach, and that doesn't even count the back-to-back Super Bowl titles Davis won with the Dallas Cowboys while coaching under Jimmy Johnson.
And speaking of legendary mentors, consider the lineup of Hall of Famers and surefire future Hall of Famers the head coaches in Florida have coached or played under during their careers.
Fisher, Kiffin and McElwain were offensive coordinators under Nick Saban. Frost played under Bill Walsh at Stanford and Tom Osborne at Nebraska, then spent some time in the NFL under Bill Parcells and Bill Belichick. Strong has coached under Lou Holtz, Urban Meyer and Spurrier. Richt and Fisher were offensive coordinators under Bobby Bowden. Kiffin also coached under Pete Carroll at USC, and Davis signed to play at Arkansas under Frank Broyles before injuring his knee and becoming a student coach on a staff that also included Joe Gibbs. Davis coached under Johnson at Miami and in the pros with the Cowboys.
According to NCAA research, Florida is the state with the highest percentage of high school football players recruited by an FBS school (9.9 percent). Georgia is second (8.6 percent) and Louisiana third (8.1 percent), two other states located in the SEC footprint.
And in 2017, only Georgia was ahead of Florida in terms of high schools in a state producing the most NFL draft picks. Georgia had 29 and Florida 27.
For Richt, it's the "state of Miami," as Howard Schnellenberger dubbed the fertile South Florida recruiting grounds more than 30 years ago, that has Richt's interest now that he's back at his alma mater. Not that Richt needs any reminders, but pictured prominently on one of his office walls is a picture of the "other quarterbacks" when he played at The U. Three of them happened to be Vinny Testaverde, Jim Kelly and Bernie Kosar, and the quarterbacks coach at the time was Earl Morrall.
Richt concedes he might not have returned to coaching after being pushed out at Georgia had a school such as Miami not come calling.
"Somewhere that you can win a national championship," Richt explained. "We have everything it takes to do that here. Now, we're not the only one you can say that about in this state. I understand that. But when you're down here in South Florida, you don't have to go very far to find great players.
"As long as we get the ones we want, it will be OK. But, sure, it will be a battle. We're going to be battling somebody, here in state or out of state. It doesn't matter. Down here, you're going to be battling somebody."
Already, Miami's 2018 recruiting class is ranked No. 4 nationally by ESPN (Florida is No. 7, and FSU is No. 8), and most of those recruits play their high school football an easy car ride from Miami's Coral Gables campus. Richt said there's no such thing as getting in on kids in the Miami area too early.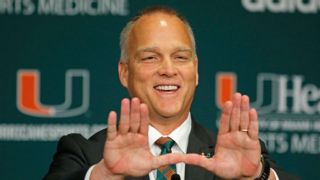 "Every Thursday night for the first five or six Thursdays in the season -- because we practice in the mornings and are free in the evenings -- I went to a bunch of parks, and we're going to do that again," Richt said. "The kids are excited to see us, and I'll bring a player or two because a bunch of our guys grew up in those parks. They put their Miami jerseys on and talk to the kids. We tell these kids we love them and want them to do well in life, to behave and to listen to their parents and teachers, but we also want them to have a love for The U."
Kiffin has similar ideas. His FAU team bused recently from Boca Raton to Miami for a preseason practice in Liberty City at the invitation of Miami hip-hop legend Luther Campbell. The Liberty City area just happens to be bursting at the seams with football talent.
"It all makes sense. Where would a lot of the best coaches end up? Where the players are," Kiffin said. "You would kind of expect to have these name coaches down here in Florida because people figure it out. You want to go where you can win and recruit great players and live in a great place."
Although there are ties that bind the changing face of coaches in Florida, the personalities make for what could be fascinating theater.
Kiffin is Kiffin, and Strong, never known as a big talker, said he'll follow that same pattern at South Florida.
"Some guys talk to help themselves," said Strong, one of the Gators' most prolific recruiters, especially in South Florida, when he was there under Meyer from 2005 to 2009. "I don't need to do that. I'm going to be who I am. I don't need to talk. We're going to get our guys."
Davis, after working in the media the past few years, is diving back into the coaching game. And while he doesn't necessarily have a marquee brand to sell at Florida International, he does know the Miami area as well as anybody from his time at The U under Jimmy Johnson in the mid-to-late 1980s and then his tenure as Miami's head coach from 1995 to 2000.
"This state is being recruited like I've never seen it before," Davis said. "Even the Pac-12 is coming in here to get players. When I was here in the 1980s, Florida International and FAU didn't even have programs and UCF wasn't Division I. The big three [Florida, FSU and Miami] cherry-picked and got who they wanted. If you're going to survive as a head coach in this state, it's not about selling. It's about being a great evaluator."
In 10 years as a head coach, Davis coached or recruited 36 first-round draft choices and 125 other players who made it to the NFL.
"A lot of those kids turned out to be high-profile players but were totally under-evaluated," Davis said. "For example, Santana Moss had no scholarship offers at all. So you better be able to go into some of the off-the-radar places in this state, project and trust your evaluations because you're always going to be battling the big schools. Hopefully, that will be an advantage for us."
Frost, who guided UCF to six wins and a bowl appearance in his first season as the Knights' coach, has grown weary of hearing about all of the big names coaching football now in the state of Florida and how it's going to be more difficult for UCF to attract players.
"The talking heads out there are the ones promoting all the other schools and coaches," Frost said. "But when you look at how we recruited this past year, the people who count -- mainly the kids -- know what we have going."
Kiffin and the Owls were scrambling in this first recruiting class and didn't get a chance to spread out across the state as much as they will in the future, according to Kiffin. But even then, he said he got wind of a negative recruiting pitch being used against him, which he sort of considers a compliment.
"What we kept getting is that we were going to leave, coaches telling kids, 'You're going to go there, and we're going to win and then leave,'" Kiffin said. "I agree that we are going to win, so that's a positive if they're trying to negative-recruit us. That's a lot better than them saying we were going to lose."
Of the three new coaches in the state for the 2017 season, Strong appears best positioned to win the quickest. South Florida won a school-record 11 games last season and returns most of the key players from that team, including senior quarterback Quinton Flowers, who ranked third nationally last year in Total QBR (86.5).
"Willie [Taggart] established a really good foundation here, and now you want to build on that," Strong said. "You've got great players all around you. I'm going to go all over that state, from Jacksonville to the Panhandle to South Florida."
Only time will tell whether anybody will be good enough to catch FSU. As the Head Ball Coach is fond of saying, things have a way of changing quickly in the world of college football. Either way, the race just got a lot spicier.
"There are a lot of new ball coaches down here, for sure, and a lot of ball coaches used to winning," said Spurrier, who's now in an ambassador's role at Florida. "I'm just glad I'm not coaching anymore, so I can sit back and watch 'em go at it."