HOUSTON -- Hurricane Harvey sent the University of Houston's football team rushing off to Austin for sanctuary under the same roof as the coach who left the program just 10 months earlier.
It could have been -- and maybe even should have been -- an uncomfortable reunion with Tom Herman, the ex who spurned the Cougars for the state's flagship program after two seasons, 22 wins and many promises he wouldn't leave. That potential for discomfort wasn't lost on those who coordinated their plans to seek shelter from the storm, choosing the University of Texas from among at least four other in-state options.
"That was a little bit in the back of my mind," Houston athletic director Hunter Yurachek said. "There were some hurt feelings when Tom left. But I think everyone handled it very well."
At least in their public comments, players and representatives of Houston have attempted to avoid lamenting the loss of Herman since his departure. But one of the few who went off-script was Ed Oliver, the homegrown star defensive tackle, who tweeted -- and then immediately deleted -- "Why you lie to us, coach?" shortly after word emerged that Herman had accepted the Longhorns job in December. He followed up with a less-than-subliminal shot in March, telling the Houston Chronicle that practices now had "a lot less yelling, and a lot more coaching."
If Oliver took Herman's absence more personally than most, it's because he'll be among those held most responsible for keeping Houston's fans on the bandwagon. Only a 19-year-old sophomore, Oliver is already the anchor of a rebuilding program in a rebuilding city.
His family counts itself among the fortunate ones in the aftermath of Hurricane Harvey: Its only real challenge, his mother said, was when the power went out for a couple days, leaving her and their stepfather alone in the house with their 4-year-old son and 2-year-old daughter.
"But they kept checking on me," Dana Baker said of her older sons, Ed and 21-year-old Marcus. "They were never too far from home."
Only minutes away, dozens of residents had their homes and lives ruined by floodwater and wind damage, like tens of thousands of others across the Houston area. The difference between a blessing and bad luck was often only a few blocks.
"It was tough to see my city like that," Oliver told reporters while unloading trucks as part of a collection drive in Houston a couple of weeks ago.
"But we respond. ... I do it for Houston, and I've always done it for Houston."
---
Houston was gradually springing to life again when Major Applewhite took his seat at a makeshift radio booth at the far end of the Ragin' Cajun, one of the city's most popular and enduring restaurants.
The murky floodwaters that turned the city into a fetid lake were all but gone, dump trucks were clearing away thousands of tons of debris per day and many businesses started welcoming back weary customers who needed everything from bread to beer to retail therapy. Like many businesses, the Ragin' Cajun sought to broadcast its hope -- and reopening -- to the public: "#HoustonStrong" read its billboard for passing motorists.
The "Major Applewhite Radio Show" made its debut at 1 p.m. last Wednesday before about 30 fans. Behind Applewhite and his broadcasting partner was a large screen draped in a red cover bearing the words "H-Town Takeover," the moniker Herman gave for his dramatic makeover of a program that trails far behind the monstrous fan bases of Texas and Texas A&M in its own city.
Drumming up interest in Houston football will be among Applewhite's chief challenges in this, his first head-coaching job. That was something that came easily to Herman, who is as gifted at salesmanship as he is at playcalling. Applewhite will almost certainly never be the coach to don a diamond-studded grille gifted to him by local rappers, as Herman did.
Applewhite's first question from the audience came from longtime superfan and UH alum John Lofaro, known locally as "Johnny Cougar."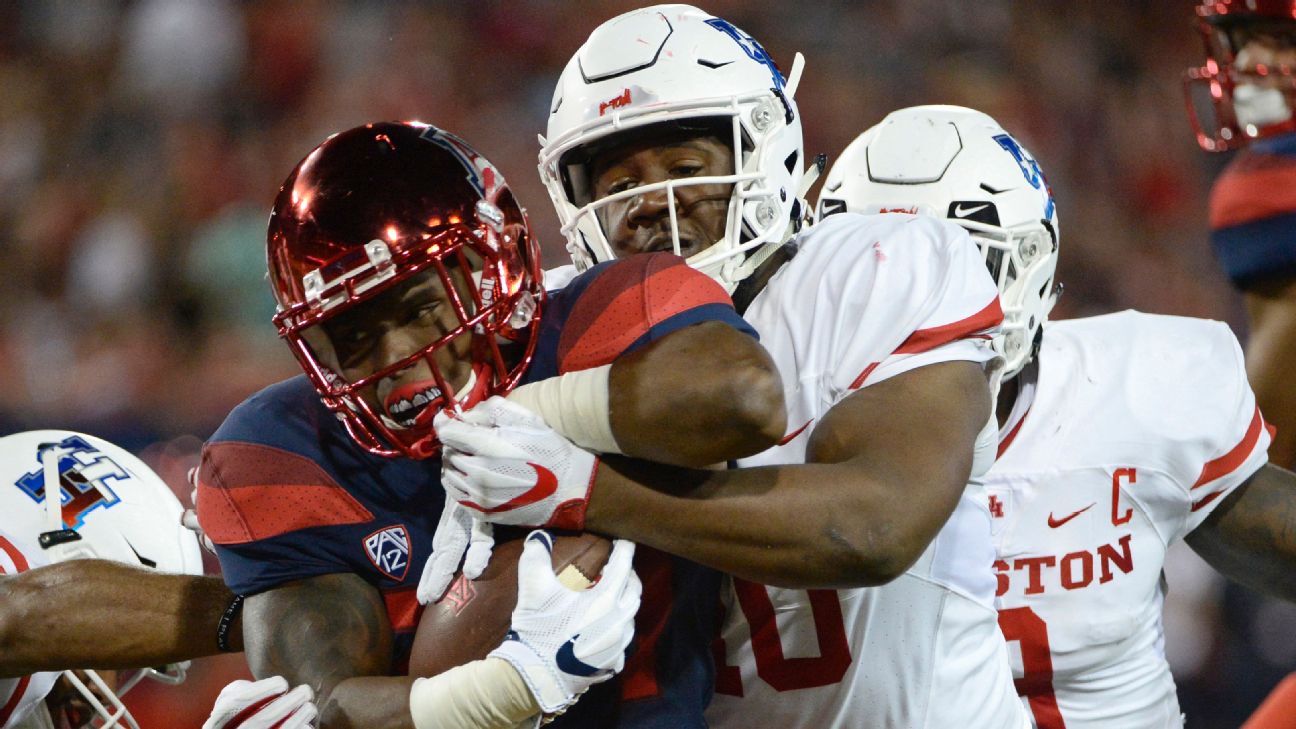 "I am here to assure you that, in the very few times, the rare occasions that we might lose a game," he said, "I can assure you that we will not throw debris at you" -- a reference to the reception Texas fans gave Herman following a season-opening loss to Maryland days earlier.
"Appreciate it," Applewhite said, smothering the attempt at a joke.
Lofaro pressed on, following up with a question. "Can Ed Oliver get any better?"
"He can," Applewhite said. "And he better."
---
In the Cougars' season-opening win at Arizona on Saturday, Oliver responded to Applewhite's challenge with a performance -- 11 tackles, a forced fumble and a blocked field goal -- that left little room for criticism. Oliver's improvement was evident, another confirmation of the hype that has long preceded him.
"That's exactly what I envisioned," Applewhite said of Oliver. "He doesn't need to do anything different."
At Houston, the 6-foot-3 (his listed height, which is probably an inch or two generous), 290-pound Oliver has been everything that he was projected to be -- and then some -- as a five-star recruit at local powerhouse Westfield High School. The only surprise to many is that Oliver is doing it in his hometown at all, given that he could've signed with virtually any major program in the nation. Put another way: Oliver's improbable choice of Houston made him the first recruit of his caliber in the ESPN 300 era to sign with a school outside of a Power 5 conference.
It all makes more sense when you meet his family.
His mother, Dana, raised Ed and his older brother, Marcus, in an idyllic north Houston neighborhood, only blocks away from her mother, sister and aunt -- "we like each other a little bit," she cracked -- and just a few minutes from her alma mater, Westfield High. In their neighborhood of two-story brick homes and soaring pine trees, little Ed was always hot on the heels of his older brother.
"Ed followed Marcus around like a little puppy," Baker said.
"Basically I would feel everything out before he did it," Marcus added
So when Marcus joined the local youth football team at the age of 7, Ed followed along and played on the sidelines and adjacent fields during his brother's practices.
This happened almost every day until Ed was old enough to join the team two years later. And when Marcus aged out of the league, Ed gave up youth football two years early to spend more time with his brother and ride horses on the weekend with his father, Ed Oliver Sr.
"Horses were my first love," Ed said. "I played football because Marcus played football. But as I kept playing, I found love for it."
Once they were at Westfield, Marcus became one of the Houston area's top offensive linemen and Ed's rapid growth turned him into a burgeoning force. In fact, in the spring semester of his ninth-grade year, Westfield's coaches came up with the Ed Oliver rule: Whatever drill they were doing, Ed could play at full speed for the first half and then the offense could run through its playbook with no resistance for the second half.
"I've never coached anyone that was as disruptive as him at that age," said Corby Meekins, then Westfield's head coach and now one of Herman's assistants at Texas. "He was pretty much unblockable."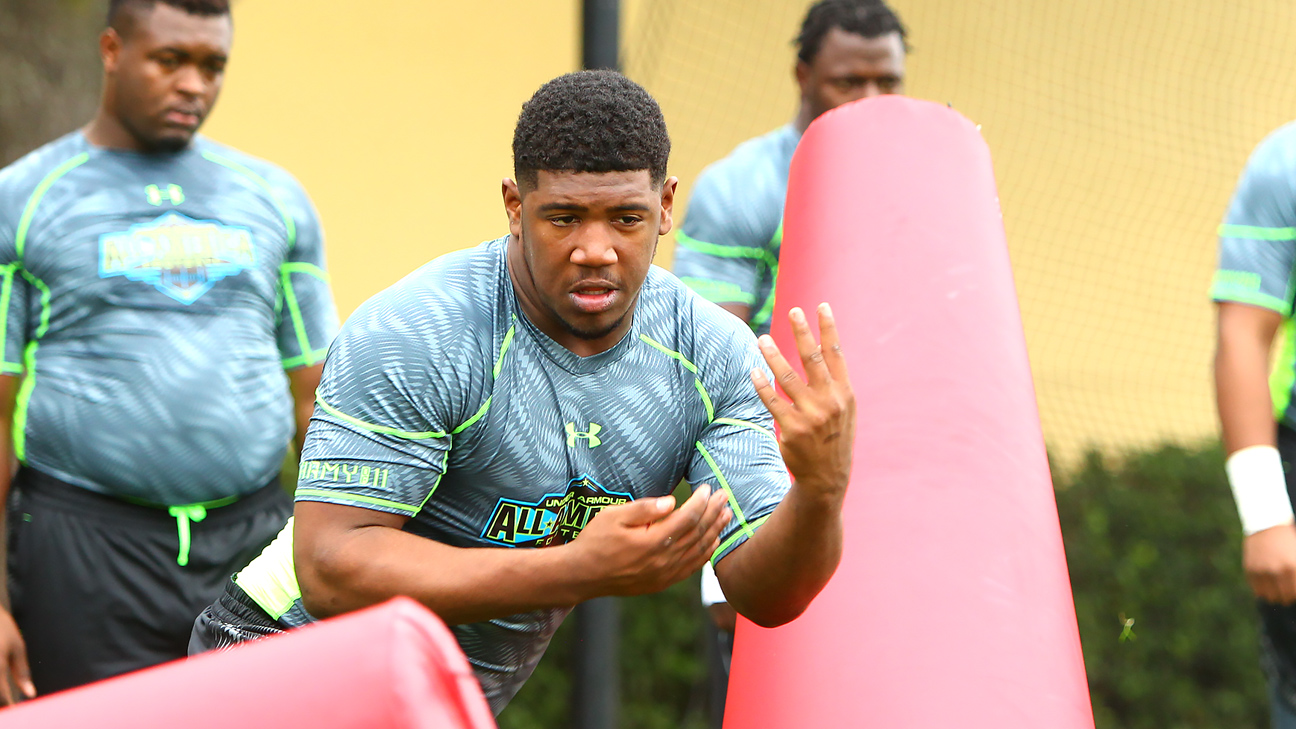 Marcus left Westfield as an accomplished player in his own right, choosing Houston over Colorado and a handful of other FBS programs. There was never any doubt that he was staying close to home -- he didn't want to force his family to travel to see him play and he wanted to see Ed's final two years of football at Westfield -- even as friends and classmates wondered if he wasn't making a mistake.
"They'd always go, 'Why Houston?'" Marcus said. "I got tired of it. I told them, 'I see something you don't see.'"
And even with Marcus off at college, albeit only about 40 minutes away, he kept his brother close by inviting him over to his dorm room, giving him tickets to the games, and getting him familiar with his teammates and the program's facilities.
"He'd be up there with me all the time," Marcus said. He saw what the others didn't see, indeed. "He grew a brotherhood with everyone else, too."
---
One afternoon in May 2015, the brothers were helping themselves to the buffet at Cici's Pizza near their north Houston home when Ed surprised Marcus by asking him to call their old high school coach Corby Meekins, who'd recently joined Herman's then-new coaching staff at Houston.
With no hint or warning, Ed orally committed to Houston on his brother's phone over plates of $5.99 buffet pizza.
"I was like, 'Is this real?'" Marcus said. "I was shocked."
He wasn't the only one: When the brothers went home later that evening to watch an NBA playoff game, the news of Ed's commitment kept scrolling across the bottom of the TV. "That's when I realized he might be a big deal," his mother said.
Over the years, Houston has enjoyed its most success by developing lightly regarded recruits (Andre Ware was recruited as a running quarterback and left in 1989 as a record-breaking passer and Heisman winner) and turning over its program to innovators ranging from Bill Yeoman to Art Briles. But over the past quarter century, that formula hasn't meant sustained success: The Cougars have won nine or more games only five times during that stretch.
The arrival of Herman, who worked at five other programs in Texas, portended a new connection between Houston and a school once mockingly known as "Cougar High" for its commuter school reputation. Herman took his cues from the rise of the University of Miami as a national power in the 1980s, telling Sports Illustrated, "We said, 'If they can do it at a private school in Miami, why can't we do it in a football-rich city like Houston?'"
And Oliver gave Herman's "H-Town Takeover" some credibility and more national attention. Oliver's commitment "opened some doors that we may not have had opened," Yurachek said. However, the notion that Oliver chose Houston solely because of Herman remains an obvious source of agitation for him and his family.
They point out that his brother was already there. So was Meekins, his old high school coach. Staying home meant he could continue riding his horses (Caledonia, Oreo, Coffee and Sugar) with his father. He could continue checking in on his mother at least once a week, which often turns into an impromptu nap in one of her guest bedrooms. "I think he likes to stay home for peace," she said. Everything a homebody could ever want was already in place.
"They know if Marcus wasn't here, I wouldn't be here," Ed said. "They know when they got him, they got his little brother, too."
"Are people too damn stupid to understand why he stayed there to fight with his brother?" Ed Oliver Sr. asked. "I wasn't going to let EJ separate that. I told him, 'While your brother is at U of H, you're gonna have your ass there.'"
Baker said, in slightly more gentle terms: "Why leave Mayberry? It just felt right. It felt like home to Ed."
---
A week after Harvey, the former "Cougar High" was alive with activity befitting its status as the state's third-largest university. The floodwaters had caused only negligible damage to its facilities. Professors and students had largely returned to class. Most of the chairs were filled at the campus student center.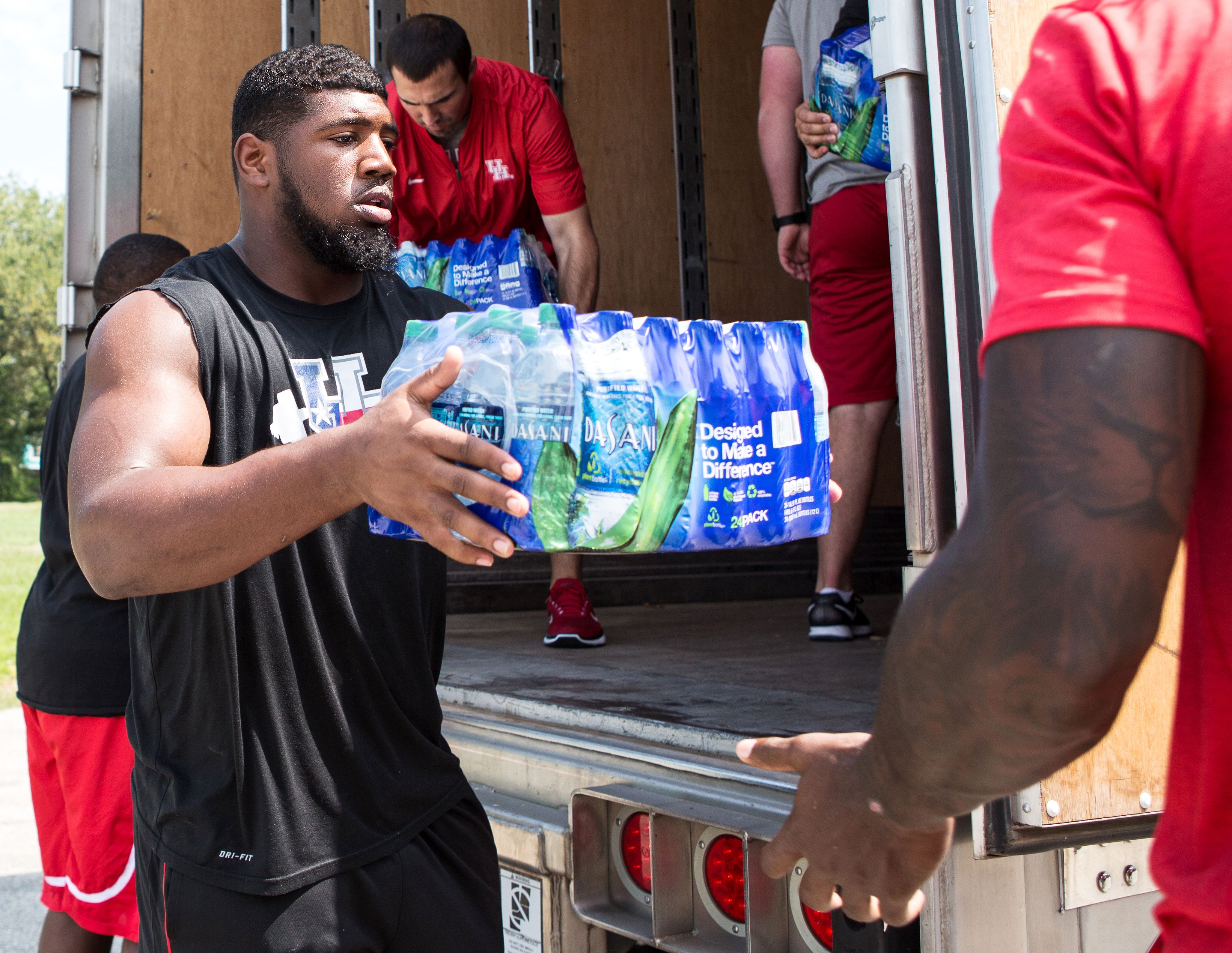 In her office suite atop the school's art-deco-style headquarters, Houston president Renu Khator was balancing her relief at the school's nearly painless recovery with her plans for dispatching students into affected neighborhoods near the school.
"If the city and community is to come back to normalcy," Khator said, "we have to play our role."
Khator, who doubles as the chancellor of the University of Houston system, has been waiting for the day the city embraces its asset in the university. She arrived in 2008 and immediately launched a plan to build a nationally competitive university out of an urban commuter school.
Those plans included a first-rate athletic program, which meant building the $128 million, 40,000-seat, on-campus TDECU Stadium, which opened in 2014. The school is also building a $20 million, 80,000-square-foot indoor practice facility adjacent to the stadium, an item that Herman added into his contract as a condition of his buyout.
Instead, Applewhite, who served as Herman's offensive coordinator for two years, will inherit the indoor facility and Khator's rising expectations.
In December, days after Applewhite was hired as Herman's successor, Khator told faculty and staff at the annual holiday party at her home that "winning is defined at University of Houston as 10-2. We'll fire coaches at 8-4."
Months later, she hasn't backed off that charge. "I like to have a winning team," she said last week. "I expect the same thing all across the campus, from every department. Let's push our talent."
Applewhite demurred when asked about Khator's comments. "I don't pay much attention to things that are said," he said.
---
Coming off an All-American debut as a freshman, Ed Oliver is the sort of game-changing player who could keep his new head coach in the good graces of the school president and a reeling fan base.
Oliver had seven tackles and two sacks in his swashbuckling college debut in 2016, an upset win over then-No. 3 Oklahoma. "There's some guys that just stick out, like when we looked at Adrian Peterson," said then-Oklahoma coach Bob Stoops. "It's like, 'Yeah. That's what you need.'"
He finished the year with 23 tackles for loss, which ranked second nationally. And as an interior lineman, Oliver finished with impressive totals of 66 tackles and nine pass breakups -- he was essentially just as good moving backward and laterally as he was forward.
"He's a first-rounder," Arizona coach Rich Rodriguez said of Oliver, before his team played against him Saturday.
Of course, that's at least 18 months away. There's more than enough time for Oliver to cement his status as one of the most important players in the history of the Houston program.
"He's the best player we've ever had, and that includes Andre Ware," said Lofaro aka "Johnny Cougar'" and season-ticket holder for 40 years.
And as he grows into his fame, Oliver seems well-positioned to replace Herman as the face of the program.
And, most important to a group of fans accustomed to being abandoned soon after good times, Oliver has assured them he's not looking to go anywhere else. The #H-TownTakeover can endure for at least a little longer.
"I love Houston," he said. "This is my hometown, this is my city."