RALEIGH, N.C. -- The flight home was jubilant. It had been maybe 90 minutes since NC State had, at long last, earned a signature victory over Florida State when the pilot's voice crackled through the speakers to congratulate the team on "a special win," and a thunder of applause roared through the plane.
The school's athletics director, Debbie Yow, turned back to watch. It's a moment that's stuck with her. Players texted friends and laughed with each other. Coaches looked relaxed, the burdens of the ACC Atlantic Division lifted, at least for a bit. Head coach Dave Doeren has a strict 24-hour rule for celebrations or misery after a game, and the Wolfpack aimed to squeeze every second of happiness from this one.
After nearly five years of desperate struggles, long rebuilds and heartrending near misses, a win in Tallahassee, Florida, was a benchmark.
It was also a starting point.
"To see players that happy, to see coaches that relaxed, knowing our fan base was proud -- for an AD, it doesn't get any better than that," Yow said. "So the trick is, how many days can we do that? How many special days can we have in our future?"
This has always been the question at NC State, a program caught in the middle of the dizzying heights achieved by Florida State and Clemson and the more reasonable expectations of the division's private schools such as Syracuse and Wake Forest. Is it a program that should be satisfied with eight wins and the occasional joyful plane ride, or is it shooting for more? Is it a team capable of competing for a playoff spot alongside the Seminoles and Tigers and the upstarts at Louisville or is it the ACC's Don Quixote, tilting at windmills rather than climbing the standings?
These questions don't make NC State unique. It's the existential crisis of many a mid-level college football program. But what's set NC State apart is how tantalizingly close it's been to taking that next step and how unwaveringly resilient the administration, staff and players have been when that next rung has proven just out of reach.
"It's brought us closer together, taught us how to compete," linebacker Airius Moore said. "We know things aren't given to us."
THE WOLFPACK HOST LOUISVILLE TONIGHT (8 p.m., ESPN and ESPN App) riding a three-game winning streak and an opportunity to force their way back into the role of ACC Atlantic contender. It's a million miles from where they were when these two teams last faced off.
It was a week after another of those near-miss moments, when a chip-shot field goal attempt sailed wide, and the Wolfpack's opportunity to knock off Clemson -- the eventual national champion -- was quashed by the merciless football gods.
It was hardly the first time NC State had been taunted by fate, but this might've been the worst.
The Wolfpack played Clemson close in 2013 amid a dismal first season for Doeren's staff. It battled Florida State in 2014, then came close to toppling both in 2015. By the time Kyle Bambard's kick pushed right in the waning seconds in Death Valley last year, it was fair to wonder how much closer the Wolfpack could get and still come away empty-handed.
Doeren's 24-hour rule was no match for the misery that followed.
"We lost before we got there," Doeren said of last year's game against the Cardinals, a 54-13 shellacking that ended up part of a four-game losing streak.
By the time another signature win slipped away as a surefire interception slipped through Shawn Boone's hands near the end of a 24-20 loss to Florida State, the vultures were circling.
NC State was just 22-25 under Doeren at that point. It was 7-22 in conference play and just 1-21 against ACC foes that had finished the year with a winning record.
"We're in the performance business," Wolfpack defensive coordinator Dave Huxtable said. "We have a job to do, and that's out there in the public eye for people to talk about Monday morning. But I know there's not a group of coaches that work harder than this group. Everybody's pulling in the same direction. It's easy to criticize, and I've got no problem with it. I don't read it all. I just have a job to do."
But if the staff's fate was sealed, someone forgot to tell the Wolfpack, who pulled off a 28-21 upset of North Carolina in the regular-season finale, a game that many had assumed was little more than a formality before NC State's bowl hopes evaporated and changes were made.
"It's about these players and these coaches hanging together amid a lot of heartbreaking days and negativity and doubt," Doeren said after the game.
He wasn't immune to what the rest of us all knew. This was a reprieve, a victory that changed the trajectory of the program.
He got up from his chair, exited the room and hugged his wife, who'd held back tears, and returned to NC State's locker room. A month later, the Wolfpack won their bowl game and the future, at long last, looked bright.
"I think any time you have adversity, you've got two choices, and we chose to face it," Doeren said. "Just going through it all, you've got to have really good blinders in this seat that I'm in. It made me better. Not that I would want to relive it, but I know it made me better and I know it made our coaching staff and our football team mentally tougher."
THE 2017 SEASON BEGAN WITH LOFTY EXPECTATIONS for NC State -- expectations that certainly fit a veteran team with a stellar defensive line and a returning QB -- but it still wasn't an easy sell. Put these players in a Florida State uniform and they might have looked like a playoff team. At NC State, though, history is always the prism through with the program is judged, and usually it's not judged kindly.
Then, again, things got worse.
Despite more than doubling South Carolina's yardage total in this year's opener, despite eight drives into Gamecocks territory, despite 415 yards from QB Ryan Finley, the Wolfpack again found a way to lose.
Pack it up. Go home. End of season, before it really got started.
Only, again, that's not what happened. Count NC State out at your own risk.
"We're a very different team than we were last year, and that speaks to the maturity of our team," Finley said. "We've been through a lot. And through fire and adversity, that's how you learn."
The win over Florida State featured all the usual plot twists the Wolfpack have become accustomed to: The early lead, the frustrating comeback, the tense conclusion.
This time, however, NC State wrote a different ending.
"I've been telling them for three years we're almost there, we're almost there and that kind of gets old," Doeren said. "So to know that they finally got there gives them the gratification that they deserved and have worked for. They played like they wouldn't be denied."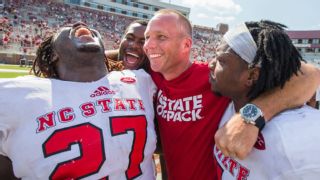 That's the message Doeren hoped resonated on that flight home. This wasn't a miracle. It wasn't the football gods finally changing their minds about NC State. It wasn't luck that pushed this team past Florida State to its signature victory under Doeren.
"It wasn't that there was a monkey off our back, just that we finally executed all the way through the fourth quarter," Moore said. "There were so many close games last year. It was just showing that we've grown as a team. We're a different team."
None of that is to say NC State is satisfied now. After a closer-than-expected win against Syracuse last week, Doeren again lamented a dip in energy in the third quarter. And while Yow said the win over FSU was a stepping stone, she insists the reimagining of the program is still a work in progress.
But considering where NC State was when it faced Louisville a year ago, this does seem like a brave new world. It was close, and closer, and even closer again, and then, with a win in Tallahassee, the wall came down.
"Attempting to do what Dave and his staff are attempting to do is really challenging, and we're right in midstream right now," Yow said. "But there is a payoff for this, and it's winning."