Football is the ultimate team sport. But the biggest common denominator when it comes to having a successful football team is the quarterback. The play of your guy behind center is usually the biggest difference when it comes to building a championship team.
Even teams with the best defenses usually lose steam if that defense can't get some QB help.
So, as we enter October, we decided to take a deeper dive into who the best quarterbacks have been in different scenarios.
Fourth quarter
With only a month's sample size, it's hard to make a definitive statement on who is the best in the final frame of the game. For instance, Oklahoma quarterback Baker Mayfield might be the Heisman Trophy favorite from the quarterback ranks, but he's barely done anything in the fourth quarter through four games. Yes, he's been awesome this season, but he just hasn't had to play a lot in the fourth quarter. Still, he was a perfect 8-for-8 passing for 64 yards and a touchdown in the fourth quarter of the Sooners 31-17 win over then-No. 2 Ohio State in Columbus. Since then, he's attempted just three fourth-quarter passes.
So who's the best in the fourth quarter from a numbers standpoint? That would be UCLA's Josh Rosen. The future first-round pick has completed 58-of-86 for 755 yards and seven touchdowns, two interceptions and 13 completions of 20-plus yards. Thirty-seven of his 58 completions in the final quarter have gone for first downs.
His best performance -- maybe ever -- came in the season opener against Texas A&M, when he resurrected UCLA after a 44-10 third-quarter deficit. In the fourth quarter alone, Rosen went 19-for-26 with 292 yards and four touchdowns. Thirteen of his completions went for first downs, and the Bruins won 45-44.
Without much of a running game, and with a struggling defense, Rosen has had to throw the ball a lot in the fourth quarter (17.2 attempts in the fourth). But he's certainly made the most of it with a Raw QBR of 82.1 and just two turnovers.
USC counterpart Sam Darnold also has been solid in the fourth quarter. Outside of that disastrous fumble in last week's loss to Washington State, Darnold has been at his best in the fourth quarter. In fourth quarters and overtime, he has completed 59.1 percent of his passes for 351 yards, with three touchdowns and an interception.
Darnold has 18 first-down passes, and his 9-of-21 performance in the fourth quarter and overtime might not seem sexy, but he made some outstanding throws for 134 yards and crushed all of Texas' momentum to lead the Trojans to a big early-season win.
Best red zone
Washington State's Luke Falk is climbing everyone's Heisman boards after that tremendous performance against USC. But we shouldn't be surprised that he's cranking out PlayStation numbers with Mike Leach as his coach. And when Falk gets near the end zone, it's hard to stop him.
Inside the opponent's 20-yard line, Falk is 22-of-37 for 157 yards and a nation-leading 10 touchdowns. He has just one turnover and has thrown for seven first downs.
Mayfield has attempted only 10 passes in the red zone, but his scoring efficiency is excellent. Of his eight red zone completions, seven have gone for touchdowns. Six of those TDs have been 10 or more yards.
Want surprise red zone threats? Purdue's David Blough and Vanderbilt's Kyle Shurmur are your guys. Blough is 12-for-13 passing for 69 yards and four touchdowns with five first downs. Shurmur is 8-for-12 and has six touchdowns.
Third-and-long
Falk and Louisville's Lamar Jackson know how to beat you deep in critical situations. On third-and-long (5-plus yards), Falk is 24-of-38 for 497 yards with 20 first downs and eight touchdowns. Ten of his completions have gone for 20-plus yards. He hasn't thrown an interception in these situations, and he's thrown for more than 100 yards in these scenarios in each of the last three games.
For Jackson, he's been working to throw the ball more on third-and-long. Last year, he averaged 2.2 rushes per game on third-and-long situations. In September, Jackson ran the ball just six times on third-and-long, and his 305 passing yards are only 292 less than his passing yardage all of last season on third-and-long. He also has four total touchdowns this year, compared with seven all of last season.
TCU's Kenny Hill has also stepped up big for the Horned Frogs on third-and-long. He's 18-of-25 (72 percent) for 258 yards with three touchdowns, an interception and 14 first downs. In 2016, he completed just 52.4 percent of his passes on third-and-long with two passing touchdowns.
Under duress
It's never easy to play well when under duress, but Washington's Jake Browning has quietly been very good for the Huskies. He's gone 14-of-28 for 190 yards and two touchdowns, and eight of those completions have been first downs. While he's been sacked four times, he's also completed four passes for 20-plus yards.
Oklahoma State's Mason Rudolph is completing only 35.5 percent of his passes (11-of-31) under duress, but he has six touchdowns to just one interception. Three of those touchdowns have gone for 14-plus yards, including a 69-yarder to Marcell Ateman against Pitt.
Arguably the best performance under duress so far? How about Indiana's Richard Lagow, who went 16-for-26 with 174 yards and a touchdown against Ohio State. He was sacked five times but still registered nine first downs.
Against the blitz
Teams have been trying to get after Rosen all season, but he's done a pretty good job of thwarting that so far. He's completed 53-of-85 passes against the blitz for 756 yards and six touchdowns without any interceptions. He also leads the country with 15 completions of 20-plus yards against the blitz and 39 first-down passes. He's completed at least 58 percent of his passes against the blitz in three games this season (at least 12 attempts).
The blitz has actually been good for Iowa's passing game after C.J. Beathard struggled against it as the starter last year. Nathan Stanley is completing 53.8 percent of his passes (28-of-52) for 468 yards and five touchdowns. Two of those touchdowns came against No. 4 Penn State, including a 70-yarder to Akrum Wadley.
Stanley also has eight completions of 20-plus yards and 18 first downs against the blitz.
Short passes
This is Darnold's wheelhouse. While he's struggled throwing downfield this season, he's been automatic on short passes. On passes 5 yards or fewer through the air, Darnold is 35-of-38 for 342 yards with 16 first downs and two touchdowns. Darnold has also gotten help from his pass-catchers, as 12 of his short completions have gone for 10 yards or more.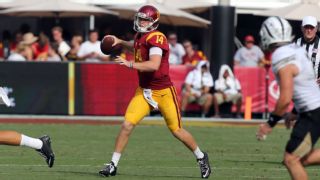 Auburn's Jarrett Stidham is gaining confidence in Gus Malzahn's offense in large part because of short passes. This season, Stidham has completed 22-of-23 for 194 yards with 11 first downs and a touchdown. He has been at their best with short passes on third-and-long (5-plus yards to the first-down marker); Stidham is 6-for-6 for 71 yards with four first downs and a touchdown.
Downfield passes
When it comes to passes that travel at least 20 yards through the air, Virginia Tech redshirt freshman Josh Jackson has been on point. He's completed 60 percent of those passes (15-of-25) for 467 yards and five touchdowns with zero interceptions. Let's remember that this is all new to him. Against ranked foes Clemson and West Virginia, Jackson went 6-of-8 for 182 yards with a touchdown and no interceptions.
Mayfield and Rudolph aren't too far behind Jackson. Mayfield has completed 51.9 percent of these passes (14-of-27) for 516 yards and five touchdowns without a pick. Rudolph has 575 yards and six touchdowns with an interception on 13-of-26 passing.
The surprise here is Darnold. He's completing just 25 percent of his passes (9-of-36) for 295 yards with four touchdowns and four interceptions. Last year, Darnold completed 42.2 percent of these passes (19-of-45) for 579 yards with seven touchdowns and four interceptions. In the last two games alone, including last week's loss to Washington State, Darnold has gone 1-of-14 for 26 yards and an interception on these passes.
Play-action
Rudolph owns defenses out of play-action. He's 43-of-66 (out of 71 PA plays) for 903 yards and nine touchdowns. Fifteen of his throws have gone 20-plus yards downfield, and 36 of his 43 completions have resulted in a first down. Oklahoma State's incredibly balanced offense has helped Rudolph be efficient on these plays, as the Cowboys have thrown 184 passes and run the ball 184 times.
Mayfield is close on Rudolph's heels, completing a nation-high 82.9 percent of his play-action passes (29-of-35) for 656 yards and seven touchdowns. He has zero picks and 14 passes of 20-plus yards and 20 first downs, with a Raw QBR of 99. If you're Louisville, your best bet for getting first downs through the air come when Lamar Jackson operates out of play-action. He's completed 28 play-action passes, 20 of which have gone for first downs.
Scrambling
Last year, Jackson was the scrambling king, taking off 51 times for 493 yards. This year, Alabama's Jalen Hurts took the crown in September. He scrambled 20 times for 195 yards and a 27-yard touchdown. Hurts is averaging 9.75 yards per carry on scrambles this season and leads the nation with 10 rushes of 10-plus yards and four of 20-plus yards.
Clemson's Kelly Bryant is trying to duplicate Deshaun Watson's passing production, but he's looking more and more like the scrambling Watson from two years ago. Through the first month, Bryant scrambled 17 times for 173 yards (10.17 YPC) with seven runs of 10-plus yards. In 2015, Watson scrambled 50 times for 326 yards and 13 rushes of 10-plus yards.
Zone-read
There's no one better than West Virginia's Will Grier right now at throwing out of the zone-read. Grier is 22-of-25 passing for a nation-high 157 yards and two touchdowns out of the zone-read. He also leads the country with nine first-down passes out of the zone-read.
When it comes to yardage, Missouri's Drew Lock is the closest to Grier. He's gone 6-for-6 with 142 yards and a touchdown. Surprisingly, Tennessee's Quinten Dormady has performed well in the few reps he's gotten out of the zone-read. He's 6-of-8 for 114 yards, with a touchdown and an interception.