Penn State Scandal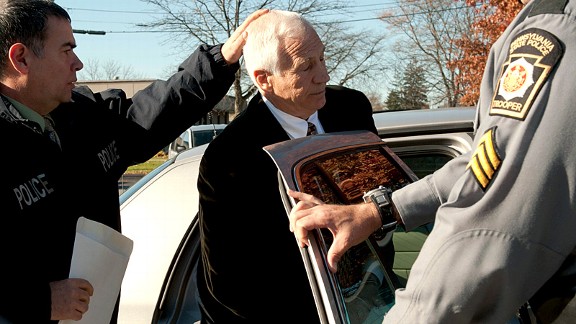 Jerry Sandusky, a former defensive coordinator under Joe Paterno at Penn State, was convicted in June 2012 of 45 of 48 counts of molesting 10 boys in a 15-year period. Sandusky was arrested in November 2011 after a grand jury report found that Sandusky, who retired in 1999 but retained access to Penn State's facilities, was seen in 2002 sexually assaulting a 10-year-old boy. The incident allegedly was witnessed by then-graduate assistant Mike McQueary, who reported it to Paterno. Paterno then reported the allegations to Penn State athletic director Tim Curley.
McQueary, Paterno, Curley and Penn State senior vice president Gary Schultz all testified as part of the grand jury investigation into Sandusky. The grand jury found that Curley and Schultz were not credible, and they were charged with perjury and failure to report suspected child abuse. According to the indictment, they failed to inform police of the situation, and they told the grand jury that McQueary never informed them of what he saw.
On Nov. 6, 2011, Sandusky was officially banned from the Penn State campus. Schultz resigned, and Curley took a leave of absence. Three days later, Penn State's board of trustees forced university president Graham Spanier to resign, and Paterno -- who earlier in the day had announced he would retire at the end of the season -- was fired.
Sandusky went on trial on June 5, 2012. The trial, including jury selection, lasted a little more than two weeks. Four of the 52 counts Sandusky originally faced were thrown out during the course of the trial. On June 22, Sandusky was convicted of 45 of the 48 remaining counts. He was sentenced to at least 30 years in prison.
1969
Jerry Sandusky starts his coaching career at Penn State University as a defensive line coach.
1977
Jerry Sandusky founds The Second Mile. It begins as a group foster home dedicated to helping troubled boys and grows to become a charity dedicated to helping children with absent or dysfunctional families.
January 1983
Associated Press voters select Penn State as college football's national champion for the 1982 season.
January 1987
Associated Press voters select Penn State as college football's national champion for the 1986 season.
1994
Boy known as Victim 7 in the grand jury report meets Sandusky through The Second Mile program at about the age of 10.
1994-95
Boy known as Victim 6 meets Sandusky at a Second Mile picnic at Spring Creek Park, when he is 7 or 8 years old.
1995-96
Boy known as Victim 5 meets Sandusky through The Second Mile when he is 7 or 8, in second or third grade.
1996-97
Boy known as Victim 4, at the age of 12 or 13, meets Sandusky while he is in his second year participating in The Second Mile program.
1996-98
Victim 5 is taken to the locker rooms and showers at Penn State by Sandusky when he is 8 to 10 years old.
Jan. 1, 1998
Victim 4 is listed, along with Sandusky's wife, as a member of Sandusky's family party for the 1998 Outback Bowl.
1998
Victim 6 is taken into the locker rooms and showers when he is 11 years old. When Victim 6 is dropped off at home, his hair is wet from showering with Sandusky. His mother reports the incident to the university police, who investigate.
Detective Ronald Schreffler testifies that he and State College Police Department Detective Ralph Ralston, with the consent of the mother of Victim 6, eavesdrop on two conversations the mother has with Sandusky. Sandusky says he has showered with other boys and Victim 6's mother tries to make Sandusky promise never to shower with a boy again, but he will not. At the end of the second conversation, after Sandusky is told he cannot see Victim 6 anymore, Schreffler testifies Sandusky says: "I understand. I was wrong. I wish I could get forgiveness. I know I won't get it from you. I wish I were dead."
Jerry Lauro, an investigator with the Pennsylvania Department of Public Welfare, testifies he and Schreffler interviewed Sandusky, and that Sandusky admits showering naked with Victim 6, admits to hugging Victim 6 while in the shower and admits that it was wrong.
The case is closed after then-Centre County District Attorney Ray Gricar decides there will be no criminal charge.
June 1999
Sandusky retires from Penn State but still holds emeritus status.
Dec. 28, 1999
Victim 4 is listed, along with Sandusky's wife, as a member of Sandusky's family party for the 1999 Alamo Bowl.
Summer 2000
Boy known as Victim 3 meets Sandusky through The Second Mile when he is between seventh and eighth grade.
Fall 2000
A janitor named James Calhoun observes Sandusky in the showers of the Lasch Football Building with a young boy, known as Victim 8, pinned up against the wall, performing oral sex on the boy. He tells other janitorial staff immediately. Fellow Office of Physical Plant employee Ronald Petrosky cleans the showers at Lasch and sees Sandusky and the boy, whom he describes as being between the ages of 11 and 13.
Calhoun tells other physical plant employees what he saw, including Jay Witherite, his immediate supervisor. Witherite tells him to whom he should report the incident. Calhoun was a temporary employee and never makes a report. Victim 8's identity is unknown.
Feb. 9, 2001
A Penn State graduate assistant enters the locker room at the Lasch Football Building. In the showers, he sees a naked boy, known as Victim 2, whose age he estimates to be 10 years old, being subjected to anal intercourse by a naked Sandusky. The graduate assistant tells his father immediately.
Feb. 10, 2001
In the morning, the graduate assistant calls coach Joe Paterno and goes to Paterno's home, where he reports what he has seen.
Feb. 11, 2001
Paterno calls Tim Curley, Penn State athletic director, to his home the next day and reports a version of what the grad assistant had said.
February 2001
Later in the month, the graduate assistant is called to a meeting with Curley and senior vice president for finance and business Gary Schultz. The grad assistant reports what he has seen, and Curley and Schultz say they will look into it.
February 2001 (approximate)
The graduate assistant hears from Curley. He is told that Sandusky's locker room keys have been taken away and that the incident has been reported to The Second Mile. The graduate assistant is never questioned by university police, and no other entity conducts an investigation until the graduate assistant testifies before a grand jury in December 2010.
2005-2006
Boy known as Victim 1 says that he meets Sandusky through The Second Mile at age 11 or 12.
Spring 2007
During the 2007 track season, Sandusky begins spending time with Victim 1 weekly, having him stay overnight at his residence in College Township, Pa.
Spring 2008
Termination of contact with Victim 1 occurs when he is a freshman at a Clinton County high school. After the boy's mother calls the school to report sexual assault, Sandusky is barred from the school district attended by Victim 1 from that day forward, and the matter is reported to authorities as mandated by law.
Early 2009
An investigation by the Pennsylvania attorney general begins when a Clinton County, Pa., teen boy tells authorities that Sandusky has inappropriately touched him several times during a four-year period.
September 2010
Sandusky retires from day-to-day involvement with The Second Mile, saying he wants to spend more time with family and handle personal matters.
March 2011
Harrisburg (Pa.) Patriot-News reports that a grand jury is investigating Sandusky on allegations of indecent assault against a teenage boy. The Patriot-News reports that five people with knowledge of the case said the grand jury has been meeting for 18 months and has called witnesses, including Paterno and Curley. Penn State declines comment.
Nov. 5, 2011
Sandusky is arrested and released on $100,000 bail after being arraigned on 40 criminal counts.
Nov. 7, 2011
Pennsylvania Attorney General Linda Kelly says Paterno is not a target of the investigation into how the school handled the accusations. But she refuses to say the same for university president Graham Spanier. Curley, who takes a leave of absence, and Schultz, who resigns, surrender on charges that they failed to alert police to complaints against Sandusky.
Nov. 8, 2011
Possible ninth victim of Sandusky contacts state police as calls for ouster of Paterno and Spanier grow in state and beyond. Penn State abruptly cancels Paterno's regular weekly news conference.
Nov. 9, 2011
Paterno announces in the morning he'll retire at the end of the season, but the university's board of trustees rules later that Paterno and Spanier are out effective immediately. Defensive coordinator Tom Bradley is named interim coach and provost Rodney Erickson is named interim university president.
Nov. 11, 2011
Penn State's board of trustees appoints trustee Kenneth Frazier, CEO of pharmaceutical giant Merck, to head a special committee that will investigate all aspects of the child abuse scandal. Trustee chairman Steve Garban promises to give the committee any and all resources it needs and that a public report of its findings will be released.
That night, thousands of supporters -- including university students, alumni and teachers -- gather for a student-organized candlelight vigil in front of Penn State's "Old Main" administration building. A moment of silence is observed for the victims of Sandusky's alleged crimes, and several speakers address the crowd, including former college All-American linebacker LaVar Arrington.
Nov. 12, 2011
Amidst an increased security presence, Penn State hosts Nebraska in its final home football game of the 2011 season. A moment of silence is held before the game, and players from both teams congregate at midfield prior to kickoff to take a knee and join hands to remember the victims. Paterno's son Jay, an assistant coach, is present on the sideline, but assistant coach Mike McQueary, a key witness in the child sex-abuse scandal, does not attend the game. Nebraska holds on for a 17-14 victory, handing Penn State its first conference loss of the season.
Nov. 13, 2011
News reports emerge that McQueary is placed on administrative leave. School president Rod Erickson says he and acting athletic director Mark Sherburne made the decision to place McQueary on indefinite leave one day prior to the Nebraska game.
Nov. 14, 2011
Jack Raykovitz, president of The Second Mile -- the youth charity at the center of the child sex-abuse charges -- resigns, saying he hoped his departure would help restore faith in the group's mission. The group also announces it has hired Philadelphia's longtime district attorney as its new general counsel. Raykovitz, a practicing psychologist, had testified before the grand jury that recommended indicting Sandusky on child abuse charges.
In an NBC interview with Bob Costas, Sandusky claims his innocence relating to the abuse charges and speaks about the events that led to the charges against him.
Nov. 15, 2011
U.S. Senator Bob Casey asks for a hearing into how federal laws apply to the investigation of the child sex abuse case. In a letter sent to Sens. Barbara Mikulski and Richard Burr, Casey calls for a hearing in a subcommittee of the Senate Committee on Health, Education, Labor and Pensions, saying he wanted to see how well federal laws protect children and to ensure that provisions for reporting suspected cases are in place.
Nov. 17, 2011
NCAA president Mark Emmert sends a letter to Erickson saying that the governing body for college sports will look at "Penn State's exercise of institutional control over its intercollegiate athletics programs" in the case of Sandusky's 40 counts of child sex abuse.
Nov. 18, 2011
David Joyner is formally introduced as the school's acting athletic director. The Penn State graduate, who played offensive line from 1969 to 1971 under Paterno, says he will make sure that the "core values" of the school's sports programs are aligned with the university's academic side.
Nov. 21, 2011
Penn State hires former FBI director Louis Freeh to lead the university's investigation into the child sex abuse allegations against Sandusky.
Nov. 22, 2011
According to a report in The Patriots-News of Harrisburg, the Pennsylvania state department of Children and Youth Services opens an investigation into the allegations against Sandusky.
Nov. 30, 2011
The first lawsuit against Sandusky is filed. In the suit, a man -- not one of the eight victims from the grand jury report -- says the coach abused him more than 100 times.
Dec. 1, 2011
In an effort to increase transparency and ethical standards at Penn State in the wake of sex-abuse allegations levied against Sandusky, Erickson tells The Associated Press that the school plans to donate $1.5 million in Big Ten bowl proceeds to a pair of sex-crime advocacy organizations -- the Pennsylvania Coalition Against Rape and the National Sexual Violence Resource Center.
Dec. 2, 2011
Sandusky's lawyer, Joe Amendola, tells The Patriot-News that he might have to talk to his client at some point about pleading guilty to charges of child sex abuse, indicating that he would consider "possible alternatives" with Sandusky if new charges are filed that involve more victims than the eight covered by the original 40 pending criminal counts.
Dec. 3, 2011
In an interview in The New York Times, Sandusky said that he was never confronted by Joe Paterno about any suspected misconduct with minors relating to an alleged 2002 incident or a 1998 child molestation complaint investigated by Penn State campus police.
Dec. 5, 2011
ABC News reports that all eight of the alleged sexual abuse victims of Sandusky plan to testify against the former Penn State assistant coach in a preliminary hearing scheduled for Dec. 13.
Dec. 7, 2011
Sandusky is arrested and arraigned on new sex abuse charges brought by two new accusers, as reported by the state attorney general's office. The charges were brought after new accusers were questioned by a grand jury following Sandusky's arrest in November. One alleged victim claims he was assaulted after meeting Sandusky in 1997 and the other claims he was assaulted in 2004. The new charges include four counts of involuntary deviate sexual intercourse and two counts of unlawful contact with a minor, all of them first-degree felonies punishable by up to 20 years in prison and $25,000 in fines.
Dec. 8, 2011
Sandusky posts bail of $250,000 and is released from an overnight jail stay. Under the terms of his release, Sandusky is confined to his home and subject to electronic monitoring.
Dec. 13, 2011
Sandusky waives his preliminary hearing, entering a not guilty plea and requesting a jury trial. His arraignment is scheduled for Jan. 11, 2012, but because he has already entered a plea, he does not have to appear at the arraignment.
Dec. 14, 2011
Kenneth Frazier, the Penn State trustee heading the board's inquiry into child sex abuse allegations against Sandusky, says he hopes the school's investigation will be finished by the end of the academic year.
Dec. 16, 2011
District Judge William C. Wenner rules Curley, the athletic director on leave, and Schultz, the former school vice president, can be tried on charges of lying to a grand jury about an allegation of child sex abuse against Sandusky.
Dec. 19, 2011
Former board members of Sandusky's charity say its CEO never told them about a 2002 shower incident that is the focus of child sexual abuse charges against him.
Jan. 7, 2012
Penn State officially introduces Bill O'Brien as the new full-time football coach, replacing interim coach Bradley. O'Brien remains in his role as offensive coordinator of the New England Patriots for the remainder of the NFL playoffs.
Jan. 13-14, 2012
In an interview with The Washington Post, Joe Paterno says he did not know how to deal with the situation when he received a report that his former defensive coordinator was accused of abusing a boy in the showers.
Jan. 19, 2012
Some Penn State faculty council members challenge the independence of Penn State's handling of child sexual abuse allegations after the lead investigator told them he would present his findings twice to a university board of trustees' committee before releasing his report publicly.
Jan. 20, 2012
The Penn State board of trustees holds its first meeting since Paterno's firing. Erickson, the university's president, tries to address the perception that the university isn't being as open and honest as it could be in the wake of the Sandusky scandal.
Jan. 22, 2012
Joe Paterno dies at the age of 85 due to metastatic small cell carcinoma of the lung.
Jan. 24, 2012
Penn State faculty members reject a vote of no-confidence in the university's trustees, a symbolic measure that had sought to chastise the board for its handling of the child sex abuse scandal.
Feb. 7, 2012
Prosecutors ask to have Sandusky kept indoors as part of his bail conditions, citing complaints that he was seen outside on the back porch of his home, watching children in a schoolyard.
Feb. 8, 2012
Sandusky's lawyer files court paperwork arguing that jurors in his child sex abuse trial should be chosen from the community where he lives and suggesting that a trial delay might be the best way to address the intense publicity generated by the case.
Feb. 13, 2012
A judge rules Sandusky can have supervised contact with most of his grandchildren, saying there was no evidence that the children's parents wouldn't be able to keep them safe.
Feb. 15, 2012
Schultz, the former university vice president, asks a judge to throw out charges that Schultz lied to a grand jury investigating Sandusky and that he did not properly report suspected child abuse.
Feb. 24, 2012
Penn State receives a federal subpoena related to Sandusky being accused of molesting boys; the school is cooperating with the request, a university spokeswoman said.
Feb. 27, 2012
Sandusky's lawyer asks the judge in the child sex abuse case to delay the start of the criminal trial until mid-July, saying he needed more time to prepare.
Feb. 29, 2012
The judge in Sandusky's 52-count child sex abuse case rejects the defense attorney's request for a two-month delay.
March 13, 2012
Judge John Cleland denies a defense request for more information regarding when and where the allegations against Sandusky occurred, because prosecutors said they cannot produce additional detail.
March 20, 2012
Prosecutors are ordered to give Sandusky's lawyer the phone numbers and addresses of those who have accused the former Penn State assistant football coach of child sex abuse.
March 29, 2012
Cleland delays the start of the trial by three weeks to early June, and prosecutors file a lengthy court document that says the case should not be dismissed.
April 9, 2012
The judge overseeing the case issues a gag order that severely limits what attorneys on both sides may say to reporters.
April 12, 2012
Cleland refuses to throw out the charges against Sandusky, but allows the defense to ask again to have the case dismissed as more evidence is turned over by prosecutors.
April 19, 2012
Penn State agrees to provide millions in payments and benefits to Paterno's estate and family members under the late coach's employment contract, although a family lawyer says the Paternos did not sign away their right to sue.
May 14, 2012
Due to an amended timeline filed by prosecutors, one of the two charges against Curley and Schultz becomes likely to be dropped, as it now falls outside the statute of limitations.
June 4, 2012
Sandusky loses a last-ditch effort to delay the start of his child molestation trial when the Pennsylvania Supreme Court turns down his request.
June 5, 2012
Jury selection begins in the trial of Sandusky, with nine of 16 jurors (12 active, four alternates) seated on Day 1.
June 6, 2012
The full 16-person jury is seated for the trial. The 12 jurors include seven women and five men, with eight of the 12 jurors having ties to Penn State. Two of the four alternates also have ties to the university.
June 11, 2012
Sandusky's trial begins with opening arguments and testimony from the man identified by prosecutors as "Victim 4."
June 18, 2012
Prosecutors rest their case, having called 21 witnesses in five days.
June 20, 2012
The defense rests in Sandusky's trial without calling the former Penn State assistant coach to the stand.
June 22, 2012
The jury finds Sandusky guilty on 45 of 48 counts. The charges carry a minimum 60-year sentence and 442 years at maximum.
July 12, 2012
Former FBI director Louis Freeh releases a report outlining the failings of Penn State related to convicted pedophile Sandusky. Read report »
July 22, 2012
Penn State removes the statue of Paterno from outside Beaver Stadium.
July 23, 2012
The NCAA hits Penn State with a $60 million fine and a four-year football postseason ban; all football wins dating to 1998 are vacated.
October 9, 2012
Jerry Sandusky is sentenced to a minimum of 30 years and up to 60 years in prison. He is not eligible for parole before the minimum term is up.
TOP STORY
Sandusky: Witness mistook shower incident
Jerry Sandusky said in interview excerpts broadcast Monday that a key witness against him misinterpreted him showering with a young boy in Penn State football team facilities more than a decade ago. Story »