Category archive:

NCAA Softball
February, 8, 2012
02/08/12
3:32
PM ET
By
Erin Quinn, ESPN Stats & Analysis
With the 2012 softball season set to begin Thursday, here are some numbers to consider:
2: Alabama's five-member freshman class includes two 2011 Gatorade Player of the Year winners from their respective states, Leslie Jury (South Carolina) and Jadyn Spencer (Iowa). Jury, a six-foot pitcher, led the Gold Goast Hurricanes Gold travel team to top-five finishes at ASA Gold Nationals in 2009 and 2011. The Rolling Tide's pitching staff will consist of Jury, All-American Jackie Traina and Lauren Sewell, who pitched just 20 innings last season. Spencer, a 5-10 utility player, holds the Iowa state record for career home runs (54), and was also a McDonald's All-American honorable mention in basketball.
5: In seven years as Arizona State's head coach, Clint Myers has coached the Sun Devils to five Women's College World Series appearances and two national championships (2008 and 2011). With pitcher Dallas Escobedo back after a dominant freshman season, there's no reason to think Myers and the Sun Devils can't make it six in eight years.
4: Four players who hit 20 or more home runs in 2011 return this season, and they all hail from schools in the southeast: Louisiana-Lafayette's Christi Orgeron (23), Florida's Brittany Schutte (22), Georgia Tech's Kelsi Weseman and Troy's Nikki Hollett (20). Orgeron, Schutte and Weseman were all selected to the 2012 USA Softball Collegiate Player of the Year Award Watch List.
6: The ESPN.com/USA Softball Top 25 preseason poll features six teams each from the Pac-12, Big 12 and SEC. With three teams ranked in the top-10 (No. 2 Alabama, No. 4 Florida and No. 9 Tennessee), is this the year that the SEC wins its first national championship? The SEC is no stranger to high spots in the rankings the last few years, but in order to win it all, it will need to improve on its 2011 performance against the Big 12 (10-12) and Pac-12 (15-14).
8: Eight of the nine Big 12 schools return their top pitcher from 2011. Among these eight are Baylor's Whitney Canion, Oklahoma's Keilani Ricketts and Missouri's Chelsea Thomas, who all played for Team USA last summer.
February, 8, 2012
02/08/12
1:21
PM ET
Editor's note: Graham Hays is counting down to the start of the 2012 college softball season with a look at each of the teams in his Top 20. Check back daily for updates.

No. 2 Arizona State
Last year: 60-6 overall, 17-4 Pac-10 (Won national championship)

Who returns: The ace in the circle and the two best hitters return, not too shabby for a team that posted the above record last season and won six games in the Women's College World Series by a combined 34-12 margin.
Dallas Escobedo was the most highly anticipated member of last season's freshman class nationwide, a superstar prep pitcher in Arizona who picked her hometown school. And yet she still managed to exceed expectations, going 37-3 with a 1.51 ERA and 326 strikeouts in 255⅓ innings and holding up both mentally and physically across the grueling Pac-10 season and postseason run. Sure, like any pitcher, there are parts of her game she can improve -- she gave up 22 home runs as a freshman -- but it was an All-American debut by any standard.
Katelyn Boyd and Annie Lockwood return behind Escobedo and ahead of just about all peers at the plate. One of three finalists for USA Softball Player of the Year last season, Boyd is the complete package. As a shortstop, she has the range and arm to be a defensive asset (granted, errors aren't the best measure of defensive value, but seven errors in 66 games says something about Boyd's wizardry with the glove). At the plate, she hits for power (.785 slugging percentage, 18 home runs), shows patience (52 walks, 20 strikeouts, .549 on-base percentage) and punishes opponents on the bases (20 stolen bases in as many attempts). Lockwood's blend of power and plate discipline might be even more impressive than that of her teammate. As a junior last season, Lockwood led the Sun Devils with 19 home runs and struck out just 14 times in more than 200 plate appearances.
Beyond that All-American trio, Talor Haro, Alix Johnson and Sam Parlich also return from the starting lineup in the final game of the Women's College World Series. Considering no Arizona State regular hit worse than .300 last season, all three are assets in their own right. Johnson, in particular, held her own as a freshman (.462 on-base percentage) and could be on the verge of a breakthrough season.
Who departs: It's a list of more than passing significance. Their impact went well beyond the box score, but Kaylyn Castillo, Krista Donnenwirth, Lesley Rogers and Mandy Urfer are major losses in purely tangible terms. Those four combined for 38 percent of the team's hits last season and routinely held down four of the top six spots in the batting order. All also contributed to the overshadowed element of Arizona State's success -- a defense that committed just 26 errors in 66 games. Donnenwirth, in particular, finishes her college career as an all-timer with the glove at third base.
Who arrives: Arizona State coach Clint Myers loves depth, and after two national championships in four years, who is going to argue with him? Seven freshmen and three transfers pad out a published roster of 25 players. Among the freshmen, Elizabeth Caporuscio, Amber Freeman and Bethany Kemp (sister of former University of Arizona softball player Victoria Kemp) bring the most decorated prep résumés. Freeman was the primary catcher for Team USA in the ISF Junior World Championship in December, giving her plenty of extra work with Escobedo, also a member of the team (Freeman also drove in five runs in four medal-round games in the tournament).
Preseason question: Can the Sun Devils replace their seniors?

It's going to be a colossal shock if Arizona State doesn't return to the Women's College World Series. It's going to be at least a mild surprise if the Sun Devils aren't still playing when Sunday turns to Monday in Oklahoma City and the championship series is set. There is too much talent on hand to believe otherwise. But to focus solely on the returnees is to diminish what a group of seniors, most of whom were around for two championships, did.
The four seniors already mentioned from last season's team were the biggest on-field producers, but they were part of a class that also included Lacy Goodman, Dani Rae Lougheed, Michelle Nulliner and Sarah Rice. For Myers, who won nearly 900 games coaching baseball and softball at Central Arizona College before coming to Arizona State and coached high school baseball as long ago as the Carter administration, those seniors topped any list.
"I can tell you one thing this team has had that no other team has had, men or women: eight great leaders with these seniors," Myers said after winning the championship last season. "[The team] played the best softball of the year in the College World Series. They did it with a young pitcher who had lots of friends and lots of help in the circle, with great defense … we had timely hitting. And if you looked, the seniors stepped up. It was their last hurrah."
Replacing their tangible contributions will be difficult, but Myers always finds talent. Replacing the leadership that brought everything together at the right time last season will be the bigger challenge.
February, 8, 2012
02/08/12
1:18
PM ET
Editor's note: Graham Hays is counting down to the start of the 2012 college softball season with a look at each of the teams in his Top 20. Check back daily for updates.

No. 1 California
Last year: 45-13 overall, 15-6 Pac-10 (lost in Women's College World Series)

Who returns: Everybody returns. Really, everybody. For all reasonable purposes, California returns the roster that made it to the Women's College World Series for the first time since 2005 and finished two games behind Arizona State in the Pac-10, the only team in the conference to finish within six games of the eventual national champion.
Start the list with Jolene Henderson, the ace in the circle who went 40-10 with a 0.99 ERA and 333 strikeouts in 333.1 innings as a sophomore last season. Without Valerie Arioto (that's right, Cal returns its entire roster and welcomes back a player in Arioto who posted All-American numbers as both a pitcher and hitter before injuries wiped out her 2011 season), Henderson took the ball again and again in the nation's toughest conference and never wilted. There's even reason to think Henderson, who finished third on the team with six home runs at the plate but hit just .217 overall, could be even more valuable this season as her bat develops.
Cal was not a dominant offensive team last season, slugging just .401 and averaging 4.9 runs per game (ranking the Bears No. 125 and No. 67, respectively, in the nation). But in addition to Arioto, already a middle-of-the-order slugger for the United States national team, Cal returns special individual parts. In addition to being nearly impenetrable on defense, third baseman Jace Williams (.474 on-base percentage) and shortstop Britt Vonk (.502 on-base percentage, 26 stolen bases) tormented opposing pitchers. Outfielder Jamia Reid, one half of a twin combination with outfielder Elia, also spent a lot of time on base (.412 OBP), if not a lot of time on first base (31 SB).
Who departs: Amy Bishop recorded one start among 13 appearances last season, making her the only California player who appeared in a starting lineup who isn't back this season.
Who arrives: : For obvious reasons, this won't be the easiest lineup to break into, but Cheyenne Cordes isn't just any freshman. Take your pick of prep plaudits and Cordes probably carried it with her when she arrived on campus, from Gatorade Player of the Year in California to ESPN Rise first-team All-American. Perhaps most notably, and certainly most recently, she was named USA Softball's junior player of the year after winning gold with Team USA in the ISF Junior World Championship. Cordes started all 11 games in the tournament in South Africa this past December, the only American player to do so, and hit .577 with a team-leading 12 RBIs. She played third base and shortstop for Team USA, two positions that already seem to be in particularly capable hands at Cal with Williams and Vonk, but talent tends to find its way into lineups.
Another familiar name among the freshmen -- and there are five newcomers, despite all the holdovers -- is Danielle Henderson, younger sister of Cal ace Jolene and an infield/utility talent in her own right.
Preseason question: Is Valerie Arioto the difference?

Even if California had last season's roster back intact, its championship credentials might be subject to questions pertaining to pitching depth and power at the plate. Its continuity would also have been a conundrum.
Could Henderson really handle such a heavy workload two seasons in a row against the kind of schedule California chooses to play out of conference and has to play in conference? Could the team score enough runs to make a go of it in Oklahoma City, where it simply didn't have the bats to match up with Alabama or Florida?
What makes both questions seem far less pressing is Arioto's return. Her ability to regain the form that helped her post a .590 on-base percentage and .819 slugging percentage in 2010, walking 81 times and hitting 19 home runs in 63 games, isn't in any doubt after watching her play for Team USA this past summer and fall. Arioto went 5-for-13 with 10 walks in eight starts in the Pan-Am Games. She didn't pitch for an American side already loaded with good arms, but she threw more innings than Henderson in 2010 for Cal, finishing 21-9 with a 1.43 ERA and 264 strikeouts in 205.2 innings.
"Valerie Arioto is just one of those young women that just loves to play ball," Team USA coach Ken Eriksen said. "She loves to practice, she loves to play, she loves to hit, she loves to be involved with a bunch of great people and great teammates. She's such a happy person, happy-go-lucky, and that's the way she plays the game. I hope she continues with that youthful enthusiasm for the rest of her life; she's going to be successful in whatever she does."
Like Danielle Lawrie, who returned after a year away from the college game in 2009 and led Washington to a national championship, that success may make a stop in Oklahoma City this spring.
February, 7, 2012
02/07/12
2:40
PM ET
Editor's note: Graham Hays is counting down to the start of the 2012 college softball season with a look at each of the teams in his Top 20. Check back daily for updates.

No. 3 Alabama
Last year: 53-11 overall, 19-6 SEC (lost in Women's College World Series)

Who returns: Like the rest of her teammates, Jackie Traina would surely love to forget Sunday at the Women's College World Series last season. Needing one win to reach its first championship series, Alabama instead lost back-to-back games against old rival Florida, with Traina, coming out of the bullpen, among the pitchers who couldn't solve a Gators lineup that hit seven home runs and scored 25 runs in just 12 innings.
But for evidence of why Traina enters her sophomore season as both the ace in the circle and the kind of player who can lead Alabama back to the World Series, consider last season's super regional.
Alabama was staring at a second consecutive super regional exit at home when Traina came out of the bullpen in a scoreless third game against Stanford with runners on first and second and one out in the fourth inning. She retired the next two batters without a ball getting out of the infield. An inning later, she fanned USA Softball Player of Year Ashley Hansen, one of just five times in more than 220 plate appearances that Hansen struck out. And with the game still scoreless in the sixth, Traina singled and eventually came around to score the game's only run.
Painful World Series lessons aside, she's a player who seems to crave the biggest moments, no small thing for the best player and No. 1 pitcher on a team with its share of haunting disappointments.
The returning outfield of Kayla Braud, Jennifer Fenton and Jazlyn Lunceford is as complete a group as there is in the country. Those three combined to steal 109 bases last season, and Fenton has the same kind of power potential as another SEC speedster, Florida's Michelle Moultrie. First baseman Cassie Reilly-Boccia, designated player/pitcher/first baseman Amanda Locke, third baseman Courtney Conley, middle infielder Kaila Hunt and catcher Kendall Dawson all started at least 40 games in 2011. Locke (1.053 OPS) and Reilly-Boccia (.977 OPS), in particular, are proven middle-of-the-order hitters.
Who departs: The Crimson Tide only lost two players to graduation, but good luck finding two players anywhere who offered more combined value to a program. Kelsi Dunne went 29-5 with a 1.42 ERA as a senior and finished her career with a 113-22 record, winning at least 26 games in each of her four seasons and throwing more innings than all other Alabama pitchers combined. Whitney Larsen made 243 starts in four seasons, slugging better than .500 each season and establishing herself as an asset with the glove at shortstop by the time she was done.
Who arrives: Freshman pitcher Leslie Jury arrives with an All-American resume in high school and travel ball, not to mention a 6-foot frame and a top pitch speed as high as 72 mph. Freshman Jadyn Spencer also figures in the pitching mix. Coach Patrick Murphy noted Spencer measures up with Amanda Locke as a pure power hitter, which anyone who has seen Locke in batting practice can attest is a bold suggestion. Freshman Danae Hays is in a three-way race for the two middle infielder positions.
Former Alabama All-American Stephanie VanBrakle debuts as the new pitching coach, an addition that could be significant given the obvious comparisons between VanBrakle and Traina as two-way threats.
Preseason question: Move along, there's nothing to see here?

Credit to Alabama for not erasing the historical record, but three successive headlines in the news archive from the 2011 season on the school's athletic website still stand out eight months later.
June 9, 2011: Softball Head Coach Patrick Murphy Resigns to Take Head Coaching Job at LSU; June 12, 2011: Patrick Murphy Returns as Alabama Softball Head Coach; June 14, 2011: Alabama Softball Season Recap.
It was an interesting June for the Crimson Tide, to say the least.
With limited space, this isn't the place to delve deeply into the hows and whys of Murphy's change of heart after initially leaving the program he essentially built from scratch into a Tuscaloosa institution that regularly draws more than 2,000 fans per game. There's time for that down the road. What is relevant is what effect the whole saga will have on a team with such an abundance of returning talent this season. And setting aside any hurt feelings, doubts or confusion, veteran experience could be the team's best asset in getting on with its business.
Alabama's six seniors have experienced no end of disappointment in the past three postseasons. Twice they've watched seasons end via walk-off home runs, and that was before last season's collapse. Not to mention the far more significant adversity of the tornado that ripped through Tuscaloosa last spring. Whatever the internal dynamics between players and coach -- strong as ever, strained or indifferent -- those seniors have their motivations.
"We have six seniors that are just awesome kids, any way you look at," Murphy said of Dawson, Fenton, Olivia Gibson, Locke, Lunceford and Reilly-Boccia. "They're just great kids, great leaders, really good people and really good softball players. They have really handled the team well. They all have different leadership styles, and everyone is good in their own way. There have been very few problems or issues; the team chemistry has been great. It's just a fun team to coach."
Alabama hosted a softball camp the week after Murphy gave up the LSU job and returned to the Tide. The coach called his players individually and encouraged any who had questions to meet with him at that time. He said only Lunceford did, wanting to hear the story from him. Time will tell, but perhaps the true value of Murphy's work over the previous 13 years is that for most of the seniors on the Crimson Tide roster, Alabama softball is simply bigger than one person.
February, 7, 2012
02/07/12
8:50
AM ET
Editor's note: Graham Hays is counting down to the start of the 2012 college softball season with a look at each of the teams in his Top 20. Check back daily for updates.

No. 4 Florida
Last year: 56-13 overall, 21-7 SEC (lost in Women's College World Series championship series)

Who returns: There's a lot of coming and going at Florida this season, but there is still some staying, too. The most notable returnee is Michelle Moultrie. The outfielder hit .443 last season, posted an 1.159 OPS and stole 31 bases, but nothing turned heads quite like the four home runs and 27 total bases she accumulated in a losing cause in the World Series. Junior Brittany Schutte (1.189 OPS, 22 home runs, 69 RBIs) brings another proven bat to the lineup.
For all the attention deservedly paid Moultrie and Schutte, and sure to be directed at a talented freshman class, the key for Florida this season may well be how quickly and how reliably sophomores Cheyenne Coyle (.318 BA, 17 HRs, 60 RBIs), Kasey Fagan (.247 BA, 16 stolen bases) and Hannah Rogers (36-8, 1.92 ERA) start producing like veterans.
Who departs: Four trips to the Women's College World Series. Two trips to the championship series. Kelsey Bruder, Megan Bush, Tiffany DeFelice, Aja Paculba and Stephanie Brombacher didn't bring Florida its first national championship in softball, but few senior classes anywhere did more to leave an imprint on a program. In more tangible terms, they take 63 home runs and 238 RBIs at the plate and 20 wins in the circle from the 2011 lineup.
Who arrives: Seven freshmen arrive, meaning 11 of 16 players on the roster are in their first or second year in the program. Plenty of the first-year players will earn immediate time, but no debut is more highly anticipated than that of Lauren Haeger, the 5-foot-11 pitcher and first baseman from Arizona.
In high school, Haeger led her team to the state title when she hit the go-ahead home run in the top of the seventh and then struck out the side in the bottom of the seventh. As a member of the United States junior national team, she threw a complete-game five-hitter to beat Japan 4-1 in the gold-medal game, striking out eight and allowing just one unearned run against a team that pummeled other American pitchers 9-0 a day earlier.
Florida coach Tim Walton stressed he would like to keep Haeger's innings manageable, perhaps splitting innings with fellow freshman Alyssa Bache in support of Rogers, but she'll play somewhere from the outset.
"She's geared a lot like Stacy Nelson in competition, where I don't think she really gets caught up in who she's playing, what she's playing or what the magnitude of the game is," Walton said. "I think she just loves to play."
Preseason question: What will Florida's offense look like?

As it turned out, Walton endured a double dose of disappointment last summer. A little more than two months after his Gators lost the championship series in Oklahoma City, his USSSA Pride dropped the championship series in National Pro Fastpitch, the team's star-studded lineup unable to overcome Monica Abbott and the Chicago Bandits.
But the summer gig hardly went for naught. The World Series misses, against Washington in 2009 and Arizona State in 2011, convinced Walton to take the pro assignment in hopes working with such players could teach him something.
"I coached the NPF team for one reason and one reason only: I wanted to try to find a way to get better at certain things in my offensive philosophy," Walton said. "And having a chance to work with Jessica Mendoza and Natasha Watley and Caitlin Lowe and Ashley Charters and some of these players has been really good for my evolution as a coach. I've pretty much done it one way. We've pretty much found a way to hit a home run to win a ball game, found a game to hit a home run to put us way ahead in games and from there we continue to hit home runs."
Florida led the nation in home runs per game last season and ranked second in slugging percentage. Its 124 home runs were more than all but three teams had ever hit in a single season. The slugging percentage marked the third season in a row Florida ranked in the top five in the nation. All of those are good things. Championship teams in recent years, particularly those without Danielle Lawrie in the circle, typically ranked among the nation's leaders in power hitting, and the Gators aren't about to stop hitting balls over the fence with Schutte, Coyle and Moultrie around. It's just about finding the right amount of short game to enhance all those long balls.
At times, while being outscored 21-6 by Arizona State last season and 11-2 against Washington in 2009, Florida looked like a boxer who landed a trademark knockout punch, only to find the opponent fully upright and grinning. Those Gators didn't have any other punches. A few more jabs and body blows might be the missing ingredient.
"I have the ultimate confidence in my players to hit a three-run home run to win ball games, and we do that a lot," Walton said. "But I think in the grand scheme of things, we're going to have to bounce the ball a little bit, we're going to have to move runners around a little bit more than maybe we have typically in the past few years."
February, 3, 2012
02/03/12
5:32
PM ET
Editor's note: Graham Hays is counting down to the start of the 2012 college softball season with a look at each of the teams in his Top 20. Check back daily for updates.

No. 5 Oklahoma
Last year: 43-19 overall, 10-8 Big 12 (lost in Women's College World Series)

Who returns: The debate as to the identity of the best pitcher in college softball will rage on all season, but Keilani Ricketts is the runaway leader when it comes to the most imposing pitcher. The 6-foot-2 Californian cuts a daunting figure from just 43 feet away, and after spending parts of the summer and fall with Team USA, the junior is poised for big things in the circle and at the plate (where she finished with a a 1.048 OPS in 2011).
"Her experience on the international scene I think has helped her significantly," Oklahoma coach Patty Gasso said of Ricketts, who went 29-15 with a 1.48 ERA and 452 strikeouts last season. "And just another year under her belt has brought a little bit of maturity and just a little more discipline as to the things she needs to do on her own to become an elite-level pitcher. She's really taken steps in that direction."
Ricketts also gets her catcher back. Sidelined for almost the entire postseason after she was hospitalized and diagnosed with pan ulcerative colitis, Jessica Shults is ready to start the season. At her best, she is one of softball's best sluggers and most charismatic figures. Brianna Turang (.353 batting average, 24 stolen bases), Destinee Martinez (.348 batting average, 13 stolen bases) and Brittany Williams (12 home runs, 1.117 OPS) round out a proven but still young core.
Who departs: The Sooners take some hits when it comes to role players. Chana'e Jones (.429 on-base percentage), Dani Dobbs (.561 slugging percentage) and Haley Nix (.519 slugging percentage) were three of just four Sooners to start all 62 games last season.
Who arrives: Gasso has long trekked west to pull in top talent -- Martinez, Ricketts, Shults and Williams are only some of the most recent additions from California, but the coach didn't let the Pacific Ocean stop her this time. Three freshmen in a deep class of six look like immediate contributors, including Australian Georgia Casey. A member of the Australian team that competed in the ISF Junior World Championship last December, she projects as a big part of Oklahoma's future in the circle. Even if innings are hard to come by in the short term behind Ricketts and Michelle Gascoigne -- the incumbent No. 2 pitcher, who, Gasso said, picked up pitch speed in the offseason -- Casey will provide a bat at second this season. Jessica Vest, another Californian, will likely line up next to Casey as the starting shortstop and provide a good glove.
The most anticipated newcomer is Lauren Chamberlain, a game-changing talent who played for the U.S. junior national team. With a week until the opener, Gasso had her penciled in as the first baseman and leadoff hitter.
"She is one of the strongest athletes coming in that I have ever seen," Gasso said. "She just does not get cheated. She is one of the most complete athletes I've seen this young. Good on defense, runs well, heads-up base runner, loves to run bases. … You would never in a million years look at her and think she was a freshman."
Preseason question: Was last season just the first step?

One to remember. That's how a link on Oklahoma's website sums up the 2011 season. It's an accurate description for a campaign in which the program made it back to the Women's College World Series for the first time since 2004 and finally got another taste of an event that had grown almost exponentially since the last time the Sooners made the short drive up I-35 to ASA Hall of Fame Stadium in Oklahoma City at that time of year.
It was a triumph for the Sooners, essentially minus their best hitter, to make it to the World Series. But it will be a disappointment if that one season is all there is to remember for the core of this team.
The first step was making it back by winning a super regional for the first time since the round was added to the NCAA tournament in 2005. Getting the win on the road against perennial power Arizona was that much sweeter.
"We've worked hard to get there, and it just seems like we just couldn't get through that super regional, or it just wasn't a matchup in our favor," Gasso said "We just didn't have the right group of athletes to get over that hump. The cards didn't lay out for us. It wasn't that they weren't working; it wasn't that we didn't give everything we had. It's also a realization to me that I've got to keep working to get the right athletes who are going to fit and really commit themselves to getting back."
Ricketts and Shults are definitely the right athletes, as are Williams and Martinez in the sophomore class. And many expect that Chamberlain, Casey and Vest will be in that category as freshmen. There's one of two ways the Sooners can go after last season's success: be content with those memories or be driven to use them as a building block. College sports have seen plenty of examples of young teams following either path. Gasso is convinced her team is on the right one.
"They're very unified, very focused, very hard-working, very respectful to each other, very accountable to each other," Gasso said. "So all the qualities that are sometimes hard to teach that help a team, I feel like they're ahead of the game in that way. We're very competitive. It's very meaningful to them, and I've seen changes to a lot of these athletes and their competitive spirit."
February, 3, 2012
02/03/12
11:29
AM ET
Editor's note: Graham Hays is counting down to the start of the 2012 college softball season with a look at each of the teams in his Top 20. Check back daily for updates.

No. 6 Arizona
Last year: 43-18 overall, 11-10 Pac-10 (lost in Tucson Super Regional)

Who returns: As is so often the case at the program with a lineage that boasts the likes of Jennie Finch, Nancy Evans, Alicia Hollowell and others, the circle is the center of attention. A year before Arizona State ace Dallas Escobedo capped her freshman season with a national championship, Kenzie Fowler almost beat her to it with the Wildcats. Fowler was 38-9 with a 1.53 ERA as a freshman for the national finalist in 2010. Even though that season wasn't free of injury for someone with a long history of physical misfortune -- none more serious than a life-threatening battle with blood clots in high school -- it was less eventful than a sophomore season interrupted by a concussion at the height of conference play.
[+] Enlarge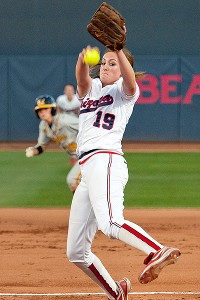 Courtesy of Arizona AthleticsArizona pitcher Kenzie Fowler is hoping for a season free of injury. The Wildcats are hoping for a return to the College World Series.
With that setback behind her, a new pitching coach on hand in Stacy Iveson and the experience of seeing teams adjust to her strengths last season, maybe, just maybe, Fowler will get a clean run to show just how good she can be if polishing her control (243 walks in two seasons) is the most adversity she confronts.
"Right now, it's just trying to get her balanced out between the mental side and the physical side," Arizona coach Mike Candrea said of Fowler's progression. "I think we're getting closer to that. We're not quite there yet, but I like what I see, and I think she's in a good place right now."
Four starters return around Fowler. Lini Koria (15 home runs, 1.032 OPS) and Brigette Del Ponte (17 home runs, 1.176 OPS) are the primary power bats, Karissa Buchanan (.472 on-base percentage, 11 stolen bases) adds elements of the short game, and Kristen Arriola (.908 OPS, eight errors in 61 games at second base) does a bit of everything.
Who departs: In a year in which so many top programs return almost intact, Arizona's three key departures represent significant upheaval. Brittany Lastrapes and Lauren Schutzler may have departed Tucson without a championship, a rarity for any class of Wildcats, but along with Stacie Chambers, who redshirted the 2007 championship season, they made a mark on the school's record books. Chambers and Lastrapes leave ranked among the top 10 in career home runs, while Schutzler never recorded a batting average worse than .353 in four seasons as a starter.
Who arrives: Arizona's newcomers are almost always an accomplished bunch, but this season offers a new twist on the theme. Along with the standard freshman class of prep superstars, the Wildcats add the proven All-American bat of senior Jessica Spigner. The Tennessee transfer was one of the SEC's best sluggers last season, finishing with 17 home runs and a .714 slugging percentage in addition to more walks (28) than strikeouts (27). Whether at third base, first base or even in the circle -- she totaled just 20 innings pitched in four seasons at Tennessee but was an accomplished high school pitcher in California -- she'll provide immediate assistance.
"The biggest thing for me is for her to have a lot of fun playing this game for her senior year," Candrea said. "Whatever happens, happens. I think she brings a lot to the table. She's a good player and, more importantly, a great kid."
Other new faces, all freshmen, likely to play major roles right away are outfielder Hallie Wilson and catcher Chelsea Goodacre. Shortstop Shelby Pendley may be a factor too. There's little doubt Candrea sees big things ahead for the powerful New Mexican, but an offseason knee injury put her immediate availability in doubt. Candrea said she's been participating fully in team activities and has convinced the medical staff she's ready to play.
Preseason question: Does Arizona have the right mix to be Arizona?

Only 15 players are listed on the Arizona roster, in sharp contrast to its rival in Tempe that won the national championship last season and often seems to have standing-room only in the dugout. That scarcity of extra bodies isn't because Candrea has difficulty convincing kids to play for him; it's just how he prefers to operate, to the extent that trimming last season's roster of 20 was an offseason goal.
The upside is more practice time and access to the coaches for each player (not to mention less potential for playing-time gripes). The downside is there isn't much margin for error.
Despite losing Chambers and Lastrapes, Candrea said this team can be better at the power game, adding the potential big bats of Goodacre, Wilson, Pendley and Spigner to the returning power. Just as important for a team that as recently as 2006 gave opponents nightmares with the short-game skills of Caitlin Lowe, Autumn Champion and Adrienne Acton, Arizona should be faster this season, with Buchanan, Wilson and redshirt freshman Chelsea Suitos leading the way.
"We have 15 quality people out there that can help us, that can perform," Candrea said. "With that 15, we have a lot of flexibility. That's what creates the depth. You take a Del Ponte, who can play third, play short, could play second, could play in the outfield, could catch if she needed to -- we've got some kids that are good athletes. For me, depth is only good if they're able to help you win a Pac-12 championship or national championship.
"I think this team, although it has not proven itself yet, I think the pieces of the puzzle are there."
February, 1, 2012
02/01/12
11:31
PM ET
Editor's note: Graham Hays is counting down to the start of the 2012 college softball season with a look at each of the teams in his top 20. Check back daily for updates.

No. 7 UCLA
Last year: 36-19 overall, 9-12 Pac-12 (lost in Gainesville Regional)

Who returns: 2011 wasn't a season to remember for the Bruins, but there are a lot of people returning in 2012 who remember it. On the plus side, that means most of the hitters return from an offense that ranked in the top 20 nationally in slugging percentage and averaged 5.5 runs per game. Senior Andrea Harrison is the biggest bat of all, coming off a season in which she compiled a 1.280 OPS, including a .512 on-base percentage, and had almost as many home runs (15) as strikeouts (19). Currently tied for seventh in career home runs, she's just 16 shy of having third place to herself.
Sophomore Kellie Fox and junior B.B. Bates make it three returning players who hit double-digit home runs, while former All-American Katie Schroeder returns for a fifth year and provides a proven top-of-the-lineup presence. Harrison, Bates, Samantha Camuso and Dani Yudin are still around from the batting order coach Kelly Inouye-Perez filled out for the championship clincher in the 2010 World Series.
[+] Enlarge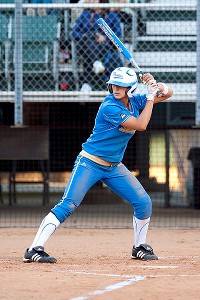 Don LiebigKatie Schroeder and the Bruins hope to improve upon a disappointing 2011 campaign.
Inouye-Perez said she expects sophomore Alyssa Tiumalu (an impressive .957 OPS as a freshman catcher) to play at some point in 2012, but the coach wouldn't put a timetable on the player's return from a torn ACL sustained in the NCAA tournament, other than to say Tiumalu is ahead of schedule.
Who departs: GiOnna DiSalvatore and Donna Kerr didn't get the ending they wanted, but that doesn't mean the Bruins won't miss the key senior departures from last season's team. DiSalvatore, back this season as a student assistant coach, finished her career sixth all time in hits for the Bruins. Kerr sometimes seemed on the verge of something more, but winning 65 games and striking out more than 700 batters in that uniform isn't anything to dismiss.
Who arrives: Seven freshmen fill out the roster, but all eyes will be on two of them, at least initially. Ally Carda is another in the long line of pitching-slugging dual threats for UCLA; she played for Team USA in the ISF Junior World Championship in South Africa in December. Stephany LaRosa could start at third base or a variety of infield positions but will play somewhere right away and make an impact in the batting order.
Preseason question: Can the Bruins get people out?

Take another look at the top line of this post. These are the Bruins, they of all those national titles, finishing on the wrong side of .500 in the Pac-10 and trekking across the country to play a top seed in a regional.
Maybe the Bruins weren't quite as potent at the plate as in seasons past, dropping more than a run per game from the national championship team of 2010 and finishing outside the top 10 nationally in runs per game for the first time in three seasons. But 5.5 runs per game, a .310 batting average and a .928 OPS mark aren't evidence of a weak link. They certainly didn't cover themselves in glory defensively, committing more than 50 errors (and more errors than their opponents), for the first time since 2007. But while both areas contributed to a lackluster outcome, this is still a sport built around the pitching circle.
Success or failure, at least by the Oklahoma City-based standards of this program, will come down to pitching. It doesn't need to be the best, but it needs to be better to compete in a conference with Dallas Escobedo, Kenzie Fowler, Jolene Henderson, Jessica Moore and others and a national scene loaded with aces like Whitney Canion, Keilani Ricketts and Chelsea Thomas.
The Bruins haven't posted a sub-2.00 team ERA since the 2008 season, and if that's going to change, Carda will likely have a lot do with it.
"She's powerful," Inouye-Perez said. "She has a great presence, she's got a great off-speed [pitch]. She's an all-around -- she'll be right in the thick of my lineup offensively. I think Ally Carda is going to have a great impact in 2012. There's a lot that we have to look forward to with Ally Carda."
It's not just Carda. Jessica Hall is another pitcher who will help her own cause at the plate, though her numbers as a freshman last season don't jump off the page. She struck out 114 in 137.2 innings and struggled a bit with control, walking 70 batters, en route to a 16-9 record and 2.59 ERA. But as is true for the team around her, there is hope that last season's lumps will pay dividends this time around.
"She wasn't slated to even have the ball in her freshman year, and what she was able to gain in that freshman year was great experience and great perspective that the game is the game," Inouye-Perez said. "She got the ball. She was the only one in the biggest parts of our season. So I look forward to the experience that she gained, that she almost didn't expect to gain and that she gained quickly. How she applies that in 2012 will be a big marker on how this team will compete. Jessica has all the tools. She has great speed; she has every pitch."
UCLA has most of the tools to get back to the World Series, including a season's worth of adversity to file away as experience. Now it needs to find out if Hall and Carda complete the set.
February, 1, 2012
02/01/12
10:50
AM ET
Editor's note: Graham Hays is counting down to the start of the 2012 college softball season with a look at each of the teams in his top 20. Check back daily for updates.

No. 8 Tennessee
Last year: 49-12 overall, 20-5 SEC (lost in Knoxville Regional)

Who returns: Hits, hits and more hits return. Tennessee led the NCAA with a .348 batting average last season, and four of the five players who contributed the most hits to that average return. Raven Chavanne ranked seventh in the nation with a .455 batting average and led the Lady Vols with 33 stolen bases. She'll settle in at third base after splitting time between the outfield and third last season, although she won't settle in there until at least the third weekend of the regular season after sustaining a broken hand in the preseason. Second baseman Lauren Gibson's 1.188 OPS led the team last season and she's perhaps poised for even better things after earning playing time with the senior United States national team that won gold in the Pan-Am Games last fall. Kat Dotson made it three players who hit better than .400 last season and was a double-double threat in home runs (10) and stolen bases (26), while Shelby Burchell is the leading returning slugger after a breakout junior season in which she hit 15 home runs.
[+] Enlarge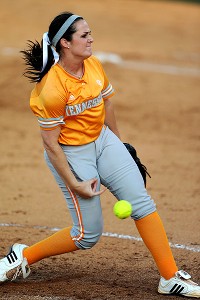 UT Athletic PhotoEllen Renfroe combines with her sister, Ivy, to form a powerful pitching tandem for Tennessee.
And that's just the top of the order at the plate. In the circle, sisters Ellen and Ivy Renfroe return after combining to go 45-11 with 416 strikeouts in 353⅓ innings last season. Ellen, a sophomore, is the younger of the two (Ivy is a junior), but the numbers reveal she was harder to hit and had a better strikeout rate than her sibling.
Who departs: Outfielder Kelly Grieve was a defensive wizard and team leader who also happened to hit .376 with 21 stolen bases last season as a senior and departed Knoxville with 214 career starts and a .414 on-base percentage. The other key loss was more of a surprise. Primarily a third baseman, Jessica Spigner transferred and will play her final season at Arizona. Spigner slugged a team-best .714 last season and drove in 53 runs while walking more than she struck out.
Who arrives: Two Californians are expected to start from the outset. Hannah Akamine, younger sister of former Arizona pitcher Sarah and current Penn State player Lisa, adds the SEC to the family's territorial footprint and will start at catcher. Cheyanne Tarango takes over at first base after playing the role of hero for Team USA in the ISF Junior World Championship in South Africa in December. Tarango's grand slam gave the Americans a 4-1 win in the gold-medal game against Japan.
"She's one of the top freshmen I've ever had," Tennessee co-coach Ralph Weekly said. "She's a really good hitter."
Preseason question: Is the sum at least equal to the parts?

The Lady Vols aren't yet in Texas territory, but it does seem they're paying the price for a recent history of postseason disappointment. Three times in the past four seasons, the sum total of the program's softball life post-Monica Abbott, Tennessee has been eliminated in an NCAA tournament regional it hosted. The Lady Vols lost twice against Virginia Tech in 2008, twice against Jacksonville State in 2009 and twice against Oklahoma State last season.
There are some mitigating factors here that work in Tennessee's favor, namely that two of those opponents (Virginia Tech and Oklahoma State) went on to reach the Women's College World Series, and the Lady Vols themselves went all the way to Oklahoma City in 2010. But when you see a team that won 20 games in the SEC last season, won the SEC tournament and entered the postseason No. 3 in the polls open this season as low as No. 14 in one of the major polls, it's clear the benefit of the doubt has skipped out on Rocky Top.
Yet when you look at a team that ranked seventh in the nation in runs per game and has two proven workhorse pitchers in the circle, it's tough not to be, well, optimistic.
"I've been here 11 years, and this is the strongest team we've had coming into this season," Weekly said. "All four of our infielders have played, one way or another, on the [junior or senior] U.S. national team. … We've got a lot of experience, we've got eight kids back, we've got speed, we've got some pop and we've got some good pitching. But I think you could almost say that about a bunch of other clubs."
Amidst all the proven talent and two talented freshmen, Madison Shipman is an X factor who could push Tennessee over the top. Shipman started 54 games for the Lady Vols as a freshman, but the 6-foot-1 shortstop broke her wrist during the season's opening weekend and dealt with that added complication while adjusting to the college game. A healthy Shipman has the potential to hit double-digit home runs for a program looking to improve that portion of its offensive portfolio.
"I think it affected her a lot," Weekly said of the injury. "I don't want to come off like we're really, really, really good. I've never been a guy that is that way, but I think Shipman is the most exciting young hitter I've had. The difference between her last year and now that she's had surgery on both her shoulder and her hand and recovered -- I don't know what she's going to do when the season starts, but [in practice] we're hitting on the field, and she hit 14 of 15 over the scoreboard. She just kills the ball."
January, 31, 2012
01/31/12
1:57
PM ET
Editor's note: Graham Hays is counting down to the start of the 2012 college softball season with a look at each of the teams in his top 20. Check back daily for updates.

No. 9 Missouri
Last year: Last season: 53-10 overall, 15-3 Big 12 (Lost in Women's College World Series)

Who returns: You probably remember Chelsea Thomas, at least you would if you watched any of the 192 pitches she threw in just shy of 13 innings in a 1-0 loss against Baylor that eliminated the Tigers from the Women's College World Series. Thomas struck out 19 batters that night in a classic pitching duel against Baylor's Whitney Canion that capped off a season in which she was one of three finalists for USA Softball Player of the Year and earned a place on Team USA.
But Thomas isn't the only reason for optimism as Missouri looks to make its fourth trip in a row to the World Series. Senior Kristin Nottelmann (17-1, 1.91 ERA, 120 strikeouts) returns as one of the most reliable No. 2 pitchers out there. And for all the roster turnover soon to be discussed, the heart of Missouri's offense returns in the form of shortstop Jenna Marston, third baseman Nicole Hudson and outfielder/first baseman Ashley Fleming.
[+] Enlarge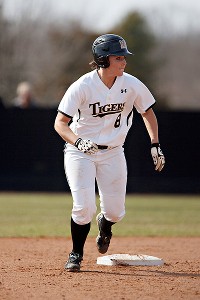 Joel Kowsky/Missouri AthleticsNicole Hudson returns to the Missouri lineup after posting 13 home runs and 51 RBIs in 2011.
Those three hit 29 home runs, drove in 133 runs and stole 36 bases in 37 attempts. They also walked 100 times against just 52 strikeouts, demonstrating the kind of plate discipline that could rub off on an otherwise young roster this season.
"Those three kids have sent a real positive message to the rest of the team about how to go about an at-bat, how to manage your emotions and all that kind of thing," Missouri coach Ehren Earleywine said. "At the end of the day, keeping those strikeouts low and moving the ball, making girls make plays -- in the women's game, it's almost like there is no such thing as a routine play. And if you put the ball in play and you're disciplined and keep your on-base percentage up, we're only going to benefit from that and score from runs."
Who departs: It's a long list for a contender, even one with an All-American in the circle. Outfielder Rhea Taylor was on Team USA with Thomas, and while her senior season (.839 OPS, 12 extra-base hits, 43 stolen bases) at Missouri wasn't quite the one-woman wrecking crew of past seasons, she won't be easy to replace. Three others who also hit better than .300 in at least 100 at-bats last season don't return: Maddison Ruggeberg, Marla Schweisberger and Abby Vock. Additionally, Catherine Lee, Lisa Simmons and Megan Christopher take with them a combined 121 games started in 2011.
Who arrives: If Earleywine is looking to boost profits with additional game program sales, he's a shrewd businessman. Freshmen make up almost half the roster, with 10 new players in all arriving in Columbia. Of that group, Californians Kelsea Roth and Angela Randazzo and (upstate) New Yorker Corrin Genovese are the names to commit to memory at the outset. Not only is Earleywine penciling in all three for starting spots, he has them penciled into the top six in the batting order, alongside Fleming, Hudson and Marston. Genovese looks like the heir apparent at second base; Randazzo can play catcher, third and designated player; and Roth is a first baseman.
Preseason question: How good can Chelsea Thomas be?

Thomas was a revelation plucked out of the Iowa cornfields when she arrived on the scene. She was able to fly at least at the lower reaches of the radar last season after returning from an injury-induced redshirt in 2010. Now Thomas is squarely in the spotlight. She was the only pitcher among the finalists for player-of-the-year honors last season, won gold with the United States at the Pan-Am Games and has been a part of three teams that reached the World Series (albeit an active participant in two).
She'll have plenty of competition for top pitching honors, including Team USA teammates and Big 12 rivals Canion and Keilani Ricketts and Arizona State's Dallas Escobedo, ace of the reigning national champions, but no other returning pitcher ranked in the top 10 nationally last season in wins, ERA and strikeouts per seven innings.
Simply repeating what got her to this point would be a feat, but is there room for her to be even better?
"She needs to learn that great pitchers have different gears," Earleywine said. "Sometimes Chelsea tries to go in fifth gear on every single pitch. There's a time to let it all out, and there's a time to save it. There's a time to show your best pitch, and there's a time not to show your best pitch. So that's part No. 1. Part No. 2 is she's now going to have to learn how to pitch with a target on her back. She kind of snuck up on everybody last year and came in with three pitches, and nobody knew she had three pitches, and she really put on a show last year."
Missouri got over one hurdle last season, finally winning a World Series game under Earleywine after five consecutive losses spanning three seasons. Improving on that will require that the returning bats do their part and that newcomers and newly minted starters waste little time getting acclimated. But like so many aces before her, Thomas now faces the question of how far she can take a team.