Category archive:

NCAA Wrestling
March, 14, 2012
03/14/12
6:31
PM ET
Editor's note: Mechelle Voepel speaks with Wyoming senior Joe LeBlanc.
Might the home-state team, Missouri, have a shot at the team title at the NCAA wrestling championships in St. Louis?
Well, on March 3 in Columbia, Mo., the Tigers did win their first -- and last -- Big 12 wrestling title. Missouri is moving next season to the SEC, which doesn't sponsor wrestling. With Nebraska's departure this year to the Big Ten, that left just four wrestling programs in the Big 12 in 2011-12.
But the schools that Missouri beat for the league crown are all strong: 34-time NCAA champion Oklahoma State, and Iowa State and Oklahoma, which have each won seven NCAA titles.
Missouri has never won an NCAA wrestling team title, but for the first time in program history it's sending all 10 of its wrestlers to the national championships. And as unpredictable as this season has been, maybe the Tigers will pull a big surprise.
Penn State is the defending NCAA team champion and won the Big Ten title on March 4 for the second season in a row. Three of the Nittany Lions enter the NCAA meet seeded No. 1 in their weight class: Frank Molinaro (149), David Taylor (165) and Ed Ruth (174).
Minnesota beat Oklahoma State on the Cowboys' home mat in February for the National Duals title, an event that Penn State didn't compete in. The Gophers and Cowboys are among the contenders, as is Iowa. Illinois and Cornell might be in the mix, too.
Speaking of Cornell, junior Kyle Dake will be trying to achieve a first: to win three NCAA titles in three different weight classes. He was the 141-pound champion as a freshman, the 149 winner last year, and is wrestling at 157 this year.
The meet, which runs Thursday-Saturday at Scottrade Center in St. Louis, has expanded its coverage. Thursday's two sessions, at noon and 7:30 p.m. ET, will be available on ESPN3.
Friday's sessions, at 11 a.m. and 7 p.m. ET, are on ESPNU and ESPN3.
Saturday's morning session, at 11 a.m. ET, is on ESPNU and ESPN3. Saturday's championship finals, which start at 7:30 p.m. ET, will be on ESPN and ESPN3.com.
March, 20, 2011
03/20/11
12:40
AM ET
PHILADELPHIA -- It was a night to remember for Penn State, despite losing two of three finals, and several individuals at the NCAA Division I national wrestling championships.
The Nittany Lions wrapped up the team title Saturday morning in the medal round, but truly got to celebrate their first national championship since 1953 to the large home crowd's standing ovation.
Dreams became a reality at 125 pounds for Arizona State's Anthony Robles. The Sun Devils senior, who was born with only one leg, used two near fall tilts in the first period to down defending champion Matt McDonough of Iowa, 7-1.
As the final whistle blew, Robles buried his head in the mat and then looked up to the sky with a smile.
"It was huge. I had a lot of butterflies going out there," said Robles. "I've dreamt about stepping on that stage a dozen times, and this whole year I've just been preparing for that moment."
The performance helped him earn Outstanding Wrestler of the tournament.
Posting the upset of the night that stunned the crowd was at 157 pounds, where Bubba Jenkins cradled Penn State's undefeated freshman, David Taylor, and pinned him to set off a celebration from the Sun Devils fans.
More fireworks showed up at 197 pounds when Kent State's Dustin Kilgore caught Clayton Foster of Oklahoma State for a fall after trailing 5-1. He became the first national champion for Kent State.
"As soon as I saw him get tired I knew right then I had to push myself twice as hard, harder than ever before, because I wanted it and I got it," said Kilgore.
At 133 pounds, Oklahoma State's Jordan Oliver polished off a perfect season by dominating Boise State's Andrew Hochstrasser, 8-4. The slick Cowboy used a quick takedown and near fall to pace himself to the win.
Cornell's Kyle Dake became a two-time champion as a sophomore with a dominating 8-1 over Penn State's Frank Molinaro at 149 pounds. The Big Red grappler is halfway to becoming just the third wrestler in Division I history to win four titles.
Two warrior-like efforts were posted by Michigan's Kellen Russell (141 pounds) and Iowa State's Jon Reader (174 pounds).
After twisting his ankle, the unbeaten Russell corralled a takedown and held on to defeat Cal Poly's Boris Novachkov.
Reader was bloodied with a deep cut on the right side of his head and had to be bandaged several times in his bout with Nick Amuchastegui of Stanford. The Cyclones senior was relentless, taking the Cardinal wrestler down and notching a total of four near fall points. With a primal scream, Reader jumped into the arms of head coach Kevin Jackson after winning his first title.
In one of the most dominant performances in tournament history, Nebraska's Jordan Burroughs became the school's first two-time champion. The unbeaten senior plowed his way to an 11-3 major decision over Oklahoma's Tyler Caldwell. Burroughs recorded two technical falls and two major decisions in winning the title.
The home-state crowd finally got something else to cheer for at 184 pounds, when Quentin Wright completed his remarkable run in the tournament with a win over Robert Hamlin of Lehigh, 5-2.
Wright entered the championships as a No. 9 seed but showed heart and control throughout the endeavor.
Wrapping up the 2011 championships was Lehigh's Zach Rey. The top-ranked heavyweight scored a 2-1 decision over American's Ryan Flores after riding him for 1:33.
With the 2011 championships in the book, all eyes turn toward St. Louis for the 2012 tournament.
Jason McDonnell is covering the NCAA wrestling championships for ESPN.com and ESPN Mobile. Follow along on your mobile device here.
March, 19, 2011
03/19/11
5:50
PM ET
PHILADELPHIA -- Ed Ruth's hand was raised after defeating Mack Lewnes of Cornell for third place at 174 pounds, and Penn State coach Cael Sanderson let out a beaming smile as the Nittany Lions clinched the team championship.
[+] Enlarge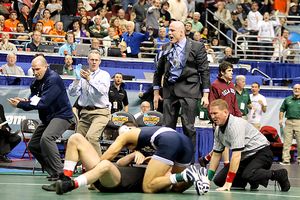 Hunter Martin/Getty ImagesCael Sanderson earned his first national championship as a head coach.
With the completion of the medal round Saturday morning at the Wells Fargo Center, Penn State was ahead of second-place Cornell 103.5-89.5. And with only one finalist in Saturday night's championship round, it is mathematically impossible for the Big Red to overtake the Nittany Lions.
Three-time defending champion Iowa was still in a position to sneak up and contend for the title, but the Hawkeyes were penalized two team points when No. 5 Montell Marion threw his headgear in a loss for third place at 141 pounds. Coach Tom Brands earned the other point for failure to control himself on the mat for the third time.
Cornell could not recover after a rough semifinal round Friday, fading in the medal round with Lewnes losing and No. 3 Steve Bosak falling in his third-place match at 184 pounds.
The focus now turns to individual championships, as 20 wrestlers look to add their names to the NCAA record book in Saturday night's championship matches.
Penn State leads the way with a tournament-best three finalists in No. 2 Frank Molinaro (149 pounds), No. 3 David Taylor (157 pounds) and No. 9 Quentin Wright (197 pounds).
Molinaro will take on Cornell's Kyle Dake. Dake was an national champion as a freshman last season and has not been scored on yet in this tournament.
The stakes will be raised for Taylor, who is looking to become the first freshman to go undefeated in the modern era since Sanderson did it for Iowa State in 1999. He will wrestle former Penn State standout Bubba Jenkins, who was a national runner-up in 2008 before transferring to Arizona State.
Wright has taken the tournament by storm. The lowest seeded wrestler competing in the finals will face Lehigh's second-seeded Robert Hamlin.
At 125 pounds, defending champion Matt McDonough of Iowa will tangle with Arizona State's top-seeded Anthony Robles. Robles was born without one of his legs, but the senior is one of the most skilled wrestlers in the country.
Oklahoma State's Jordan Oliver looks to polish off an unbeaten season when he takes on No. 2 Andrew Hochstrasser of Boise State at 133 pounds. Oliver has defeated Hochstrasser twice this season.
Another undefeated grappler will try to punch his ticket to the top spot on the podium at 141 pounds. Michigan's Kellen Russell has had many close matches, but is yet to drop one this season. He will get a test from No. 3 Boris Novachkov of Cal Poly.
Nebraska could witness history when top-seeded and undefeated Jordan Burroughs looks for his second national championship. The senior has dominated throughout the tournament and will look to become the Cornhuskers' first two-time NCAA champion in wrestling. Burroughs takes on No. 3 Tyler Caldwell of Oklahoma.
A year ago Iowa State's Jon Reader saw his season come to a disappointing end with an early exit and no spot on the podium. This season, the now three-time All-American is undefeated and into his first final against Stanford's red-hot Nick Amuchastegui.
The final wrestler looking to notch an undefeated season is Oklahoma State's Clayton Foster. The Cowboy will face No. 4 Dustin Kilgore of Kent State at 197 pounds.
Rounding out the final title of the night will be the heavyweight battle between No. 1 Zach Rey of Lehigh and No. 3 Ryan Flores of American. Rey is 2-1 against the American big man, with his lone loss of the season coming to Flores in their last meeting.
Championship coverage begins at 7:30 p.m. ET on ESPN and ESPN3.com.
Jason McDonnell is covering the NCAA wrestling championships for ESPN.com and ESPN Mobile. Follow along on your mobile device here.
March, 19, 2011
03/19/11
9:15
AM ET
PHILADELPHIA -- Being put in a difficult situation can bring out the best in people, and after Friday night's semifinals and wrestlebacks, the same can be said about the Penn State Nittany Lions at the NCAA Division I wrestling championships.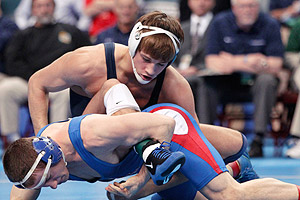 AP PhotoFreshman David Taylor has come up big for Penn State.
After suffering several setbacks in the quarterfinals and relinquishing the team lead to Cornell, the Big Ten champions broke through in the semifinals and consolation bracket to take a commanding lead over second-place Cornell 92.5-75.0.
Freshman standout David Taylor remained undefeated after handing American's second-seeded Steve Fittery his first loss of the season in the 157-pound semifinal 7-1.
The real fireworks for Penn State came at 184 pounds when No. 9 Quentin Wright tossed Iowa's 12th-seeded Grant Gambrall to his back for a second-period pin that brought the Wells Fargo Center crowd to its feet.
Cornell began the night with a slim ½-point advantage and four semifinalists. However, the Big Red came up empty other than 2010 national champion Kyle Dake's win over No. 8 Ganbayar Sanjaa of American at 149 pounds 4-0.
Second-seeded Mack Lewnes (174 pounds) was bounced to the consolations by Stanford's seventh-seeded Nick Amuchastegui 5-2, and No. 3 Steve Bosak (184 pounds) followed that up with a loss to No. 2 Robert Hamlin of Lehigh 4-2 in sudden victory.
The bleeding would not stop at 197 pounds either, where top-seeded Cam Simaz was stunned by Kent State's fourth-seeded Dustin Kilgore in a back and forth tussle 10-9.
Third-place Iowa advanced No. 2 Matt McDonough to the finals at 125 pounds and currently sits one point behind Cornell.
McDonough will face off against top-seeded Anthony Robles of Arizona State in Saturday night's final after Robles scored a 4-2 decision over Utah Valley's Ben Kjar.
In the 133-pound semifinals, No. 1 Jordan Oliver of Oklahoma State put the clamps on Wisconsin's fourth-seeded Tyler Graff 5-2. His opponent will be a familiar foe in the form of No. 2 Andrew Hochstrasser from Boise State. Hochstrasser defeated 2010 national runner-up Andrew Long of Penn State 7-4.
The night really got going at 141 pounds where top-seeded Kellen Russell of Michigan needed an 18-second riding time advantage to upend 2010 NCAA runner-up Montell Marion of Iowa. It is the first time Russell has qualified for the finals. He will meet No. 3 Boris Novachkov of Cal Poly, who dominated No. 2 Mike Thorn of Minnesota 9-3.
At 149 pounds, Dake will match up with Penn State's second-seeded Frank Molinaro. The match could be a critical point in deciding the team title if Cornell is still with striking distance.
Standing across the mat from Taylor on Saturday night at 157 pounds will be a familiar face to the Penn State faithful -- Bubba Jenkins. A 2008 national runner-up for the Nittany Lions in 2008, Jenkins transferred to Arizona State and now looks for some payback against his former team.
Nebraska's Jordan Burroughs was business as usual in the semifinals. The undefeated senior took care of No. 5 Colt Sponseller from Ohio State 14-6. Now the 2009 NCAA champ turns his sights to Oklahoma's Tyler Caldwell, who upset defending champion Andrew Howe of Wisconsin. Burroughs is looking to become Nebraska's first two-time NCAA champion in wrestling.
Redemption is the theme at 174 pounds for No. 1 Jon Reader of Iowa State. The Cyclone senior failed to place in last year's tournament but came back with the goal of winning the national title. He sits one match away after disposing of No. 5 Chris Henrich of Virginia 4-3. Reader will meet Amuchastegui for the crown Saturday.
Undefeated Clayton Foster of Oklahoma State will be Kilgore's opponent after stifling No. 3 Trevor Brandvold of Wisconsin in the 197-pound semifinals 4-3.
Finally, the heavyweight matchup should be a real treat when No. 1 Zach Rey of Lehigh looks to avenge his only loss of the year to No. 3 Ryan Flores of American. Rey defeated Missouri's fifth-seeded Dom Bradley 2-1, while Flores eased to a 4-0 win over No. 2 Jarod Trice of Central Michigan.
Saturday morning will be the medal round for all wrestlers still in consolation play, and depending how the placing goes, the team title could be locked up before Saturday night's championship matches.
The medal round begins at 11 a.m. ET; Saturday night's championship matches begin at 7:30 p.m. ET. Both can be seen on ESPN and ESPN3.com.
Jason McDonnell is covering the NCAA wrestling championships for ESPN.com and ESPN Mobile. Follow along on your mobile device here.
January, 14, 2011
01/14/11
10:18
AM ET
UConn women's basketball saw its winning streak end at 90 in December. But another college dynasty still has a streak going: Iowa wrestling.
The Hawkeyes' streak of 69 consecutive dual-meet victories will be on the line Sunday against the program's archrival in collegiate success: Oklahoma State. The No. 6-ranked Cowboys are host to No. 10 Iowa (ESPNU, 5:30 p.m. ET) at Gallagher-Iba Arena in Stillwater, Okla.
Oklahoma State has 34 NCAA team titles, while Iowa has 23, including the last three years in a row.
The Hawkeyes are chasing the Cowboys' dual-meet record; Oklahoma State won 76 consecutive duals from 1937-51. And the Cowboys program also has a pair of 69-match winning streaks to tie Iowa in second place, those coming from 1921-32 and 1996-99.
Iowa's current streak began three years ago -- Jan. 12, 2008 -- right after the Hawkeyes' last loss to Oklahoma State. The Cowboys lead the series 25-18-1.
Oklahoma State lost twice -- to Virginia Tech and Missouri -- in the NWCA/Cliff Keen National Duals last weekend in Cedar Falls, Iowa. The Hawkeyes didn't compete in that event. Iowa is 8-0 this season in dual meets, but finished fourth in the Midlands Championships in late December.
January, 10, 2011
01/10/11
1:11
PM ET
Cornell sophomore Kyle Dake, who won the NCAA wrestling title at 141 pounds last season, talks about moving up to 149 pounds and being a defending champion. For more on Cornell wrestling, click here.
February, 19, 2009
02/19/09
10:36
AM ET
By
ESPN Statistics
and
Analysis
The ESPN Statistics and Analysis team compiled information from various schools and is hooking you up with some interesting notes about recent and upcoming college competition:
Wrestling
North Carolina vs. Newberry, 5 p.m. ET
The Newberry College wrestling team remained at No. 2 in the NCAA Division II Wrestling Coaches' Association Poll, released Thursday. In total, the scarlet and gray have seven wrestlers nationally ranked in the top eight of their respective weight classes with three ranked in the top three.
Newberry has been ranked in all six polls and began the season ranked seventh in the preseason poll. Newberry's highest-ranked wrestler is Cy Wainwright (Green Cove Spring, Fla.), who is first in the 285-pound weight class. Wainwright is a returning All-American and is undefeated on the season, posting a 27-0 record. Wainwright has dominated his competition this season by defeating all of his opponents by either a pinfall (nine), technical fall (five), major decision (eight) or by default/forfeit (five). Wainwright has defeated four nationally ranked wrestlers this season.
Newberry has gone 21-2 on the season with 12 wins over nationally ranked Division II teams, two wins over Division I opponents and placed second at the prestigious NWCA Cliff Keen National Duals.
Women's swimming/diving
ACC Championships
The Virginia women's swimming and diving team commenced the 2009 Atlantic Coast Conference Championships on Wednesday in record-setting fashion by smashing the conference, school and meet records in the first two events of the meet: the 200 medley and 800 freestyle relays. The championships, which run through Saturday, are being held at Maryland's Eppley Recreation Natatorium.
The team of Mei Christensen, Katherine McDonnell, Liz Shaw and Kristen Wallace completed the 200 medley relay in 1:37.50 -- an NCAA automatic qualifying standard. The conference and meet record of 1:38.59 was previously held by Florida State (set in 2006) while Virginia's school record was set a year ago when Christensen, McDonnell, Stephanie Glover and Hannah Davis clocked 1:40.19 at the conference meet. Megan Evo, Shaw, Wallace and Jenna Harris teamed up to take first-place honors in the 800 freestyle relay, again setting conference, school and meet records. Virginia finished with another NCAA automatic qualifying time of 7:05.72, breaking the ACC and school record set by UVA's Stephanie Glover, Evo, Harris and Jessica Lewis at the 2008 NCAA championships.