Category archive:

NCAA Other Sports
July, 13, 2011
07/13/11
9:13
AM ET
What a full scholarship at Cal-Berkeley entails: $24,793 resident, $47,671 nonresident (includes tuition, room, board, supplies, etc.)
Cost of attendance: For resident living on campus: $31,566; off-campus $27,094. Nonresident living on campus: $54,444; off campus: $49,942. Tuition and fees, $11,766 resident/$22,878 nonresident; books and supplies, $1,202.
Revenue/expense figures are for 2009-10.
When Cal's volleyball team took the floor at Kansas City's Sprint Center last December for the Final Four, the band wearing Cal shirts enthusiastically began to play the school's fight song.
A closer look, though, revealed that some of the musicians looked awfully young to be college students. For good reason: It actually wasn't Cal's band, but that of a local KC high school called in to pinch hit.
With the state of California in a budgetary crisis and the announcement in September of four sports being cut while one moved to club status at Cal, athletic director Sandy Barbour felt she couldn't justify the expense of transporting the band to the Midwest.
It was one of the painful belt-tightening moves the athletic department had to make. But seven months later, Cal has definitely found the light at the end of the tunnel. The imperiled programs reached out to their alumni bases and the community at large with an impassioned SOS.
One by one, the sports were salvaged: men's and women's gymnastics, women's lacrosse, baseball and rugby. The baseball team then became one of the stories of this past school year when the Bears advanced to the College World Series.
"The good news is that the model we're moving toward, which is more self-sufficiency, means communities understand they have to raise money for programs to sustain themselves," Barbour said. "Having changed that culture, or at least started to shift it, there will be a better ability to keep up with expenses.
"Those weren't the only measures that were took. There were other things we did to trim expenses. The mindset has become more, 'We need to insulate ourselves against other issues that might come down the road.'"
It was a very successful year for Cal despite the cloud that hung over the athletic department as the endangered sports battled to stay alive. The Bears' women's program finished third in the Capital One Cup standings behind rival Stanford and Texas A&M. Cal's men's program finished sixth. The Bears won both the men's and women's NCAA titles in swimming.
Having survived intact this school year after all, the Cal athletics department isn't exactly eager, of course, to tackle the question of potentially adding additional expense with a pay-for-play concept. But Barbour is open to the idea that some changes probably should be made to address athletes' full scope of needs.
"I definitely think there are some solutions," she said. "Determining what's fair and what's right is a challenge. Do I think any solution is going to satisfy everybody? No, but we've all got to be working from the same set of facts and have questions answered in terms of taking care of things like cost-of-attendance criteria."
December, 3, 2009
12/03/09
11:37
AM ET
Amassing a 98-7 record over the course of a collegiate career is an accomplishment in itself for any student-athlete. But that record isn't enough for the seniors on Southern California's men's water polo team.
As their final season as Trojans comes to an end this weekend, the senior class, led by Olympian J.W. Krumpholz, will try to become back-to-back NCAA champions. With two wins in the NCAA tournament, the class would reach the 100-win mark and secure a second straight national championship.
Three seniors -- Krumpholz, Shea Buckner and Matt Sagehorn -- were recently named to the All-Mountain Pacific Sports Federation teams. Krumpholz, who won a silver medal as a member of the 2008 U.S. Olympic water polo team, was named to his second straight All-MPSF first team. Buckney and Sagehorn were named to the All-MPSF second team and honorable-mention list, respectively.
[+] Enlarge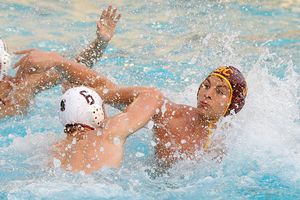 Courtesy of USC Sports InformationJ.W. Krumpholz and USC hope to repeat as men's water polo national champions on Sunday.
"We have tough players that hate to lose," coach Jovan Vavic said. "J.W. has really carried the team. His work ethic is absolutely outstanding."
The Trojans begin their quest to repeat as NCAA champions Saturday against Princeton. The four-team NCAA tournament also includes UCLA and Loyola Marymount. All games will take place in Princeton, N.J.
The top-seeded Trojans finished the season 24-2 (8-0 MPSF) and are looking for their third championship in the past five years.
The Trojans' success has not come without adversity. Last year, redshirt junior Kyle Wooten was seriously injured while diving into a pool.
"He was goofing around and landed awkwardly," Vavic said. "Luckily he didn't get paralyzed, but it was very close."
At the time of the accident, Vavic was recruiting in Europe, but all of Wooten's teammates went to the hospital to show their support. Wooten is now back with the team, but is primarily a leader outside the pool.
"Kyle is one of those guys who helps the team with organizing and, in some ways, is the emotional leader."
As his team prepares to defend its championship, Vavic's biggest concern is complacency.
"When you win so many games, it is difficult to keep them hungry," Vavic said. "Sometimes we didn't work hard enough and we just went through the motion, and I didn't allow that. There's nothing that's a sub for great desire."
Vavic attributes his recruiting successes to the location of the university. Southern California, especially Orange County, is loaded with talent, Vavic said. Of the 41 athletes on the current roster, 33 are from California.
USC has the experience of having played each of the teams in the NCAA tournament in the regular season. The Trojans beat Princeton 14-3 on Oct. 9 and beat Loyola Marymount 11-6 on Sept. 6.
The Trojans split their four regular-season meetings with rival UCLA; three of the four games were won by a one-goal margin. The Bruins won the most recent matchup 10-6 in the MPSF semifinals on Nov. 28.
"The senior class is special and has been carrying the team the last three years," Vavic said.
And with two more wins, the Trojans' senior class will solidify their spot in water polo history.
March, 11, 2009
03/11/09
3:16
PM ET
By
ESPN Statistics
and
Analysis
ESPN's Statistics and Analysis team compiled quick notes about some of Wednesday's college sports action from various schools' sports information departments.
Men's hockey
Division III NCAA tournament first round: Babson at Amherst, 7 p.m.
Babson visits Orr Rink as Amherst hosts an NCAA men's hockey tournament game for the first time in program history.
Amherst, which set a program record for wins with 20 this season, won 13 consecutive games and 17 of its past 18 in qualifying for the tournament for only the second time in program history. (The first was in 1998-99.)
Division III NCAA tournament first round: Nichols College at Hobart, 7 p.m.
Nichols makes its first appearance in the NCAA tournament after posting a program-best 25 wins during the regular season.
Women's lacrosse
Temple at No. 18 Towson, 4 p.m.
Temple heads to Towson, where Tigers senior midfielder Hillary Fratzke looks to continue two streaks. In a loss against Loyola on Sunday, Fratzke scored a goal for the 48th consecutive game and garnered a point for her 54th consecutive game. Both streaks are the longest active streaks in NCAA Division I entering this week.
Boston University at. No. 3 Penn, 3 p.m.
Although Wednesday marks the first meeting of the season between Penn and BU, the Terriers could be holding a grudge. The Quakers knocked BU out of the NCAA tournament the past two years: a first-round game in 2007 and a quarterfinal bout last postseason.
Women's gymnastics
Pittsburgh at Maryland, 7 p.m.
Maryland will be riding high when Pittsburgh comes to town, thanks to Abbey Adams' 9.925 in the floor exercise against North Carolina and Temple on Friday. The score, which gave Adams first place in the event, tied for the 17th-best individual mark on the floor in program history. Only three former Terrapins -- Jill Fisher, Gillian Cote and Rachel Martinez -- have scored higher in the event.
February, 20, 2009
02/20/09
11:16
AM ET
By
ESPN Statistics
and
Analysis
There's
plenty on the plate
this weekend in college sports. ESPN's Statistics and Analysis team compiled quick notes about some of this weekend's action from various schools' sports information departments.
Women's lacrosse
No. 1 Northwestern at No. 11 Notre Dame -- Friday, 7 p.m.
[+] Enlarge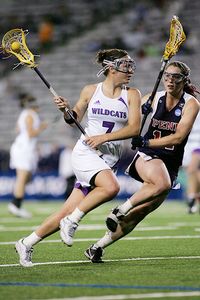 Todd Andrew LoveHannah Nielsen is coming off a record-setting performance.
Northwestern begins a four-game road trip against ranked opponents Friday with a contest against No. 11 Notre Dame in South Bend, Ind. This follows a win over Duquesne on Tuesday in which Hannah Nielsen became the first player in NCAA history to tally double-digit assists with 10. The new NCAA single-game record beat out the nine from Mercyhurst's Amy Perry in 1999.
Northwestern senior Hilary Bowen looks to continue her run of at least one goal in 42 consecutive games, the fourth-longest streak in NCAA history. Bowen has scored at least two goals in 37 of those 42 games, including a career-best six goals three times. Both Bowen and Nielsen have each tallied at least one point in 46 straight games.
Women's swimming/diving
Summit League Championships -- Feb. 19-21
The South Dakota State University women's swimming and diving team set school records in four of the five events that took place Thursday during the opening day of competition at the Summit League Championships.
Senior Mallory Onisk had a hand in three of the records. The Bear, Del., native eclipsed her own standard in the 200-yard individual medley in Thursday night's finals, clocking a runner-up time of 2 minutes, 6.62 seconds -- more than two seconds faster than the mark she previously set at the league championships in 2006. Three other Jackrabbits swam in the consolation final: Katie Budahl, 11th, 2:09.91; Kayleigh Boucher, 14th, 2:12.52; and Rachel Musser, 15th, 2:13.57.
Onisk also was a part of a pair of record-setting relays. She swam the anchor leg on the Jackrabbits' 200 freestyle relay, teaming with Ashley Valdez, Sara Olenich and Jessica Ferley for a fourth-place time of 1:38.29 in the first event of the evening session. The previous record of 1:39.61 was set at last year's league meet. The 400 medley relay quartet of Ferley, Budahl, Onisk and Christina Gerometta closed the night with a third-place finish, setting a new Jackrabbit record with a time of 3:54.40. That also broke a record of 3:57.67 set the previous year.
Gerometta put up a new record in the 500 freestyle in preliminary competition Thursday morning, shaving more than six seconds off her previous mark with a time of 5:06.39. She nearly matched that in the evening session with a time of 5:06.60, good for a fourth-place finish.
Men's hockey
No. 2 Northeastern at No. 1 Boston University -- 7 p.m.
[+] Enlarge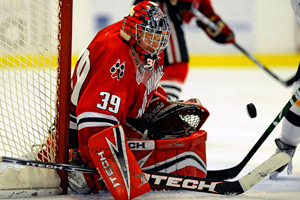 Ed Wolfstein/Icon SMIBrad Thiessen continues to move up in Northeastern's record books.
Northeastern goalie Brad Thiessen's 30 saves and two assists last Friday against UMass made him just the second Husky to win 20 games in a season, behind only Marc Robitaille (21-15-3 record in 1997-98). The win against the Minutemen marked the 47th of Thiessen's career, pushing him into second on Northeastern's all-time wins list. (Bruce Racine leads with 57 from 1984 to 1988.)
Saturday also marked the 100th career game for Thiessen, who is now the third-ever Husky to hit 100 games. The Hobey Baker Award candidate is already Northeastern's career leader in goals-against average (2.47) and save percentage (.921). Thiessen (20-8-2) ranks second nationally with 889 saves and seventh in save percentage (.929).
February, 19, 2009
02/19/09
10:36
AM ET
By
ESPN Statistics
and
Analysis
The ESPN Statistics and Analysis team compiled information from various schools and is hooking you up with some interesting notes about recent and upcoming college competition:
Wrestling
North Carolina vs. Newberry, 5 p.m. ET
The Newberry College wrestling team remained at No. 2 in the NCAA Division II Wrestling Coaches' Association Poll, released Thursday. In total, the scarlet and gray have seven wrestlers nationally ranked in the top eight of their respective weight classes with three ranked in the top three.
Newberry has been ranked in all six polls and began the season ranked seventh in the preseason poll. Newberry's highest-ranked wrestler is Cy Wainwright (Green Cove Spring, Fla.), who is first in the 285-pound weight class. Wainwright is a returning All-American and is undefeated on the season, posting a 27-0 record. Wainwright has dominated his competition this season by defeating all of his opponents by either a pinfall (nine), technical fall (five), major decision (eight) or by default/forfeit (five). Wainwright has defeated four nationally ranked wrestlers this season.
Newberry has gone 21-2 on the season with 12 wins over nationally ranked Division II teams, two wins over Division I opponents and placed second at the prestigious NWCA Cliff Keen National Duals.
Women's swimming/diving
ACC Championships
The Virginia women's swimming and diving team commenced the 2009 Atlantic Coast Conference Championships on Wednesday in record-setting fashion by smashing the conference, school and meet records in the first two events of the meet: the 200 medley and 800 freestyle relays. The championships, which run through Saturday, are being held at Maryland's Eppley Recreation Natatorium.
The team of Mei Christensen, Katherine McDonnell, Liz Shaw and Kristen Wallace completed the 200 medley relay in 1:37.50 -- an NCAA automatic qualifying standard. The conference and meet record of 1:38.59 was previously held by Florida State (set in 2006) while Virginia's school record was set a year ago when Christensen, McDonnell, Stephanie Glover and Hannah Davis clocked 1:40.19 at the conference meet. Megan Evo, Shaw, Wallace and Jenna Harris teamed up to take first-place honors in the 800 freestyle relay, again setting conference, school and meet records. Virginia finished with another NCAA automatic qualifying time of 7:05.72, breaking the ACC and school record set by UVA's Stephanie Glover, Evo, Harris and Jessica Lewis at the 2008 NCAA championships.
February, 13, 2009
02/13/09
3:49
PM ET
By
ESPN Statistics
and
Analysis
As we head into a
weekend full of college sports matchups
, here are some interesting tidbits the ESPN Statistics and Analysis team dug up:
Division II baseball
No. 1 University of Tampa at No. 12 West Alabama -- 3 pm.
After opening the season as the No. 2 team in the nation, the Tampa baseball team has taken the top spot in the Collegiate Baseball Newspaper NCAA II Poll.
Their No. 1 ranking is the first since Week 3 of last season. The Spartans have now been represented in the Top 25 for 62 consecutive weeks. Tampa has also been in the top 10 for 51 straight weeks, more than any NCAA II team. The Spartans are off to a 5-0 start this season with victories over the Florida Institute of Technology, Georgia College & State U., and Rollins.
Division I women's swimming/diving
Northeast Conference Championships -- New Haven, Conn.
Central Connecticut State won't have to go far to defend its 2009 NEC Championship -- just down the road to Yale. Last year, the Blue Devils captured a record 18 of the meet's 20 events for 649.5 points. They were followed by St. Francis (Pa.) with 457, Wagner with 436.5, Sacred Heart with 222, Mount St. Mary's with 132 and St. Francis (N.Y.) with 126. This year, Bryant joins the fray, which begins tomorrow.
Division III women's ice hockey
Bowdoin College at Trinity College, 7 pm.
Trinity junior goalie Isabel Iwachiw combined to make 73 saves in a pair of Bantam wins over Connecticut College last week, as she recorded a .986 save percentage. On Feb. 6, Iwachiw turned aside 31 shots in a 3-1 win. She followed on Feb. 7 with 42 stops in a 4-0 victory, her third shutout of the season. Iwachiw is 10-5-2 in net for the Bantams this year with a 2.10 goals-against average and a .929 save percentage.