Category archive:

NCAA Women's Lacrosse
March, 12, 2009
03/12/09
5:36
PM ET
By
ESPN Statistics
and
Analysis
ESPN's Statistics and Analysis team compiled quick notes about some of
Thursday's college sports action
from various schools' sports information departments.
Softball
Pacific versus Nebraska, 8:30 p.m.
Five runs against Pacific on Thursday would give Nebraska its 100th run of the season and a new school record. If the Cornhuskers score five runs, they will have scored 100 runs in a season by their 16th game, faster than any softball squad in school history. The 1978 and 2006 teams each hit the 100-run mark in the 17th game. Nebraska also could break another school record. The Huskers have scored at least eight runs in their past four games to tie the program's longest streak of games with at least eight runs. Scoring eight runs against Pacific would give them a record-setting five straight games.
Women's lacrosse
Hofstra at No. 1 Northwestern, 7 p.m.
Northwestern seeks its 45th consecutive win at home when it plays Hofstra on Thursday. The Wildcats' 44 consecutive home wins surpassed Maryland's home winning streak from 1997 to 2001 (41 games). Nine of the games in Northwestern's streak were NCAA tournament games, and the last time the Wildcats lost on home turf was a 10-9 overtime loss to Vanderbilt on May 6, 2004.
Baseball
San Diego at No. 10 Rice, 7:30 p.m.
Rice coach Wayne Graham looks to earn his 796th victory when the Owls face San Diego. Graham is 795-303 at Rice with a school-record .724 winning percentage -- the equivalent of a major league ballclub's winning 117 games in one season.
March, 11, 2009
03/11/09
3:16
PM ET
By
ESPN Statistics
and
Analysis
ESPN's Statistics and Analysis team compiled quick notes about some of Wednesday's college sports action from various schools' sports information departments.
Men's hockey
Division III NCAA tournament first round: Babson at Amherst, 7 p.m.
Babson visits Orr Rink as Amherst hosts an NCAA men's hockey tournament game for the first time in program history.
Amherst, which set a program record for wins with 20 this season, won 13 consecutive games and 17 of its past 18 in qualifying for the tournament for only the second time in program history. (The first was in 1998-99.)
Division III NCAA tournament first round: Nichols College at Hobart, 7 p.m.
Nichols makes its first appearance in the NCAA tournament after posting a program-best 25 wins during the regular season.
Women's lacrosse
Temple at No. 18 Towson, 4 p.m.
Temple heads to Towson, where Tigers senior midfielder Hillary Fratzke looks to continue two streaks. In a loss against Loyola on Sunday, Fratzke scored a goal for the 48th consecutive game and garnered a point for her 54th consecutive game. Both streaks are the longest active streaks in NCAA Division I entering this week.
Boston University at. No. 3 Penn, 3 p.m.
Although Wednesday marks the first meeting of the season between Penn and BU, the Terriers could be holding a grudge. The Quakers knocked BU out of the NCAA tournament the past two years: a first-round game in 2007 and a quarterfinal bout last postseason.
Women's gymnastics
Pittsburgh at Maryland, 7 p.m.
Maryland will be riding high when Pittsburgh comes to town, thanks to Abbey Adams' 9.925 in the floor exercise against North Carolina and Temple on Friday. The score, which gave Adams first place in the event, tied for the 17th-best individual mark on the floor in program history. Only three former Terrapins -- Jill Fisher, Gillian Cote and Rachel Martinez -- have scored higher in the event.
February, 20, 2009
02/20/09
11:16
AM ET
By
ESPN Statistics
and
Analysis
There's
plenty on the plate
this weekend in college sports. ESPN's Statistics and Analysis team compiled quick notes about some of this weekend's action from various schools' sports information departments.
Women's lacrosse
No. 1 Northwestern at No. 11 Notre Dame -- Friday, 7 p.m.
[+] Enlarge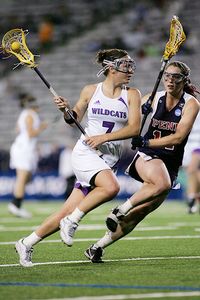 Todd Andrew LoveHannah Nielsen is coming off a record-setting performance.
Northwestern begins a four-game road trip against ranked opponents Friday with a contest against No. 11 Notre Dame in South Bend, Ind. This follows a win over Duquesne on Tuesday in which Hannah Nielsen became the first player in NCAA history to tally double-digit assists with 10. The new NCAA single-game record beat out the nine from Mercyhurst's Amy Perry in 1999.
Northwestern senior Hilary Bowen looks to continue her run of at least one goal in 42 consecutive games, the fourth-longest streak in NCAA history. Bowen has scored at least two goals in 37 of those 42 games, including a career-best six goals three times. Both Bowen and Nielsen have each tallied at least one point in 46 straight games.
Women's swimming/diving
Summit League Championships -- Feb. 19-21
The South Dakota State University women's swimming and diving team set school records in four of the five events that took place Thursday during the opening day of competition at the Summit League Championships.
Senior Mallory Onisk had a hand in three of the records. The Bear, Del., native eclipsed her own standard in the 200-yard individual medley in Thursday night's finals, clocking a runner-up time of 2 minutes, 6.62 seconds -- more than two seconds faster than the mark she previously set at the league championships in 2006. Three other Jackrabbits swam in the consolation final: Katie Budahl, 11th, 2:09.91; Kayleigh Boucher, 14th, 2:12.52; and Rachel Musser, 15th, 2:13.57.
Onisk also was a part of a pair of record-setting relays. She swam the anchor leg on the Jackrabbits' 200 freestyle relay, teaming with Ashley Valdez, Sara Olenich and Jessica Ferley for a fourth-place time of 1:38.29 in the first event of the evening session. The previous record of 1:39.61 was set at last year's league meet. The 400 medley relay quartet of Ferley, Budahl, Onisk and Christina Gerometta closed the night with a third-place finish, setting a new Jackrabbit record with a time of 3:54.40. That also broke a record of 3:57.67 set the previous year.
Gerometta put up a new record in the 500 freestyle in preliminary competition Thursday morning, shaving more than six seconds off her previous mark with a time of 5:06.39. She nearly matched that in the evening session with a time of 5:06.60, good for a fourth-place finish.
Men's hockey
No. 2 Northeastern at No. 1 Boston University -- 7 p.m.
[+] Enlarge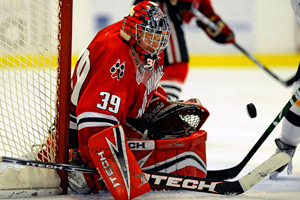 Ed Wolfstein/Icon SMIBrad Thiessen continues to move up in Northeastern's record books.
Northeastern goalie Brad Thiessen's 30 saves and two assists last Friday against UMass made him just the second Husky to win 20 games in a season, behind only Marc Robitaille (21-15-3 record in 1997-98). The win against the Minutemen marked the 47th of Thiessen's career, pushing him into second on Northeastern's all-time wins list. (Bruce Racine leads with 57 from 1984 to 1988.)
Saturday also marked the 100th career game for Thiessen, who is now the third-ever Husky to hit 100 games. The Hobey Baker Award candidate is already Northeastern's career leader in goals-against average (2.47) and save percentage (.921). Thiessen (20-8-2) ranks second nationally with 889 saves and seventh in save percentage (.929).