Category archive:

NCAA Men's Hockey
April, 9, 2011
04/09/11
11:35
PM ET
ST. PAUL, Minn. -- Kyle Schmidt describes his national title winning goal after Minnesota Duluth beat Michigan 3-2 in overtime on Saturday night.
Follow ESPN.com's college sports coverage on Twitter: @ESPN_College and on Facebook.
April, 8, 2011
04/08/11
7:46
PM ET
ST. PAUL, Minn. -- How do the final two teams in the NCAA men's hockey tournament stack up? A quick look at the numbers:
Follow ESPN.com's college sports coverage on Twitter: @ESPN_College and on Facebook.
April, 8, 2011
04/08/11
2:07
PM ET
Michigan coach Red Berenson talks about getting everybody on the roster to buy into the team concept and how that turned around the Wolverines' season.
Michigan coach Red Berenson discusses his lengthy career at Michigan and how he has seen it all in the NCAA tournament.
Follow ESPN.com's college sports coverage on Twitter: @ESPN_College and on Facebook.
April, 8, 2011
04/08/11
12:08
AM ET
ST. PAUL, Minn. -- Michigan goalie Shawn Hunwick describes his 40-save performance in the Wolverines 2-0 win over North Dakota in Thursday's Frozen Four.
Follow ESPN.com's college sports coverage on Twitter: @ESPN_College and on Facebook.
April, 7, 2011
04/07/11
8:38
PM ET
ST. PAUL, Minn. -- Minnesota Duluth's Jack Connolly talks about the Bulldogs' 4-3 win over Notre Dame in Thursday's Frozen Four.
Follow ESPN.com's college sports coverage on Twitter: @ESPN_College and on Facebook.
February, 5, 2010
02/05/10
11:08
PM ET
MADISON, Wis. -- Boys will be boys, especially when an authority figure isn't around.
So it really shouldn't have been a surprise that after Michigan hockey coach Red Berenson walked down the tunnel leading to the team dressing room inside Camp Randall Stadium early Friday evening before the Wolverines' practice time had ended, his players made creative use of the rest of their ice time.
[+] Enlarge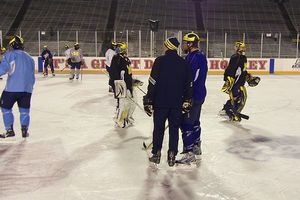 Courtesy David AlbrightMichigan coach Red Berenson talks to Brian Lebler during Friday's practice at Camp Randall Stadium.
One by one they took turns from center ice and tried to launch a puck over the glass and through the goalpost at one end of Wisconsin's football stadium.
A loud ping off the upright by freshman Chris Brown was as close as the Wolverines would get to a field goal on the eve of Saturday's Camp Randall Hockey Classic between the Wolverines (16-12-1) and the Badgers (15-7-4).
A crowd pushing 60,000 is expected to watch these two Big Ten schools skate on the temporary ice surface, which could make it the third largest crowd to watch an outdoor hockey game in North America since 2001.
The Cold War game at Spartan Stadium drew 74,544 when Michigan and Michigan State skated to a 3-3 tie back on Oct. 6, 2001. And the inaugural NHL Winter Classic between Pittsburgh and Buffalo had 71,217 in Ralph Wilson Stadium on Jan. 1, 2008 to witness a 2-1 Pens' shootout victory.
With 53,000 tickets sold as of Friday afternoon, it's already guaranteed to be the No. 2 college draw in history, ahead of Wisconsin's first outdoor venture at the Frozen Tundra Hockey Classic in 2006 at Green Bay's Lambeau Field (40,890) and last month's Frozen Fenway game between Boston University and Boston College (38,472).
"I think it's another big step forward for college hockey in terms of the exposure, the quality of the game and the players," Berenson said. "It just shows you the importance of college hockey and how the exposure now is better than ever. To be able to draw over 50,000 for a college hockey game is pretty impressive."
Regardless of Saturday's final turnstile count, the next outdoor game on the college hockey schedule should surpass them all as Michigan has already announced it is hosting in-state rival Michigan State in a game that's being billed as "The Big Chill at the Big House" next Dec. 11 at Michigan Stadium (capacity 106,201).
But first things first.
You could argue that the novelty of the outdoor game may be wearing off, but the importance of Saturday's matchup -- regardless of the setting -- should not be underestimated.
[+] Enlarge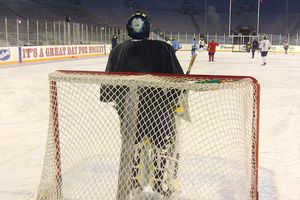 Courtesy David AlbrightThe Wolverines experienced a great day for hockey inside a football stadium.
Michigan currently finds itself very much on the outside looking in with the NCAA Tournament less than two months away. Entering Friday's action the Wolverines were No. 20 in the PairWise rankings, which barring a CCHA title and automatic bid wouldn't get them into the 16-team national field.
The Wolverines beat the Badgers 3-2 in Ann Arbor back in November as part of the annual College Hockey Showcase. Another victory over Wisconsin -- No. 3 in the PairWise entering the weekend -- would give Michigan a three-game winning streak with seven games remaining before the CCHA Tournament.
"This game has not been a highlight game on our schedule -- compared to the [outdoor] game next year," Berenson said. "But now that we're here you realize it's a highlight game."
Both teams tested out the Camp Randall ice, boards, glass, etc. for a mix of practice, "play" and amazement at the surroundings. Reviews of the hockey part of the facility were positive. It will be interesting to see what one of the best college football environments delivers for another sport on Saturday.
"I don't think there were jitters; I think it's just more of the wow factor," Berenson said. "This is awesome. So I think they got that feeling out of the way. We know there's a big hockey game on the line. We've played both Miami and Wisconsin and Wisconsin impressed me as much as any team we've played. We didn't just come here for the wow, we came here to play."
The fans in the stands should get a dose of wow and play from the boys on Saturday.
February, 1, 2010
02/01/10
9:39
AM ET
With the season's opening games less than two weeks away, it's time to take a quick tour -- two by two this year -- through some of the best teams out there.
No. 19 Kentucky
It's easy to look at breakthrough seasons and imagine a future with only more of the same newfound success. Nobody likes a downer, after all. Less warm and cuddly is the notion of regression to the mean -- that what goes up is more likely to come down than ascend forever.
[+] Enlarge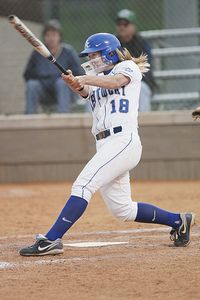 David Coyle/UK Media Relations Kentucky's roster counts with All-America shortstop Molly Johnson.
But skeptics might want to give Lexington, Ky., a wide berth this spring. There is ample reason to believe that Kentucky's giant leap forward last season may yet prove to be one small step in a program's emergence as a national contender as long as coach Rachel Lawson is around.
Last season, Lawson's second at the formerly moribund SEC afterthought, Kentucky posted a 34-23 record and reached the NCAA tournament for the first time. With every regular starter back, including All-America shortstop Molly Johnson, optimism abounds.
"Just like every other team in the SEC, we want to win the SEC championship, and in order to do that, you have to go through some pretty good teams," Lawson said. "I mean, obviously we made a huge jump last year; our team made the biggest jump in terms of RPI of any team in the country. So we made huge leaps last season, and that was really exciting. This year brings a whole newness to it because you're not going to see some of the same jumps, just because we're a lot better. So that brings on a whole different dynamic. So if anything, I would say our team has amped it up quite a bit, and we've really raised our expectations for this season."
Some of that rests with improving offensive production beyond the top half of the order, one of Lawson's priorities. But you don't compete for an SEC title without pitching, and amid the team's otherwise incremental improvements, one big leap could come from pitcher Chanda Bell. As a freshman last season, Bell struck out 216 batters in 180 innings, a strikeout rate that held steady through conference play despite battling a stress fracture in her shin from the first week of April onward.
You can teach a lot of things in pitching, but the ability to post a rate of 8.4 strikeouts per seven innings (trailing only Baylor's Whitney Canion and Harvard's Rachel Brown among last season's freshmen) is something that comes pre-installed.
"She loves to strike people out, and I know every pitcher says that, but she actually loves it -- there's a little light in her eyes," Lawson said. "That makes her pretty special in terms of her attitude. But the things that she's done better this season is she's worked really hard to develop some other pitches to really help complement her strengths. And that's a work in progress, but she's such a hard worker, and she's determined and she's focused."
"If she can stay healthy, I think the sky's the limit for Chanda."
The same holds true for Kentucky.
No. 20 Tennessee
The Lady Vols should score enough runs to contend for better than this ranking. Despite losing Tonya Callahan to graduation, Tennessee still posted a better slugging percentage last season (.455) than it did in Callahan's final season (.447). And all three players who individually slugged better than .500 -- Tiffany Huff, Jessica Spigner and Erin Webb -- return this season. Co-coach Karen Weekley will also keep the team's trademark small-ball assets moving at a rapid pace.
As has been the case since Monica Abbott departed, the question is pitching. A highly touted recruiting class includes two options in the circle in Andi Williamson and Ivy Renfroe, who join sophomore Cat Hosfield (28-13, 2.67 ERA last season). As goes the team ERA, so go the hopes of getting back into the top 10 or beyond by season's end.
Graham Hays covers softball for ESPN.com. E-mail him at Graham.Hays@espn3.com.
April, 12, 2009
04/12/09
1:36
AM ET
WASHINGTON -- Saturday night's amazing overtime national championship game, won 4-3 by Boston University over Miami University, was the first NCAA title game to go into extra time since Minnesota beat Maine in St. Paul, Minn., by the same score back in 2002.
That was also the last time that the Hobey Baker Memorial Award winner, Jordan Leopold, also won the national championship. BU captain Matt Gilroy joins Leopold in that group.
Here are some other notes and nuggets following the 2009 Frozen Four at the Verizon Center:
2009 all-tournament team
• Forward: Tommy Wingels, Miami University
• Forward: Colin Wilson, Boston University
• Forward: Nick Bonino, Boston University
• Defenseman: Kevin Roeder, Miami University
• Defenseman: Colby Cohen, Boston University
• Goaltender: Kieran Millan, Boston University
• Most Outstanding Perfomer: Cohen
Boston University notes
• The five NCAA titles won by Boston University is tied for fourth in NCAA history (the record is nine by Michigan). This is the third title won by BU coach Jack Parker, which places him in a tie for third place in NCAA history (the record is six by Michigan's Vic Heyliger -- 1948, 1951, 1952, 1953, 1955 and 1956).
• BU's Class of 2009 posted a 100-43-21 record during its career.
• The Terriers entered Saturday successfully killing 15 of 18 penalties during the NCAA tournament. The Terriers killed seven of seven penalties against Miami.
• BU posted a 27-2-3 record this year when it scored the first goal of the game (8-4-1 when opponents scored first).
• BU posted a 21-1-13 record since Jan. 16.
• The Terriers posted a 17-0-2 record over their last 19 games played away from home this season.
• BU finished 23-1-1 when it led after the first period and 8-1-3 when it was tied after the second period.
• The Terriers posted a 10-3 record in one-goal games (nine-game winning streak).
• With a goal and an assist Saturday night, Nick Bonino recorded three points (one goal) at the Frozen Four. BU posted a 24-0-3 record this season when Bonino recorded at least one point in a game.
Miami notes
• Miami entered Saturday's game 1-of-15 on the power play during the NCAA tournament. The RedHawks were 0-of-7 on the power play against BU.
• The RedHawks are now 2-12-3 when opponents scored the first goal of the game (21-1-2 when Miami scored first).
• Miami is now 0-11-2 when it trailed after the first period and 0-2-2 when tied after the second period.
April, 11, 2009
04/11/09
10:12
PM ET
WASHINGTON -- Colby Cohen scored his eighth goal of the season. It also was the 11th of his career. And undoubtedly the biggest of his life.
A slap shot from the left point hit Miami defenseman Kevin Roeder and then fluttered through the air, over Miami goalie Cody Reichard's left shoulder and into the net at 11:47 of overtime to give Boston University a 4-3 win and its fifth national championship in school history.
April, 11, 2009
04/11/09
9:45
PM ET
WASHINGTON -- Has your heart started beating again? Mine either.
Boston University scored two goals in the last 59.5 seconds of the third period to erase a 3-1 deficit and send the 2009 Frozen Four title game against Miami University into overtime.
First, it was junior forward Zach Cohen with his 13th goal of the season to make it 3-2 at 19:00. Then, with 17.4 seconds left, sophomore forward Nick Bonino found the back of the net to tie it up, 3-3. Both goals were scored with goalie Kieran Millan pulled and an extra attacker on the ice.
Miami took a 2-1 lead at 12:31 when sophomore forward Tommy Wingels got behind BU sophomore defenseman Kevin Shattenkirk and was able to clean up a shot by sophomore forward Carter Camper to beat Millan. It was Wingels' 11th goal of the season and his third of the Frozen Four.
Miami increased its lead to 3-1 at 15:52 when freshman forward Trent Vogelhuber took a pass from senior forward Brian Kaufman just inside the BU zone, skated down the middle and beat Millan low to the glove side. It was Vogelhuber's second goal of the season.
Through 60 minutes, Miami has a 28-23 shot advantage and the RedHawks have a 29-22 faceoff advantage. BU is 0-for-2 on the power play and Miami is 0-for-7 with the man advantage.
Next goal wins the entire season.