Category archive:

Arizona Wildcats
June, 6, 2010
06/06/10
9:31
PM ET
OKLAHOMA CITY -- The Women's College World Series is really two tournaments in one. The first careers along at breakneck speed, with eight teams playing as many as 14 games in four days and six teams going from elation to disappointment in the matter of two or three hotel wake-up calls. The second moves at a more deliberate pace, as two teams are left with the national spotlight all to themselves for as many as three nights.
[+] Enlarge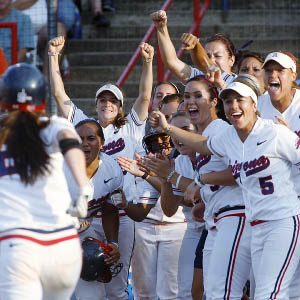 AP Photo/Sue OgrockArizona beat Tennessee twice on Sunday to advance to the WCWS final.
And so even as the attention shifts to old rivals UCLA and Arizona -- meeting for the seventh time with a championship on the line -- there's also an opportunity to put the past four days in perspective.
Florida, Georgia, Hawaii, Missouri, Tennessee and Washington revealed much about how the college season got here and where the sport will go long after this week.
With a four-week trek across the continental United States worthy of Steinbeck or de Tocqueville and late-inning fireworks against Alabama and Missouri along the way, Hawaii won over a lot of fans as the tournament's underdog. But the 16th-seeded Rainbow Wahine weren't Cinderella. They flew more miles to get to Oklahoma City than any other team out there; they also put more miles on softballs over the course of the year.
Hawaii's 158 home runs shattered the previous NCAA single-season record of 134, established just a season ago by Arizona. And despite moving the fences back 10 feet down the lines and raising those same fences (bringing the field at Hall of Fame Stadium in line with the typical college dimensions), teams combined to hit 24 home runs through Sunday, tying the World Series record set, again, last year.
"The game has progressed so much over the years," Arizona coach Mike Candrea said on the eve of the tournament. "I remember 25 years ago when the composite bat wasn't around, and I really believe that the composite bat has changed our game."
Whether or not all the extra power is a good thing (and whether or not, as Candrea suggested, a shift back to less potent aluminum bats might be coming down the pike), the reality is that it's a game of power like never before. And as with any evolution, those that position themselves best -- as Hawaii did this season -- can rise quickly from the middle class into the elite.
A season marked by incredible freshman success also found a fitting final stop in Oklahoma City, right down to UCLA's B.B. Bates hitting a home run Sunday against Georgia and Arizona's Kenzie Fowler pitching the Wildcats into the title series with help from a game-winning hit from classmate Brigette Del Ponte.
Even as Fowler persevered through four starts in two days, no freshman did more to establish herself as a star while representing one of the best incoming classes in recent memory than Florida's Brittany Schutte. The Gators' cleanup hitter came to plate nine times and went home with six hits, three home runs and four RBIs.
"That wasn't a freshman running around the bases out there," Florida coach Tim Walton said in an echo of so many coaches nationwide. "It was just a really good player, somebody who we knew how good she was going to be in the recruiting process. And we're thankful she chose us over some other great schools. She's just a ferocious hitter -- I think that's a pretty good word you could use for her."
But from new stars emerging and familiar faces such as Washington's Danielle Lawrie, Florida's Francesca Enea and Tennessee's Tiffany Huff saying goodbye, and from umpiring controversies to scoring flurries, the tournament within the tournament at the Women's College World Series was what it always is.
"It's been really kind of, I guess you could say life-changing," Hawaii's Alexandra Aguirre said after her team was eliminated by a loss to Arizona. "When you have a team that is as close as we are, it really shows on the field. The chemistry that we have with each other, it really brought out the best in all of us as players and as just people in general. It's just been a wild ride, and we're all sorry to see it end this way. But we know we went out with a bang, and we put our best foot forward."
Graham Hays covers women's college softball for ESPN.com. E-mail him at Graham.Hays@espn3.com. Follow him on Twitter: @grahamhays.
June, 5, 2010
06/05/10
8:16
PM ET
OKLAHOMA CITY, Okla. -- All Danielle Lawrie could do as her college career came to a close was watch from the on-deck circle, a player without peer at controlling the action left powerless by a perfect storm of defensive lapses, controversial calls and talented foes.
Arizona's 4-3 win eliminated defending champion Washington, forcing the best player in college softball out of Oklahoma City.
[+] Enlarge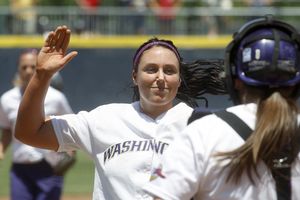 AP Photo/Sue OgrockiWashington's Danielle Lawrie finished her career with 136-42 record and 1,860 strikeouts.
Wildcats coach Mike Candrea is as familiar with Lawrie as any coach outside of Washington's dugout, having coached against her for four seasons in the Pac-10 and another year while both traded the 2008 college season for Olympic duty. When the game was over he passed up her outstretched hand and offered instead an embrace, the respect earned over years of competition obvious on both sides.
"She's a competitor," Candrea said. "If you watch her career -- I've seen it both internationally and where she's at today -- she's a young lady that I think has a lot to be proud of for where she's come in this game."
It was more than three years ago, during one of the first weekends of the college season at a tournament near Palm Springs, that I first saw Lawrie pitch in person. A lot of the details true in that moment in time have changed. She wasn't a former Olympian back then or the two-time reigning USA Softball Player of the Year.
For that matter, she was blonde.
But there was very little different about the demeanor with which she went about her business that weekend against opponents like Michigan State than during last year's march to a national championship or Saturday's start against Arizona.
"You can't just have the physical tools," Washington coach Heather Tarr said at the time of her then-sophomore coming off a super regional loss as a freshman against Cat Osterman. "She's obviously very strong and possesses some great, great skills physically, but the fact that she wants the ball and she wants to beat whoever it is that she's facing, that's a huge factor. She's got that little X-factor in her that gets her going."
Make no mistake, a pitcher can have all the will in the world and it won't take you to a national championship without, as Candrea rattled off in listing Lawrie's pitching attributes, the ability to throw the ball close to 70 mph and mix in pinpoint control and an offspeed pitch that had even former Arizona star Taryne Mowatt tweeting in envy Saturday.
Lawrie has physical gifts as a pitcher that set her apart from most of her peers. But that was only part of becoming one of the best of all time.
Washington fans will long remember Saturday's game as a series of botched calls by umpires and missed opportunities in the field. Lawrie allowed just one earned run. But from last week's super-regional comeback to last year's championship, the bigger picture is that nobody got more out of a career than the Canadian ace.
"I'm leaving at peace; I'm OK with it," Lawrie said. "I mean, obviously I'm upset, but God damn, the stress that I've been putting on myself lately -- I wanted to win, obviously, but right now I'm at peace. I'm happy."
Tigers hope for brighter WCWS future
Missouri is now 1-10 in five appearances in the Women's College World Series, the fewest wins of any program with at least that many trips. (Long Beach State is next at 5-10.) The problem the last two seasons, the only two appearances that fall under coach Ehren Earleywine's tenure, was offense. The Tigers scored just seven runs in four games between 2009 and 2010, capped off by Saturday's 5-0 loss against Florida.
But for a team that loses just three seniors, pitching offers hope of brighter times in Oklahoma City. Most doubted the Tigers would get here this season after losing ace Chelsea Thomas to a midseason injury. Instead, Kristin Nottelmann proved herself a capable No. 1 pitcher and should team with Thomas next season for an elite duo.
"Not to say that she wasn't a good pitcher before, but I think she really grew up this year and got to pitch in the bright lights and on the big stage," Earleywine said of Nottelmann. "So next year, that just deepens our pitching staff. And obviously the name of this game is pitching."
Graham Hays covers women's college softball for ESPN.com. E-mail him at Graham.Hays@espn3.com. Follow him on Twitter: @grahamhays.
June, 4, 2010
06/04/10
11:44
PM ET
OKLAHOMA CITY -- What did we learn Friday? Maybe you can beat Megan Langenfeld, but you're going to have to work for it.
Hawaii did all it could, from epic at-bats to spectacular defense, but none of it proved enough to avert a 5-2 win for the Bruins.
If you're in the mood for souvenirs -- or in the mood to be the target in target practice -- sit down the third-base line when Langenfeld pitches. Time and again against a Hawaii team that smashed the NCAA single-season record for home runs, the UCLA senior put her pitches so far in on the hands of hitters that the grandstand down the left-field line was the only landing spot physics allowed.
[+] Enlarge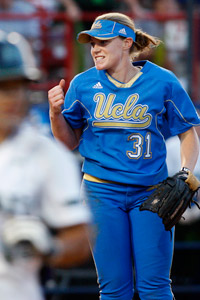 AP Photo/Sue OgrockiMegan Langenfeld was tough as nails on the mound Friday night.
By my admittedly unofficial count, Hawaii hitters fouled off 62 of Langenfeld's 132 pitches. When the balls did end up in fair territory, what the Rainbow Wahine didn't beat into the ground, they popped up to the infield, six in all, to go with seven groundouts and six strikeouts.
"She does bring the jam job a lot," UCLA catcher Kaila Shull said the day before. "I know I'm ready for a few more popups that may be closer to my range, and the left side of the field is always ready."
It took one of the more memorable at-bats in recent World Series history for Hawaii to get on the board. After falling behind 1-2 in the count in the bottom of the fourth, Hawaii's Alexandra Aguirre fouled off 13 consecutive pitches, almost all in on her hands and flirting with the strike zone. Finally, after Langenfeld left a pitch a few inches over the plate, Aguirre hit a two-run home run to cut UCLA's lead to 4-2.
"It was long," Aguirre said of the at-bat. "It's one of those things where I knew she was coming inside every single pitch, so I just had to focus on seeing the ball out in front and getting my hands around on it. And then she threw in a couple of changeups that kind of threw me off."
Hawaii followed with back-to-back hits, only to see the rally end on, what else, an infield popup.
Friday's game was the first postseason start for Langenfeld, who has been limited by her coach to playing the field and making occasional relief appearances. As UCLA looks for its first back-to-back wins to open a World Series since 2005, there wasn't much doubt in coach Kelly Inouye-Perez's mind about who would get the start.
"We wanted her to be at her best when we needed her to be at her best. ... And it's time," Inouye-Perez said. "So I literally met with her last night and asked how she was doing and she said, 'I want the ball coach.' So it was very simple."
Saturday Spotlight: Arizona vs. Washington (ESPN2, 2:30 p.m.)
Arizona's Mike Candrea went on the offensive against illegal pitches after his team's loss to Tennessee. But the coach also sounded almost defensive when it came to his team's bats going silent yet again in Oklahoma City. (Arizona was shut out by Florida and Alabama in last year's event.)
"I think one of the things you have to have here is short-term memory," Candrea said. "I think the big thing is you've got to keep doing what you're doing and things will turn around. We're a decent hitting team but we have had our struggles. But I think the more you talk about it the worse it gets. It's over with."
Facing Danielle Lawrie, particularly with the two-time reigning national player of the year coming off a rare hittable performance, doesn't shape up as much of an elixir.
Arizona didn't draw a single walk against Tennessee's Ivy Renfroe, a freshman pitcher making her first World Series start. But the 18 Wildcats who went to the plate saw 88 pitches -- 4.9 pitches per plate appearance. That's significantly better than in any of their four World Series losses in 2008 and 2009 and perhaps a more accurate reflection of a team that posted a better on-base percentage this season than in its record-breaking power display last season.
But Lawrie has gone from great to all-time great during her career in part by making opponents hit her to beat her. As much attention as Kenzie Fowler's feet will draw, whoever wins the battle of pitch selection Saturday holds the edge.
Graham Hays covers women's college softball for ESPN.com. E-mail him at Graham.Hays@espn3.com. Follow him on Twitter: @grahamhays.
June, 4, 2010
06/04/10
12:08
AM ET
OKLAHOMA CITY, Okla. -- Softball wasn't spared from a conversation about officiating supplanting what should have been a showcase.
Just don't expect any apologies from the umpires, coaches or pitchers in this debate.
[+] Enlarge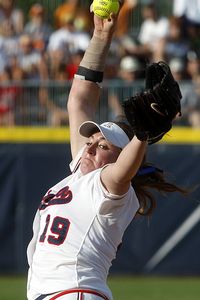 AP Photo/Sue OgrockiArizona's Kenzie Fowler was called for eight illegal pitches on Thursday.
From the 2010-11 rules, section 1.28 (definitions).
Crow hop: "An illegal act in which the pitcher's pivot foot leaves the pitcher's plate and re-contacts the ground before the release of the pitch."
And from section 10.4.5 (pitching rules).
"No crow hopping is allowed. The pitcher may not replant, gain a second starting point and push off her pivot foot. Once having lost contact with the pitcher's plate, the pivot foot may trail on the ground but may not bear weight again until the pitch is released."
Forget a scorecard; you needed a copy of the rule book to follow the action in the middle two games of Thursday's opening day at the Women's College World Series.
Florida pitcher Stephanie Brombacher was called for four illegal pitches in the first three innings of her team's game against UCLA and was eventually pulled after allowing five runs in what turned into a 16-3 rout.
Gators coach Tim Walton, who said he didn't want to incur any SEC penalties, instead offered an oblique reference to the previous night's big story in response to a question about the illegal pitches called on Brombacher and freshman replacement Ensley Gammel.
"I think that kid [Armando] Galarraga threw one heck of a game yesterday for Detroit," Walton said.
Read what you will between the lines on that one.
That only proved the opening act for Arizona freshman Kenzie Fowler, who was called for eight illegal pitches against Tennessee before exiting. Brombacher has had an on-again, off-again battle with illegal pitches this season, but while illegal pitch data isn't readily available, an Arizona spokesperson said Fowler had been called for only six with runners on base in more than 200 innings before Thursday's game.
"It kind of set the tone for the game," Mike Candrea said. "Illegal or not illegal, I think one of the big things that is confusing to us as coaches, and I'll try to be politically correct about this, but you play all year to get to here and what they were calling tonight has never been called, No. 1. So how does the kid fix it if she doesn't think she's doing anything wrong?"
In neither collective case did the illegal pitches decide the game, a point Walton especially made in crediting UCLA's strong performances. And in every individual case I could see watching the replays, the pitches were, in fact, illegal.
So were a lot of pitches that weren't called this season. To be clear, Thursday didn't come out of nowhere -- ask Creighton's Tara Oltman, Michigan's Jordan Taylor or dozens of other pitchers notably flagged at times this season as illegal pitches were made a point of emphasis for umpires.
But the sport's biggest stage isn't the place to make a point about a rule many umpires have shown only only a sporadic spine to enforce from February through May.
Either call them all or get out of the way of the game.
The shame is that instead of talking about Tennessee's Ivy Renfroe throwing the first World Series shutout by a freshman since UCLA's Anjelica Selden in 2005, Andrea Harrison hitting two three-run home runs for the Bruins or Traci Yoshikawa's big blast in Hawaii's comeback win, we're talking illegal pitches.
"I've been here for a few years," Candrea said. "I've never seen an umpire's judgement take over the complexion of a game. And tonight he did."
Graham Hays covers women's college softball for ESPN.com. E-mail him at Graham.Hays@espn3.com. Follow him on Twitter: @grahamhays.
May, 30, 2010
05/30/10
10:13
PM ET
For the first time since the NCAA tournament reconfigured its format to include super regionals in 2005, the top two overall seeds will not be in the Women's College World Series. 
[+] Enlarge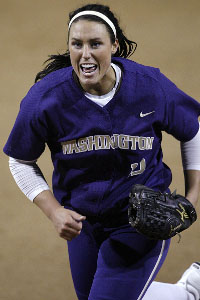 AP Photo/Elaine ThompsonDanielle Lawrie and Washington rebounded from a Game 1 loss to beat Oklahoma and advance to WCWS.
The defending champs needed an effort for the ages from the player expected to repeat as USA Softball Player of the Year to avoid making it the top three seeds. 
Yet there wasn't a heck of a lot of super regional drama to be found.
If that equation doesn't make much sense, well, welcome to a perplexing postseason. 
Even with the drama in the Tuscaloosa Super Regional, where No. 16 Hawaii recorded a pair of one-run wins to eliminate No. 1 Alabama in three games, there were only five super regional games decided by two or fewer runs. That's the fewest since the advent of the extra postseason round six seasons ago. Only two series went the full three games, matching last season for the fewest in the super regional era. 
All of that on top of a regional round in which all 16 teams advanced without a loss. 
Hawaii's win has been covered elsewhere, but here's a quick look at the other seven super regionals. 
Ann Arbor: No. 15 Tennessee defeats No. 2 Michigan (2-0)
Freshman pitcher Ivy Renfroe continued a hot second half of the season and emerged as a budding star for the Lady Vols. She came within two outs of a no-hitter while pitching a shutout in the opener and quelled a Michigan rally in relief in the clincher. Tennessee made its chances count, stranding just six runners on base in two games. 
Athens: No. 6 Georgia defeats No. 11 California (2-0)
Perhaps the most impressive performance by any team in the round, Georgia outscored Cal 17-1 in the sweep. We knew the Bulldogs could hit -- Megan Wiggins took the leading role in this instance with six RBIs -- but Sarah McCloud allowed just seven hits in 12 innings in the circle (although she did walk 10 batters and hit two more). 
Columbia: No. 9 Missouri defeats Oregon (2-0)
In the non-Canadian division, Kristin Nottelmann might have been the most valuable pitcher of the round. Missouri's ace (and she's earned that label) allowed just one earned run in a pair of complete game wins. She has all five wins for Missouri this postseason, including four in games decided by two runs or less -- best in the field. 
Gainesville: No. 4 Florida defeats No. 13 Arizona State (2-0)
For the third season in a row, Florida disposed of a Pac-10 team in minimum games. Kelsey Bruder bats in front of Francesca Enea and exists somewhat in her teammate's shadow, but she led the way with two home runs, two doubles and six RBIs. Ace Stephanie Brombacher is rolling, with five wins and just five walks this postseason. 
Los Angeles: No. 5 UCLA defeats Louisiana-Lafayette (2-0)
The Bruins got a lot hits (23) and a lot of runs (20) from a lot of people in blitzing Louisiana-Lafayette in a pair of run-rule wins, but there's no mistaking that they're back in the World Series with a healthy Samantha Camuso (2 HR, 7 RBIs vs. ULL) after missing the World Series last season without an injured Camuso. 
Seattle: No. 3 Washington defeats No. 14 Oklahoma (2-1)
If you watched Washington's back-to-back wins Friday to stave off the upset, you saw Danielle Lawrie pitch the way Mike Singletary used to play linebacker -- complete with the crazy eyes. 
Tucson: No. 10 Arizona defeats BYU (2-0)
On the eve of the NCAA tournament, it was all about freshman ace Kenzie Fowler's hurting right arm. On the eve of the Women's College World Series, well, it's still about Fowler's arm. She dominated BYU in the opener, striking out 10, but left the clincher without recording an out after taking a line drive to her right arm. 
Graham Hays covers women's college softball for ESPN.com. E-mail him at Graham.Hays@espn3.com. Follow him on Twitter: @grahamhays.