Category archive:

Hawaii Warriors
June, 6, 2010
06/06/10
9:31
PM ET
OKLAHOMA CITY -- The Women's College World Series is really two tournaments in one. The first careers along at breakneck speed, with eight teams playing as many as 14 games in four days and six teams going from elation to disappointment in the matter of two or three hotel wake-up calls. The second moves at a more deliberate pace, as two teams are left with the national spotlight all to themselves for as many as three nights.
[+] Enlarge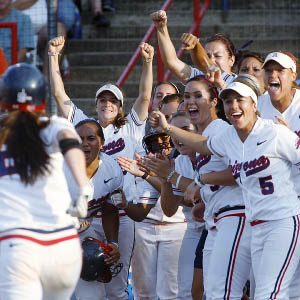 AP Photo/Sue OgrockArizona beat Tennessee twice on Sunday to advance to the WCWS final.
And so even as the attention shifts to old rivals UCLA and Arizona -- meeting for the seventh time with a championship on the line -- there's also an opportunity to put the past four days in perspective.
Florida, Georgia, Hawaii, Missouri, Tennessee and Washington revealed much about how the college season got here and where the sport will go long after this week.
With a four-week trek across the continental United States worthy of Steinbeck or de Tocqueville and late-inning fireworks against Alabama and Missouri along the way, Hawaii won over a lot of fans as the tournament's underdog. But the 16th-seeded Rainbow Wahine weren't Cinderella. They flew more miles to get to Oklahoma City than any other team out there; they also put more miles on softballs over the course of the year.
Hawaii's 158 home runs shattered the previous NCAA single-season record of 134, established just a season ago by Arizona. And despite moving the fences back 10 feet down the lines and raising those same fences (bringing the field at Hall of Fame Stadium in line with the typical college dimensions), teams combined to hit 24 home runs through Sunday, tying the World Series record set, again, last year.
"The game has progressed so much over the years," Arizona coach Mike Candrea said on the eve of the tournament. "I remember 25 years ago when the composite bat wasn't around, and I really believe that the composite bat has changed our game."
Whether or not all the extra power is a good thing (and whether or not, as Candrea suggested, a shift back to less potent aluminum bats might be coming down the pike), the reality is that it's a game of power like never before. And as with any evolution, those that position themselves best -- as Hawaii did this season -- can rise quickly from the middle class into the elite.
A season marked by incredible freshman success also found a fitting final stop in Oklahoma City, right down to UCLA's B.B. Bates hitting a home run Sunday against Georgia and Arizona's Kenzie Fowler pitching the Wildcats into the title series with help from a game-winning hit from classmate Brigette Del Ponte.
Even as Fowler persevered through four starts in two days, no freshman did more to establish herself as a star while representing one of the best incoming classes in recent memory than Florida's Brittany Schutte. The Gators' cleanup hitter came to plate nine times and went home with six hits, three home runs and four RBIs.
"That wasn't a freshman running around the bases out there," Florida coach Tim Walton said in an echo of so many coaches nationwide. "It was just a really good player, somebody who we knew how good she was going to be in the recruiting process. And we're thankful she chose us over some other great schools. She's just a ferocious hitter -- I think that's a pretty good word you could use for her."
But from new stars emerging and familiar faces such as Washington's Danielle Lawrie, Florida's Francesca Enea and Tennessee's Tiffany Huff saying goodbye, and from umpiring controversies to scoring flurries, the tournament within the tournament at the Women's College World Series was what it always is.
"It's been really kind of, I guess you could say life-changing," Hawaii's Alexandra Aguirre said after her team was eliminated by a loss to Arizona. "When you have a team that is as close as we are, it really shows on the field. The chemistry that we have with each other, it really brought out the best in all of us as players and as just people in general. It's just been a wild ride, and we're all sorry to see it end this way. But we know we went out with a bang, and we put our best foot forward."
Graham Hays covers women's college softball for ESPN.com. E-mail him at Graham.Hays@espn3.com. Follow him on Twitter: @grahamhays.
May, 6, 2010
05/06/10
10:43
AM ET
Hawaii hasn't been an easy out for years, but at least the only big fly that opponents traditionally had to deal with was the lengthy trip over from the mainland. 
Now the Rainbow Wahine bring the big flies with them. 
[+] Enlarge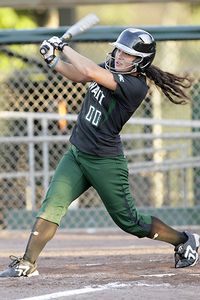 UH Sports Media Relations Kelly Majam has hit 25 home runs for Hawaii this season.
Impressive numbers abound when it comes to Hawaii. The team is ranked No. 21 in this week's USA Softball/ESPN.com Top 25. It fares even better in the RPI, where its No. 15 ranking offers hope of a seed in the upcoming NCAA tournament. And as the team takes this week off to deal with final exams, it can also look back at a 20-1 record in the WAC regular season, arguably the best performance in the league since Fresno State went 24-0 in 1999 or 28-2 in 1998 en route to a national championship. 
But as impressive as all these achievements are, it's another number that has Hawaii in the national spotlight.  
The Rainbow Wahine have hit 128 home runs in 53 games this season. They have a minimum of four more games -- and many more in all probability -- to come up with the seven home runs needed to break the NCAA single-season mark Arizona set last season. 
Of course, as was the case for Arizona, the surge in power has been accompanied by a bit of skepticism and a few whispers about just how a team can go from hitting 110 home runs over the past two seasons combined to the current prodigious production. Are the bats hot? No hotter than they have been, offered coach Bob Coolen.  
"A lot of people are going to question how we're doing it," Coolen said. "We're using Easton products. We've had the Easton product for the past 15 years. We are using bats that … no one has ever said these are illegal bats. No one has ever said these bats tested hot, or we would have taken them out of circulation."
In explaining the increased production, it's worth noting that the Rainbow Wahine have benefited from top hitters returning to the lineup. Three of the team's top sluggers didn't play last season. Redshirt freshman Kelly Majam was injured, true freshman Jessica Iwata was in high school and junior Jenna Rodriguez was slugging better than .850 for Yavapai College. Those three have combined for 55 home runs this season, 25 by Majam. 
And when volunteer coach and Hawaii mainstay John Nakamura retired after 23 years with the program last season, Coolen brought in Dickie Titcomb to fill the same position. A youth coach in the area with a long record of producing teams with good power numbers, Titcomb, along with first-year assistant and former Hawaii star Kaulana Williams, has helped stress the minute details -- balance, focus, technique -- of what still boils down to "see the ball, hit the ball" for Hawaii's hitters.
"We work a lot on bat speed," Coolen said. "So that's why you have Kelly Majam, who swings the bat over 70 miles an hour, can hit the ball as far as she can hit the ball with a 5-foot-3 frame because she just has so much bat speed. Her hands go to the ball."
Beyond all of that, this is a program that has long relied on its volunteer assistant coaching position and which faced university-mandated budget cuts in recent seasons. 
It's safe to say there isn't a lot of money laying around for cutting-edge bat espionage.
"We have a group of players that are capable of all understanding what we're doing, philosophy-wise, with the weight training and with our swings, that it is all coming together for us this year," Coolen said. "And it's not just one bat that has hit all these home runs. It's a variety of Easton bats, from 2010 models all the way back to 2007, 2006."
When Hawaii leaves for the WAC tournament in Las Cruces, N.M., it will pack for what could be a four-week trip -- it won't return home before the start of the NCAA tournament. And the team that has mastered hitting the ball a long way may yet follow its own long route to a second super regional in four years. Or even beyond. 
"I didn't know we were going to be where we are right now, with the number of home runs, but I knew that we were going to be able to hit the long ball," Coolen said.
Graham Hays covers women's college softball for ESPN.com. E-mail him at Graham.Hays@espn3.com. Follow him on Twitter: @grahamhays.