Category archive:

Boston College Eagles
December, 5, 2010
12/05/10
4:41
PM ET
CARY, N.C. -- The best season in the history of the Boston College women's soccer program ended without a goal in Friday's national semifinal against No. 1 Stanford. That it ended here at all, in a tense fight with the tournament's top seed in front of 8,323 fans at WakeMed Soccer Park and a national television audience, suggests the Eagles achieved a goal all the same.
[+] Enlarge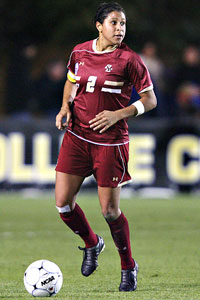 Andy Mead/Icon SMIChelsea Regan and the Eagles capped the program's best season with a trip to their first College Cup.
After playing more than three hours of soccer against Stanford this season, first in an August draw and again in Friday's rematch, there is little doubt the best team moved on to play in Sunday's championship game. Stanford wasn't better by a lot, perhaps not even by as wide a margin as the 2-0 final, but it was better. It's just that there is equally little doubt that Boston College belonged on the field in its first College Cup.
"I thought tonight was one of the best women's soccer games that I've ever seen in my life -- two fantastic teams, two teams that like to attack, both extremely disciplined," Boston College coach Alison Foley said.
For much of the first half, it was difficult to make a case that either team had the edge in play. Boston College finished the first 45 minutes without an official shot, the first time all season it didn't record a shot in a half, while Stanford was credited with seven. But with the exception of perhaps the final 10 minutes before halftime, that was hardly an accurate reflection on the even nature of play. The Eagles escaped calamity a couple of times against Stanford All-American Christen Press, but they also endured their fair share of near-misses on passes that skipped just inches long of springing a player or runs that started half a beat too soon or too late.
"Give credit to Stanford for their defending, but sometimes chances aren't necessarily shots on goal," Foley said. "They're opportunities, created corner kicks, balls in behind the defense, so we created some different looks of dangerous attack."
Perhaps the biggest problem for Boston College in the first half and through much of a second half largely controlled by Stanford was an inability to put sophomore Kristie Mewis in position to harass the Cardinal like Press routinely harassed a back line that expended a lot of energy proving it was up to the task. A natural left-footer who loves playing on the left flank, Mewis played essentially the entire night, with the exception of a few moments in the game's dying minutes, on the right side, while senior Amy Caldwell and others who came off the bench played in Mewis' familiar spot on the left side.
By Foley's own assessment, Mewis possesses one of the best left-footed crosses in the world of women's soccer, college or otherwise, but she didn't get any chances to serve it Friday.
"Kristie's one of our most dangerous players up closer to goal, and Rachel Quon, their right back, attacks a lot," Foley said. "We didn't want to pull Kristie away from goal tracking her, so we had Amy, who can run all day, track Quon, and I thought Amy did a great job. Putting Kristie on the right allowed Kristie to be closer to goal and have more looks at goal."
It made sense tactically in that scenario, and indeed, Boston College was able to limit the impact of Quon, a starter alongside Mewis on the United States national team in the Under-20 World Cup last summer. But whether it was playing on the right, the defense of Stanford freshman Annie Case, the magnitude of the moment or merely the luck of the day, Mewis struggled to make an impact on the game herself. She got Boston College on the stat sheet with a shot on goal early in the second half, but it was a hopeful launch from about 30 yards away that only came after the Eagles lost track of Stanford's Camille Levin just long enough for her to make a run through midfield and fire a perfectly struck shot into the top corner of the goal from 18 yards in the 48th minute.
Mewis did eventually play a part in Boston College's best scoring chance. She got her head on an Alaina Beyar cross in the 78th minute and forced Stanford keeper Emily Oliver to make a save that left the ball sitting invitingly in open space to the right side of the goal. But after sprinting all out to reach the ball, senior Hannah Cerrone was unable to get her shot on frame, the ball slipping over the top of the crossbar and out of play. And with their ranks stretched and weary in pursuit of an equalizer, Boston College eventually surrendered a second goal in the 87th minute to seal the result.
But the disappointment of the moment shouldn't overshadow what came before, including the program's first win against ACC rival North Carolina, as well as what may come next. NSCAA first-team All-American Mewis and fourth-team All-American Victoria DiMartino return as juniors next season, while midfielder Julia Bouchelle, keeper Jillian Mastroianni and defenders Alaina Beyar and Alyssa Pember will constitute the core of a gifted senior class. The losses are notable, particularly Cerrone and Chelsea Regan, the co-captains who formed the right side of the back line, but Foley said she hopes this year's seniors leave a legacy of the kind of work ethic required to reach such heights.
On Thursday, as Foley prepared to meet with the media and players were shuttled around to television interviews, Boston College assistant Mike LaVigne stood and soaked in the scene in Cary. It was LaVigne who started the Division I program at Boston College and guided the team to the first NCAA tournament in 1982. Back then, long before any of the current Eagles were born, eight teams comprised the entire tournament field. The championship game's listed attendance was 1,000 and the attendance for the entire championship was 3,061 (Boston College lost to SUNY Cortland in the opening round). In fact, the attendance for the entire tournament was smaller in seven of its first eight seasons in existence than the crowd in Cary on Friday night.
As LaVigne noted, it was hard to believe how far things had come. Women's college soccer is more competitive than ever, but Boston College has the means to be more than a one-year wonder.
And whatever the scoreboard said Friday night, the result was the greatest season the program has ever known.
"It was a great experience," Cerrone said. "We can't be anything but proud of ourselves. We came in here and we said our only regret would have been if we played scared and if we let them come at us. I think, along with all the players on my team, we walked off the field knowing every single girl did her best."
November, 22, 2009
11/22/09
6:09
PM ET
Stanford and Boston College played little more than a year ago, with the Cardinal coming out on top of a 3-0 decision in Palo Alto. Remarkably, that qualifies as ancient history when it comes to this year's quarterfinals in the NCAA tournament. UCLA and Portland meet for the fourth time in five years in the postseason. Florida State and Notre Dame meet for the fourth consecutive season. And North Carolina and Wake Forest meet for the second time this season.
In a tournament with few surprising results to date, no team will have the element of surprise on its side in the quarters.
No. 1 STANFORD vs. No. 2 BOSTON COLLEGE
Stanford profile: The Cardinal have the best front line in the country, although it overshadows a solid lineup from back to front. Senior forward Kelley O'Hara has emerged this season as the Hermann Trophy front-runner, but opponents find it hard to key on her with Christen Press and Lindsay Taylor alongside. When the midfield gets itself involved consistently, which isn't always the case, the Cardinal are almost impossible to defend.
Boston College profile: Likewise, an attacking third loaded with recognizable names overshadows a strong, composed back line and an athletic keeper. Freshmen Kristen Mewis and Victoria DiMartino might be the two most talented players, but there is plenty of experienced skill, including senior playmaker Gina DiMartino, Victoria's sister. Outside back Hannah Cerrone is valuable going forward and will need to balance that against measuring the Cardinal forwards.
No. 1 UCLA vs. No. 2 PORTLAND
UCLA profile: The Bruins have quietly been steamrolling opponents of late. In their past eight games, including three NCAA tournament games and four other games against NCAA tournament teams, they've put together a 29-4 edge on the scoreboard. A case could be made that forward Sydney Leroux has been the nation's best player over the past month.
Portland profile: You don't lose a Hermann contender like Michelle Enyeart -- injured in the final game of the regular season -- and continue without skipping a beat, but Portland has come close in putting up 10 goals through the first three rounds. There is speed all over the field, particularly on the flanks with players such as Kendra Chandhoke, and forward Danielle Foxhoven is as technical and polished a finisher as there is in the tournament.
No. 1 NORTH CAROLINA vs. No. 3 WAKE FOREST
North Carolina profile: The defending champion obliterated UCLA and Notre Dame 7-2 and 6-0, respectively, but had it share of ups and downs. Without injured speedster Nikki Washington, Tobin Heath and Casey Nogueira remain the most dangerous playmakers. Since allowing four goals in back-to-back losses at Florida State and Miami, a defense keyed by Whitney Engen, Rachel Givan and Kristi Eveland has posted eight consecutive clean sheets.
Wake Forest profile: Outscored 8-7 in their last five games before the NCAA tournament, the Demon Deacons have regained their defensive touch and found the luck any team needs in the postseason (advancing past South Carolina on a last-second header in the third round). Junior keeper Amanda Barasha has been solid since taking over the starting role following the team's 4-0 loss at North Carolina in late September.
No. 1 FLORIDA STATE vs. No. 2 NOTRE DAME
Florida State profile: Goal scorers always get the lion's share of attention, but Tiffany McCarty and Jessica Price deserve every bit of it. And a midfield that includes Amanda DeCosta and Becky Edwards can hold its own on any field. It's a young back line, regularly starting two freshmen and two sophomores, but it's a group with experience at both the college and international level.
Notre Dame profile: Moving Lauren Fowlkes up top proved the move that brought Randy Waldrum's lineup together after a slow start to the season. A less high-profile development, having Haley Ford available (she played 90 minutes in the third-round win against Oregon State after battling injuries for much of the past month) further solidifies an improving defense.
October, 4, 2009
10/04/09
11:22
PM ET
NEWTON, Mass. -- I've seen a few strange things unfold on a soccer field. North Carolina coach Anson Dorrance has seen far more. So perhaps his take on Thursday's showdown between No. 1 North Carolina and No. 6 Boston College is the place to begin.
"One of the most bizarre games I've ever been a part of in 33 years of coaching," Dorrance said.
The Tar Heels remained undefeated on the season (although for only about 72 hours, after a 1-0 loss at Virginia Tech on Sunday) by virtue of a 2-1 win that included two second-half penalty kicks off Boston College handballs. Both whistles appeared questionable, bordering on dubious, but it's always easy to armchair-quarterback a referee. And in this case, while the result is important in the race for eventual NCAA tournament seeding, it may not be as telling as the game.
Back-to-back, one-goal losses against Florida State and North Carolina notwithstanding, Boston College is a legitimate threat to make the trip to Texas for the College Cup.
"Two great teams, and in my opinion, maybe two top-four teams, battling it out in a very exciting game," Dorrance said. "The other thing I really respect about BC is they attack. Most teams we play bunker back and try and keep the score low. But they had no compunction but to go forward at every opportunity, and they're very dangerous going forward. They have talent all over the field, and I have a lot of respect for them and the way they played against us."
Two years ago, North Carolina escaped a trip to Massachusetts with a 2-1 overtime win on a cross from Meghan Klingenberg that fortune guided into the back of the net. But far more than was the case that night, the Eagles seized opportunities Thursday night to take the game to the opponent, something they can do because of a front five every bit the equal of North Carolina, Stanford, Portland and any other team you want to throw in the mix.
In Gina DeMartino, who missed parts of last season because of obligations to the Under-20 national team, sophomore Julia Bouchelle and senior Brooke Knowlton, the Eagles had a base of offensive talent returning this fall. But the addition of freshmen Victoria DiMartino (Gina's sister) and Kristen Mewis took things to a level that made Thursday's game so compelling.
"Both of them, obviously, have played in a lot of big games, both coming off the U-17 World Cup as two of the top scorers for the U.S. team," Boston College coach Alison Kulik said of her freshmen a week and a half before the North Carolina game. "And they're as proficient as two finishers that I've ever seen and that we've ever had in the program. That certainly has added to our attack. They're two of the reasons why you've seen -- because they're great servers of the ball, too -- why you've seen us score so many multiple-goal games."
Nobody flusters North Carolina's back line of Whitney Engen, Kristi Eveland and Rachel Givan, but Boston College isolated and pushed them to the edge repeatedly Thursday night.
September, 21, 2009
09/21/09
7:20
AM ET
Just as the frost on the windshield Sunday morning in Connecticut offered a reminder of what's ahead, the schedule shows that soccer season is already at its first major fork in the road.
The Pac-10 and West Coast Conference, demonstrating that coast's admirable ability to take life at a more leisurely pace, don't start conference play for another couple of weeks. But putting those two leagues aside for the moment, how do things look elsewhere?
Sadly, Neil Patrick Harris wasn't available to host, so you're stuck with me.
ACC
Early test: Boston College at Florida State, Sunday
Is North Carolina vulnerable after Sunday's 0-0 tie against Auburn? Don't bet on it -- the only two goals the Tar Heels have allowed all season came opening night at the end of a 7-2 rout against UCLA on a sloppy field. But this game in Tallahassee will be a showdown of perhaps the two teams best equipped to challenge the defending champs. After seeing the Eagles on Sunday, I'd put a midfield of Gina DiMartino, Julia Bouchelle and Kristen Mewis up against any group out there.
September surprise: Easily Maryland, which has a 1-0 win against Santa Clara to validate an 8-0-0 start. The Terrapins actually get first crack at the Seminoles, as they'll visit Tallahassee on Thursday.
Big 12
Early test: Kansas at Oklahoma State, Sunday
The Jayhawks got off to a fast start last season but finished under .500 in conference play, including a 1-3-1 record away from Lawrence. Oklahoma State is the defending conference champion but dropped its conference opener against Colorado (the lone Big 12 game played thus far). Texas A&M still seems like the class of the league, especially after beating Portland 3-1 this past weekend, but Sunday's game in Stillwater is a chance for the Jayhawks to show they're a real challenger and the Cowgirls to show they're not ready to be deposed.
September surprise: At this point, we know more about most Big 12 teams' ability to schedule advantageously than their ability to play great soccer, but Nebraska's prolific offense -- paced by freshman Morgan Marlborough's 13 goals -- is worth noting.
Big East
Early test: Rutgers at Georgetown, Friday
Georgetown produced the most emphatic result of the first Big East weekend, drubbing Villanova 4-0 (although the Hoyas then tied Penn 3-3 on Sunday). Like Santa Clara's Jordan Angeli, Georgetown's Sara Jordan returned for a sixth year after an injury-plagued career and has helped in tangible (four goals, four assists) and intangible ways.
September surprise: Minus a lost weekend in Philadelphia (defeats to Drexel and Penn), Pitt has enjoyed a banner September, capped by a win at Ohio State and a tie against West Virginia this past weekend in Morgantown, always a tough stop for Big East teams.
Big Ten
Early test: Penn State at Michigan State, Sunday
The Spartans were 7-0-1 entering Sunday's 1-1 draw at Eastern Michigan, but the result raises questions, given the caliber of opponent in many of those wins. The good news is they get a shot at instant credibility against Penn State. The Nittany Lions took the opposite route early, persevering through six consecutive one-goal games, including four losses, against likely NCAA tournament teams before breezing past Boston University and James Madison.
September surprise: Indiana reached the Sweet 16 two years ago, so surprise is a little strong, but the Hoosiers, at 8-1-0, including a win against Florida, are perhaps ahead of schedule.
SEC
Early test: Georgia at LSU, Friday
Two familiar conference contenders in recent seasons open this year's conference slate. After a disappointing opening loss at home against Memphis, the Tigers have shown a lot of fight, including a 1-0 loss against North Carolina and 2-2 tie against Duke this past weekend. Georgia has played a good schedule, albeit one short on ranked opponents, and will look to return the favor after LSU beat it in Athens last season. (The Bulldogs are 14-4-0 since that loss.)
September surprise: South Carolina is the undefeated SEC team with championship aspirations, but forget the quality of the schedule and give Mississippi State full marks for an 8-0-0 start. That's more wins than in any of the past four full seasons.