Category archive:

Massachusetts Minutemen
April, 22, 2010
04/22/10
3:18
PM ET
HAMDEN, Conn. -- As you listened to Massachusetts coach Elaine Sortino talk about the general evolution of pitcher Sara Plourde this season, it sounded like the sophomore ace must have had a rough day at the office during Tuesday's game against Quinnipiac.
[+] Enlarge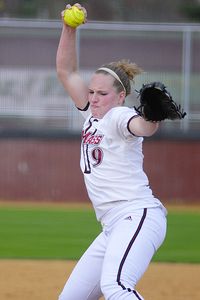 UMass Media Relations for ESPN.comUMass' Sara Plourde has pitched three seven-inning no-hitters this season.
"She's always been very, very strong-minded," Sortino said. "But the thing that she's worked on is her speed -- which she didn't have today, her movement -- which she didn't have very well today. But she managed to just get it where it needed to go."
Quinnipiac might agree with all of that -- except everything in the middle.
Despite, in her coach's words, struggling more than in any game so far this season, Plourde pitched her third seven-inning no-hitter of the campaign -- and her second in the past 11 days -- in a 6-0 win. She opened the game with three consecutive balls and eventually walked the leadoff hitter -- and then set down 21 of the final 22 batters.
"She didn't have her best pitch, she didn't have her second-best pitch, and she really had to struggle to get outs," Sortino said. "And the thing about her is she's unflappable. She's a gamer. She works through it. She stays with it no matter what. That's a nice demeanor for somebody that has such an effect on the game."
Plourde also struck out eight Bobcats, giving her 399 strikeouts for the season and moving her within 31 (or in Plourde-ese, a good weekend) of second place on the school's single-season list. And when the person you're chasing for first and second is former Olympian Danielle Henderson, and the person most recently passed is current Team USA hopeful Brandice Balschmiter, that's company worth keeping.
It was Balschmiter who guided the Minutewomen to within a win of the Women's College World Series as a freshman in 2006, and who last season nearly eliminated eventual champion Washington in regionals during an epic 15-inning duel against Danielle Lawrie. Replacing her in the circle should have been enough of a challenge. Replacing her in the record books is remarkable. And in addition to a typically solid, balanced lineup, it's why Massachusetts remains elite, ranked No. 22 in the nation.
"Brandice, I mean she threw hard; they both throw hard," centerfielder Carly Normandin said. "[Plourde], definitely though, I can see the pitches really breaking. People miss by like six inches, so it's unbelievable to see that."
Normandin owns a unique perspective on her young teammate, one that goes beyond the view from center field. She can commiserate with the 630 batters who have come up empty this season against Plourde; she's been there. Normandin spent last summer playing for the Stratford Brakettes, the renowned amateur team whose all-time player register reads like a softball hall of fame, from Bertha Tickey to Cat Osterman.
And Normandin was one of only three players to get a hit off Plourde when the pitcher led the Stratford Breakers to a 1-0 win that eliminated the Brakettes from the inaugural Women's Major Softball National Championship on the Brakettes' home field last August.
"It's different from my point of view, being on her team and watching her throw to other hitters and be behind her defensively," Normandin said. "But up at the plate, you really see the pitches moving. It's really tough to hit. Especially her rise ball; you think it's going to be a strike and it just goes up. It's a tough pitch to hit."
With due respect to the Breakers, that wasn't the Mets beating the Yankees. That was the Hackensack Bulls beating the Yankees. The Brakettes, a team Plourde grew up wanting to play for, might not have fielded their best team last year, but it still included hitters like Normandin, former Massachusetts standout Denise Denis, former LSU All-American Killian Roessner and current Kentucky All-American Molly Johnson.
And after a quiet freshman season in which she battled a rib injury and backed up Balschmiter, that one game might well have announced Plourde's arrival.
"It was more like a test, like a challenge to see what you can do with the defense behind you," Plourde said. "After that game, when we won, it felt really good, knowing they're a really good team and I pitched against them."
She's pitched against a lot of really good teams this season, including NC State, Missouri, Illinois State, Louisiana-Lafayette, San Diego State, Texas A&M, Fordham and Charlotte. She's also pitched against a lot of other teams because, well, she's pitched a lot of games. For the most part, Massachusetts' rotation lacks any moving parts.
The team has thrown 229.1 innings, and Plourde has thrown 210 of them.
She leads the nation in strikeouts per seven innings by a relatively slim margin -- 13.3 to 13.1 -- over Atlantic 10 rival Jen Mineau of Fordham, but she's also more than 28 strikeouts clear of Mineau or anyone else for the lead in total strikeouts. There might be some concern about fatigue as Massachusetts gears up for another postseason run (although it's worth noting that Tuesday's supposedly "off" effort came on four days' rest, more than she's had on all but four occasions). But Sortino, at least, isn't worried.
"Sara is the best athlete on the team," Sortino said. "And by that I mean she's the strongest in the weight room, she's the most durable -- when we run hills, Sara leads the pack. So if you're going for long distance and endurance, nobody is going to beat her. God bless her, she's a strong kid."
Graham Hays covers softball for ESPN.com. E-mail him at Graham.Hays@espn3.com.
February, 11, 2010
02/11/10
12:49
PM ET
1. Is the Pac-10 stronger than ever?
When Florida and Alabama opened last season atop the polls, the question of the moment was whether the SEC had caught the Pac-10 as the sport's pre-eminent power base.
By the time Washington finished celebrating its first national championship on the field at ASA Hall of Fame Stadium, it was clear the softball arms race -- ironically in one of the kindest seasons to batters in recent memory -- was nowhere near such a neat and tidy resolution.
The SEC and others are moving ahead full steam, but they're chasing a moving target.
Washington opens this season poised to defend its title and ranked No. 1. The first Pac-10 team other than Arizona or UCLA to win a national championship when it did so in 2002, Cal appears back in position to challenge for a spot in the World Series and possibly even a second title. Stanford keeps adding talent and can make a strong case as the best team not to reach the World Series in the past five years. A season after making do without Katie Burkhart well enough to reach Oklahoma City, Arizona State must repeat the process without Katie Cochran. But the Sun Devils have more than enough talent to avoid falling off the pace set by their 2008 title team.
And those are just the contenders that didn't win 19 of the first 24 NCAA championships, loot divvied up between UCLA (10 titles and one vacated title) and Arizona (eight titles).
[+] Enlarge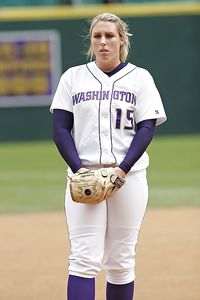 University of Washington Athletic Department If Washington makes it back to the WCWS, Danielle Lawrie will be a threat.
Is the rest of the country catching up to Arizona and UCLA? With as much talent as there is this season in Tucson and Westwood, it's undoubtedly so. It's just that to a greater degree than ever before, despite the Pac-10's long history of large World Series contingents, the rest of the country includes places like Tempe, Ariz.; Berkeley and Palo Alto, Calif.; and Seattle.
2. Is Washington the team to beat?
Even if you don't subscribe to the theory that the champions deserve that label until it's taken from them, the Huskies qualify strictly on the merits of the here and now.
That isn't to say coach Heather Tarr's team is unquestionably better than last season's version. It lost a huge tangible piece in All-American second baseman Ashley Charters and perhaps an equally noteworthy intangible piece in catcher Alicia Blake, Danielle Lawrie's catcher for three seasons. But the pieces the Huskies return -- and there are a lot -- should be better. Sophomores Kimi Pohlman and Niki Williams have a year of success to build on, while junior third baseman Morgan Stuart has a year of work at the hot corner to build on after shifting from shortstop. And senior Jennifer Salling, whose midseason arrival necessitated Stuart's shift, won't have to jump in midstream.
And there is, of course, Lawrie. After pitching through a stress fracture in her pitching arm for much of last season, she's healthy and without peer in the college ranks now that former Florida ace Stacey Nelson has moved on. Last year, Lawrie pitched through two road trips in regionals and super regionals, plus a long elimination day against Georgia in the World Series; in so doing, she proved she can overwhelm opponents when she's at her best and blink past when she's not.
3. Which player could alter the college softball landscape?
[+] Enlarge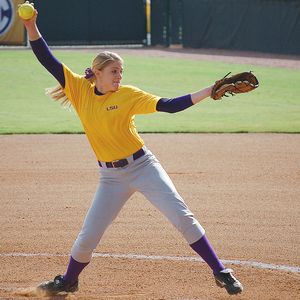 Matt Dunaway/LSU Athletics LSU's Rachele Fico has the potential to set herself apart from the crowd.
How's that for a buildup? But when you threw perfect games by the dozens in high school in Connecticut, helped a Florida travel ball team upset the softball establishment in knocking off the California powers to win the prestigious ASA Gold title, pitched against Team USA after your junior year in high school and earned space on "SportsCenter" and in The New York Times, lofty expectations get packed for school right along with the notebooks and clothes.
LSU freshman Rachele Fico is just one of several highly touted freshman pitchers dotting big-time rosters around the country, but she has the potential to set herself apart from the crowd.
All the accomplishments and experiences predating her arrival in Baton Rouge help, as does her place in a program with perhaps the richest softball tradition in the SEC but that, like the rest of the conference, is still looking for its first national championship. It also doesn't hurt that Fico has both the ability to blow pitches past batters and a sense of spin and control beyond her 18 years.
She even sounds like a seasoned vet in passing credit to her defense -- a defense that isn't likely to get a lot of work on days when she's on top of her game.
"I'm extremely comfortable with my team; I know I have a great defense behind me," Fico said a few days before her debut. "So I'm not scared to throw pitches and I know if they do get put into play my teammates are going to make the plays behind me."
The sport is also evolving to give freshman pitchers a greater shot at success. While Connecticut high schoolers still throw from 40 feet, Fico's experience in travel ball and pitching for the elite Stratford Brakettes amateur team (alongside players like former LSU catcher Killian Roessner) means pitching from a consistent 43 feet in college is actually something of a relief, rather than a challenge to overcome.
"My biggest adjustment to 43 feet with pitching was probably my changeup," Fico said. "When I switched to 43 feet, I had to work on getting the ball to get there a little bit more. But it's really nice to have those extra three feet because it gives us so much time to make the ball spin and get a little bit more break on it."
4. Which team could make a surprise trip to Oklahoma City?
There is almost always at least one team that sneaks up on fans and pundits. Two seasons ago, Louisiana-Lafayette went from No. 20 in the preseason Top 25 to the World Series. Last season Missouri and Georgia rose from Nos. 23 and 19, respectively, to Oklahoma City.
Now it's about time No. 19 Florida State ends its World Series hiatus.
The Seminoles will need more consistent run production this season, no small task considering they lost their best hitter, Kaleigh Rafter. A team that slugged an anemic .366 in 2009 has some work to do, but senior outfielder Carly Wynn (.530 slugging, .409 on-base percentage) is a good place to begin building a lineup. The Seminoles should once again get a boost from the transfer market -- like they did with Rafter -- with the arrivals of Jen Lapicki from Tennessee and Tory Haddad from Ohio State, patient hitters with the ability to add to the team's extra-base hit totals.
The good news is Florida State doesn't need to set scoring records as long as Sarah Hamilton and Terese Gober are splitting innings in the circle. The two combined to go 44-16 with 519 strikeouts and just 87 walks in 421 1/3 innings, reminiscent in some ways of Northwestern's duo of Eileen Canney and Courtnay Foster in that program's breakout 2006 campaign.
5. Who are three players who deserve a brighter spotlight?
Carly Normandin, OF, Massachusetts The Minutewomen might have been one of the best teams in the country last season. They just had the misfortune to play 22 innings against Danielle Lawrie on the final day of regionals. Ace Brandice Balschmiter is gone, which will make a repeat performance difficult, but Normandin was one of the toughest omissions from this season's ESPN.com All-America team. Her bat is streaky, but the end product (.727 slugging, .457 on-base percentage) is indisputably great. And what never wavers is her defense. It's tough to make declarative defensive statements without more widely available video and statistics, but I know this: I've never seen a better outfielder.
Kylie Reynolds, P, Kent State All she's done for the past three years is strike out batter and win games. A season ago, she finished sixth nationally in strikeouts per seven innings -- and it was the first season in which she didn't win MAC Pitcher of the Year honors (Ball State's Elizabeth Milian ended her run). In 236 innings, Reynolds struck out 345 batters and limited opponents to a .190 batting average. And Reynolds isn't just a MAC phenomenon. Last season alone, she struck out 11 in a loss at Arizona State, didn't allow an earned run in 7 2/3 innings in a loss against Iowa and shut out a good Texas State team for an upset win.
Melissa Roth, C, Louisville The Big East may not be the Pac-10 or SEC -- it may not even be the Big Ten or ACC -- but if you hit .444 with an .870 slugging percentage and .566 on-base percentage, you can get it done in any uniform. That includes the Team USA uniform Roth wore in the Pan American Games. Her only problem is she's caught, pun intended, at what's surprisingly one of the deepest positions when it comes to elite hitters, joining the likes of Sam Marder, Chelsea Bramlett and Stacie Chambers in fighting for recognition behind the plate.
Graham Hays covers softball for ESPN.com. E-mail him at Graham.Hays@espn3.com.
June, 1, 2009
06/01/09
3:51
PM ET
OKLAHOMA CITY -- Stacey Nelson and Danielle Lawrie proved throughout the season that they are the two best pitchers in the country. It's not revisionist history to separate them from the crowd of would-be contenders now that they're squaring off for the national championship; they separated themselves by dominating two of the toughest schedules in the country.
Nelson can be overpowering by any abstract measure, but she's truly dominant because of her ability to make hitters beat themselves. She confounds them with an array of pitches and leaves them guessing at which they can hit and which will result in little more than weak pop outs or groundouts.
It's no coincidence that both Arizona's Mike Candrea and Michigan's Carol Hutchins talked after losses about their respective teams' inability to adjust to Nelson and her corresponding ability to counter any eventual adjustments, and that Alabama was the only team that has made her look mortal to this point. The Crimson Tide had faced her four times this season and numerous times during the past few seasons. Without a lot of looks and a lot of All-Americans, the odds of making Nelson sweat are lottery-long.
Lawrie is the international veteran and the more traditional postseason workhorse, bringing a slightly higher strikeout rate (10.4 per seven innings, compared to Nelson's still-elite 8.9 per seven innings) and a slightly higher risk-reward element (0.85 extra-base hits per seven innings, compared to Nelson's 0.56 extra-base hits per seven innings).
But if the two aces are equals in the results they produce in the circle, they don't enter Monday's game on equal footing.
Look at the number of pitches each has thrown in the NCAA tournament.
DANIELLE LAWRIE
Regional: 578
Super regional: 212
WCWS: 467
Total: 1,257
STACEY NELSON
Regional: 189
Super regional: 170
WCWS: 277
Total: 636
At this time of year, the fact that a softball pitcher's motion is easier on the arm than a baseball pitcher's motion tends to wildly morph into the myth that softball pitchers can throw all day and still have the arm and legs to play some ultimate Frisbee at night.
One look at all the ice on Lawrie's arm after a game ought to dispel the notion that 100 pitches take no toll on the arm, and yet that's only a weakened branch compared to the tree trunk of a pitcher's legs. Florida coach Tim Walton, a former college baseball pitcher, touched on this topic before the season, talking about the importance of Nelson's improved conditioning through her years in Gainesville to her success.
"To say the body doesn't get sore when it throws 120 pitches in a game is absolutely crazy," Walton said in late January. "It's easier on the arm, but it's not easier on the body. The body still takes a toll throwing 120 pitches, and then having to turn around and possibly throw in the next game of a doubleheader. So I give our girls -- I give every girl, but I give our pitchers a lot of credit for having the ability to be able to separate themselves from the game and the competition and really [continue] competing at a high level. And knowing the difference between being sore and being hurt.
"That's the difference between a good athlete and a great athlete is they play through pain."
Florida's dominance and the presence of Stephanie Brombacher eased Nelson's workload this season, leaving her fresh now, but Walton might as well have included some stock tips, given how precisely his comments forecasted the challenge that now faces his foe. Consider that included within Lawrie's pitch count is a pair of doubleheaders: 285 pitches in two games against Georgia on Sunday and a staggering 395 pitches in two games against Massachusetts on the final day of the Amherst Regional.
That's the storyline of this championship series, whether Lawrie talks about it or not. (And never one to publicly linger too long on the philosophical side of things, she won't dwell on any possible negatives.)
It's not so much Lawrie's taking on Nelson as Lawrie's taking on time and physiology.
Lawrie is not quite the dominant pitcher she was in February. A few more pitches per game hang in the zone (two home runs in 30.2 innings here and six in 78.2 innings in the postseason, compared to six in 260 regular-season innings). Her counts go a little deeper, and she loses the additional hitter to a walk perhaps once every game or two. But even in her production at the plate, where she's hit three home runs and driven in 13 runs in the postseason, or stepping up with a vintage effort in a tight game against Arizona State, you see a pitcher doing what she can to plug the leaks in precision.
It's the mental toughness that Washington coach Heather Tarr identified as far back as February as the biggest evolution in Lawrie's game after a year with the Canadian Olympic team.
"I think taking a year off and spending it with older players and with the national team and international softball, it helped her just be more mature, mentally stronger," Tarr said in February at the Campbell-Cartier Classic in San Diego. "Physically, I think she's pretty much what she is; she's going to be what Danielle is going to be. But I think mentally, it kind of helped her take a step back and recognize, what does she really want to do in the game?"
After pitching 22 innings in the two games against Massachusetts on May 17, a little after 1 a.m., Lawrie offered this take on the specter of fatigue.
"You've got to look at what you've done to get there," she said. "You've got to look at all the money you've put in the bank. And you're not done spending."
Matched up against her lone equal in Nelson, she'll have to go for broke.
May, 31, 2009
05/31/09
6:37
PM ET
OKLAHOMA CITY -- Populated by parents, friends and other insiders of the teams on the field, there are two sections of seats at Hall of Fame Stadium in which fans stand up during games with some regularity. But when the other 8,000 people on hand rise, it's something other than the norm.
And the crowd Sunday was most definitely on its feet and on pins and needles -- or just shaking out the pins and needles in their legs after sitting for more than four hours -- when Georgia's Brianna Hesson drew a bases-loaded walk after fouling off three two-strike pitches to beat Washington 9-8.
It was the highest-scoring game in Women's College World Series history. It was the longest first seven innings in the event's history. It featured a record-setting performance from Washington freshman Niki Williams, who drove in seven runs. It was alternately mind-numbingly slow and breathtakingly dramatic. And it was only the opening act.
"I didn't think the game was going to go this way, but that's why we play the game," Washington coach Heather Tarr said. "You never know what's going to happen. And we've got to be more prepared to control our game. I don't think we did a very good job of that today."
With the dramatic win, in which it both rallied from a three-run deficit and watched a four-run lead evaporate on one swing of the bat, Georgia earns another shot at the Huskies later this evening. One loss from elimination after Thursday's opening round of games, the Bulldogs are now one win from the championship series.
As has been their style since the start of super regionals, the Bulldogs ceded the early momentum after Williams hit a three-run home run off Bulldogs starter Sarah McCloud to give the Huskies a 3-0 lead. That led to the first of four pitching changes and perhaps the most surprising, bringing Taylor Schlopy in from center field to pitch for just the fourth time this season and the first since Feb. 22 against not-quite-WCWS-bound UNC-Greensboro.
Schlopy held up her end of the bargain, getting through Washington's order once unscathed (she would earn another stint later between further duty in center), but it wasn't until coach Lu Harris-Champer turned to freshman Erin Arevalo that the Bulldogs silenced the Huskies. Pitching for the first time since the first week of April, Arevalo threw four shutout innings, allowing four hits and no walks.
"I thought she did an outstanding job," Harris-Champer said. "The best job she's done all season, and I'm extremely proud of her."
Harris-Champer wouldn't say who would get the ball to start the second game. Ace Christie Hamilton lasted just one inning in the first game, throwing 32 pitches and allowing three hits, two walks and four earned runs. At this point, unless there is something physically wrong with Hamilton, the likely bet would be she gets the ball with the suddenly deepened bullpen ready to go at the first sign of trouble.
For Washington, even after 164 pitches on the afternoon, it's Danielle Lawrie's game to win or lose tonight. On the plus side, she pitched 22 innings in two games against Massachusetts on the final day of regionals. On the negative side, she has a season's worth of use like that on her arm, and that regionals performance took place on a cool, New England night -- not under the hot Oklahoma sun.
What started as a massive advantage for the Huskies when Sunday dawned has shrunk to the slightest of edges. Their ace is tired, and the Bulldogs have seen her four times this season and come away with wins twice. For the newly crowned USA Softball Player of the Year to avoid prolonging a streak in which no player has ever won a national championship in the same year she won the award, Lawrie will need to pull out something special.
Georgia is closing fast, even if they have to slow games down and pull pitchers out of nowhere to do it.
"Everybody knows that me and Christie [Hamilton] don't want to stop playing," Kristin Schnake said after the win a night earlier. "We want to prolong this as long as we possibly can. And we want to be in that championship series."
May, 8, 2009
05/08/09
4:23
PM ET
Michigan travels nonstop during the softball preseason.
The Wolverines traveled every weekend for six weeks starting the first week in February and ending the second week in March. During that time they traveled to Florida twice, Nevada, Georgia, California and Kentucky. They played 15 games against opponents ranked in the Top 25.
And now the Wolverines are ranked seventh in the RPI.
Check the schedules. The better teams from the North and Midwest travel during the preseason. If you want to be the best, you have to be prepared for the road slog late in the season and play the best.
Michigan puts in the preseason travel time because without playing Big 10 teams, there is not enough competition around to prepare for league and postseason play. Missouri, Oklahoma and DePaul are among the other teams that travel often in the preseason for the same reasons. This year, they each traveled four weekends.
Jessica Merchant, a former national team member and national champion with Michigan who now coaches at UMass, recognizes the benefits of traveling in the preseason.
"Traveling a lot in the preseason has its pros and cons," Merchant said. "While it causes the student-athletes to miss a lot of class, which is not ideal, early preseason travel has the potential to create a hostile environment on the field that would simulate what a team might face in the postseason, which is important."
After traveling week after week in the preseason, teams get used to being on the road, taking care of schoolwork and living out of a suitcase. For many teams, league games can be pretty far from home. Michigan to Penn State is not close; neither is UCLA to Oregon or Missouri to Texas. Those teams that have been traveling together know the routine, are more comfortable together and are more inclined to have smooth transitions from home to away games.
In addition, when it comes time to play in regionals, super regionals and the WCWS, who knows where teams will travel. Knowing the travel routine and establishing chemistry off the field gives teams an edge over competition. This is why teams that travel early tend to succeed in postseason play.
Being able to adjust to grass and dirt in different locations is something that people take for granted. Playing surfaces can drastically differ from field to field and can change the way the ball moves. Being prepared to play on any surface during preseason play can give a team the advantage going into a regular-season game. After all, it takes only one bad hop to lose or win a game.
It is true that the athletes miss a lot of class during constant travel, as Merchant stated, but this is something that comes with the territory. It is good for student-athletes to get used to doing work on the road since it is something they will have to do throughout their careers.
Some may disagree and think that traveling early on wears teams out. However, teams that don't travel early and play a robust schedule may not have the RPI to make it into postseason.
April, 21, 2009
04/21/09
2:49
PM ET
During a game last week against Boston University, Massachusetts junior Sarah Reeves dug in at the plate to lead off the bottom of the second in what was still a scoreless tie. But as she readied herself with her back to her dugout on the first-base side, it became apparent that Minutewomen coach Elaine Sortino was tardy getting out to her turf in the third-base coach's box. A few steps out of the dugout, Sortino tried to call timeout, but the umpire didn't recognize it and Reeves wasn't about to risk missing a pitch by stepping out until he did.
The pitch came in and Reeves sent it back out with more pace, skimming a line drive over the fence in the left-center gap for an opposite-field home run and the game's first run.
Now, pardon a brief digression on the scenic route to a point.
Reeves is as proficient at the craft of hitting as anyone I've seen the past few seasons. That's not to say she has Stacie Chambers' power or Katie Cochran's wrists -- she may not be the most talented hitter on her own team. But while so many players look like assembly line automatons rushing through at-bats, she more often than not approaches her trips like an artisan craftsman. She's the definition of a hitter who can't be defined by batting average.
She led the team in walks a season ago and slugged .535 with a team-high 10 home runs. She's right there again, leading the team with 18 walks and slugging .553 with eight home runs. Samantha Salato may break the program's single-season home run record. Carly Normandin is hitting better than .400 with power. And Whitney Mollica has been a fixture in the heart of the order for four seasons. But if she's not the flashiest, Reeves is always just there.
She understands which pitches she can do something with and drives them. It's "see the ball; hit the ball," but with an understanding of all the possible permutations of the swing.
"You're always just trying to be aggressive up there," Reeves said. "[You're] just trying to find a ball on the plate, and if it's on there, swing as hard as you can and try not to get in the hole. So just trying to look inside or out -- wherever it is, just taking it left side if it's outside; if it's inside, driving it middle or left field."
And yet for all that, the difference between a home run and nothing at all in the game against BU was an umpire's selective hearing. That's what hitting is, no matter how talented you are or how well you understand what it is you're supposed to do up there. Granted, it flows both ways, and sometimes the soft pop-ups drop in for hits while the gap-bound line drives are intercepted by an unmoving infielder's glove. But as the luster of .300 averages and .400 on-base percentages attest, the odds are with the pitcher. The house usually wins.
Which is a really, really circuitous route to suggesting that while Massachusetts has its standard stellar offense -- and still has Brandice Balschmiter in the circle -- the difference for this team come the postseason could be in the area over which it has far more control.
Because if there's a lot that looks familiar about this team, a defense that ranks in the top 20 nationally in fielding percentage is a departure from the recent norm.
Three years ago, the Minutewomen committed 90 errors in 57 games and posted a cringe-worthy .948 fielding percentage. The starting infield alone committed 65 errors and it might have been worse if not for first baseman Amanda Morin, a gifted defensive player who saved plenty of potentially errant throws. To be fair, that team came within a game of the Women's College World Series, but just how many breaks it caught became more apparent in regional losses at home the next two seasons against Oklahoma and Stanford, respectively.
But gradually, even as those seasons unfolded, the defense changed. The fielding percentage improved to .957 two seasons ago and .967 last season. Reeves took over at first and kept it a strength. Mollica turned the errors of eagerness of her freshman year into just 11 errors in her past 88 games at the hot corner, dating back to the beginning of last season. Freshman second baseman Kyllie Magill has committed just four errors and leads the team with 66 assists, including a nifty backhand flip to first after ranging far to her left against the Terriers.
And between Normandin's ability to track down anything in the gap and senior Davina Hernandez showing off an Ichiro-like arm against Boston University, the outfield more than holds its own.
Perhaps it adds up to the final piece of the puzzle to get the team back to the super regionals or beyond.
"Defense wins championships; that's what Jess Merchant, our infield coach, always stresses," Reeves said. "So as long as we keep playing good defense -- I mean, offense in the games, sometimes you're going to struggle against good pitchers and you're only going to get maybe one or two baserunners. But if you keep playing defense, you're going to be in the game always.
"That's definitely a big thing this year -- that we're trying to reduce our errors. I think we've been pretty successful so far."
Late note: Proving there is still plenty of offense in Amherst, Salato claimed USA Softball Player of the Week honors. Tuesday's announcement came after a week in which Salato went 8-for-14 -- impressive enough on it's own but eye-popping considering seven of the eight hits were home runs.
February, 15, 2009
02/15/09
8:54
PM ET
SAN DIEGO -- If you want to assign blame for the prevalence of hype in our modern world, there is plenty fairly handed out to those of us who persistently peddle it.
But save a little for enablers such as Stanford freshman Ashley Hansen. Because sometimes a player comes along who provides the hype-addicted their justification to keep peddling.
It turns out, this season's biggest brand name among incoming freshman position players is, in fact, every bit as good as advertised. Actually, scratch that; she's even better.
Hansen arrived in Palo Alto, Calif., with the phrase "the only high school player invited to the United States national team selection camp in 2007" attached to her name as if it were the title of a member of Britain's royal family. And based on the way she tore through the Campbell/Cartier Classic at San Diego State during the second weekend of her college career, she may soon add the Pac-10 realm to her softball fiefdom.
"She is just a phenomenal ballplayer," Stanford coach John Rittman said. "She's a leader on the field as a freshman; she plays the game like a veteran. The toughest thing about Ashley is where to put her defensively because she plays a number of positions and she plays them all well. She's all that everyone talks about. I mean, if you just watch her work in practice, watch her work in the cage, watch her make adjustments at this level already, her coaches prior to her getting to Stanford have done an outstanding job with her. She's a special talent."
For the weekend, Hansen collected 10 hits and nine RBIs in four games and displayed range, soft hands and a strong arm at shortstop. She's hitting .531 through her first nine games, including three doubles, three triples and two home runs, with 17 RBIs.
Granted, a two-week introduction is a small sample size -- as Stephen Colbert might facetiously suggest, only time will tell if she's going to be a great player or the greatest player. But it's less hyperbole than logic to say she's going to be one of the most valuable players on the field for the next four years.
That she's already filling such a role speaks to an unusual combination of mental poise and physical polish for a player who won't turn 19 until after Pac-10 play begins. It's what comes from not only the memorable national team tryout but starring roles on teams that won the 2006 Junior Pan Am Championship and the 2007 Junior World Championship.
So while she shared any freshman's season-opening butterflies when she suited up for Stanford this spring, she had a unique reservoir of experience to call on while settling in. Neither the home run she hit in her first college at-bat nor the 0-for-4 effort in her second game shifted her out of gear. Nor, for that matter, did a misplaced step during infield drills before Friday's game against Long Beach State that sent her tumbling unceremoniously onto her posterior, much to the general amusement of her teammates.
Even budding superstars have to deal with the occasional stumble.
"I mean, there were initial nerves at first," Hansen admitted. "And being at shortstop, that's a big leadership position. But I've been in a lot of pressure situations before, so it's kind of a challenge for me, and I enjoy challenges."
Forget the way the ball explodes off Hansen's bat; watching her play reaches a point that when she takes three steps toward the left-field corner, leaps and comes up inches shy of snaring a backhand liner, as happened Friday against Long Beach State, it's almost disappointing. Softball is a game governed by a probability of failure, especially for batters -- but even as a freshman, Hansen is one of those talents who has the mental and physical tools to make success seem like a certainty in almost any situation.
"It's pretty rare," Rittman said. "I've been coaching for a number of years, and there have been a few that have come through with that kind of work ethic, focus and just savvy on the ball field. It's fun to watch her play, and a coach, when you get one like that, you just enjoy it."
No wonder the national team wanted to make sure it had the right mailing address for someone it will be contacting for years to come. Even if that initial invite left the then-Arizona high schooler at more of a loss than college pitchers have yet managed.
"At first, I saw the envelope and thought it was for the junior team or something," Hansen recalled. "And I opened it up and I was like, 'Mom, uh, this is for the women's team.' So it was really just a lot of shock and excitement."
Fans of college softball will share those sentiments when they see her in action.
Valentine's linkage: This is surely the first marriage announcement in this space, but Dick Baker recounts in The Republican, Friday the 13th wasn't unlucky for Massachusetts standout Whitney Mollica. Between periods of the Massachusetts-Northeastern hockey game, Mollica found herself the recipient of a marriage proposal from public address announcer Matt Goldstein -- Mollica's boyfriend -- during a goal-shooting contest. Thankfully for Matt's sake, considering she was still armed with a stick, she happily accepted.
January, 14, 2009
01/14/09
10:50
AM ET
Next up in the softball preseason top 20 is No. 17, a number worn by New York Giants wide receiver Plaxico Burress. And after the way Burress' saga unfolded (constantly and often loudly) on television, radio and internet throughout the latter half of the NFL season, that makes it a number that reminds me exactly how much I enjoy college softball.
17. Massachusetts
Last season: 42-13 (Lost to Stanford in Amherst regional)
[+] Enlarge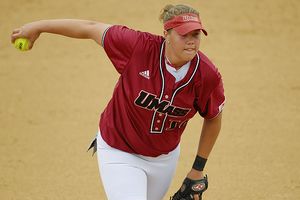 UMass Media RelationsSenior Brandice Balschmiter has allowed only 10 home runs in 818.2 career innings for UMass.
Preseason talking point: It's a moment already slipping into the mists of history, but Northwestern's memorable statement of resurgence under Kate Drohan at the 2006 Women's College World Series almost didn't happen. Hosting a super regional, the Wildcats dropped a 1-0 decision against Massachusetts in the opener and trailed 2-0 with one out in the sixth inning of the second game. After two bases-loaded walks tied the score in the sixth, a two-run double in the seventh won that game. A 9-0 win in the rubber match sent Northwestern to Oklahoma City and eventually the championship series.
And whether or not Massachusetts reaches Oklahoma City this year for the first time since 1998, Brandice Balschmiter is unquestionably five outs better than she was as the outstanding freshman who pitched every inning of that 2006 super regional.
Walks played a part in Balschmiter's undoing in Evanston, Ill., but there aren't many pitchers who have been more efficient over the past two seasons. After walking 102 batters in 289.1 innings as a freshman, she walked a total of 99 in 529.1 innings over her sophomore and junior seasons. And in 818.2 career innings, she's allowed only 10 home runs, or roughly one every 12 games. All of that on top of nearly 900 career strikeouts and a defense behind her with award-caliber gloves like Whitney Mollica at third and Carly Normandin in the outfield.
Even in a year when freshmen grabbed headlines across the country for their pitching exploits, five of the eight teams in last season's World Series arrived with senior aces. And from DePaul's Tracie Adix and Baylor's Lisa Ferguson in 2007 to Alabama's Stephanie VanBrakle in 2006 and Michigan's Jennie Ritter in 2005, one need not look too far into the annals history to find ample evidence that a senior ace is a good place to start when looking for World Series hopefuls beyond the usual Pac-10 suspects.
Random Quick Link
Although primarily an interesting update on Oregon adding lights to its field (though it won't play any Pac-10 games under them this season), Shawn Miller's article in the Eugene Register-Guard also offers a brief overview of Oregon's freshman class. The Ducks took a big hit when Jennifer Salling elected not to return to Eugene after playing for Canada in the Olympics and they don't factor into our preseason top 20, but they at least have some options in the circle with the addition of a pair of decorated freshmen from the Pacific Northwest.