Category archive:

Cal Poly Mustangs
April, 19, 2010
04/19/10
10:41
AM ET
Here are five teams that had an impact in NCAA softball last week.
[+] Enlarge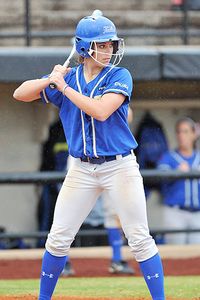 Walt Beazley/The University of TulsaTulsa's Samantha Cobb has 12 homeruns thus far this season.
Tulsa: The Golden Hurricanes lost a chance for a marquee midweek win in a 3-1 defeat at home against Oklahoma State, but got the wins they truly needed Saturday. Down 3-0 after one inning in the series opener against Houston, Tulsa rallied for an 8-4 win in that game and claimed a 7-1 win in the nightcap (Sunday's finale was rained out).
Tulsa opened last week No. 68 in the RPI and in the middle of the pack in Conference USA. It woke up Monday second in the conference heading into a road trip to fourth-place Central Florida, and it makes a strong case for at-large consideration for the NCAA tournament.
Despite the loss against Oklahoma State on Wednesday, Tulsa is 8-5 against RPI top-50 teams, including an earlier win against the Cowgirls in Stillwater.
The wins against Houston even came largely without the services of de facto ace Jackie Lawrence, who coach John Bargfeldt told announcers during Saturday's game had been hit in the head during batting practice. She didn't pitch again after three up-and-down innings in the first game, but freshman Kalynn Schrock came on in relief in both games and walked just three in 8.2 innings (she has a great strikeout rate but had walked 32 in 70.2 innings entering the series).
Shortstop Samantha Cobb, another freshman, had the big hit with a grand slam in the bottom of the sixth in the first game to break a 4-4 tie. With 12 home runs on the season, she's providing good protection for All-America hopeful Lauren Lindsay.
[+] Enlarge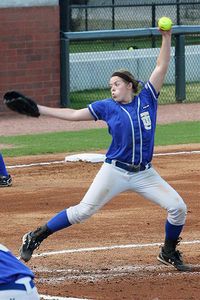 Walt Beazley for ESPN.comFreshman Kalynn Schrock came on in relief for Tulsa in both weekend victories against Houston.
Virginia: The only women's team at Virginia that has never advanced to an NCAA tournament, the Cavaliers bounced back from a bruising trip to Georgia Tech the previous week with four wins, including two to clinch a weekend series at home against fellow postseason hopeful NC State.
Freshman ace Melanie Mitchell went the distance in Saturday's 4-1 win in 10 innings and again in Sunday's 1-0 clincher in regulation. Mitchell is now 21-13 with 235 strikeouts in 214.1 innings. She may be a work in progress, but she gives Virginia the commodity every program needs to turn the corner: a workhorse ace in the circle.
"She's good now, but I don't even think she's really even -- she's going to be so much better in another year or two years, when she gets in the weight room, gets stronger and gets smarter," Virginia coach Eileen Schmidt said during last week's Georgia Tech series in which Mitchell started all three games. "She didn't really come in as high-profile as some of the other [freshmen pitchers] around the country, but she's worked her tail off. She's an engineering major; she's a smart kid."
If the Cavaliers can avoid a disaster at Boston College on Saturday and Sunday, they should be in the NCAA tournament; they already have wins against Michigan, Arizona and Louisiana-Lafayette, plus a top-30 RPI.
[+] Enlarge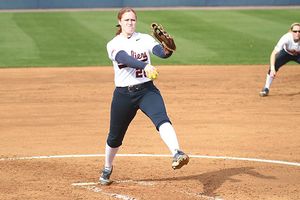 Virginia Athletics Virginia's Melanie Mitchell is a workhorse ace in the circle.
Cal Poly: By the close of business Sunday, not a single team in the Big West was more than a game above .500, the product of brutal early schedules across the board and balanced competition within the league. But even if there's a lot of the regular season left to play without a conference tournament to eat up the final week, Cal Poly helped its cause immensely with three wins against Cal State Fullerton.
The Broncos -- who went 0-10 out of conference against Arizona, Arizona State, Oregon, Stanford and Oregon, and are now 18-7 against everyone else -- claimed sole possession of first place with the sweep. First baseman Krysten Cary, outfielder Dana Perez and catcher Stephanie Correia each had at least one hit in all three games, and freshman pitcher Rebecca Patton won two starts to continue a recent hot streak.
The defending conference champions aren't even halfway home in the league yet, but despite five new starters in the lineup this season, the results look familiar.
Oregon: Hopefully I'll have more on Oregon later this week or soon thereafter, but coming off a sweep of Cal over the weekend, the Ducks defended their home turf as well as any team can reasonably hope to with one win in three starts against Washington's Danielle Lawrie.
It doesn't get any easier, with road trips looming to Arizona State, UCLA and Stanford, as well as a home series against Arizona, but even a hard-earned 4-8 record in those games would give the Ducks double-digit conference wins. First-year coach Mike White has to rank near the top of the list for coach-of-the-year honors for the turnaround he's engineered with a young roster. Freshman Jessica Moore closed out the win against Washington and remains fantastic, but full credit goes to sophomore Samantha Skillingstad for five shutout innings to start that game.
Florida State: Sometimes you move the needle in the wrong direction. Already on the fringes of the debate for an NCAA tournament seed, Florida State dropped two of three games at Virginia Tech and needed Sunday's 3-1 win to snap a five-game losing skid.
The Seminoles scored 14 runs in three games against the Hokies, their most in an ACC series not involving Boston College. But the generally stellar pitching duo of Sarah Hamilton and Terese Gober faltered during a week that also included a pair of losses at home against Florida. Opportunities remain with a home series against Georgia Tech and a trip to Virginia, in addition to the ACC tournament, but it looks more and more like Florida State will have to go the unseeded route in the NCAA tournament, possibly through an SEC landing spot like Gainesville, Fla. or Tuscaloosa, Ala.
Graham Hays covers softball for ESPN.com. E-mail him at Graham.Hays@espn3.com.
May, 17, 2009
05/17/09
12:11
AM ET
AMHERST, Mass. -- As one of the early hitchhikers on the South Dakota State bandwagon in women's basketball, I'll admit there's a certain allure to the idea of North Dakota State potentially playing on the biggest of softball stages at the Women's College World Series.
There's just something fun about getting the Dakotas involved in the sporting scene (other than ice hockey, of course). It's like watching the Olympic skier from Azerbaijan or the Faroe Islands' World Cup qualifying entry -- only with the added bonus that the underdog might win.
Then again, for all the hand wringing about when Oklahoma will get back to the event that takes place just a few miles up the road from its campus, it might be equally fun to cover one of the Sooner State's other teams making the trip to Hall of Fame Stadium.
The short of it is that either North Dakota State or Tulsa will be playing in a super regional next week, and that's the kind of thing that makes May worth the effort.
And strange as the words are to type, North Dakota State is in full control of its postseason destiny after finishing off an upset win against Oklahoma on Saturday morning and rallying to beat Tulsa later in the day. Win once more against Tulsa on Sunday and it's on to a super regional.
A shining example of why it's more useful to lose some games early in the season than run through a schedule devoid of postseason material, the Bison played Arizona three times, Kansas twice, Nebraska twice, Creighton twice and Jacksonville State once before opening up in the Summit League. It won only two of those games (one each against Kansas and Creighton), but that's from a program that was playing Bemidji State and New York Tech in Division II as recently as 2004.
And the credit goes to Andi Padilla for the current run. With 125 strikeouts and 110 walks in 232.1 innings this season, Padilla's numbers don't jump off the stat sheet. But the senior, who hadn't pitched more than 52 innings in any of her first three seasons, provided all the quality innings you could hope for in the Norman Regional.
There are still a few games remaining tonight, but since the Courtyard Marriott folks casting curious glances my way may at some point catch on to the fact that I'm not actually staying at their hotel, I'm going to hit a few big Saturday performances and hit the road.
Lisa Sweeney, Lehigh
Trying to get two wins in one day against Florida is less an uphill climb than a 90-degree incline, but Sweeney and Lehigh deserve credit for earning the right to try. For the second time in four years, Fran Troyan's program will play on a regional Sunday with a chance to advance to a super regional. Sweeney drove in a run in a win early Saturday against Florida A&M and then pitched a complete game to beat Texas A&M in the nightcap.
Stacie Chambers, Arizona
At first glance, it seemed perhaps Chambers had finally figured out how to hit the elusive five-run home run in an 18-4 win against Louisville. She's hit every other kind of home run enough times this season to presumably unlock any hidden Easter eggs. As it turned out, her nine RBIs on two hits actually came from mere mortal means, courtesy of two home runs, a sacrifice fly and a bases-loaded walk.
Anna Cahn, Cal Poly
Cahn opened the day by not only shutting out Portland State but outhitting them, picking up three hits to the two she allowed in the circle in a 5-0 win. She turned things over to Helen Pena in the day's second elimination game against Nevada. Pena tossed a complete game, allowing just four hits and one earned run in a 6-1 win.
Lisa Jansen, Mississippi Valley State
Courtesy of the delays that pushed back the schedule in the Tuscaloosa Regional, Mississippi Valley State gets a night to savor the program's first NCAA tournament win since 2004 before squaring off against Texas in an elimination game Sunday morning. Jansen made the one run her team scored stand up, beating Chattanooga with a two-hit shutout. (For more on the game, check out Tommy Deas' coverage of the regional for the Tuscaloosa News).
With Ohio State joining Georgia in the super regionals, it seems a good time to throw out a link to the softball coverage over at allbigten.com, where Andrew Linnehan correctly predicted the Buckeyes would survive.