Category archive:

Missouri Tigers
June, 5, 2010
06/05/10
8:16
PM ET
OKLAHOMA CITY, Okla. -- All Danielle Lawrie could do as her college career came to a close was watch from the on-deck circle, a player without peer at controlling the action left powerless by a perfect storm of defensive lapses, controversial calls and talented foes.
Arizona's 4-3 win eliminated defending champion Washington, forcing the best player in college softball out of Oklahoma City.
[+] Enlarge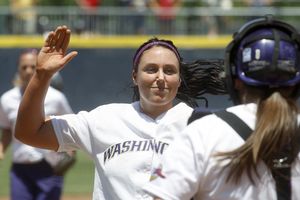 AP Photo/Sue OgrockiWashington's Danielle Lawrie finished her career with 136-42 record and 1,860 strikeouts.
Wildcats coach Mike Candrea is as familiar with Lawrie as any coach outside of Washington's dugout, having coached against her for four seasons in the Pac-10 and another year while both traded the 2008 college season for Olympic duty. When the game was over he passed up her outstretched hand and offered instead an embrace, the respect earned over years of competition obvious on both sides.
"She's a competitor," Candrea said. "If you watch her career -- I've seen it both internationally and where she's at today -- she's a young lady that I think has a lot to be proud of for where she's come in this game."
It was more than three years ago, during one of the first weekends of the college season at a tournament near Palm Springs, that I first saw Lawrie pitch in person. A lot of the details true in that moment in time have changed. She wasn't a former Olympian back then or the two-time reigning USA Softball Player of the Year.
For that matter, she was blonde.
But there was very little different about the demeanor with which she went about her business that weekend against opponents like Michigan State than during last year's march to a national championship or Saturday's start against Arizona.
"You can't just have the physical tools," Washington coach Heather Tarr said at the time of her then-sophomore coming off a super regional loss as a freshman against Cat Osterman. "She's obviously very strong and possesses some great, great skills physically, but the fact that she wants the ball and she wants to beat whoever it is that she's facing, that's a huge factor. She's got that little X-factor in her that gets her going."
Make no mistake, a pitcher can have all the will in the world and it won't take you to a national championship without, as Candrea rattled off in listing Lawrie's pitching attributes, the ability to throw the ball close to 70 mph and mix in pinpoint control and an offspeed pitch that had even former Arizona star Taryne Mowatt tweeting in envy Saturday.
Lawrie has physical gifts as a pitcher that set her apart from most of her peers. But that was only part of becoming one of the best of all time.
Washington fans will long remember Saturday's game as a series of botched calls by umpires and missed opportunities in the field. Lawrie allowed just one earned run. But from last week's super-regional comeback to last year's championship, the bigger picture is that nobody got more out of a career than the Canadian ace.
"I'm leaving at peace; I'm OK with it," Lawrie said. "I mean, obviously I'm upset, but God damn, the stress that I've been putting on myself lately -- I wanted to win, obviously, but right now I'm at peace. I'm happy."
Tigers hope for brighter WCWS future
Missouri is now 1-10 in five appearances in the Women's College World Series, the fewest wins of any program with at least that many trips. (Long Beach State is next at 5-10.) The problem the last two seasons, the only two appearances that fall under coach Ehren Earleywine's tenure, was offense. The Tigers scored just seven runs in four games between 2009 and 2010, capped off by Saturday's 5-0 loss against Florida.
But for a team that loses just three seniors, pitching offers hope of brighter times in Oklahoma City. Most doubted the Tigers would get here this season after losing ace Chelsea Thomas to a midseason injury. Instead, Kristin Nottelmann proved herself a capable No. 1 pitcher and should team with Thomas next season for an elite duo.
"Not to say that she wasn't a good pitcher before, but I think she really grew up this year and got to pitch in the bright lights and on the big stage," Earleywine said of Nottelmann. "So next year, that just deepens our pitching staff. And obviously the name of this game is pitching."
Graham Hays covers women's college softball for ESPN.com. E-mail him at Graham.Hays@espn3.com. Follow him on Twitter: @grahamhays.
May, 30, 2009
05/30/09
6:16
PM ET
Georgia's Christie Hamilton was called for an illegal pitch in the second inning of Saturday's game against Missouri. A right-handed pitcher who lines up at the far right edge of the pitching rubber, Hamilton uses the full width of the pitching lane (marked by two parallel white lines extending from each edge of the rubber) to get extra leverage on her pitches, landing at the left edge of the rubber when she releases the ball.
Speaking to a pool reporter from the AP after the game, Dee Abrahamson, the NCAA softball secretary rules editor, addressed the subject.
"The rule has been, for a long time, that the pitcher has to step toward the plate," Abrahamson said. "We really haven't changed the rule; what we did was added the lines to the pitching lane. These help remind the pitcher of where they are supposed to be and also assist umpires in making the call. It's more of a learning tool than anything else because it hasn't changed the way they pitch. They're supposed to stride forward. By putting those lines in, they need to stride that way. Some part of their foot has to be on or behind the line. No part of their foot can be completely outside the line."
Abrahamson said she felt the rule was properly enforced in the game.
May, 30, 2009
05/30/09
5:56
PM ET
OKLAHOMA CITY -- The team buses all come and go the same way at the complex that house Hall of Fame Stadium, but not all exits from the World Series are created equal. And so while Missouri's stay here this week bordered on stormy, the Tigers have at least a couple of potential routes to travel after bowing out of their first Women's College World Series in 15 years.
For now, the team's stay in the World Series may be primarily remembered for coach Ehren Earleywine's displeasure. After the team's opening loss against Arizona State, he voiced his displeasure about an infield he felt was unduly hard, to the detriment of his fielders against the Sun Devils' slap hitters. After Saturday's 5-2 loss against Georgia in an elimination game, illegal pitches were the focus of the discussion (although in this instance, Earleywine was more witness than prosecutor in answering postgame questions about his conversations early in the game with umpire Sally Walker).
But at some point in the next few weeks, the story will shift to how Missouri reached the World Series and whether or not it is positioned to make the trip a regular occurrence.
Many tackle the question; few come up with an answer.
For perennial participants along the lines of Alabama, Arizona or UCLA, an early World Series exit need not be a program-defining moment. But for many more programs, it does often represent a quiet end to the high-water mark for at least a few cycles of recruiting classes.
Many of those are teams that ride the momentum of a senior ace. Think Virginia Tech with Angela Tincher last year, Baylor with Lisa Ferguson in 2007 or Oregon State with Brianne McGowan in 2006. No matter how many other players return the next season for those programs, getting back to the World Series comes down to an ability to reload in the circle.
Oregon State is still searching for another ace in that mold, and Virginia Tech struggled this season without one. After an initial dip last season, Baylor took a step toward solidifying its place in the upper class when it landed freshman pitcher Whitney Canion and returned to a super regional this season.
But with Chelsea Thomas back for three more seasons, Missouri is in a different situation. No matter what befell her in Oklahoma City, Thomas has a chance to be the kind of pitcher who makes a team a contender every season.
"As long as she'll stay to the plan and be open-minded, she could end up being one of the best to have ever thrown because she does throw so hard," Earleywine said earlier this week.
And in paying tribute after Saturday's loss to the seniors he inherited three years ago, Earleywine simultaneously hinted at a confidence that he will surround Thomas with more and more pieces.
"We're playing with a lot of girls that weren't recruited by too many schools," Earleywine said. "I'm proud of the job that they have done. No one would really expect a group of kids that weren't recruited like they weren't to be able to make it this far. We had a great season. We recorded the most wins in Missouri softball history and made it to the World Series for the first time in 15 years."
That sounded a lot like Arizona State coach Clint Myers, who after his team lost its first two games in Oklahoma City in 2007 made clear that the returning players would need to learn from that feeling -- because there were new players coming in to push them. New and old celebrated a title last season.
Whether or not Earleywine's returning players -- and seven players who started against Georgia will be back next season -- make the same progress that Sun Devils such as Kristen Miller, Mindy Cowles and Rhiannon Baca made will go a long way to determining if Missouri's two-and-done this week is a one-and-done for the program as a championship contender.
And if Earleywine gets a chance for a slightly less combative trip to the big stage.
May, 30, 2009
05/30/09
1:32
AM ET
OKLAHOMA CITY -- It doesn't take long for the endless optimism of the opening ceremonies to transform into cold reality at the Women's College World Series. Tuesday night, fireworks greeted eight teams dreaming of a championship. By the end of the day Saturday (weather permitting), only half that number will remain in Oklahoma City.
Elimination day gets underway with two win-or-else games Saturday afternoon.
Missouri vs. No. 6 Georgia (ESPN/ESPN360, noon ET)
The Bulldogs have shown surprising resiliency for a team that's composed almost entirely of underclassmen playing for a program with a mixed postseason pedigree.
They dropped a 2-0 decision against Washington on March 7 and bounced back to run-rule Baylor later that day and exact revenge on the Huskies the next day. They dropped both games of a doubleheader against Florida on March 11 to open conference play in the SEC and bounced back to beat LSU three days later. They were swept in a three-game series at Alabama in early April, the last two by a combined three runs, and came back to beat Georgia Tech three days later.
And they trailed in both games of a super regional against Ohio State, only to rally for wins both times.
So bouncing back from a 3-1 loss against Washington in the opening game of the Women's College World Series on Thursday doesn't exactly shape up as an impossible challenge.
Senior Christie Hamilton and sophomore Sarah McCloud have alternated starts to this point in the postseason. But playing for the first time with a full day off between games, it will be interesting to see if coach Lu Harris-Champer puts her team's fate in the hands of the senior.
There are some notable similarities between Missouri and both North Carolina and Ohio State, earlier conquests for the Bulldogs -- all three teams led their respective leagues in walks and have lineups with several power threats.
Ironically, given the coach Ehren Earleywine's complaints about a hard field after his team's loss against Arizona State on Thursday, the biggest difference may be Missouri's ability to get things going with its running game. That should set up a nice battle between the Tigers, with speedsters such as Rhea Taylor, and a Georgia team that led the SEC in fewest sacrifices against and ranked second in fewest stolen bases against.
No. 9 Arizona vs. No. 4 Alabama ( ESPN/ESPN360, 2 p.m. ET)
For a team that would love to escape its World Series history, Alabama faces a very familiar challenge in Saturday's elimination game against Arizona. It's the second year in a row the two teams have met following disappointing opening-day setbacks.
Pitching decisions will be one of the stories leading into the game. Arizona coach Mike Candrea went with Lindsey Sisk in Thursday's game against Florida, bypassing de facto top choice Sarah Akamine in hopes of confounding the Gators and riding the momentum of Sisk's surprising performance in a super regional finale against Stanford. Neither angle proved successful, as the Gators hit two early home runs before Akamine came in and threw five-plus inning of shutout relief (then again, if Candrea hadn't played his gut by turning to Sisk against Stanford, his team might not have been in Oklahoma City at all).
Presumably Akamine will get the start this time, but it's conceivable that her control (132 strikeouts, 33 walks in 182.1 innings) may work to her detriment against an Alabama team that should be aggressive after an off day to digest missed opportunities.
Alabama coach Pat Murphy faces a quandary of his own, choosing between Dunne and Charlotte Morgan. One year ago, Dunne walked eight and hit three batters in an opening loss against Arizona State but got the ball two days later against Arizona. The Wildcats managed just five hits against Dunne that day, including a collective 0-for-8 from K'Lee Arredondo, Jenae Leles, Sam Banister and Lauren Schutzler (Brittany Lastrapes and Stacie Chambers did manage singles).
But after another game in which Dunne struggled to adapt to an uninviting strike zone, and knowing it's going to take two wins Saturday regardless, might Murphy turn things over to Morgan against a Wildcats team that can turn two walks into a three-run home run more easily than any other team?
May, 28, 2009
05/28/09
12:35
PM ET
OKLAHOMA CITY -- As is the case a lot of places, people in Oklahoma City tell you that if you don't like the weather, just wait five minutes and it will change. But nobody ever tells you what to do if you want to keep the status quo for a while longer.
It's a perfect day in Oklahoma City, wedged between the surprisingly cool temperatures yesterday and the impending return to normalcy -- i.e., heat and insufferable humidity.
The line already forming outside the main gates an hour and a half before first pitch between Washington and Georgia looked promising. The first session is usually a good barometer of how attendance will go for the rest of the event. It's a weekday afternoon, so it's not likely to be standing room only, but when the main stands around the field filled up last year and people started trickling into the large temporary bleachers in the outfield, it was pretty clear a record-breaking total attendance was in the works.
But like anything these days, it'll be interesting to see if the economy takes a bite out of ticket sales.
The marquee games may be in the evening session, with self-proclaimed underdog No. 1 Florida taking on actual underdog No. 9 Arizona in an SEC-versus-Pac-10 showdown and a battle of top-five seeds between No. 4 Alabama and No. 5 Michigan. But it's also a good afternoon to take a long lunch (or at least surreptitiously bring up ESPN360.com at work).
Washington vs. Georgia, 1 p.m. ET: No USA Softball Player of the Year has ever won a title in the same season in which she won the award. If Washington's Danielle Lawrie wants to end that streak, she and the Huskies can't afford to let this game slip away. More than any other team here, Washington relies on one pitcher. Lawrie certainly has shown an ability to throw a lot of innings in a short period of time (most recently logging 22 innings against Massachusetts on the final day of the regional in Amherst), but slipping into the loser's bracket here would make for a long road just to get to the championship series. (Watch this game: ESPN360.com)
Arizona State vs. Missouri, 3 p.m ET: Assuming Missouri coach Ehren Earleywine doesn't throw a curve and start Stacey Delaney, which isn't beyond the realm of possibility, a freshman pitcher will win a game at the World Series when Hillary Bach and Chelsea Thomas tangle. The Sun Devils are less likely to go to the bullpen, so it'll be interesting to see if the Tigers are able to make better adjustments as the game moves along. (Watch this game: ESPN360.com)
May, 8, 2009
05/08/09
4:23
PM ET
Michigan travels nonstop during the softball preseason.
The Wolverines traveled every weekend for six weeks starting the first week in February and ending the second week in March. During that time they traveled to Florida twice, Nevada, Georgia, California and Kentucky. They played 15 games against opponents ranked in the Top 25.
And now the Wolverines are ranked seventh in the RPI.
Check the schedules. The better teams from the North and Midwest travel during the preseason. If you want to be the best, you have to be prepared for the road slog late in the season and play the best.
Michigan puts in the preseason travel time because without playing Big 10 teams, there is not enough competition around to prepare for league and postseason play. Missouri, Oklahoma and DePaul are among the other teams that travel often in the preseason for the same reasons. This year, they each traveled four weekends.
Jessica Merchant, a former national team member and national champion with Michigan who now coaches at UMass, recognizes the benefits of traveling in the preseason.
"Traveling a lot in the preseason has its pros and cons," Merchant said. "While it causes the student-athletes to miss a lot of class, which is not ideal, early preseason travel has the potential to create a hostile environment on the field that would simulate what a team might face in the postseason, which is important."
After traveling week after week in the preseason, teams get used to being on the road, taking care of schoolwork and living out of a suitcase. For many teams, league games can be pretty far from home. Michigan to Penn State is not close; neither is UCLA to Oregon or Missouri to Texas. Those teams that have been traveling together know the routine, are more comfortable together and are more inclined to have smooth transitions from home to away games.
In addition, when it comes time to play in regionals, super regionals and the WCWS, who knows where teams will travel. Knowing the travel routine and establishing chemistry off the field gives teams an edge over competition. This is why teams that travel early tend to succeed in postseason play.
Being able to adjust to grass and dirt in different locations is something that people take for granted. Playing surfaces can drastically differ from field to field and can change the way the ball moves. Being prepared to play on any surface during preseason play can give a team the advantage going into a regular-season game. After all, it takes only one bad hop to lose or win a game.
It is true that the athletes miss a lot of class during constant travel, as Merchant stated, but this is something that comes with the territory. It is good for student-athletes to get used to doing work on the road since it is something they will have to do throughout their careers.
Some may disagree and think that traveling early on wears teams out. However, teams that don't travel early and play a robust schedule may not have the RPI to make it into postseason.
March, 15, 2009
03/15/09
8:53
PM ET
Having been holed up contemplating brackets and bubbles for much of the past week, please pardon the basketball on the brain. Hopefully it's not contagious.
• Forget Courtney and Ashley Paris; Oklahoma's basketball sister act is old hat (well, except for the whole scholarship repayment brouhaha). The new sibling story is the battle of the Akamine sisters on the softball diamond. All right, maybe it's not quite a headlining act yet, but Arizona junior Sarah Akamine and Penn State freshman Lisa Akamine did stage a family reunion of sorts at the Judi Garman Classic. The two weren't actually in the game at the same time, but they were the pitchers of record in Penn State's surprising 9-6 win, which stood as perhaps the tournament's biggest upset until Fullerton handed Washington a getaway day loss Sunday.
Even in defeat against Penn State, Arizona's Stacie Chambers hit two home runs, giving her a mind-boggling 17 home runs through 31 games. Then she went out and hit two more home runs later in the day, pacing the Wildcats to a 10-1 win against Notre Dame. Arizona State's Katie Cochran is typically the hitter that comes to mind when talking about record-setting performances coming out of the state of Arizona these days, but Chambers is more than half way to breaking the NCAA single-season record of 37 home runs, set by former Arizona slugger Laura Espinoza in 1995.
Chambers is a little off record pace and, typically, Pac-10 play would put a break on her pace, but the league doesn't seem to have its standard array of aces. After this weekend's display, at least it's a discussion.
• Missouri's men's basketball team had a good weekend, but the softball team made its own statement as it prepares to pursue its first conference championship since 1997. Wrapping up the last full weekend of nonconference play (Mizzou hosts Western Illinois in a doubleheader Wednesday and plays a midweek, two-game series at Houston later this month), the Tigers swept all four games at a tournament hosted by Coastal Carolina. That sweep included a pair of wins against North Carolina, the first wins against a ranked team this season for coach Ehren Earleywine's squad.
Senior Stacy Delaney capped off the trip with a five-inning no-hitter in Sunday's 8-0 run-rule win against the Tar Heels, but offense was the weekend's story. The Tigers scored 36 runs and have scored five or more runs 19 times this season. Missouri struggled two weeks ago to put runs on the board against UCLA No. 2 starter Whitney Baker (despite drawing seven walks) and San Diego State's outstanding duo of Samantha Beasley and Bailey Micetich. But getting to UNC's Lisa Norris and Constance Orr (Danielle Spaulding didn't play in any of her team's four games in the event after taking a pitch off the wrist against Florida State last week) lends some credibility to a lineup that has an .897 OPS, 56 extra-base hits and 76 stolen bases through 26 games.
With Oklahoma looking at least vulnerable, Missouri is at the front of a class of challengers in what suddenly looks like it could be an intriguing Big 12 race.
• If ever a team's bubble was going to burst, it should be after a weekend spent facing Danielle Lawrie, Morgan Melloh and Donna Bourgeois, in addition to Arizona and Arizona State's batting orders. Well, Michigan stared down that obstacle course and came out with four wins in the span of about 72 hours. Point taken, Wolverines.
Thanks in part to a typically rigorous schedule that included tests well before the weekend in Fullerton, Calif., Michigan didn't have impressive offensive totals entering the Garman. The bottom line on the stat sheet might still pale in comparison to some of the championship competition, but even after Lawrie shut the Wolverines out, scoring 23 runs against Arizona, Arizona State, Fresno State and Louisiana-Lafayette is impressive.
A pair of freshmen, Amanda Chidester and Stephanie Kirkpatrick, were particularly productive over the weekend. Kirkpatrick finished with five hits and four RBIs after collecting just eight hits in her first 22 games. Chidester entered the weekend with the team's best batting average and didn't hurt her cause with six more hits and four RBIs.
As good as Jordan Taylor and Nikki Nemitz are at minimizing mistakes -- they just don't walk hitters -- this team can win with an average offense. It appears it has more than that.
• No Mackin? No problem. At least, that seemed to be the case for Nebraska at the Garman without Robin Mackin. The Cornhuskers closed out the weekend with a 10-1 run-rule win against Penn State on Sunday, then capped on a 4-1 record in Fullerton that included a 2-0 win against Louisiana-Lafayette on Thursday (the Huskers also upset a ranked Lafayette team last season). The team is now 8-1 since Mackin's brief comeback ended with the talented Canadian pitcher opting for season-ending shoulder surgery and hopes for a healthy 2010 season.
Credit senior ace Molly Hill's return to form (10-3, 1.38 ERA) in the circle for some the team's success in Mackin's absence, as well as quality inning from promising freshman pitcher Ashley Hagemann (60 strikeouts in 39.2 innings).
But for the first time in a few years, give the offense equal credit. The Huskers have already hit 17 home runs in 20 games this season, two more than they hit in 53 games last season and three more than they hit in 57 games in 2006. Just as importantly, there are people on base when the Huskers put the ball in the gap or over the fence -- they're well over half way to last season's walk total and have a .406 on-base percentage.
March, 13, 2009
03/13/09
12:59
PM ET
Checking in on some of the weekend's most compelling plots in college softball:
SEC
Florida hits the road for the second consecutive weekend in conference play with three games at Mississippi, but the Gators used the middle of the week to good effect with a doubleheader sweep of Georgia at home Wednesday,15-0 and 4-0. The Bulldogs managed just two hits and one walk in 12 innings against Stacey Nelson and Stephanie Brombacher.
Those two wins made it three consecutive shutouts for the Gators, a streak worth noting after they had allowed at least one run in each of their previous six games. Considering they won all six of those games and outscored opponents 39-10 in doing so, a stray run or two isn't likely to cause many sleepless nights in Gainesville. But when you're talking about a national championship favorite, nits get picked, and the team's longest stretch without a shutout last season was seven games (at just about the same point in the season). The flip side is a shutout in the opener against Ole Miss would mean a fourth consecutive clean slate, something that the Gators never did last season.
• Elsewhere, LSU visits Georgia. A win against Washington on a neutral field last weekend hinted at the Bulldogs' upside, but balance that against the losses at Florida. Georgia went 1-11 against Alabama, Florida, LSU and Tennessee last season and scored only 19 runs in those 11 losses. With this season's series against Alabama coming in Tuscaloosa and the Tennessee series coming late in April, this three-game weekend set is an important chance to show the Bulldogs can hold serve at home against a team that conventional wisdom suggests they've passed in the conference pecking order.
Pac-10
We're still a couple of weeks away from conference play getting underway in the Pac-10, not that it's too early to start anticipating trips to the Bay Area for UCLA and Washington in what should be a heck of a first weekend. But with Arizona, Arizona State and Washington all in action at the Judi Garman Classic, which kicked off Thursday, it's still a busy weekend -- even with Stanford and UCLA off.
Arizona State probably has the toughest weekend of the three at the Garman, playing DePaul and Michigan, while Arizona and Washington face the Wolverines but don't get a look at the Blue Demons. It's also just the second trip away from Tempe for the defending champions (they beat Fullerton 6-3 on the road Thursday).
I was a little skeptical of talk out of Tempe that the Sun Devils might be better on offense this season than they were en route to the championship, but early evidence suggests it's a fair debate. Seven Sun Devils already have at least three home runs, including freshman Katelyn Boyd, who might be a better hitter than anyone the team lost after last season, as bold as that may sound.
But while Arizona State played a tough five-game set at the Cathedral City Classic, the rest of the schedule hasn't included a lot of postseason-caliber pitching (although they did get six hits and five runs off Iowa's Brittany Weil). So with the potential of facing either Jordan Taylor or Nikki Nemitz for Michigan, Becca Heteniak for DePaul, Molly Hill for Nebraska and even Brittney Bargar for Notre Dame, this weekend is a good opportunity for Arizona State's offense to show exactly how much potential is there.
Big 12
Speaking of Nebraska, Hill picked up a shutout win against Louisiana-Lafayette on Thursday night at the Garman, but news that Robin Mackin won't pitch this season is a tough blow for the Huskers as they look to the start of conference play next weekend.
Oklahoma joins Nebraska out in Fullerton, Calif., at the Garman. And the Sooners' loss to Notre Dame on Thursday ensured that the Huskers' win against Louisiana-Lafayette wouldn't be the opening day's biggest upset. Coming on the heels of last weekend's disappointing 1-3 record against Northwestern and Tennessee in games played in Norman, Okla., and Oklahoma City, the loss against the Fighting Irish sets up intriguing games against DePaul and Louisiana-Lafayette for the Sooners.
But as many good games as those two teams will play this weekend in Fullerton, I'm equally interested to see how Missouri fares against in a pair of games against North Carolina in Myrtle Beach, S.C. Both teams have good one-two punches in the circle -- Missouri with freshman Chelsea Thomas and senior Stacy Delaney, and North Carolina with Danielle Spaulding and Lisa Norris -- so both games should offer meaningful results.
And from the better-late-than-never file, this past week's award winners:
ACC
Pitcher: Danielle Spaulding, North Carolina
Player: Sarah Tacke, Virginia Tech
Big 12
Pitcher: Chelsea Thomas, Missouri
Player: Alysia Hamilton, Oklahoma State
Big East
Pitcher: Kristen Wadwell, Louisville
Player: Brianna Jorgensborg, Notre Dame
Big Ten
Player: Tammy Williams, Northwestern
Pitcher: Nikki Nemitz, Michigan, and Suzie Rzegocki, Purdue (shared)
Big West
Player: Melissa Pura, Cal Poly
Pitcher: Anna Cahn, Cal Poly
Conference USA
Player: Brooke Smart, Tulsa
Pitcher: Jordan Kinard, Tulsa
Missouri Valley
Player: Kelly Papesh, Northern Iowa
Pitcher: Tara Oltman, Creighton
Mountain West
Player: Jessica Purcell, BYU
Pitcher: Bailey Micetich, San Diego State
Pac-10
Player: Jenae Leles, Arizona
Pitcher: Missy Penna, Stanford
SEC
Pitcher: Kelsi Dunne, Alabama
Player: Kristin Schnake, Georgia
Southland
Hitter: Heather Mosser, McNeese State
Pitcher: Bethany Stefinsky, McNeese State
WAC
Player: Christina Capobianco, Boise State
Pitcher: Katie Holverson, Nevada