Category archive:

Oklahoma Sooners
June, 2, 2011
06/02/11
8:36
PM ET
OKLAHOMA CITY -- Sitting in a folding chair as people with cameras, notepads and a lot of questions surrounding her, the Oklahoma sophomore Jessica Shults looked a little nervous, a distinctly unfamiliar expression on the face of one of the sport's most charismatic players.
A few minutes before player introductions in advance of Thursday's World Series game against Arizona State, the young player prone to trying to chest bump unexcitable Oklahoma coach Patty Gasso explained her absence from not only the lineup but the dugout throughout the regionals and super regionals.
"The reason I haven't been playing all postseason is I was diagnosed with pan ulcerative colitis," Shults began.
That she was in uniform as she offered the words, and then in the dugout when the game began soon thereafter, underscores that the good news is abundant, despite the rather dire-sounding rundown of her recent whereabouts.
She said she lost 25 pounds since she began to notice symptoms about two months ago. She also confirmed she was hospitalized for 10 days during the postseason to receive proper medical and nutritional treatment for ulcerative colitis, which the Mayo clinic website describes as a genetic condition "inflammatory bowel disease [IBD] that causes chronic inflammation of the digestive tract. … Like Crohn's disease, another common IBD, ulcerative colitis can be debilitating and sometimes can lead to life-threatening complications"
But the disease has been manageable for Shults, and she said it will not keep her from returning to the field next season for the Sooners. In fact, Shults seemed to hold out hope that she might get a chance to play in some capacity this week, the team's first World Series trip since 2004, even as she admitted such a development was unlikely.
"I'm hoping, but we'll see," Shults said.
Her absence had been one of the NCAA tournament's biggest mysteries. Gasso remained noncommittal about the status of a star player who earned second-team All-American honors this season despite, as it turned out, battling those symptoms for much of the regular season's final two months (Gasso was unavailable for comment before the game). The revelation also explains why after starting the season on such a torrid pace that national hitting records seemed in play, Shults slumped at the plate during Big 12 play, at least by her rather lofty standards. After hitting .370 with 51 RBIs before Big 12 play began, she hit .307 with seven RBIs in conference play.
As Shults explained of her own mentality, "I figured, 'Well, I'll deal with this kind of when the season's over. I want to be here, I want to be on the team. I want to be on the field.' So that didn't work out too well. I should have probably taken things a little bit more seriously, because I didn't realize what it was doing inside me."
What was going on included stomach pain and internal bleeding, the former at least she attributed to nothing more than a diet she admitted perhaps wasn't exactly Olympian in standards. Given that she said she now feels "great" after treatment, she also wonders if maybe the same stubborn streak that assuredly helped propel her to the top of the sport in the first place might have cost her a chance to get better in time to play in Oklahoma City.
"I was kind of like maybe I should have taken the symptoms earlier on a little bit more seriously and maybe I would be in the postseason right now. I ignored symptoms, and that's kind of [why I] wanted to tall about it, so people who are seeing these symptoms will go and get checked to see what's going on in there because it can get pretty serious."
The good news is that despite the initial shock of a diagnosis of a disease she knew nothing about, it appears small changes to her diet and medicine should ensure her life doesn't change in any dramatic way. And that the next time Shults faces the media in Oklahoma City, it may well be after a game-winning home run.
And that may be precisely why she feels so much has changed.
"Honestly, [I'm] a changed person being diagnosed with this because I just can't take life for granted anymore," Shults said. "And being on the field made me realize that I love this sport, I love this team, I love Oklahoma and I just am so excited to be back here and having the opportunity even to be sitting with my team."
As the Sooners begin World Series play, just having Shults back in uniform and cheering her teammates was something good to see.
January, 31, 2011
01/31/11
9:00
PM ET
Editor's note: Graham Hays is counting down to the start of the 2011 college softball season with a look at each of the teams in his top 20. Check back daily for updates.

No. 9 Oklahoma
Last season: 47-12, lost in Seattle Super Regional
Who returns: The battery of Keilani Ricketts and Jessica Shults returns, and you'll have to excuse Sooners fans if they're a bit giddy in realizing this is just the first of three times they get to say that about two sophomores already playing at an All-American level. Shults played more first than catcher last season, but with an opening behind the plate she'll move back to a position her natural leadership skills will be of the most use. Her bat (1.145) speaks volumes, no matter what kind of glove you give her. Haley Nix (.972 OPS) and Brianna Turang (.317 BA, 20 SB) also return as the core of a batting order that also includes Ricketts.
Who departs: It might not draw as much attention as Danielle Lawrie, Megan Langenfeld or Jen Yee, but the departure of Amber Flores after four seasons is a major loss. And as good as Shults is, it will take someone of precisely that quality to step in for Lindsey Vandever. Karolyne Long, who started 59 games as a sophomore, mostly at short, is no longer with the program.
Who arrives: Destinee Martinez may make the loudest impression out of a six-player freshman class with plenty of potential to make noise. Coach Patty Gasso appears to be penciling, and perhaps inking, Martinez in for center field. Brittany Williams could also make the lineup card for the opener at first base, while Javen Henson and Ali Vandever are dueling for shortstop duties.
Statistically speaking: Pitchers who hit are generally not among the most patient people at the plate, but despite somewhat limited plate appearances Ricketts missed the top 10 in walks in the Big 12 by two free passes.
Preseason question: Can Ricketts carry the Sooners 25 miles?
That's the distance, give or take a wrong turn, between the University of Oklahoma and Hall of Fame Stadium in Oklahoma City. Yet, since the Sooners last made the trip in 2004, their fifth in a row, it might as well have come with a stopover on K2 for the frustration involved.
After persevering through those postseason disappointments, waiting a few months for Ricketts to work through freshman growing pains is a small price to pay if the result is an ace worthy of Oklahoma City.
Ricketts put together phenomenal numbers as a freshman, finishing with a 32-10 record, 1.24 ERA and 346 strikeouts in 259.2 innings. But even for a pitcher who picked up two wins on the first day she ever threw a college pitch, there was a learning curve.
"We had to change some of the windup a little bit because we felt like she was exposing her pitch too much," Gasso said. "That was an adjustment for her. She kind of had her guard up with that. If it's not broke, you don't fix it, but it was enough that people were able to see some of what she was doing. She started to realize that and kind of surrendered to us, and we got her to trust that we know what we're doing. It's just that -- having been so dominant and feeling like you can bring that right into the Division I level -- there's a lot of things you've got to learn, a lot of adjustments you have to make. And it was getting her to recognize that a little change is good."
The result was evident on the stat sheet, as Ricketts' strikeout rate rose nearly a strikeout per seven innings in conference and postseason play. It was also evident in the demeanor of the pitcher, who went toe-to-toe with Danielle Lawrie on the road in a super regional. Lawrie got the best of her in the end, but Ricketts left little doubt she could carry a team to the Women's College World Series. No matter how short a trip it is.
"Keilani handled everything like a veteran," Gasso said. "I thought she was outstanding. And although we didn't get the outcome we wanted, I felt like we walked away a little more grown up, a lot more mature. She was in the closest thing you can be to being in the World Series, and I think she did a great job."
April, 14, 2010
04/14/10
4:59
PM ET
Oklahoma coach Patty Gasso might as well have been speaking for the entire college softball community after a game at a tournament earlier this season in California.
[+] Enlarge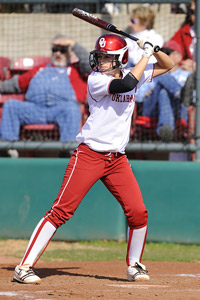 Oklahoma Athletics Oklahoma's Jessica Shults is among a large segment of freshman standouts this season.
"She is above and beyond what I thought she would bring us this freshman year," Gasso said.
The "she" in question in that case was Sooners freshman catcher/first baseman Jessica Shults, but the sentiment applies to an astonishingly large segment of the softball population. There are always standout freshmen who excel, but youth is particularly well served this spring.
• As of April 11, freshman hitters owned 10 of the top 30 slugging percentages in Division I. Texas A&M's Meagan May leads the Big 12 in slugging, Oregon's Sam Pappas is second in the Pac-10 in slugging, and while the SEC slugging lead is solidly in the hands of upperclassmen, Tennessee's Raven Chavanne and Kat Dotson and Alabama's Kayla Braud all rank in the top 5 in batting average as freshmen.
• In this week's USA Softball/ESPN.com Top 25, 11 teams had freshman pitchers filling prominent roles, including four teams in the top 10 for whom a freshman either led in innings pitched or split starts evenly (Arizona's Kenzie Fowler, Georgia Tech's Hope Rush, Oklahoma State's Kat Espinosa and Stanford's Teagan Gerhart).
When Gasso made her comment, Shults had just punctuated a 6-1 win over Oregon State with a three-run home run to close the scoring. It was her second home run of the day -- the first came in a 7-4 loss against Washington ace Danielle Lawrie, still one of just seven home runs the reigning USA Softball Player of the Year has allowed in 162 1/3 innings this season. (Lawrie has allowed just 23 earned runs this season, and four of them were driven in by Shults on two hits in that game.)
And yet taking Lawrie deep might not have been the most precocious thing she did that day. As the Sooners shook hands and congratulated each other after the nightcap win against Oregon State, Shults tried to chest-bump her coach, who aside from an occasional harangue directed an umpire's way, is as abundant a source of emotion as the Oklahoma landscape is of shade in summer. At least on this count, Shults had finally met her match.
"She's just a goof like that," Gasso said of the near-bump. "Just a very bubbly, free personality that's a breath of fresh air, really."
Fast forward to this weekend's pivotal Big 12 showdown between Oklahoma and Texas in Austin (ESPN, ESPN3.com Sunday, 3 p.m. ET), and Shults is still at it. She trails only Amber Flores in slugging percentage for the Sooners, and her .702 mark is good for fifth overall in the Big 12. With 22 walks against 25 strikeouts and an on-base percentage well above .400, she's no free swinger, either. And all of that comes with the added pressure of protecting Flores as Oklahoma's cleanup hitter.
"She just looks like a veteran," Gasso said back in late February. "I'm waiting to see her stumble. We've been in huge games [in the season's opening weeks] and she seems to get better as the game is bigger. It's really fun and exciting to see what our future holds. She's a spark and she's just very poised. And I think our players really enjoy -- she helps spark our team, and I think our players really step up around her."
The series against the Longhorns is a freshman showcase. Both teams lean heavily on freshman aces: Ricketts for Oklahoma and Blaire Luna for Texas. And there are big freshman bats beyond Shults in Sooners teammate Brianna Turang and Longhorns standout Taylor Hoagland. All five make the list of freshmen worth watching -- and considering for All-America honors -- as the regular season winds to a close. Among the contenders:
(All stats through games of April 12, except Oklahoma, through games of April 10)
Graham Hays covers softball for ESPN.com. E-mail him at Graham.Hays@espn3.com.
May, 17, 2009
05/17/09
12:11
AM ET
AMHERST, Mass. -- As one of the early hitchhikers on the South Dakota State bandwagon in women's basketball, I'll admit there's a certain allure to the idea of North Dakota State potentially playing on the biggest of softball stages at the Women's College World Series.
There's just something fun about getting the Dakotas involved in the sporting scene (other than ice hockey, of course). It's like watching the Olympic skier from Azerbaijan or the Faroe Islands' World Cup qualifying entry -- only with the added bonus that the underdog might win.
Then again, for all the hand wringing about when Oklahoma will get back to the event that takes place just a few miles up the road from its campus, it might be equally fun to cover one of the Sooner State's other teams making the trip to Hall of Fame Stadium.
The short of it is that either North Dakota State or Tulsa will be playing in a super regional next week, and that's the kind of thing that makes May worth the effort.
And strange as the words are to type, North Dakota State is in full control of its postseason destiny after finishing off an upset win against Oklahoma on Saturday morning and rallying to beat Tulsa later in the day. Win once more against Tulsa on Sunday and it's on to a super regional.
A shining example of why it's more useful to lose some games early in the season than run through a schedule devoid of postseason material, the Bison played Arizona three times, Kansas twice, Nebraska twice, Creighton twice and Jacksonville State once before opening up in the Summit League. It won only two of those games (one each against Kansas and Creighton), but that's from a program that was playing Bemidji State and New York Tech in Division II as recently as 2004.
And the credit goes to Andi Padilla for the current run. With 125 strikeouts and 110 walks in 232.1 innings this season, Padilla's numbers don't jump off the stat sheet. But the senior, who hadn't pitched more than 52 innings in any of her first three seasons, provided all the quality innings you could hope for in the Norman Regional.
There are still a few games remaining tonight, but since the Courtyard Marriott folks casting curious glances my way may at some point catch on to the fact that I'm not actually staying at their hotel, I'm going to hit a few big Saturday performances and hit the road.
Lisa Sweeney, Lehigh
Trying to get two wins in one day against Florida is less an uphill climb than a 90-degree incline, but Sweeney and Lehigh deserve credit for earning the right to try. For the second time in four years, Fran Troyan's program will play on a regional Sunday with a chance to advance to a super regional. Sweeney drove in a run in a win early Saturday against Florida A&M and then pitched a complete game to beat Texas A&M in the nightcap.
Stacie Chambers, Arizona
At first glance, it seemed perhaps Chambers had finally figured out how to hit the elusive five-run home run in an 18-4 win against Louisville. She's hit every other kind of home run enough times this season to presumably unlock any hidden Easter eggs. As it turned out, her nine RBIs on two hits actually came from mere mortal means, courtesy of two home runs, a sacrifice fly and a bases-loaded walk.
Anna Cahn, Cal Poly
Cahn opened the day by not only shutting out Portland State but outhitting them, picking up three hits to the two she allowed in the circle in a 5-0 win. She turned things over to Helen Pena in the day's second elimination game against Nevada. Pena tossed a complete game, allowing just four hits and one earned run in a 6-1 win.
Lisa Jansen, Mississippi Valley State
Courtesy of the delays that pushed back the schedule in the Tuscaloosa Regional, Mississippi Valley State gets a night to savor the program's first NCAA tournament win since 2004 before squaring off against Texas in an elimination game Sunday morning. Jansen made the one run her team scored stand up, beating Chattanooga with a two-hit shutout. (For more on the game, check out Tommy Deas' coverage of the regional for the Tuscaloosa News).
With Ohio State joining Georgia in the super regionals, it seems a good time to throw out a link to the softball coverage over at allbigten.com, where Andrew Linnehan correctly predicted the Buckeyes would survive.
May, 8, 2009
05/08/09
4:23
PM ET
Michigan travels nonstop during the softball preseason.
The Wolverines traveled every weekend for six weeks starting the first week in February and ending the second week in March. During that time they traveled to Florida twice, Nevada, Georgia, California and Kentucky. They played 15 games against opponents ranked in the Top 25.
And now the Wolverines are ranked seventh in the RPI.
Check the schedules. The better teams from the North and Midwest travel during the preseason. If you want to be the best, you have to be prepared for the road slog late in the season and play the best.
Michigan puts in the preseason travel time because without playing Big 10 teams, there is not enough competition around to prepare for league and postseason play. Missouri, Oklahoma and DePaul are among the other teams that travel often in the preseason for the same reasons. This year, they each traveled four weekends.
Jessica Merchant, a former national team member and national champion with Michigan who now coaches at UMass, recognizes the benefits of traveling in the preseason.
"Traveling a lot in the preseason has its pros and cons," Merchant said. "While it causes the student-athletes to miss a lot of class, which is not ideal, early preseason travel has the potential to create a hostile environment on the field that would simulate what a team might face in the postseason, which is important."
After traveling week after week in the preseason, teams get used to being on the road, taking care of schoolwork and living out of a suitcase. For many teams, league games can be pretty far from home. Michigan to Penn State is not close; neither is UCLA to Oregon or Missouri to Texas. Those teams that have been traveling together know the routine, are more comfortable together and are more inclined to have smooth transitions from home to away games.
In addition, when it comes time to play in regionals, super regionals and the WCWS, who knows where teams will travel. Knowing the travel routine and establishing chemistry off the field gives teams an edge over competition. This is why teams that travel early tend to succeed in postseason play.
Being able to adjust to grass and dirt in different locations is something that people take for granted. Playing surfaces can drastically differ from field to field and can change the way the ball moves. Being prepared to play on any surface during preseason play can give a team the advantage going into a regular-season game. After all, it takes only one bad hop to lose or win a game.
It is true that the athletes miss a lot of class during constant travel, as Merchant stated, but this is something that comes with the territory. It is good for student-athletes to get used to doing work on the road since it is something they will have to do throughout their careers.
Some may disagree and think that traveling early on wears teams out. However, teams that don't travel early and play a robust schedule may not have the RPI to make it into postseason.
May, 5, 2009
05/05/09
9:44
AM ET
Following up on
Sunday's bracketology
, and since my opinion is just that, check out another take with the
projections over at Ultimate College Softball
.
Now on to a quick look at eight intriguing conference tournaments.
ACC
Host: NC State
Top seed: Georgia Tech
Top challenger: Florida State
Georgia Tech in Twitter length
It's a rare combination, but Georgia Tech is both a great power-hitting team and one of the surest fielding teams in the nation.
Sleeper: North Carolina
No real sleepers, only a sub-favorite. And speaking of defense, the Tar Heels had eight errors in six games against Florida State and Georgia Tech. They had 30 errors in their 48 other games.
NCAA spin
Georgia Tech, Florida State and North Carolina are safe, but there could be at least one NCAA seed on the line. With the weakest RPI of the three, Georgia Tech may need to win both the regular season and conference tournament to be among the top 16 in the national bracket.
AMERICA EAST
Host: Stony Brook
Top seed: Stony Brook
Top challenger: Boston University
Stony Brook in Twitter length
Stony Brook led the league in slugging, on-base percentage and ERA, and was second in fielding. It was also last in vulnerabilities.
Sleeper: Albany
Leah McIntosh threw four perfect games this season. Considering she has allowed just 77 hits and 17 walks in 149.1 innings, she also threw a lot of near-perfect games.
NCAA spin
It's a deep, balanced field of contenders, but this remains a one-bid league.
ATLANTIC SUN
Host: Stetson
Top seed: Campbell
Top challenger: Lipscomb
Campbell in Twitter length
Silenced against North Carolina and East Carolina, the offense put up 27 runs in six games against Lipscomb, Mercer and Florida Gulf Coast.
Sleeper: Mercer
The offense hasn't always been there, but with two of the league's top pitchers in Jenni Holtz and Lacey Richardson, the Bears are built to cause postseason headaches.
NCAA spin
Your guess is as good as mine. All three of the top teams are within a few places of each other in the 50-60 RPI range. Any team that doesn't get to the final is probably out. If two of the three make it to the final, the loser has to hope RPI counts.
BIG 12
Host: Neutral (Oklahoma City)
Top seed: Oklahoma
Top challenger: Missouri
Oklahoma in Twitter length
Although it came in limited at-bats, Krystle Huey's .400-plus on-base percentage in Big 12 play added another layer to a potent offense.
Sleeper: Texas
Texas and Oklahoma may have been separated by a full three wins in conference play, but they were also separated by all of about nine singles across the statistical spectrum. On paper, Texas is a team with upside.
NCAA spin
Oklahoma State needs at least a win to shore up its case. Everyone else looks safe, but a title for Oklahoma might help it host any potential super regional.
CONFERENCE USA
Host: UTEP
Top seed: Tulsa
Top challenger: East Carolina
Tulsa in Twitter length
Tulsa had the best on-base percentage in Conference USA, but in losing two of three at East Carolina, it walked just twice.
Sleeper: Central Florida
Throw out a loss at Florida (and at 3-0, it wasn't a bad loss in its own right) and UCF was 10-5 in its past 15 games. There's no Allison Kime around this season, but junior Ashleigh Cole has allowed just eight earned runs in her past 37.1 innings (1.50 ERA).
NCAA spin
If Tulsa and East Carolina get to the final, whichever team loses would have a very strong case for an at-large bid. The math may not be as kind to Marshall and Houston, but reaching the final is probably their only hope of at-large consideration.
HORIZON
Host: Butler (neutral field)
Top seed: Illinois-Chicago
Top challenger: Cleveland State
Illinois-Chicago in Twitter length
The Flames came alive at the plate after a tough early schedule. They don't hit for power, but they draw walks and move runners over.
Sleeper: Wright State
Without a senior on the roster, Wright State may just be setting the stage for next season, but behind Justine Shilt and Jamie Perkins, the Raiders hit the ball hard and field it well.
NCAA spin
Only the automatic bid will make it, which is why it's intriguing with so many contenders.
SEC
Host: Tennessee
Top seed: Florida
Top challenger: Alabama
Florida in Twitter length
The Gators averaged more than six runs per game in the regular season. Their opponents averaged fewer than six runners per game.
Sleeper: Tennessee
Not exactly going out on a limb with the home team, but the Lady Vols -- fourth in OPS, fifth in ERA and third in fielding percentage -- have the best balance outside of the big three.
NCAA spin
Auburn and Arkansas would cement their profiles with monumental upsets, but getting here was probably enough for both. A win against Alabama in a potential semifinal would solidify Georgia's case for a top-eight national seed.
SOUTHLAND
Host: McNeese State
Top seed: Texas State
Top challenger: McNeese State
Texas State in Twitter length
Texas State went 23-6 during the marathon conference season, losing just one series at home along the way -- against McNeese State.
Sleeper: Nicholls State
Only one pitcher worked more innings in conference play than Nicholls State junior Lacey Gros, who struck out 147 batters in 132 innings.
NCAA spin
Texas State has an at-large case if it doesn't win, but as it learned last season, that's a route that often leads to disappointment for mid-majors.
April, 15, 2009
04/15/09
1:58
PM ET
Counting down the top 10 places I'd like to camp out in the bleachers this weekend. (You can catch Winthrop-Radford, UCSB-Long Beach State and Texas A&M-Oklahoma on ESPNU this weekend.)
Winthrop at Radford -- Sunday on ESPNU, 2 p.m. ET
(Three games)
It's a big weekend in the Big South, and it's also a test run for the conference tournament at Radford in three weeks. Both teams have pulled clear of the pack in conference play, with Radford a half-game ahead of Winthrop at 8-1. Considering the teams had combined for 77 home runs in 69 games entering their nonleague games Wednesday, offense should rule.
UC Santa Barbara at Long Beach State -- Saturday on ESPNU, 4 p.m. and 6 p.m. ET
(Three games)
No conference tournament, so no second chances in the Big West. That means must-win time at least for Santa Barbara, which doesn't have the RPI to bank on for at-large consideration in the NCAA tournament and is already two and a half games behind Fullerton and Cal Poly at the top of the standings. The Gauchos have proven they can be a pest, beating UCLA, Nevada, Oregon, Kansas, NC State already, in addition to a nonleague win against Long Beach State in which both sides tried not to tip their hands for later in the season. Can they be predators?
Texas A&M at Oklahoma -- Sunday on ESPNU, 10 p.m. ET
(Two games)
It's not quite the titanic clash these two typically stage in the Big 12, but it's a chance for both sides to stay afloat. The Aggies are 13-7 since taking two of three from Arizona at the end of February, but after three run-rule losses in their past six games, this series and Wednesday's game against Baylor are chances to show they can still be a factor in May.
Michigan at Illinois
(Two games)
Northwestern's first conference loss last week opened the door a crack for Michigan, which also trails one-loss Ohio State in the standings but still has a doubleheader in Ann Arbor left against the Buckeyes. Before worrying about that, the Wolverines face their toughest remaining road trip. Entering Wednesday's doubleheader at home against Indiana, the Illini were averaging 8.7 runs per game in seven home games.
Sacramento State at Portland State
(Four games)
You get your money's worth with the weekly PCSC double doubleheaders, and the time investment is worth it in Portland. Sacramento State hosts Loyola Marymount next weekend in the series many expected to settle the title. But despite losing last season's ace, Mandy Hill, the Vikings are in the mix under first-year coach Tobin Echo-Hawk. Senior Jamee Rauch is 13-for-27 with three walks in eight conference games.
Southern Illinois at Creighton
(Three games)
Wednesday's doubleheader against third-place Drake will determine the margin, but Creighton will hold a Missouri Valley Conference lead of some sort when the second-place Salukis visit Omaha this weekend. Creighton swept all three games last season in Carbondale, and revenge won't be easy if it means going through Bluejays ace Tara Oltman.
Arkansas at Alabama
(Three games)
The SEC regular-season title is done and dusted for Florida, and the prospect of playing a super regional on the road is suddenly at least a possibility, albeit remote, for former co-favorite Alabama. That it faces a team this weekend with more home runs and a better slugging percentage in league play -- and that team isn't Florida -- underscores part of the reason why. A lot of teams would be content with Alabama's .426 slugging percentage in the SEC (.488 overall), but a lot of teams didn't return almost the entire lineup this season from a team that hit 43 home runs and slugged .598 in the SEC last season.
Florida at LSU
(Three games)
One thing Alabama has that no other SEC team has since 2007 is a win against Florida. And if that's to change before this year's conference tournament, the Gators' final road trip of the regular season would seem a likely time. LSU is coming off one of its most prolific three-game stretches of the season, but Cody Trahan's pitching will be equally important. When the Tigers came close against the Gators last season, Trahan didn't walk anyone in six innings, losing 2-0 on a pair of unearned runs.
California at Arizona
(Two games)
The Bay Area schools will also swap places in Arizona for single games Friday. No team had a more important weekend last time out than Cal, which took both home games in a three-game home-and-home series with Stanford. That came on the heels of seven losses in 12 games. With their next six league games at home, there's time, but at least one win in Tucson would be a big boost toward securing an NCAA tournament seed.
Stanford at Arizona State
(Two games)
They played only the standard three games last season, but that was still enough to produce 30 innings of softball. It was also a span that saw the Cardinal produce just two runs. Freshman Hillary Bach is Arizona State's ace now, and Megan Elliott hasn't pitched since allowing five earned runs on three hits, three walks and three wild pitches in less than two innings against UNLV on April 7. But Elliott was part of that pitching domination last season, going 9 1/3 scoreless innings in one of the wins against Stanford.
March, 13, 2009
03/13/09
12:59
PM ET
Checking in on some of the weekend's most compelling plots in college softball:
SEC
Florida hits the road for the second consecutive weekend in conference play with three games at Mississippi, but the Gators used the middle of the week to good effect with a doubleheader sweep of Georgia at home Wednesday,15-0 and 4-0. The Bulldogs managed just two hits and one walk in 12 innings against Stacey Nelson and Stephanie Brombacher.
Those two wins made it three consecutive shutouts for the Gators, a streak worth noting after they had allowed at least one run in each of their previous six games. Considering they won all six of those games and outscored opponents 39-10 in doing so, a stray run or two isn't likely to cause many sleepless nights in Gainesville. But when you're talking about a national championship favorite, nits get picked, and the team's longest stretch without a shutout last season was seven games (at just about the same point in the season). The flip side is a shutout in the opener against Ole Miss would mean a fourth consecutive clean slate, something that the Gators never did last season.
• Elsewhere, LSU visits Georgia. A win against Washington on a neutral field last weekend hinted at the Bulldogs' upside, but balance that against the losses at Florida. Georgia went 1-11 against Alabama, Florida, LSU and Tennessee last season and scored only 19 runs in those 11 losses. With this season's series against Alabama coming in Tuscaloosa and the Tennessee series coming late in April, this three-game weekend set is an important chance to show the Bulldogs can hold serve at home against a team that conventional wisdom suggests they've passed in the conference pecking order.
Pac-10
We're still a couple of weeks away from conference play getting underway in the Pac-10, not that it's too early to start anticipating trips to the Bay Area for UCLA and Washington in what should be a heck of a first weekend. But with Arizona, Arizona State and Washington all in action at the Judi Garman Classic, which kicked off Thursday, it's still a busy weekend -- even with Stanford and UCLA off.
Arizona State probably has the toughest weekend of the three at the Garman, playing DePaul and Michigan, while Arizona and Washington face the Wolverines but don't get a look at the Blue Demons. It's also just the second trip away from Tempe for the defending champions (they beat Fullerton 6-3 on the road Thursday).
I was a little skeptical of talk out of Tempe that the Sun Devils might be better on offense this season than they were en route to the championship, but early evidence suggests it's a fair debate. Seven Sun Devils already have at least three home runs, including freshman Katelyn Boyd, who might be a better hitter than anyone the team lost after last season, as bold as that may sound.
But while Arizona State played a tough five-game set at the Cathedral City Classic, the rest of the schedule hasn't included a lot of postseason-caliber pitching (although they did get six hits and five runs off Iowa's Brittany Weil). So with the potential of facing either Jordan Taylor or Nikki Nemitz for Michigan, Becca Heteniak for DePaul, Molly Hill for Nebraska and even Brittney Bargar for Notre Dame, this weekend is a good opportunity for Arizona State's offense to show exactly how much potential is there.
Big 12
Speaking of Nebraska, Hill picked up a shutout win against Louisiana-Lafayette on Thursday night at the Garman, but news that Robin Mackin won't pitch this season is a tough blow for the Huskers as they look to the start of conference play next weekend.
Oklahoma joins Nebraska out in Fullerton, Calif., at the Garman. And the Sooners' loss to Notre Dame on Thursday ensured that the Huskers' win against Louisiana-Lafayette wouldn't be the opening day's biggest upset. Coming on the heels of last weekend's disappointing 1-3 record against Northwestern and Tennessee in games played in Norman, Okla., and Oklahoma City, the loss against the Fighting Irish sets up intriguing games against DePaul and Louisiana-Lafayette for the Sooners.
But as many good games as those two teams will play this weekend in Fullerton, I'm equally interested to see how Missouri fares against in a pair of games against North Carolina in Myrtle Beach, S.C. Both teams have good one-two punches in the circle -- Missouri with freshman Chelsea Thomas and senior Stacy Delaney, and North Carolina with Danielle Spaulding and Lisa Norris -- so both games should offer meaningful results.
And from the better-late-than-never file, this past week's award winners:
ACC
Pitcher: Danielle Spaulding, North Carolina
Player: Sarah Tacke, Virginia Tech
Big 12
Pitcher: Chelsea Thomas, Missouri
Player: Alysia Hamilton, Oklahoma State
Big East
Pitcher: Kristen Wadwell, Louisville
Player: Brianna Jorgensborg, Notre Dame
Big Ten
Player: Tammy Williams, Northwestern
Pitcher: Nikki Nemitz, Michigan, and Suzie Rzegocki, Purdue (shared)
Big West
Player: Melissa Pura, Cal Poly
Pitcher: Anna Cahn, Cal Poly
Conference USA
Player: Brooke Smart, Tulsa
Pitcher: Jordan Kinard, Tulsa
Missouri Valley
Player: Kelly Papesh, Northern Iowa
Pitcher: Tara Oltman, Creighton
Mountain West
Player: Jessica Purcell, BYU
Pitcher: Bailey Micetich, San Diego State
Pac-10
Player: Jenae Leles, Arizona
Pitcher: Missy Penna, Stanford
SEC
Pitcher: Kelsi Dunne, Alabama
Player: Kristin Schnake, Georgia
Southland
Hitter: Heather Mosser, McNeese State
Pitcher: Bethany Stefinsky, McNeese State
WAC
Player: Christina Capobianco, Boise State
Pitcher: Katie Holverson, Nevada
January, 28, 2009
01/28/09
2:13
PM ET
Rolling on in the preseason top 20 to No. 7, which, in addition to being the number of innings in a softball game, is the number of players per side on a Quidditch team.
Geeks of the world unite.
No. 7 Oklahoma
Last season: 47-14 (Lost to Arizona in the Tucson Super Regional)
Preseason talking point: Record crowds in recent years at the Women's College World Series prove the event doesn't need the local team on hand in order to be a successful spectacle. But it would still be fun to see just how many people could squeeze into Hall of Fame Stadium if the Oklahoma Sooners made it back for the first time since 2004.
[+] Enlarge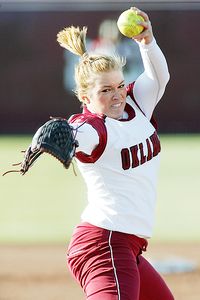 OU Athletics Media D.J. Mathis has the intangibles to get Oklahoma back to the WCWS.
Is D.J. Mathis the pitcher to get them there?
Despite the arrival of three freshman pitchers, Mathis has staked her claim to the present in Norman. After a promising freshman season and an injury-plagued sophomore season, she blossomed as a junior, becoming the ace the Sooners needed when Lauren Eckermann couldn't repeat her prior success. Mathis was 31-7 with a 1.18 ERA last season and led the team to a Super Regional in Tucson, Ariz., and to within a game of the World Series. (Numbers that aren't easy to glean, given that Oklahoma is, curiously, the only elite program that doesn't post its statistics on the team Web site.)
She also struck out 7.8 batters per seven innings, third in the Big 12 behind Texas A&M's Megan Gibson and Texas' Megan Denny. And it's that number that's particularly interesting because while Monica Abbott, Cat Osterman and Angela Tincher all walked away from Oklahoma City without championships, recent history suggests it's difficult to go all the way without a strikeout pitcher. (For reference, 22 pitchers averaged at least nine strikeouts per seven innings last season, and six made it to the WCWS).
Here are the aces for the champions since Oklahoma won in 2000. (Arizona divided its innings almost equally among three pitchers in 2001.)
2008: Katie Burkhart, Arizona State (11.4 strikeouts per seven innings)
2007: Taryne Mowatt, Arizona (9.9)
2006: Alicia Hollowell, Arizona (11.7)
2005: Jennie Ritter, Michigan (10.1)
2004: Keira Goerl, UCLA (7.2)
2003: Keira Goerl, UCLA (7.7)
2002: Jocelyn Forest, Cal (9.4)
2001: Jennie Finch, Arizona (10.0)
2001: Becky Lemke, Arizona (10.8)
2001: Jenny Gladding, Arizona (10.3)
Jennifer Stewart averaged just 4.9 strikeouts per seven innings in 2000, when she wowed the home crowd at the World Series and pitched the Sooners to their title. But with the advent of a best-of-three final series and the overall depth of offensive talent across the country and the postseason field, it's difficult to envision any pitcher duplicating that success without an ability to create her own outs.
Led by Samantha Ricketts and Amber Flores, Oklahoma has a potentially dominant offense that is heavy on slugging and patience. So is Mathis the pitcher to get it done alongside those bats? She certainly has the intangibles -- like Nevada's Katie Holverson, watching Mathis pitch is to marvel at the fury that can be unleashed from diminutive origins. As for the tangibles, it seems it could go either way.
January, 27, 2009
01/27/09
11:31
AM ET
What better team to fill the eighth position in the preseason top 20 than a school founded in 1885 that sits on 8,180 acres and plays in a softball conference with eight teams?
Hey, it was that or a joke about Fibonacci numbers. Although come to think of it, these guys probably know their way around those as well.

No. 8: Stanford
Last season: 49-15 (Lost to Texas A&M in the College Station Super Regional)
Preseason talking point:
When Arizona State freshman Krista Donnenwirth ripped a pitch over the fence in the third inning of the opening game of the Women's College World Series finals against Texas A&M, the blast seemed to confirm that the Sun Devils simply had too much going for them for any opponent to stop.
But capping off a banner debut season, Donnenwirth's hitting heroics also offered a reminder that it's difficult to win a title without freshman production. It's so difficult that no team has done it this century.
Lucky for Stanford, the Cardinal add one of the country's highest-regarded freshman position players to the returning core of their run production. Infielder Ashley Hansen -- the only high school invitee to the selection camp for last year's United States Olympic team -- joins Alissa Haber, Rosey Neill and Maddy Coon, as well as one of the best pitchers in the country in Missy Penna.
Take a look at freshmen position players who started at least 75 percent of a team's games in its championship season. I'm including each player's gross production average, a more accurate measure of a batter's overall offensive production than OPS (to find GPA, multiply on-base percentage by 1.8, add slugging percentage and divide by four to produce a number scaled like batting average … .300 is very good, .400 is terrific, etc.).
2008 Arizona State Sun Devils
Krista Donnenwirth -- 69 starts, .347 GPA
Lesley Rogers -- 55 starts, .288 GPA
2007 Arizona Wildcats
K'Lee Arredondo -- 65 starts, .234 GPA
2006 Arizona Wildcats
Laine Roth -- 65 starts, .261 GPA
Jenae Leles -- 65 starts, .258 GPA
2005 Michigan Wolverines
Samantha Findlay -- 72 starts, .402 GPA
Alessandra Giampaolo -- 72 starts, .302 GPA
2004 UCLA Bruins
Lisa Dodd -- 55 starts, .251 GPA
2003 UCLA Bruins
Emily Zaplatosch -- 57 starts, .333 GPA
Caitlin Benyi -- 61 starts, .281 GPA
Andrea Duran -- 61 starts, .241 GPA
2002 California Bears
Kaleo Eldredge -- 75 starts, .252 GPA
Jessica Pamanian -- 75 starts, .231 GPA
Chelsea Spencer -- 75 starts, .221 GPA
2001 Arizona Wildcats
Leneah Manuma -- 47 starts, .417 GPA
Mackenzie Vandergeest -- 41 starts, .390 GPA
2000 Oklahoma Sooners*
Kellie Braitsch -- 70 starts, .301 GPA
Leah Gulla -- 71 starts, 68 .251 GPA
*The available statistics for Oklahoma's 2000 season didn't include enough information to precisely calculate OBP, so the GPA figures are an estimate.
Only Arizona in 2007 didn't get season-long run production from a freshman starter. And Arredondo, a natural shortstop playing outfield for the first time that season, provided a key glove for the Wildcats and a much-improved .253 GPA in Pac-10 play, when many freshmen tend to wilt. And even players like Cal's Chelsea Spencer found ways to make their presence felt -- in Spencer's case, with a home run in a 1-0 WCWS win against Florida State.
All of which could be good news for Stanford, as it looks to return to Oklahoma City for the third time overall and the first time since 2004. Add five other freshmen to Hansen and the Cardinal core, including speedy outfielder and potential opening day starter Sarah Hassman, and Stanford may have the ideal mix of youth and experience.