Category archive:

Penn State Nittany Lions
December, 20, 2009
12/20/09
1:41
AM ET
TAMPA, Fla. -- For the Texas Longhorns, the feeling -- and the scoreboard -- were all too familiar: the two-set lead in a women's volleyball tournament environs, the one-set-away-from-victory mentality and the reminder that -- as in their loss to Stanford last year in an NCAA tournament semifinal -- even an early lead doesn't guarantee a win.
The Longhorns started strong in the national championship match against the two-time defending champion, undefeated Penn State, at the St. Pete Times Forum on Saturday night. Texas established a rhythmic offense and notched 16 kills in the first set to Penn State's 11. The second set was even more lopsided, with the Longhorns totaling 17 kills and a .500 attack percentage, while the Nittany Lions managed only 10 kills and a .375 attack percentage.
[+] Enlarge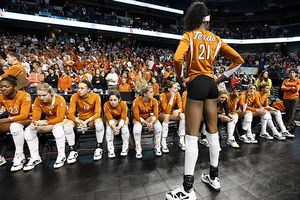 AP Photo/Mike Carlson Destinee Hooker and the Longhorns lost a 2-0 lead to Penn State in the championship match.
"Going into the locker room up 2-0, you obviously have to know that Penn State is No. 1 for a reason," Texas junior outside hitter Juliann Faucette said. "You can't let up, you can't relax, and they definitely fought back and made some huge adjustments."
The Nittany Lions' defense broke through in the third and fourth sets, stopping several Texas kill attempts and forcing long rallies that drew exclamations from the crowd, before forcing a fifth set and winning it 15-13 -- and the national championship.
"It was just an all-out brawl and a really good match," Faucette said. "It swings both ways, and we just fell short."
They fell short in nearly the same way as a year ago. In the 2008 semifinal loss to Stanford, Texas led two sets to none before collapsing to force a fifth set -- which Texas also lost by two points, 13-15.
"The ball bounces kind of a funny way sometimes; I'm just extremely proud of our team," said coach Jerritt Elliott, whose Longhorns finished the season 29-2 (19-1 in the Big 12). "They fought the entire way, and they can walk away from this knowing the year that they had."
While they didn't tally the kind of numbers Penn State did, the Longhorns still finished as an inarguable success story.
"We've had a lot of firsts this year," said senior outside hitter and NCAA tournament MVP Destinee Hooker. "Winning the Big 12 outright, winning in Nebraska [3-1 in the Omaha Regional final] and actually beating Nebraska in front of 10,000 people in Omaha. It's just a blessing."
Hooker ended her Texas career as the Longhorns' postseason leader in kills (295), attack attempts (638) and service aces (28). Her total of 122 postseason kills this year is a school record, a number that also led all players in this year's tournament.
All-tournament team
Libero: Hailey Cowles, Minnesota
Middle blocker: Arielle Wilson, Penn State
Setter: Alisha Glass, Penn State
Setter: Ashley Engle, Texas
Outside hitter: Megan Hodge, Penn State
Outside hitter: Juliann Faucette, Texas
Outside hitter: Destinee Hooker, Texas (MVP)
September, 21, 2009
09/21/09
7:20
AM ET
Just as the frost on the windshield Sunday morning in Connecticut offered a reminder of what's ahead, the schedule shows that soccer season is already at its first major fork in the road.
The Pac-10 and West Coast Conference, demonstrating that coast's admirable ability to take life at a more leisurely pace, don't start conference play for another couple of weeks. But putting those two leagues aside for the moment, how do things look elsewhere?
Sadly, Neil Patrick Harris wasn't available to host, so you're stuck with me.
ACC
Early test: Boston College at Florida State, Sunday
Is North Carolina vulnerable after Sunday's 0-0 tie against Auburn? Don't bet on it -- the only two goals the Tar Heels have allowed all season came opening night at the end of a 7-2 rout against UCLA on a sloppy field. But this game in Tallahassee will be a showdown of perhaps the two teams best equipped to challenge the defending champs. After seeing the Eagles on Sunday, I'd put a midfield of Gina DiMartino, Julia Bouchelle and Kristen Mewis up against any group out there.
September surprise: Easily Maryland, which has a 1-0 win against Santa Clara to validate an 8-0-0 start. The Terrapins actually get first crack at the Seminoles, as they'll visit Tallahassee on Thursday.
Big 12
Early test: Kansas at Oklahoma State, Sunday
The Jayhawks got off to a fast start last season but finished under .500 in conference play, including a 1-3-1 record away from Lawrence. Oklahoma State is the defending conference champion but dropped its conference opener against Colorado (the lone Big 12 game played thus far). Texas A&M still seems like the class of the league, especially after beating Portland 3-1 this past weekend, but Sunday's game in Stillwater is a chance for the Jayhawks to show they're a real challenger and the Cowgirls to show they're not ready to be deposed.
September surprise: At this point, we know more about most Big 12 teams' ability to schedule advantageously than their ability to play great soccer, but Nebraska's prolific offense -- paced by freshman Morgan Marlborough's 13 goals -- is worth noting.
Big East
Early test: Rutgers at Georgetown, Friday
Georgetown produced the most emphatic result of the first Big East weekend, drubbing Villanova 4-0 (although the Hoyas then tied Penn 3-3 on Sunday). Like Santa Clara's Jordan Angeli, Georgetown's Sara Jordan returned for a sixth year after an injury-plagued career and has helped in tangible (four goals, four assists) and intangible ways.
September surprise: Minus a lost weekend in Philadelphia (defeats to Drexel and Penn), Pitt has enjoyed a banner September, capped by a win at Ohio State and a tie against West Virginia this past weekend in Morgantown, always a tough stop for Big East teams.
Big Ten
Early test: Penn State at Michigan State, Sunday
The Spartans were 7-0-1 entering Sunday's 1-1 draw at Eastern Michigan, but the result raises questions, given the caliber of opponent in many of those wins. The good news is they get a shot at instant credibility against Penn State. The Nittany Lions took the opposite route early, persevering through six consecutive one-goal games, including four losses, against likely NCAA tournament teams before breezing past Boston University and James Madison.
September surprise: Indiana reached the Sweet 16 two years ago, so surprise is a little strong, but the Hoosiers, at 8-1-0, including a win against Florida, are perhaps ahead of schedule.
SEC
Early test: Georgia at LSU, Friday
Two familiar conference contenders in recent seasons open this year's conference slate. After a disappointing opening loss at home against Memphis, the Tigers have shown a lot of fight, including a 1-0 loss against North Carolina and 2-2 tie against Duke this past weekend. Georgia has played a good schedule, albeit one short on ranked opponents, and will look to return the favor after LSU beat it in Athens last season. (The Bulldogs are 14-4-0 since that loss.)
September surprise: South Carolina is the undefeated SEC team with championship aspirations, but forget the quality of the schedule and give Mississippi State full marks for an 8-0-0 start. That's more wins than in any of the past four full seasons.
August, 30, 2009
08/30/09
10:45
PM ET
VILLANOVA, Pa. -- If you're going to a game at Villanova this season, don't leave early.
And bring an umbrella.
All right, perhaps the weather was a one-time issue Friday, when Mother Nature and spartan accommodations combined to make a soggy mess of matters (although the field held up far better than the scribe). But on the field, the hosts turned in two dramatic finishes against quality opponents in the Villanova Classic and improved to 2-0-1 this season.
Kelly Eagan's strike in the closing minutes of double overtime gave Villanova a 2-1 win against Virginia Tech on Friday, and Katie Ryan's 90th-minute goal Sunday led to a 2-2 draw against Nebraska.
I was on hand only for the former, but coach John Byford's early assessment proved prophetic.
"What we take away from it is just the way we fought," Byford said of the win over Virginia Tech. "And that was something we didn't have as much last year, and as I said to the kids this year, that will take us a long way. If we can grind out games, just compete and compete and compete, we have enough talent to score."
Eagan is a three-time all-Big East selection and an anchor in the middle of defense, as Virginia Tech standout Emily Jukich learned with frustration. She's also a walking definition of clutch, with all five career goals serving as game winners, including two in overtime. But if Eagan is the face of Villanova, Rachel Schuyler may symbolize this team's upside and the program's future under its second-year coach. Byford didn't recruit Schuyler, but with a big leg and creativity, she's a perfect piece for a system built on playing fluid, attacking football.
"Rachel's got the ability," Byford said. "For a kid who's not very big, she's very good in the air. She can hit good, quality long passes -- not just smack the ball forward, she can play a good, quality pass. And we've got a lot of pace up front. She's a gamer. Sometimes she's not the best practice player, but when the game's on, she comes to play."
A young Villanova team with a new coach gave up 28 goals in 19 games last season, the most per game in more than a decade. But last year's team also scored better than two goals per game for the first time since 2001. Virginia Tech had the edge in attack for much of the second half Friday, but given the conditions and the calendar, Villanova's ability to build through midfield and get the ball to the extremely impressive Ryan hinted at what could be in store this fall.
• STATE COLLEGE, Pa. -- Another week and another good show in the middle of Pennsylvania.
Starting a rebuilt back line that included two sophomores and one freshman, No. 14 West Virginia pulled out a 2-1 win against No. 8 Penn State. The Mountaineers withstood a Nittany Lions attack that produced 14 shots and enjoyed the run of play for much of the second half.
With so much youth, West Virginia may not hit its stride until conference play. But after a 2-0 exhibition loss against Maryland and a 0-0 tie against Ohio State to open the regular season, Saturday's physical battle represented about eight steps in the right direction.
The Mountaineers have a lot of parts, if not proven pieces, in the attack (led by the healthy return of Megan Mischler), and whatever ups and downs are ahead, they have a nascent identity.
"I think when you have such a young team as we have, it's such a learning curve but it's such a quick curve," coach Nikki Izzo-Brown said. "And these girls have worked so hard in the last two weeks. The staff has put in so many hours and the girls have put in so many hours; I mean, it's a 360."
August, 24, 2009
08/24/09
12:32
AM ET
STATE COLLEGE, Pa. -- Ang Lee, director of the upcoming "Taking Woodstock," likely won't chronicle it 40 years from now, but a horde of humanity descended on this otherwise pastoral backdrop over the weekend. Instead of a music festival, thousands of parents, who were themselves probably in diapers for Woodstock, dropped off their kids during move-in weekend at Penn State.
But for freshmen soccer players, orientation gave way to this: No. 12 Penn State 1, No. 9 Virginia 0.
Welcome to college.
"I think it was a typical first game of the season," Penn State coach Erica Walsh said. "Lot of jitters, especially with the young players, lot of excitement and building blocks."
[+] Enlarge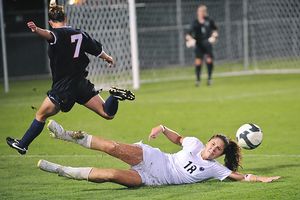 Mark Selders/Penn State Lexi Marton (18) proved herself as a defensive presence in her first game as a Nittany Lion.
Nittany Lions junior Danielle Toney scored the game's lone goal early in the first half on an end-to-end run off an errant Virginia corner. But despite some strong veteran performances, a game with October intensity and August execution was also a showcase for new faces.
Midfielders Christine Nairn and Maddy Evans and defender Lexi Marton began their Penn State careers in Walsh's starting lineup. Virginia coach Steve Swanson started freshmen midfielder Julia Roberts (who can take solace in knowing Colorado basketball standout Brittany Spears hears worse jokes) and defender Morgan Stith, who is one of four new defensive starters.
Marton may have been the lone new piece in a Penn State defense that included senior goalie Alyssa Naeher, senior fullbacks Maura Ryan and Tara Davies and sophomore central defender Emma Thomson, but she didn't look it. Marton marshaled her elders when needed and urged the bench to get louder during Virginia's last-ditch surge. Even when she flirted with disaster, putting in an aggressive tackle in her own box in the second half, she did it confidently and without incident.
"She's obviously a huge heading presence for us," Walsh said of the 5-foot-11 Canadian. "She organizes -- I mean to have a freshman back there who talks and organizes, you just don't find that very often. And because she has international experience, I think she feels comfortable doing it."
Swanson also singled out Marton's strength in the air. It's something that's obviously the product of her size, but also her rise through the Canadian youth national system.
"Coming from Canada, I think we play more of a fast, forward and aggressive style, whereas the American game tends to be more possession and balls to feet," Marton said. "So I need to adjust to defending people dribbling at me rather than the ball's always in the air."
On the opposite side, Swanson was pleased with how his team responded in the second half, especially given all the new faces. Stith, in particular, showed plenty of skill to offset freshman jitters and looked like someone who could anchor a back line, much as a raw group of starters in 2005 matured into last year's star-studded quartet of seniors.
"We came here with that 2005 team, and we got beat 5-2, I think," Swanson said. "So I'm not comparing scores, but I thought this group looked in many ways a lot more -- even though we've got a long way to go -- they're a little further along. It's just a matter of giving them time to gel; that's all. I'm not going to push the panic button."
November, 19, 2008
11/19/08
5:00
PM ET
I can't decide if Wednesday's Under-20 World Cup opener for the United States left me more eager than ever to see what unfolds in the final three weekends of the NCAA tournament or more wary of being disappointed.
On one hand, the American side's 3-0 win against France in Chillan, Chile, displayed how much individual skill in the college ranks continues to grow.
The goals were fabulous -- Sydney Leroux's two finishes took a backseat only to the goal she set up by sending a cross on a rope from near the end line that fellow Pac-10 standout Alex Morgan, without a hint of hesitation, volleyed past the helpless keeper. But even some of the misses were jaw-droppers, such as Morgan's blast off the post from several steps beyond the 18-yard box in the opening minutes. And Alyssa Naeher's work in goal in the second half was spectacular in its own right, including a full-extension save on a ripped shot slicing toward the far post from Melissa Plaza that was as good as anything I've seen all fall (even though it's almost summer in Chile).
It's not that the game was perfect from either an American perspective or from an execution standpoint. On the latter front, it looked at times like a typical tournament opener, especially in the number of overly hopeful passes scuttling possession.
And while Tony DiCicco's team showed the kind of quick-strike firepower that will keep opposing coaches awake late into the night, it split possession nearly 50-50 with a French side that isn't among the tournament favorites. There are no complaints about the result in this one, but it will be interesting to see if players such as Ingrid Wells and Becky Edwards become more visible factors in the middle of the field in the games to come.
At the same time, watching all of it unfold made it difficult not to think about the talent that won't be on the field stateside this weekend in the third round of the NCAA tournament. Eight of the Americans who saw the field against France left college teams in the United States that are still in action (and watching Cal's Morgan rip shot after shot and Penn State's Naeher make big save after big save, who knows how many other college teams might still be active had they been at full strength in the first two rounds).
If the United States manages to advance to the championship match at the U-20 World Cup, there's going to be a remarkable amount of talent on the field in Chile on Dec. 7. Hopefully there's enough talent left over for the college game to put its best foot forward on the same day at its championship match in Cary, N.C.