Category archive:

FIU Golden Panthers
April, 26, 2010
04/26/10
8:42
AM ET
Five teams that moved the needle last week: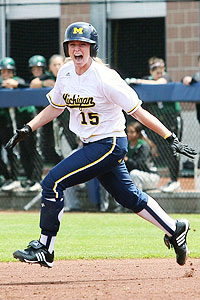 Michigan Athletics Maggie Viefhaus had at least one hit in all four games this week.
Michigan: If the second-ranked Wolverines inherit the No. 1 spot in the polls Tuesday, it won't be solely as the beneficiaries of another Washington loss. It's not that the Huskies deserve to be penalized for merely winning, instead of sweeping, back-to-back series in the country's toughest conference; it's that Michigan is doing some remarkable things.
The Wolverines swept two games at Purdue over the weekend to cap a week that also included a doubleheader sweep at home against Penn State. In those four games, the Wolverines outscored their opponents 33-4. Since losing to Texas at the Judi Garman Classic, the Wolverines have outscored opponents 151-18 in winning 16 consecutive games.
Just in case you glossed over that last part, let's repeat: 151-18.
Sure, the Big Ten is a step below the Pac-10, SEC and Big 12 when it comes to the depth of postseason-caliber competition, especially in a year in which Northwestern is struggling, but all the Wolverines can do is beat the teams on their schedule (which, of course, also includes nonconference wins against Arizona, Alabama twice, UCLA, LSU, Louisiana-Lafayette, Oklahoma State and numerous RPI top-50 teams).
Check that; all the Wolverines can do is obliterate the teams on their schedule.
Maggie Viefhaus had at least one hit in all four games this past week, and finished with two home runs and eight RBIs against the Nittany Lions and Boilermakers. In a year that includes Danielle Lawrie and Jen Yee, USA Softball Player of the Year might be out of reach for everyone else. But if you're looking for that third finalist, Viefhaus -- who also has just three errors at third base -- makes a strong case in a crowded field.
DePaul: After a doubleheader split at St. John's on April 14, DePaul was 21-14 overall and 5-3 in the Big East, including losses against conference afterthoughts Villanova and St. John's. Thanks to a typically rigorous nonconference schedule (including wins against Washington, Hawaii, North Carolina and Fresno State), the Blue Demons weren't exactly in danger of missing the postseason for just the second time since Ryne Sandberg retired, but it wasn't shaping up as the kind of season many expected out of the preseason No. 20.
Eight games and eight wins later, things look a lot better in the Windy City (which makes one for the city's baseball and softball teams). The Blue Demons added to their winning streak this week by sweeping a midweek doubleheader at home against Notre Dame and then taking all three games at South Florida over the weekend. Taking over the cleanup role vacated when Simone Ashkar left the team earlier in the month, Brittney Yniguez went 7-for-20 with seven RBIs between the two series. And working under the tutelage of fellow Texan and pitching coach Cat Osterman, freshman Bree Brown pitched a pair of shutouts in the series against South Florida.
Texas Tech: Perhaps no team needed a week like this as much as Texas Tech, which swept a midweek doubleheader from Oklahoma State and took both games of a weekend series at Kansas. The Red Raiders roared out to a 28-4 start under first-year coach Shannon Hays (who gets bonus points for not needing the wasteful extra "e" in his last name), but while there were wins against Oregon, San Diego State and Florida, there also were a lot of wins against teams well outside the RPI top 100. A 3-8 Big 12 start raised doubts.
The heart of the Texas Tech order, Mikey Kenney and Emily Bledsoe, combined for eight hits and nine RBIs in the week's four games. Freshman Karli Merlich also came up big, earning a win in relief against the Cowgirls and going the distance in the finale against Kansas. All three are underclassmen on a roster with just four juniors and seniors.
UCLA: Strange as it feels to write during the last week of April, the No. 7 Bruins put up their first meaningful series win in Pac-10 play with the sweep of their three-game set at Stanford. If the previous weekend's sweep against Oregon State was one the Bruins had to have to keep pace in the conference race, this one offered more of a statement.
The Bruins tied a season high with 15 hits in the opener, including 12 hits from the first five batters in the order: GiOnna DiSalvatore, Monica Harrison, Megan Langenfeld, Andrea Harrison and Dani Yudin. Langenfeld added a pair of home runs and four RBIs in Sunday's finale, in addition to pitching all five innings in a 10-1 run-rule win. She might not be the best hitter or the best pitcher, but Langenfeld, who has missed 10 games this season, is as valuable as any player this side of Lawrie to a World Series contender.
Florida International: The Panthers kept pace with Sun Belt leader Louisiana-Lafayette by taking two of three at South Alabama over the weekend (Louisiana-Lafayette took two of three at Troy, while North Texas moved into a second-place tie after sweeping Western Kentucky). But the attention grabber of the week came courtesy of an 8-3 midweek win at No. 4 Florida.
The win against the Gators was the first in program history against a top-five team and adds a bit of shine to an NCAA tournament résumé that already featured a decent RPI but not a lot of signature wins. Senior Kasey Barrett went the distance with a five-hitter for that win. Barrett also struck out 15 in another complete game Sunday against South Alabama. Despite pitching one season at South Florida Community College, she's second all time at Florida International in both wins and strikeouts.
Bonus note: Florida's split of a weekend series at Tennessee puts Alabama in control of the SEC race. As Tommy Deas reports in the Tuscaloosa News, the Crimson Tide swept Arkansas on the road despite being without ace Kelsi Dunne because of a violation of team academic policy. If Alabama wins its last six SEC games, it wins the regular-season title.
Graham Hays covers softball for ESPN.com. E-mail him at Graham.Hays@espn3.com.