Category archive:

Fordham Rams
January, 19, 2011
01/19/11
9:31
AM ET
Editor's note: Graham Hays is counting down to the start of the 2011 college softball season with a look at each of the teams in his top 20. Check back daily for updates.

No. 18 Fordham
Last season: 49-12, lost in the College Park regional
Who returns: There is more to Fordham than Jen Mineau, which is saying something when you consider she ranked second in the nation behind fellow Atlantic 10 ace Sara Plourde in strikeouts per seven innings (12.50 to 12.47), third in the nation in ERA (1.05) and tied for seventh in wins (34) as a sophomore. But eight of nine players who totaled 100-plus at-bats for the Rams last season return. Senior Jocelyn Dearborn (12 HRs, 40 RBIs) is already second all time in school history in RBIs and fourth in total bases, while fellow senior Beckah Wiggins led the team in RBIs (60) and hit .328 in 2010. Recruited as a pitcher, Jamie LaBovick instead spent most of her time at first base and led the team with a .342 average as a freshman.
Who departs: Attrition got only one swing against the Rams, but it was a costly one. Erin Fisher led the team last season in on-base percentage, slugging percentage, home runs, walks and stolen bases. She finished her career tied for first in school history in home runs and second in walks.
Who arrives: Coach Bridget Orchard suggested that Becca Griswold, a second-team all-state pick from the Binghamton, N.Y., area, is likely to claim the lone open starting position. She'll take over at third base for Jocelyn Dearborn, who will in turn shift to center field to replace Fisher.
Statistically speaking: Fordham was the only team in the A-10 to have three players with double-digit home runs and three players with double-digit stolen bases.
Preseason question: Are the Rams ready for this?
Fordham won't need to wait until the postseason to measure itself against elite competition. It won't even need to wait for the A-10 showdowns against Plourde and Massachusetts. The season's opening weekend is highlighted by a pair of games against Georgia Tech in Florida, and the following weeks include games against DePaul, Texas, Washington, LSU, Alabama, Illinois, North Carolina, Notre Dame, Virginia, Maryland and Hofstra, among others.
"I know that we've got to challenge ourselves early on," Orchard said. "If we expect to be the best, we've got to play the best. And I'm excited for the challenge, but I'd be lying if I said I wasn't really nervous. Our team doesn't get nervous; I think I get more nervous than they do. They love it. They get excited for the challenge, and I'm the one that's usually nervous before the games and they're not -- which is a good thing."
Fordham doesn't appear to be an offensive team on par with the likes of Arizona or Hawaii, but the Rams should be able to produce runs far more consistently than a team like Virginia Tech did when it reached the World Series with Angela Tincher in the circle. And while a larger sample size is needed from Mineau to know whether she's in the same league as an all-timer like Tincher, what the upstate New York native did last season goes beyond the realm of fluke.
"We got the [NCAA tournament at-large] bid; we kind of made a name for Fordham last year," Orchard said. "I think this year is going to be even harder than it was last year because now there are expectations. She's a really smart, talented player, so it's a matter of managing those expectations and knowing that people are going to know who you are, as far as preparing for her. I think last year she surprised a lot of people, she surprised a lot of teams."
But Mineau shouldn't have surprised Maryland and Oklahoma, not by the time she faced them in the NCAA tournament after putting roughly 250 innings on her body. Yet she came through with a pair of wins against the Terrapins and hard-luck 1-0 and 2-0 losses against the Sooners.
So a busy schedule against the kind of competition that could cost her a few ERA points?
"She's ready for that," Orchard said. "She's the one that really wanted us to do that."
A big-time pitcher who wants the ball on the big stage. Perfect for the Big Apple.
May, 2, 2010
05/02/10
10:01
PM ET
Five teams that moved the needle last week.
[+] Enlarge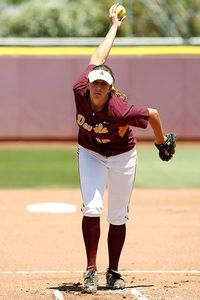 Jason WiseArizona State's Hillary Bach pitched a pair of complete games this weekend, including a one-hit shutout Friday.
Arizona State: As it turns out, Arizona State's road to a winning record in the Pac-10 may be just that -- the road. The Sun Devils typically leave home before conference play about as often as Howard Hughes did in his final years. They didn't play away from Farrington Stadium until March 18 this season, having played their first 26 games at home. They didn't play a true road game until April 9 at UCLA. Yet with six games remaining, they are 5-1 on the road in the Pac-10 and 3-6 at home. Go figure. 
Following a three-game sweep against the Bruins early in April, the Sun Devils again made the most of their travels by taking two of three games at Stanford over the weekend. Hillary Bach pitched a pair of complete games for the wins, including a one-hit shutout Friday, and Mandy Urfer -- slugging better than .700 in part-time duty induced by a stress fracture in her foot and strep throat -- drove in runs in both wins and hit her fifth home run of the season. 
Why does all of this matter? It looks more and more like Arizona State, which plays three at Oregon State next week and closes the regular season with three at home against Washington, may have trouble gaining one of the top eight seeds in the NCAA tournament. Barring a repeat of last season, when North Dakota State stunned Oklahoma and left Arizona State as the only seeded team in its super regional, that means hitting the road to earn a fifth consecutive trip to the Women's College World Series. In fact, with so few teams within driving range of Tempe, and nearby Arizona perhaps ahead in the pecking order, Arizona State may again find itself playing on the road as a seeded team in a regional. 
Alcorn State: It took waiting out a weather delay and then playing through rain. It required overcoming both back-to-back home runs against them to lead off the game and an injury to their ace, but no team had a better Sunday than the Braves. 
The first team officially in this year's NCAA tournament, Alcorn State outlasted Mississippi Valley State 6-3 in extra innings to win the SWAC tournament, denying their opponent a seventh consecutive title. Beyond their perseverance in the title tilt, the Braves entered the conference tournament having won just six of their last 17 games in the regular season and promptly lost their opener in the double-elimination tournament to Grambling State.
But after scoring four runs in the top of the eighth inning of the final, after having two outs with the bases empty, Alcorn State watched freshman pitcher Deanna Rancilio, the late-inning replacement for injured ace Jennie Hatch, close out the win. The play of the game might have been Hatch having the composure to lob the ball to first base for the out after being hit in her throwing hand by the line drive that forced her out of the game. 
Fordham: The Rams can't afford a lapse when they close the regular season next weekend at home against St. Bonaventure, but a weekend sweep at Charlotte may have been the final piece of the puzzle to earn an at-large bid to the NCAA tournament, should they fail to win an automatic bid in the upcoming Atlantic 10 tournament. 
Ace Jen Mineau pitched both ends of Sunday's doubleheader, struck out 20 and allowed just seven hits in a pair of shutouts. Third baseman Jocelyn Dearborn drove in the only run in a 1-0 win to open the doubleheader with a home run and capped the scoring in an 8-0 nightcap win with another home run. Beckah Wiggins, who entered the weekend ranked No. 19 nationally in RBIs per game, also homered and drove in four in Sunday's finale. 
Ranked No. 32 in the RPI released last week, Fordham has wins against RPI top-20 teams in Georgia Tech and Texas A&M, as well as wins against Florida International (No. 41), UNLV (No. 67), Oregon State (No. 69) and now Charlotte (No. 62). The Rams have lost just twice in their last 26 games, both times against Massachusetts. 
Creighton: In honor of the Kentucky Derby, Creighton is coming up strong on the outside as the Missouri Valley race comes down to the wire. 
Behind Tara Oltman, who equaled the conference record for career strikeouts in the process, Creighton beat Illinois State 3-1 Sunday on the road to take two of three games in the weekend series between teams in second and third in the MVC. The one game the Bluejays lost in the series, a 2-1 decision in the back end of Saturday's doubleheader, actually ended a 13-game conference winning streak. Seemingly on the ropes after a 2-5 start in the league, Creighton is now half a game behind Illinois State for second and two games behind league leader Southern Illinois. 
Renae Sinkler picked up four hits, including three home runs, and drove in five runs for the Bluejays, while Oltman struck out 20 batters in working all 19 innings of the series. 
Kent State: Beth Cinadr's walk-off home run in a 4-2 win against Central Michigan capped three straight wins for the Golden Flashes after a weekend-opening loss against Eastern Michigan. As a result, Kent State is tied with Ball State for the best record across the MAC's two divisions. 
Ace Kylie Reynolds, battling what coach Karen Linder called "finger problems" in an official release, threw a three-hitter in the first game of the doubleheader against Central Michigan,  but her weekend numbers weren't what we've grown accustomed to from the program's all-time strikeouts and wins leader. 
Which is why it's particularly noteworthy how the offense stepped up. 
Cinadr's walk-off was a two-run home run because Central Michigan opted to intentionally walk Lauren Grimes ahead of her -- the third consecutive intentional walk for Grimes after she had hit three home runs in her first five plate appearances of the doubleheader. Kent State is slugging .419 this season, not an earth-shattering number but a dramatic improvement on last season's anemic .341 slugging percentage.
Graham Hays covers women's college softball for ESPN.com. E-mail him at Graham.Hays@espn3.com. Follow him on Twitter: @grahamhays.
March, 5, 2010
03/05/10
3:21
PM ET
CATHEDRAL CITY, Calif. -- Will one of softball's best-kept pitching secrets once again call the Atlantic 10 home?
Brandice Balschmiter has moved on after a standout career at Massachusetts (although sophomore Sara Plourde is off to a strong start in her place for the Minutewomen), but the A-10 still had strong representation in Cathedral City. In what might have been the best pitching performance of the tournament, Fordham sophomore Jen Mineau opened her team's five-game run by striking out 15 in a shutout win against Texas A&M.
The Rams also beat Oregon State and UNLV to leave the weekend with three wins and a 6-3 record overall. In the three wins in California, Mineau struck out 39 batters in 21 innings and surrendered just 11 hits and one earned run (she also pitched limited innings in losses against Cal and San Diego State, with only the Bears doing much damage). For the season, she has 75 strikeouts in just 39 innings.
So outstanding though the Texas A&M performance was, it was also business as usual in some ways. And while she's not Balschmiter just yet, Mineau is on the rise.
"Pretty much this season, that's just how she's been," Fordham coach Bridget Orchard said, noting the work Mineau had put in during conditioning and weight training. "We kind of knew that coming in -- when she was working out in our offseason, she was throwing like that. Her ball's really just been hopping and moving. So we really kind of expected it almost out her. We weren't surprised. I think a lot of people of were surprised at a lot of her strikeouts, but that's the way she's been throwing. This season she's really been able to get the ball moving and keep batters off balance."
Mineau should get a couple of more shots at big-time offenses, most notably against George Tech next weekend but also against Florida Gulf Coast this weekend. And with Massachusetts scheduled to come to Fordham the first weekend in April (the conference tournament will be in Amherst, Mass. this season), the A-10 race should have more drama than it did during most of Balschmiter's reign.
One key will be what kind of run support the Rams can provide for Mineau. Given the quality of competition, scoring 14 runs in five games in Cathedral City isn't bad. But the only team in the A-10 other than Massachusetts to slug better than .400 last season. Fordham still finished a distant second to the Minutewomen in the category.
Even there, Mineau's improvement from good to ace might have some spillover effect.
"We play great behind her as well," Orchard said. "And I think we hit when she's pitching -- we hit a lot better because I think we know if we can get her a run, one or two runs, we're going to win a ball game."
I didn't see perhaps the most dramatic moment of the Cathedral City Classic, but even from two fields over, I heard the reaction.

With Ohio State trailing 7-3 with two outs in the top of the seventh inning against Oregon State (the Buckeyes had trailed 7-2 to begin the inning), sophomore Alicia Herron tied the game with a grand slam that elicited a roar heard around the complex. An inning later, Leah Ledford's RBI single provided the eventual winning margin.

That comeback, coincidentally against the only team Ohio State played all weekend that hadn't received votes in the previous week's Top 25, seemed to provide a pivot point for the Buckeyes. Instead of standing at 1-2 in their first three games and winless for the day after an earlier loss to Tennessee, they took the momentum and closed their stay in the desert by beating Cal State Fullerton and UCLA the next day.

If the previous week's three losses against Alabama suggested Ohio State had some work to do to recapture the magic of last year's run to within two games of the Women's College World Series, the games in Cathedral City suggested it can be done.

It's all part of the juggling act for a team looking to build on last season's success without living in it.

"That's so tough because every season is its own season; it's a whole new world," Ohio State coach Linda Kalafatis said. "And yet you want to take in the lessons that you learned, the experiences that you learned. We're old enough, we've got enough returners, that we can use [the super regional appearance], I think, in a positive way without comparing."

While Ohio State is battling some injury issues at the moment, knee injuries have affected pitchers Melanie Nichols and Lindsay Bodeker, there's a lot to like about a team that returned nine position players who started at least 35 games last season.

Graham Hays covers softball for ESPN.com. E-mail him at Graham.Hays@espn3.com.