Category archive:

Kent State Golden Flashes
May, 2, 2010
05/02/10
10:01
PM ET
Five teams that moved the needle last week.
[+] Enlarge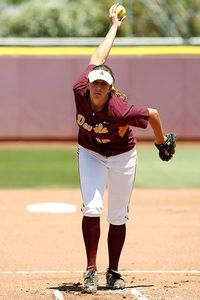 Jason WiseArizona State's Hillary Bach pitched a pair of complete games this weekend, including a one-hit shutout Friday.
Arizona State: As it turns out, Arizona State's road to a winning record in the Pac-10 may be just that -- the road. The Sun Devils typically leave home before conference play about as often as Howard Hughes did in his final years. They didn't play away from Farrington Stadium until March 18 this season, having played their first 26 games at home. They didn't play a true road game until April 9 at UCLA. Yet with six games remaining, they are 5-1 on the road in the Pac-10 and 3-6 at home. Go figure. 
Following a three-game sweep against the Bruins early in April, the Sun Devils again made the most of their travels by taking two of three games at Stanford over the weekend. Hillary Bach pitched a pair of complete games for the wins, including a one-hit shutout Friday, and Mandy Urfer -- slugging better than .700 in part-time duty induced by a stress fracture in her foot and strep throat -- drove in runs in both wins and hit her fifth home run of the season. 
Why does all of this matter? It looks more and more like Arizona State, which plays three at Oregon State next week and closes the regular season with three at home against Washington, may have trouble gaining one of the top eight seeds in the NCAA tournament. Barring a repeat of last season, when North Dakota State stunned Oklahoma and left Arizona State as the only seeded team in its super regional, that means hitting the road to earn a fifth consecutive trip to the Women's College World Series. In fact, with so few teams within driving range of Tempe, and nearby Arizona perhaps ahead in the pecking order, Arizona State may again find itself playing on the road as a seeded team in a regional. 
Alcorn State: It took waiting out a weather delay and then playing through rain. It required overcoming both back-to-back home runs against them to lead off the game and an injury to their ace, but no team had a better Sunday than the Braves. 
The first team officially in this year's NCAA tournament, Alcorn State outlasted Mississippi Valley State 6-3 in extra innings to win the SWAC tournament, denying their opponent a seventh consecutive title. Beyond their perseverance in the title tilt, the Braves entered the conference tournament having won just six of their last 17 games in the regular season and promptly lost their opener in the double-elimination tournament to Grambling State.
But after scoring four runs in the top of the eighth inning of the final, after having two outs with the bases empty, Alcorn State watched freshman pitcher Deanna Rancilio, the late-inning replacement for injured ace Jennie Hatch, close out the win. The play of the game might have been Hatch having the composure to lob the ball to first base for the out after being hit in her throwing hand by the line drive that forced her out of the game. 
Fordham: The Rams can't afford a lapse when they close the regular season next weekend at home against St. Bonaventure, but a weekend sweep at Charlotte may have been the final piece of the puzzle to earn an at-large bid to the NCAA tournament, should they fail to win an automatic bid in the upcoming Atlantic 10 tournament. 
Ace Jen Mineau pitched both ends of Sunday's doubleheader, struck out 20 and allowed just seven hits in a pair of shutouts. Third baseman Jocelyn Dearborn drove in the only run in a 1-0 win to open the doubleheader with a home run and capped the scoring in an 8-0 nightcap win with another home run. Beckah Wiggins, who entered the weekend ranked No. 19 nationally in RBIs per game, also homered and drove in four in Sunday's finale. 
Ranked No. 32 in the RPI released last week, Fordham has wins against RPI top-20 teams in Georgia Tech and Texas A&M, as well as wins against Florida International (No. 41), UNLV (No. 67), Oregon State (No. 69) and now Charlotte (No. 62). The Rams have lost just twice in their last 26 games, both times against Massachusetts. 
Creighton: In honor of the Kentucky Derby, Creighton is coming up strong on the outside as the Missouri Valley race comes down to the wire. 
Behind Tara Oltman, who equaled the conference record for career strikeouts in the process, Creighton beat Illinois State 3-1 Sunday on the road to take two of three games in the weekend series between teams in second and third in the MVC. The one game the Bluejays lost in the series, a 2-1 decision in the back end of Saturday's doubleheader, actually ended a 13-game conference winning streak. Seemingly on the ropes after a 2-5 start in the league, Creighton is now half a game behind Illinois State for second and two games behind league leader Southern Illinois. 
Renae Sinkler picked up four hits, including three home runs, and drove in five runs for the Bluejays, while Oltman struck out 20 batters in working all 19 innings of the series. 
Kent State: Beth Cinadr's walk-off home run in a 4-2 win against Central Michigan capped three straight wins for the Golden Flashes after a weekend-opening loss against Eastern Michigan. As a result, Kent State is tied with Ball State for the best record across the MAC's two divisions. 
Ace Kylie Reynolds, battling what coach Karen Linder called "finger problems" in an official release, threw a three-hitter in the first game of the doubleheader against Central Michigan,  but her weekend numbers weren't what we've grown accustomed to from the program's all-time strikeouts and wins leader. 
Which is why it's particularly noteworthy how the offense stepped up. 
Cinadr's walk-off was a two-run home run because Central Michigan opted to intentionally walk Lauren Grimes ahead of her -- the third consecutive intentional walk for Grimes after she had hit three home runs in her first five plate appearances of the doubleheader. Kent State is slugging .419 this season, not an earth-shattering number but a dramatic improvement on last season's anemic .341 slugging percentage.
Graham Hays covers women's college softball for ESPN.com. E-mail him at Graham.Hays@espn3.com. Follow him on Twitter: @grahamhays.
February, 11, 2010
02/11/10
12:49
PM ET
1. Is the Pac-10 stronger than ever?
When Florida and Alabama opened last season atop the polls, the question of the moment was whether the SEC had caught the Pac-10 as the sport's pre-eminent power base.
By the time Washington finished celebrating its first national championship on the field at ASA Hall of Fame Stadium, it was clear the softball arms race -- ironically in one of the kindest seasons to batters in recent memory -- was nowhere near such a neat and tidy resolution.
The SEC and others are moving ahead full steam, but they're chasing a moving target.
Washington opens this season poised to defend its title and ranked No. 1. The first Pac-10 team other than Arizona or UCLA to win a national championship when it did so in 2002, Cal appears back in position to challenge for a spot in the World Series and possibly even a second title. Stanford keeps adding talent and can make a strong case as the best team not to reach the World Series in the past five years. A season after making do without Katie Burkhart well enough to reach Oklahoma City, Arizona State must repeat the process without Katie Cochran. But the Sun Devils have more than enough talent to avoid falling off the pace set by their 2008 title team.
And those are just the contenders that didn't win 19 of the first 24 NCAA championships, loot divvied up between UCLA (10 titles and one vacated title) and Arizona (eight titles).
[+] Enlarge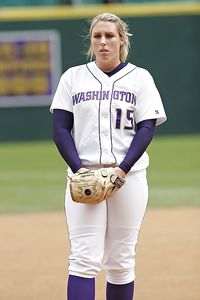 University of Washington Athletic Department If Washington makes it back to the WCWS, Danielle Lawrie will be a threat.
Is the rest of the country catching up to Arizona and UCLA? With as much talent as there is this season in Tucson and Westwood, it's undoubtedly so. It's just that to a greater degree than ever before, despite the Pac-10's long history of large World Series contingents, the rest of the country includes places like Tempe, Ariz.; Berkeley and Palo Alto, Calif.; and Seattle.
2. Is Washington the team to beat?
Even if you don't subscribe to the theory that the champions deserve that label until it's taken from them, the Huskies qualify strictly on the merits of the here and now.
That isn't to say coach Heather Tarr's team is unquestionably better than last season's version. It lost a huge tangible piece in All-American second baseman Ashley Charters and perhaps an equally noteworthy intangible piece in catcher Alicia Blake, Danielle Lawrie's catcher for three seasons. But the pieces the Huskies return -- and there are a lot -- should be better. Sophomores Kimi Pohlman and Niki Williams have a year of success to build on, while junior third baseman Morgan Stuart has a year of work at the hot corner to build on after shifting from shortstop. And senior Jennifer Salling, whose midseason arrival necessitated Stuart's shift, won't have to jump in midstream.
And there is, of course, Lawrie. After pitching through a stress fracture in her pitching arm for much of last season, she's healthy and without peer in the college ranks now that former Florida ace Stacey Nelson has moved on. Last year, Lawrie pitched through two road trips in regionals and super regionals, plus a long elimination day against Georgia in the World Series; in so doing, she proved she can overwhelm opponents when she's at her best and blink past when she's not.
3. Which player could alter the college softball landscape?
[+] Enlarge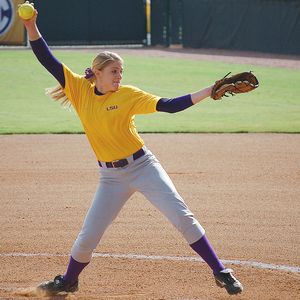 Matt Dunaway/LSU Athletics LSU's Rachele Fico has the potential to set herself apart from the crowd.
How's that for a buildup? But when you threw perfect games by the dozens in high school in Connecticut, helped a Florida travel ball team upset the softball establishment in knocking off the California powers to win the prestigious ASA Gold title, pitched against Team USA after your junior year in high school and earned space on "SportsCenter" and in The New York Times, lofty expectations get packed for school right along with the notebooks and clothes.
LSU freshman Rachele Fico is just one of several highly touted freshman pitchers dotting big-time rosters around the country, but she has the potential to set herself apart from the crowd.
All the accomplishments and experiences predating her arrival in Baton Rouge help, as does her place in a program with perhaps the richest softball tradition in the SEC but that, like the rest of the conference, is still looking for its first national championship. It also doesn't hurt that Fico has both the ability to blow pitches past batters and a sense of spin and control beyond her 18 years.
She even sounds like a seasoned vet in passing credit to her defense -- a defense that isn't likely to get a lot of work on days when she's on top of her game.
"I'm extremely comfortable with my team; I know I have a great defense behind me," Fico said a few days before her debut. "So I'm not scared to throw pitches and I know if they do get put into play my teammates are going to make the plays behind me."
The sport is also evolving to give freshman pitchers a greater shot at success. While Connecticut high schoolers still throw from 40 feet, Fico's experience in travel ball and pitching for the elite Stratford Brakettes amateur team (alongside players like former LSU catcher Killian Roessner) means pitching from a consistent 43 feet in college is actually something of a relief, rather than a challenge to overcome.
"My biggest adjustment to 43 feet with pitching was probably my changeup," Fico said. "When I switched to 43 feet, I had to work on getting the ball to get there a little bit more. But it's really nice to have those extra three feet because it gives us so much time to make the ball spin and get a little bit more break on it."
4. Which team could make a surprise trip to Oklahoma City?
There is almost always at least one team that sneaks up on fans and pundits. Two seasons ago, Louisiana-Lafayette went from No. 20 in the preseason Top 25 to the World Series. Last season Missouri and Georgia rose from Nos. 23 and 19, respectively, to Oklahoma City.
Now it's about time No. 19 Florida State ends its World Series hiatus.
The Seminoles will need more consistent run production this season, no small task considering they lost their best hitter, Kaleigh Rafter. A team that slugged an anemic .366 in 2009 has some work to do, but senior outfielder Carly Wynn (.530 slugging, .409 on-base percentage) is a good place to begin building a lineup. The Seminoles should once again get a boost from the transfer market -- like they did with Rafter -- with the arrivals of Jen Lapicki from Tennessee and Tory Haddad from Ohio State, patient hitters with the ability to add to the team's extra-base hit totals.
The good news is Florida State doesn't need to set scoring records as long as Sarah Hamilton and Terese Gober are splitting innings in the circle. The two combined to go 44-16 with 519 strikeouts and just 87 walks in 421 1/3 innings, reminiscent in some ways of Northwestern's duo of Eileen Canney and Courtnay Foster in that program's breakout 2006 campaign.
5. Who are three players who deserve a brighter spotlight?
Carly Normandin, OF, Massachusetts The Minutewomen might have been one of the best teams in the country last season. They just had the misfortune to play 22 innings against Danielle Lawrie on the final day of regionals. Ace Brandice Balschmiter is gone, which will make a repeat performance difficult, but Normandin was one of the toughest omissions from this season's ESPN.com All-America team. Her bat is streaky, but the end product (.727 slugging, .457 on-base percentage) is indisputably great. And what never wavers is her defense. It's tough to make declarative defensive statements without more widely available video and statistics, but I know this: I've never seen a better outfielder.
Kylie Reynolds, P, Kent State All she's done for the past three years is strike out batter and win games. A season ago, she finished sixth nationally in strikeouts per seven innings -- and it was the first season in which she didn't win MAC Pitcher of the Year honors (Ball State's Elizabeth Milian ended her run). In 236 innings, Reynolds struck out 345 batters and limited opponents to a .190 batting average. And Reynolds isn't just a MAC phenomenon. Last season alone, she struck out 11 in a loss at Arizona State, didn't allow an earned run in 7 2/3 innings in a loss against Iowa and shut out a good Texas State team for an upset win.
Melissa Roth, C, Louisville The Big East may not be the Pac-10 or SEC -- it may not even be the Big Ten or ACC -- but if you hit .444 with an .870 slugging percentage and .566 on-base percentage, you can get it done in any uniform. That includes the Team USA uniform Roth wore in the Pan American Games. Her only problem is she's caught, pun intended, at what's surprisingly one of the deepest positions when it comes to elite hitters, joining the likes of Sam Marder, Chelsea Bramlett and Stacie Chambers in fighting for recognition behind the plate.
Graham Hays covers softball for ESPN.com. E-mail him at Graham.Hays@espn3.com.