Category archive:

Stanford Cardinal
March, 11, 2011
03/11/11
12:10
PM ET
Full disclosure before we begin: The first time I heard about the "Courses of Interest" for Stanford athletes was Wednesday, when about 50 Facebook friends posted it on my wall and had a good laugh at my expense.
[+] Enlarge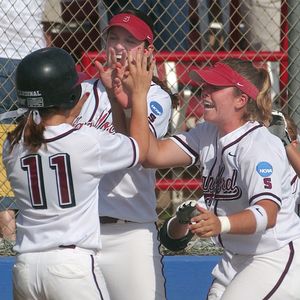 AP Photo/Jerry LaizureStanford athletes are held to the same standards expected of regular students.
It didn't exist when I played softball for Stanford from 1997-2001, but I did take five of the courses on list and I'm pretty sure I got either an A or a B in all of them because I got an A or a B in every class I took at Stanford.
What struck me most about the list though, was how few of the classes that were actually considered "easy" are on the list. Every college has them. They pick up fun names like "Quakes for Flakes" [Geology] or "Wish Upon a Star" [Astronomy] or "Mummies for Dummies" [Anthropology].
A lot of athletes take them to fulfill science requirements. But so do a lot of English majors.
At Stanford we called them "fuzzy classes" and no one needed a list to know which ones they were. If anything, fuzzy classes were more popular among the pre-law crowd than the athletes. No use ruining that perfect GPA and sparkling LSAT score over an upper-division computer science class. Plus, the Sweet Hall computer lab always smelled funky during midterms and finals week when all the CS and EE majors camped out for a week at a time to finish their programs.
I had a lot of reactions to the "Courses of Interest" list when I heard about it Wednesday. Mostly it just made me kind of sad because of the impression it gave about Stanford athletes.
I'm not going to tell you that every Stanford athlete can compete academically with non-athletes. I won't even argue every Stanford athlete would've been admitted to the school if they didn't play a sport really, really well.
The one thing I can say with conviction and certainty though is that no athlete goes to Stanford looking for easy A's.
Why would they?
If you're good enough to play a Division I sport at Stanford it's a fair bet you had several other offers at schools with less rigorous academic demands and admission policies.
I chose Stanford over UC Berkeley, Harvard, Yale, UCLA, UC San Diego, UC Santa Barbara and Michigan.
Like every athlete who chooses Stanford, the academic rigor was a selling point for me, not an issue to work around.
Did playing a sport affect my academic performance? Of course. We practiced every day from 2-6 p.m. and it was strongly encouraged that we take morning classes. Over the years, that ruled out a handful of classes I would've wanted to take. But since I can't remember the names of any of those classes anymore, it obviously didn't affect me all that much.
The real sacrifices I had to make in the course of being an athlete came with extracurricular activities. Research projects I didn't have time to join, study abroad I didn't want to miss a season for, office hours with professors I skipped in favor of a nap.
I regret some of those choices now. But I also treasure my experience as a student-athlete, so it's hard to say whether I'd really change things if I could go back to that time in my life.
I took my classes and softball very seriously. There wasn't room for much else. Dating was like another five-unit class. Frat parties and drinking would just make me throw-up at practice the next day.
In other words, I was pretty focused. Which is generally what Stanford looks for when admitting athletes.
There are no official standards you have to hit to get in. No magic formula of SAT scores and GPA, although generally it's gotta be above 1150 (out of 1600) and 3.5. But it's a sliding scale. And yes, it varies by sport.
A football player with a 1100 SAT and 3.4 GPA might get in while a softball player with the same scores wouldn't.
If one was more important than the other, it was GPA. That might seem strange at first. Like what if you went to an easy high school or took a bunch of junior college classes to inflate your GPA?
But if you think about it a little, it makes perfect sense. GPA is generally a good measure effort and focus, while SAT scores are a pretty good predictor of intelligence and potential.
I don't want to put words in the admissions counselors mouths, but my theory was always that Stanford realized an athlete who has shown a willingness to work in high school would do the same in college, even if the material was more difficult. They'd fight through it, seek out tutoring or counseling, and do what they needed to to succeed.
What I always found so interesting was how voluntary all that tutoring was. My freshman year I was supposed to meet in a study group with other athletes, but most of us found it wasn't all that productive and we could just study with other people -- regular students -- on our own time.
From the very beginning, Stanford integrates its athletes into the general population. An athlete is assigned a freshman roommate just like every other student. The only difference is that Stanford makes sure an athlete rooms with a non-athlete.
That's not a coincidence. Stanford doesn't want there to be a wide gap or a de facto segregation of athletes from the general student body. It's for the benefit of the athlete as much as the non-athlete, because each group can learn quite a bit from the other.
People often ask whether everyone at Stanford was really smart. My answer is always the same.
Five or 10 percent of the students there were simply geniuses. Off-the-charts, rocket-scientist geniuses. Another five or 10 percent were not that bright. Or maybe they were just shy, it was hard to tell.
Everyone else worked really hard, and was excellent at something. For some it was chemistry or computer science, for others it was volleyball.
But all of us snagged a few easy-A's along the way.
Ramona Shelburne is a columnist for ESPNLosAngeles.com and was a four-time Academic All-American at Stanford.
January, 18, 2011
01/18/11
12:47
PM ET
Editor's note: Graham Hays is counting down to the start of the 2011 college softball season with a look at each of the teams in his top 20. Check back daily for updates.

No. 19 Stanford
Last year: 37-19, lost in Stanford regional
Who returns: Stanford's core runs right up the middle of the diamond. Teagan Gerhart returns in the circle for her sophomore season, while second baseman Ashley Hansen, shortstop Jenna Rich and centerfielder Sarah Hassman account for an abundance of great defense and 149 of the 243 hits that return from last season. Primarily an outfielder her first two seasons, including 56 starts last season, junior Maya Burns takes over at catcher, while infielders Jenna Becerra and Melisa Koutz combined for 105 starts last season, primarily in the infield and designated player.
Who departs: Plenty of other teams are moving on without great players. Not many -- none, in fact -- are moving on without the cleanup hitter on the United States national team. Stanford will miss All-American outfielder Alissa Haber for obvious reasons, but catcher Rosey Neill (.868 OPS) and third baseman Shannon Koplitz (.910 OPS) will also be tough to replace.
Who arrives: Look for freshmen Corey Hanewich and Caitlyn Pura and redshirt freshman Tegan Schmidt to compete for outfield time on either side of Hassman in center. Michelle Prong, a New York native following in former Empire State standout Maddy Coon's westward footsteps, earned praise from coach John Rittman for her performance thus far and could hold down third base.
Statistically speaking: When a group of college kids works "perambulate" into its dugout chants for teammates with three-ball counts, it proves that all of those SAT prep courses paid off and that plate discipline has a home in Palo Alto. No Stanford player struck out as many as 30 times last season.
Preseason question: How is Teagan Gerhart?
Stanford fell on hard times last season when Gerhart was sidelined, initially by a stress reaction in her arm and then for good with torn cartilage in her wrist. The team's plight without her is no slight to pitchers who stepped in against loaded Pac-10 lineups or a loaded Hawaii lineup in the postseason, but it is a measure of just how little time Toby's little sister needed to establish her own identity as a program-defining ace.
In a season replete with pitching sensations, Gerhart's 1.65 ERA in 190.1 innings trailed only LSU's Rachele Fico, Oklahoma's Keilani Ricketts, Texas' Blaire Luna, Illinois' Pepper Gay, and Arizona's Kenzie Fowler among freshmen in BCS conferences.
"She was as prepared as anybody," Rittman said. "But you still have to go through it once and kind of navigate your way through that freshman year before you can truly mature and get comfortable in what it takes to be successful at this level. I think she did that last year. She has all the pitches. She throws with velocity, she can change speeds and she fields the position well. Those were all areas that this time last year we were kind of uncertain about."
The injury led Rittman and the Stanford medical and training staff to undertake a serious study of how Gerhart and top young pitchers like her are used, and perhaps overused, in high school and travel ball. That's a topic worthy of its own spotlight on another day, but the result for the Cardinal this season is an ace apparently on track to reclaim her place -- although an ace whose training, practice and workload demands sound like they'll be under careful scrutiny.
"You do the best you can," Rittman said. "Any time you have an injury like that, you want to make sure, first, that you're heathy before you start coming back. I think we did a great job with that. And then second, you make sure you build up to where you're ready to put the stress back on your body that you do during a season. By the time we start playing in February, we will have done that. There's still some of that work in progress, and there's always, certainly, a chance for a setback. But right now, everything is smooth sailing and she's working hard and throwing the type of workouts she's going to need to throw to make it through a long season."
January, 8, 2011
01/08/11
12:27
AM ET
There is no shame in finishing second to a worthy opponent. Christen Press knows that better than she might like, as a part of two Stanford women's soccer teams that reached the national championship game unbeaten, only to fall against teams that played better on those particular days.
[+] Enlarge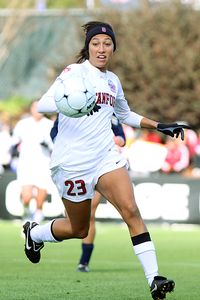 Andy Mead/YCJ/Icon SMIChristen Press led the country with a goal per game.
But now it's the rest of the college soccer world that can take solace in knowing there's no shame in finishing second to Press, winner of the Hermann Trophy as the nation's best player.
In a field of finalists that included Notre Dame junior forward Melissa Henderson, who earned a deserving nod as the College Cup's Most Outstanding Player en route to a national title; and Cal senior forward Alex Morgan, who scored what proved to be the goal that clinched World Cup qualification for the United States national team; Press was nevertheless the clear choice, and the right choice for the Hermann.
From the first game in the heat and humidity of August to a final played one day after snow squalls rolled through Cary, N.C., and interrupted Stanford's practice, the Cardinal were the team to beat and Press the player that made them so. That Notre Dame hit its stride in time to play brilliant postseason soccer didn't change that, but instead only emphasized that the question of the season, left unanswered until its final 90 minutes, was: Could anyone stop Stanford? And could anyone stop Press?
The Fighting Irish won the title; Press defined the season.
The numbers alone are staggering. Press was the only player in Division I to average a goal per game this season, finishing with 26 goals in 26 games. And -- not that there were a lot of soft spots on a schedule that included 19 games against NCAA tournament teams -- but she produced those goals consistently, scoring at least once in all but seven games. That she finished her career as Stanford's all-time leader in goals and assists might not have direct bearing on an award meant to honor the best of a single season, but those milestones do reveal something about the versatility that made her such a headache for opponents as a senior. While she was the nation's leading goal scorer this season, she tied for the national lead in assists as a junior. Even this season, asked to carry the weight of finishing so many goals, she managed eight assists, a playmaking mark exceeded by no more than 50 or so of the thousands of Division I players.
Stanford missed out on the program's first national championship, but the Cardinal did make history thanks to Press. For the first time, a program other than North Carolina produced back-to-back Hermann wins by different players, Press' win coming on the heels of Kelley O'Hara capturing the award last season. And, numbers aside, the most impressive aspect of Press' performance as a goal-scoring machine this season might have been her adaptability to the circumstances under which it came. After all, there are few more timeless themes in team sports than the perils of going from complement or understudy to the leading role. A handful of memorable performers -- Steve Young following Joe Montana, Diana Taurasi following Sue Bird and Swin Cash, Casey Nogueira following Heather O'Reilly -- manage it to championship effect. Fewer still do it with the grace and skill Press displayed in taking the reins, and taking the full brunt of opposing defenses.
Like those others, she didn't just clear the bar; she raised it higher for whomever comes next.
Press made almost everything she did look effortless, be it running by anyone and everyone, dancing around defenders in the box with the ball at her feet or unleashing a shot on frame from outside the 18-yard box. Nobody who wins the Hermann looks like a fish out of water on a soccer field, but something about Press made it particularly easy to miss both the effort behind her grace and the competitive fury behind the often-smiling visage.
"Everyone's always talking: 'Wow, Christen's so good, she's so fast, she's so smart.' And I feel like everyone just thinks those things are a given," Stanford senior Allison McCann said at the College Cup. "But the amazing thing about Christen is she's earned all of that. She's the first one out to practice and the last one staying after, doing extra shooting, asking for extra video.
"She does everything to make herself that great. The reason she is that incredible is because of how hard she's worked."
Nobody need feel wronged finishing second in this race. Press is finally alone in first, and that's precisely where she belongs as she exits the college stage.
December, 5, 2010
12/05/10
4:36
PM ET
Editor's note: ESPNU.com got inside access to the women's College Cup. Follow us on Twitter (@ESPNUcom) and on Facebook.
An unexpected visitor arrived in Cary, N.C. yesterday afternoon as almost half an inch of snow covered the soccer fields of the WakeMed Soccer Park. For the Stanford women's team, the precipitation was a fun and welcomed surprise. Taking a break from both the rigors of preparing to play in the national championship today against Notre Dame as well as studying for final exams, which will begin for the Cardinal players tomorrow, they hit the snow. Junior midfielder Kristy Zurmuhlen was crowned 'best snow angel,' after her creation even included a halo. The New Hampshire native might've had an advantage, given her roots. The women conducted impromptu snowball fights, laughing and relishing in the realization of an undefeated (thus far) season.
Meanwhile, the Notre Dame Fighting Irish found their own ways to relax before the title game, listening to some of their favorite team tunes (popular numbers from the hit TV show "Glee") and enjoying some down time. As noted by their media relations staff, they spent a good deal of the day resting and focusing on the one game left. As Notre Dame junior Ellen Bartindale told us yesterday in her blog for ESPN.com, "When we began our journey to the College Cup back in November, Coach told us, "Six games. Six games and you've won a national championship … we are now going to the national championship."
Both teams have had their share of experiences in arriving to the College Cup, from Stanford's airline travel delays on Tuesday evening to Notre Dame's arrival in three different groups. They've also both had to spend a good deal of their non-playing time hitting the books, as Stanford's finals commence upon their return home. Win or lose, both schools remind that their educations are the primary focus, though admit that it's sometimes hard to focus on studying given the exciting distractions of sport.
Notre Dame head coach Randy Waldrum has Tweeted throughout the week about the joyful experiences in Cary and the Fighting Irish family that has followed them here. As Bartindale noted, a crowd of Notre Dame alumni organized a congratulatory dinner and gathering for the team on Friday night at a local restaurant, giving the squad a feel of 'home' even when they're far away.
Family has been ever-present as well, such as our interview with Fighting Irish junior Melissa Henderson's proud mother on Friday night. And though Stanford's campus may be over 2,000 miles away, family and friends arrived to cheer the undefeated, No. 1-ranked team. After Friday night's victory, Christen Press had her parents, sisters, aunts, uncles and cousins surrounding her post-game. As the media relations staff tried to encourage her toward the press conference, her own cousins asked for her autograph. One boy cousin, about 10 years old, even asked her to sign his forehead. Press refused, probably on account of his parent's eventual disproval, but the star player did note that her cousin was yelling for her the WHOLE game -- and probably annoyed the other fans around her.
December, 6, 2009
12/06/09
9:26
PM ET
COLLEGE STATION, Texas -- Wrapping up careers during which eight of them played in a national championship game as freshmen, North Carolina's seniors won their third title, and did it on the same field where they lost their very first game as Tar Heels. That loss, a 1-0 double-overtime defeat against Texas A&M on Aug. 25, 2006, made history as the program's first season-opening loss in 23 seasons.
[+] Enlarge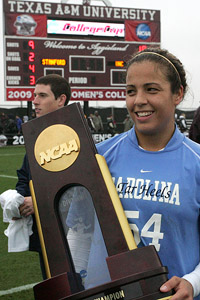 Andy Mead/Icon SMICasey Nogueira and the UNC seniors won their third national championship Sunday.
On Sunday, the seniors ensured it will forever be only a footnote.
"All of us knew we had come to Carolina to win," defender Whitney Engen said of that long-ago day. "And here we had lost our first game of the season. And I think to come full circle, and to win our last game here, it meant a lot to a lot of us. And I think the legacy that we want to leave on this program is that, you know, we pride ourselves in being a family. We pride ourselves in caring so much about one another."
Struggling this season after losing one of those seniors, Nikki Washington, to a season-ending injury (in an unfortunate twist, North Carolina's long postseason run still left the Tar Heels one game shy of what would be required for Washington to qualify for a redshirt, based on the percentage of games in which she appeared), the Tar Heels didn't look like champions after back-to-back October losses against Florida State and Miami.
But as after the Texas A&M loss, which was followed by 27 consecutive wins, adversity helped this collection of players find their footing.
"These girls come in, they know the standards of the program and all of a sudden, their first game, they've lost," coach Anson Dorrance said of the Texas A&M defeat. "They all feel this pressure. It's not like we're talking about it, but they all know the legacy.
"So what we basically talked about on the bus [after the Florida State and Miami losses this season] is, 'You know what? Don't play with that burden. Don't play with the burden of this enormous amount of pressure.' And all of a sudden, what happened in practice that week is I could sense the girls starting to come back a bit."
Fittingly, it was left to Casey Nogueira -- the heroine of so many postseason moments in her four seasons, but also a carefree personality so difficult to fit into the mold of driven, intense North Carolina legends -- to provide the final word.
"I just wanted to thank Anson personally and publicly for the way he handles any loss or any setback we've had in our four years," Nogueira said. "Because he has such a sophistication and such a kind of calmness. And when we lose, he doesn't freak out and make us do tons of fitness. He actually encourages us and calms us down and tells us we're going to be fine."
One of the greatest senior classes in the history of a program with plenty of competition for that title came a long way in four years. All the way to where it started.
December, 5, 2009
12/05/09
7:30
PM ET
COLLEGE STATION, Texas -- In September, when North Carolina and Notre Dame met for the first time, I asked Tar Heels freshman Lucy Bronze about the biggest differences between women's soccer here and in her native England.
"In America, it's a lot more intense and everyone's more up for it," Bronze said on Sept. 4 after playing 33 uneventful minutes off the bench in a 6-0 win. "Whereas in England, it's a lot harder to train because of money and facilities and stuff. Whereas everyone in America supports the soccer teams, so you've got more facilities, more time, lots of things English teams don't have."
[+] Enlarge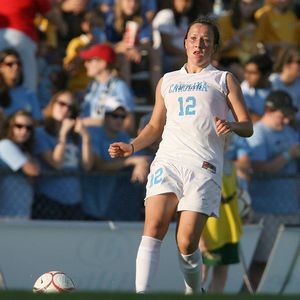 Andy Mead/YCJ/Icon SMILucy Bronze's training in England gave her different strengths than most of her teammates.
The intensity was on full display Friday night in the national semifinal rematch, as were the instincts of a player raised in a soccer culture that American training regimens have not yet duplicated. In UNC's 1-0 victory, Bronze's beautiful run down the right side, fed by Tobin Heath, set up Casey Nogueira's winning goal in the final 10 minutes.
After the game, UNC coach Anson Dorrance said the Tar Heels originally recruited Bronze, who attended camps in Chapel Hill from the time she was 12 years old, to play defense and warned her that meant she'd see little time behind a veteran back line this season. But with Nikki Washington's season-ending injury, Bronze began getting time in the midfield. Her three NCAA tournament goals before Friday's assist demonstrate a decided knack for the big stage.
"But the interesting thing that Lucy gives us out there, and we keep nagging our girls about, is if we can get the kids in this country to watch the [English Premier League], more of the highest level of the game on a regular basis, they're going to gain a polish and sophistication that just playing the game will never give you," Dorrance said. "The thing that Lucy Bronze has -- she's not the most athletic player on the field, she's not the strongest, she's not the most skillful, but she has a savvy that she has because she's just brought up watching the EPL."
Despite drawing a pair of Fighting Irish defenders on her late run, Bronze still managed to get the ball to the end line and deliver a perfect cross to Nogueira in front of goal.
"It wasn't like she sprinted by her -- the defender stepped and she could sense the defender's momentum was moving toward her and then she touched it by her," Dorrance said. "I mean, that's an elite move. And then she just, again, she didn't run away from the girl that was tracking her; she just kept touching it, touching it, touching it.
"We took a lot of shots in that game and we couldn't score, but she made sure the pass that she gave gave us a shot inside four yards with the goalkeeper eliminated."
• North Carolina's famous three-player back line will get as stiff a test from Stanford forwards Kelley O'Hara, Christen Press and Lindsay Taylor in Sunday's championship game (ESPN2, ESPN360.com at 1 p.m. ET). Dorrance's defense relies on pressure up front and three players, plus keeper Ashlyn Harris, to breach whatever leaks develop in the channels sometimes available without a fourth defender.
Dorrance is a leading proponent of teams' playing with three forwards in the women's game, even if it's in a 4-3-3 formation like Stanford's that still offers a more traditional back line. All the while, he knows it could come back to bite him.
Whether or not that's the case Sunday will hinge on Whitney Engen, Rachel Givan, Kristi Eveland and Harris.
"The majority of losses we have in our history have been against three-fronts," Dorrance said. "And certainly the three-front that Stanford's going to throw at us, with pace and skill at all three positions is going to present a wonderful challenge.
"But you know, this isn't life or death for me or the girls. This is a sport. It's going to be a spectacle. There's going to be a lot of attacking, and I think that's what our game needs."
December, 3, 2009
12/03/09
9:09
PM ET
COLLEGE STATION, Texas -- By the time Notre Dame took the field for the fourth and final practice Thursday at the Aggie Soccer Complex, the wind had calmed and the sun had turned its unfettered access to the sky into something approximating warmth.
Hopefully all involved enjoyed it while it lasted.
Friday's forecast in College Station calls for temperatures never reaching 40 degrees, with a strong possibility of snow showers and sleet in the afternoon (clearing by about the time of the second women's national semifinal, between North Carolina and Notre Dame).
During the morning's chilly but dry proceedings, UCLA coach Jillian Ellis joked about her team packing its thermals for this trip. Stanford's Ali Riley gave thanks for the warmth of the interview room and teammate Kelley O'Hara plopped down on the carpet to stretch, rather than venture outside.
But comedic overtones aside, the weather could be the only new entrant in the Women's College Cup this year (although it was getting close to frigid in Cary, N.C., last year, it was at least dry). As she guided her team through some light work on the field, Ellis warned that certain passes that might otherwise be delivered aerially would have to be made on the ground with force if the field was slick.
It's one intriguing variable for coaches who know each other extremely well.
"If its incredibly slick, you've got to be a bit more conservative in your supporting distance," North Carolina coach Anson Dorrance explained. "You've got to be a bit more conservative in the goal, you've got to be a bit more careful basically clearing the ball. So all the elements of a slick surface are brought to bear. … I think there are going to be some adjustments being made based on the conditions on Friday."
And at least one team might not even mind a little taste of home-field advantage.
"Come on snow; bring the snow," Notre Dame coach Randy Waldrum deadpanned. "Just pound us tomorrow; we're OK with that, absolutely."
• North Carolina didn't maintain dominant form in those early wins against UCLA and Notre Dame -- but considering who the Tar Heels played without, the relative ease with which they still made it to yet another College Cup may be more impressive.
A player who Dorrance has repeatedly called one of the best leaders he's ever had -- a bold suggestion he reiterated Thursday -- Ali Hawkins is almost as a good a talent as a leader. She missed the team's regular-season finale, three games in the ACC tournament and the first three rounds of the NCAA tournament with a sprained knee but returned to play 28 minutes off the bench against Wake Forest last weekend.
"If the season were a couple of weeks longer, I think we'd get her back to 100 percent," Dorrance said. "But she did some great things in practice this week.
"It's really interesting -- I've been using her as a role model for our focus and finishing. She's just a very focused individual."
• Stanford coach Paul Ratcliffe is a man of few words.
It could be said that he makes Bill Belichick look loquacious.
It could be said he make haikus look longwinded.
You get the picture. This is the entirety of his opening statement Thursday.
"We're excited to be back to the final four, and we're looking forward to strong competition."
Fascinating. But Ratcliffe, who is generally no more forthcoming with praise, made a rather bold statement -- briefly, of course -- by saying senior Kelley O'Hara is the best player in women's college soccer at the moment. By his standards, it was a stunner.
O'Hara's reaction to the effusive (and accurate) plaudits? She said she gave him five dollars before they got to the podium to say something nice about her.
November, 29, 2009
11/29/09
11:03
PM ET
Short only a Sonny and Cher song, it will be "Groundhog Day" in College Station, Texas at the women's College Cup.
For the first time since 1986, the previous year's field returns intact. The only difference Friday, 12 months after North Carolina beat Stanford and Notre Dame beat UCLA in the 2008 semifinals, is the draw: Stanford and UCLA meet in a Pac-10 rematch and North Carolina and Notre Dame meet in a rematch of both last season's championship game and a 6-0 win for the Tar Heels in South Bend three months ago.
No. 1 North Carolina vs. No. 2 Notre Dame
Earlier this season: North Carolina pounced on early Notre Dame mistakes at the first game in the Fighting Irish's new stadium on Sept. 4. Courtney Jones scored the first goal just 23 seconds in, off assists from Casey Nogueira and Tobin Heath, and the Tar Heels led 3-0 inside of 30 minutes. North Carolina's back line was fantastic throughout; Notre Dame's Melissa Henderson finished the game with no shots and few opportunities.
"It's just a loss at the end of the day," Notre Dame coach Randy Waldrum said at the time. "None of us are happy with how it went and the kind of loss it was, especially at home opening the stadium with a great crowd. But we'll look back a month from now and it will just be a loss on the record. It's not going to make or break us where we want to be at the end. And I'll relish an opportunity to get to play them again at the end of the year."
North Carolina player to watch: Casey Nogueira
It would be fitting if Nogueira closed a perpetually intriguing career with a third national title. After a very quiet regular season that included two appearances off the bench, she's scored six of her 12 total goals (and accumulated four of her nine assists) in North Carolina's seven games across the ACC and NCAA tournaments. It seems she was born for the big stage.
Notre Dame player to watch: Lauren Fowlkes
Things started to turn around for Notre Dame, which followed the loss to North Carolina with losses against Santa Clara and Stanford in California, when Waldrum moved Fowlkes to forward. As versatile as any player who will be in Texas, she could star on the back line or in midfield. But as a forward, she's found chemistry with Henderson and forced opponents to play both honestly. At 5-foot-10, she's literally a huge problem for opponents on set pieces.
No. 1 Stanford vs. No. 1 UCLA
Earlier this season: The Cardinal broke a 15-year drought by reaching the College Cup last season, but it wasn't until this season that they staked a claim to Pac-10 supremacy by beating UCLA for the first time since 2002. The first goal in that 2-0 home win in October didn't come until there was less than 20 minutes to play -- and it came on an own goal -- but Stanford controlled the run of play throughout the game.
"We've been looking forward to this game since we got here in August," senior Ali Riley said after the win. "Three years now, for the seniors, we've lost to UCLA, and this is so important and this is the No. 3 team -- this is like a Final Four game. So it was a huge win for us."
Stanford player to watch: Kelley O'Hara
The Pavarotti of Stanford's star-studded triumvirate up top, O'Hara has scored 25 goals in 24 games this season alongside Christen Press and Lindsay Taylor. Actually, a better comparison for the 5-foot-5 O'Hara might be Manny Pacquiao; she's gifted, relentless and simply not a lot of fun to be up against in tight confines on a soccer field.
UCLA player to watch: Sydney Leroux
I saw the Bruins at both of their low points this season, the losses at Stanford and at North Carolina, and still came away shaking my head at how good a finisher Leroux is in her second season (she missed last season's College Cup while earning top scoring honors for the United States at the Under-20 World Cup). She already shares the single-season program record with 23 goals this season and is too strong to knock off the ball and too fast to contain.
November, 22, 2009
11/22/09
6:09
PM ET
Stanford and Boston College played little more than a year ago, with the Cardinal coming out on top of a 3-0 decision in Palo Alto. Remarkably, that qualifies as ancient history when it comes to this year's quarterfinals in the NCAA tournament. UCLA and Portland meet for the fourth time in five years in the postseason. Florida State and Notre Dame meet for the fourth consecutive season. And North Carolina and Wake Forest meet for the second time this season.
In a tournament with few surprising results to date, no team will have the element of surprise on its side in the quarters.
No. 1 STANFORD vs. No. 2 BOSTON COLLEGE
Stanford profile: The Cardinal have the best front line in the country, although it overshadows a solid lineup from back to front. Senior forward Kelley O'Hara has emerged this season as the Hermann Trophy front-runner, but opponents find it hard to key on her with Christen Press and Lindsay Taylor alongside. When the midfield gets itself involved consistently, which isn't always the case, the Cardinal are almost impossible to defend.
Boston College profile: Likewise, an attacking third loaded with recognizable names overshadows a strong, composed back line and an athletic keeper. Freshmen Kristen Mewis and Victoria DiMartino might be the two most talented players, but there is plenty of experienced skill, including senior playmaker Gina DiMartino, Victoria's sister. Outside back Hannah Cerrone is valuable going forward and will need to balance that against measuring the Cardinal forwards.
No. 1 UCLA vs. No. 2 PORTLAND
UCLA profile: The Bruins have quietly been steamrolling opponents of late. In their past eight games, including three NCAA tournament games and four other games against NCAA tournament teams, they've put together a 29-4 edge on the scoreboard. A case could be made that forward Sydney Leroux has been the nation's best player over the past month.
Portland profile: You don't lose a Hermann contender like Michelle Enyeart -- injured in the final game of the regular season -- and continue without skipping a beat, but Portland has come close in putting up 10 goals through the first three rounds. There is speed all over the field, particularly on the flanks with players such as Kendra Chandhoke, and forward Danielle Foxhoven is as technical and polished a finisher as there is in the tournament.
No. 1 NORTH CAROLINA vs. No. 3 WAKE FOREST
North Carolina profile: The defending champion obliterated UCLA and Notre Dame 7-2 and 6-0, respectively, but had it share of ups and downs. Without injured speedster Nikki Washington, Tobin Heath and Casey Nogueira remain the most dangerous playmakers. Since allowing four goals in back-to-back losses at Florida State and Miami, a defense keyed by Whitney Engen, Rachel Givan and Kristi Eveland has posted eight consecutive clean sheets.
Wake Forest profile: Outscored 8-7 in their last five games before the NCAA tournament, the Demon Deacons have regained their defensive touch and found the luck any team needs in the postseason (advancing past South Carolina on a last-second header in the third round). Junior keeper Amanda Barasha has been solid since taking over the starting role following the team's 4-0 loss at North Carolina in late September.
No. 1 FLORIDA STATE vs. No. 2 NOTRE DAME
Florida State profile: Goal scorers always get the lion's share of attention, but Tiffany McCarty and Jessica Price deserve every bit of it. And a midfield that includes Amanda DeCosta and Becky Edwards can hold its own on any field. It's a young back line, regularly starting two freshmen and two sophomores, but it's a group with experience at both the college and international level.
Notre Dame profile: Moving Lauren Fowlkes up top proved the move that brought Randy Waldrum's lineup together after a slow start to the season. A less high-profile development, having Haley Ford available (she played 90 minutes in the third-round win against Oregon State after battling injuries for much of the past month) further solidifies an improving defense.
November, 15, 2009
11/15/09
10:00
PM ET
Two rounds are in the books in the women's soccer NCAA tournament, and 12 seeded teams survived to play another week. Here's a quick ranking of those teams and the four surprises.
1. Stanford


The tournament's top overall seed going into the first weekend lived up to the billing. The Cardinal piled up chance after chance in a 2-0 first-round win against Northern Arizona that could easily have produced crooked numbers on the scoreboard.
Third round: vs. 4-seed Santa Clara
2. Florida State


A 3-0 win over California in the second round was the kind of statement that at least momentarily separates the Seminoles from the teams to follow below. Cal matched the Seminoles shot for shot, but that only provided keeper Erin McNulty with a chance to show Florida State has all parts of the field covered.
Third round: vs. Texas A&M
3. Portland


The Pilots demolished Denver in the first round, no small feat against a better team than most of the high seeds faced, but needed a late Halley Kremenski goal (her second of the game) to get by Washington in the second round. Unlike the first meeting between the Pilots and Huskies this season, the WCC champs held a dominant edge on shots (23-3) and corner kicks (10-3), suggesting the offense still has kick without Michelle Enyeart.
Third round: vs. 3-seed Virginia Tech
4. North Carolina


A 1-0 first-round win against High Point raised eyebrows, but a 4-0 win against Georgia on Sunday returned them to their normal resting places.
Third round: vs. 4-seed Maryland
5. UCLA


First, the bad news: UCLA fell behind early in its first NCAA tournament game this postseason. Of course, the good news is it scored the next 12 goals in a pair of romps against Boise State and San Diego State.
Third round: vs. Virginia
6. Notre Dame


Perhaps the beneficiary of the lone notable first-round upset, with Central Michigan knocking off Purdue, Notre Dame rolled past IUPUI and Central Michigan by an 11-1 margin. Melissa Henderson scored a mere six times.
Third round: vs. Oregon State

7. Boston College


The Eagles won the unofficial New England derby, knocking off Harvard and Connecticut to advance to the Sweet 16. But it's getting past the next round that has the attention of a team that has made the third round in five of the past six seasons.
Third round: vs. Wisconsin (location TBD)
8. South Carolina


South Carolina's defense is back, adding a pair of shutouts to a run that began with strong showing the SEC tournament semifinal and final. It's good to have a hot hand at keeper in the postseason, and Mollie Patton's mittens are sizzling at the moment.
Third round: vs. 3-seed Wake Forest
9. Wake Forest


It was an uneventful weekend for the Demon Deacons, exactly what they needed to reach the Sweet 16 for the first time since 1999. Junior Casey Luckhurst scored three times -- the first three goals of her Wake Forest career.
Third round: at 2-seed South Carolina
10. Virginia


The Cavs may not be higher than No. 10, but no team did anything more impressive than Virginia in putting up six goals in 20 minutes to erase a 2-0 deficit in a second-round game against Penn State in State College, Pa.
Third round: at 1-seed UCLA
11. Santa Clara


The Broncos needed three overtime periods and a penalty shootout to get past Michigan State and Oklahoma State, but they're back in the Sweet 16 for the first time since 2005. They've scored one or fewer goals in eight of their past 10 games, but they're officially 6-2-2 in that stretch.
Third round: 1-seed Stanford
12. Texas A&M


The Aggies have just one clean sheet in their past five games, but they proved resilient in the NCAA tournament, scoring twice early to take control against Memphis in the first round and outlasting LSU in penalty kicks (with four conversions in four attempts) in Baton Rouge in the second round.
Third round: at 1-seed Florida State
13. Oregon State


Beat Ohio State on its home field in the first round and No. 3 seed Florida in overtime in the second round. Not too shabby for a virtual NCAA tournament neophyte.
Third round: at 2-seed Notre Dame
14. Maryland


The Terrapins did no wrong in the first two rounds, routing Monmouth and shutting out Washington State 1-0 in the second round. So is this too ranking low? Perhaps, but that three-game losing streak to enter the NCAA tournament is hard to forget.
Third round: at 1-seed North Carolina
15. Virginia Tech


The offense re-awakened against Murray State and Dayton. A 3-1 win against the Flyers in Dayton was especially impressive for a team that is 3-3 in true road games.
Third round: at 2-seed Portland
16. Wisconsin


Not a team that's going to be uncomfortable in low-scoring games. Wisconsin outlasted Arizona State in penalty kicks and protected a first-half goal for a long time in a 1-0 second-round win against Central Florida.
Third round: vs. 2-seed Boston College (location TBD)