Category archive:

Texas A&M Aggies
February, 22, 2010
02/22/10
12:50
PM ET
COLLEGE STATION, Texas -- As part of the festivities during home games at Texas A&M, fans are showered (all right, sprinkled) with free T-shirts every time Aggies pitchers strike someone out.
[+] Enlarge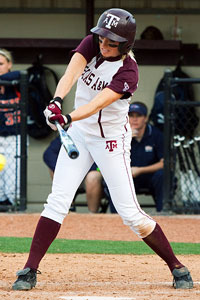 Glen JohnsonSenior shortstop Macie Morrow has found her place as Texas A&M's leadoff hitter.
The way junior Rhiannon Kliesing is pitching in the early going, that's going to be a pricey proposition. But a sponsorship opportunity is waiting -- patiently, of course -- for some local entrepreneur to fill a similar void when the Aggies come to the plate.
It's time to make the walk exciting, and College Station is the place to make it happen.
Texas A&M improved to 10-1 by sweeping all five games at home against Mississippi State (twice), Oregon State and Louisiana-Monroe (twice) in the Aggie Classic. Continuing a prolific offensive showing that began the previous weekend at the Kajikawa Classic, the Aggies scored at least six runs in every game and put up 13 in a run-rule win against Mississippi State, the second time this season they've scored more runs in a game than they did at any point last season.
"We've never had hitting like this in my four years of being here," senior shortstop Macie Morrow said.
One player can't shoulder as much of that load in the batter's box as one pitcher can affect a team's performance in the circle, but freshman catcher Meagan May could end up having almost as significant an impact as pitching peers such as Kenzie Fowler, Rachele Fico and others. Even after suffering through her first 0-for-4 day as a collegian in Sunday's finale, May is slugging 1.000 with a .484 on-base percentage and 18 RBIs. (Anecdotally, she's also a blast to watch wear a mask, given her penchant for making pickoff throws from her knees to all bases.)
But a recruit who could have gone just about anywhere but chose Texas A&M -- over Princeton, of all places -- because of family ties and the school's petroleum engineering program merits more space than is available here. What's noteworthy for now is how her presence changes the lineup around her. Nobody better illustrates that than Morrow.
A productive offensive player her first three seasons, Morrow didn't max out at 18 walks and a .344 on-base percentage as a sophomore (her junior season was interrupted by a frightening injury after she fouled a pitch off her face and missed 16 games). Now a full-time leadoff hitter for the first time, she's already drawn 11 walks and has a team-best .533 OBP ahead of May.
"It's just nice to see how mature she's become as a senior and the patience that she's shown at the plate," Texas A&M coach Jo Evans said. "And I think it makes her job easier right now because she has Meagan May hitting behind her. So Macie knows, 'I don't need to get a hit; I just have to figure out how to get on base.' And I think it's really relaxed her, let her take some pitches and I think she's seeing the ball well."
As a whole, the team is drawing better than five walks per game with a collective .434 on-base percentage (No. 2 hitter Kelsey Spittler is second on the team with eight walks). Correspondingly, the Aggies aren't bunting much at all and are running only selectively, particularly at the top of the order, where giving away outs to move Morrow over would only open up first base for teams to pitch around May.
It's an approach Billy Beane would love, and it's piling up runs in bunches.
As the cleanup hitter protecting May, Kliesing is a big part of the offense. And while her 3.28 ERA in the circle may not show it, she's part of the reason this team has legitimate potential to go a long way. Like Megan Gibson before her, Kliesing's strikeout rate and strikeout-to-walk ratio (51 strikeouts, seven walks in 32 IP this season) show steady progression over her career.

"I hate to use those two in the same sentence because it kind of snakebit Rhi [in the past]," Evans said of the Gibson comparison. "But I will say this: She's a completely different pitcher this year than she was the last two years. And she worked harder than she ever worked to get there. So her timing is on, and you can see that, and she's moving the ball well and she's throwing all her pitches."

With Rebecca Arbino and Arizona transfer Lindsey Sisk, once she returns in perhaps four weeks from an injury in which she damaged tendons in her non-throwing hand while trying to extricate the pit from an avocado, the Aggies have depth in the circle.

Graham Hays covers softball for ESPN.com. E-mail him at Graham.Hays@espn3.com.
April, 15, 2009
04/15/09
1:58
PM ET
Counting down the top 10 places I'd like to camp out in the bleachers this weekend. (You can catch Winthrop-Radford, UCSB-Long Beach State and Texas A&M-Oklahoma on ESPNU this weekend.)
Winthrop at Radford -- Sunday on ESPNU, 2 p.m. ET
(Three games)
It's a big weekend in the Big South, and it's also a test run for the conference tournament at Radford in three weeks. Both teams have pulled clear of the pack in conference play, with Radford a half-game ahead of Winthrop at 8-1. Considering the teams had combined for 77 home runs in 69 games entering their nonleague games Wednesday, offense should rule.
UC Santa Barbara at Long Beach State -- Saturday on ESPNU, 4 p.m. and 6 p.m. ET
(Three games)
No conference tournament, so no second chances in the Big West. That means must-win time at least for Santa Barbara, which doesn't have the RPI to bank on for at-large consideration in the NCAA tournament and is already two and a half games behind Fullerton and Cal Poly at the top of the standings. The Gauchos have proven they can be a pest, beating UCLA, Nevada, Oregon, Kansas, NC State already, in addition to a nonleague win against Long Beach State in which both sides tried not to tip their hands for later in the season. Can they be predators?
Texas A&M at Oklahoma -- Sunday on ESPNU, 10 p.m. ET
(Two games)
It's not quite the titanic clash these two typically stage in the Big 12, but it's a chance for both sides to stay afloat. The Aggies are 13-7 since taking two of three from Arizona at the end of February, but after three run-rule losses in their past six games, this series and Wednesday's game against Baylor are chances to show they can still be a factor in May.
Michigan at Illinois
(Two games)
Northwestern's first conference loss last week opened the door a crack for Michigan, which also trails one-loss Ohio State in the standings but still has a doubleheader in Ann Arbor left against the Buckeyes. Before worrying about that, the Wolverines face their toughest remaining road trip. Entering Wednesday's doubleheader at home against Indiana, the Illini were averaging 8.7 runs per game in seven home games.
Sacramento State at Portland State
(Four games)
You get your money's worth with the weekly PCSC double doubleheaders, and the time investment is worth it in Portland. Sacramento State hosts Loyola Marymount next weekend in the series many expected to settle the title. But despite losing last season's ace, Mandy Hill, the Vikings are in the mix under first-year coach Tobin Echo-Hawk. Senior Jamee Rauch is 13-for-27 with three walks in eight conference games.
Southern Illinois at Creighton
(Three games)
Wednesday's doubleheader against third-place Drake will determine the margin, but Creighton will hold a Missouri Valley Conference lead of some sort when the second-place Salukis visit Omaha this weekend. Creighton swept all three games last season in Carbondale, and revenge won't be easy if it means going through Bluejays ace Tara Oltman.
Arkansas at Alabama
(Three games)
The SEC regular-season title is done and dusted for Florida, and the prospect of playing a super regional on the road is suddenly at least a possibility, albeit remote, for former co-favorite Alabama. That it faces a team this weekend with more home runs and a better slugging percentage in league play -- and that team isn't Florida -- underscores part of the reason why. A lot of teams would be content with Alabama's .426 slugging percentage in the SEC (.488 overall), but a lot of teams didn't return almost the entire lineup this season from a team that hit 43 home runs and slugged .598 in the SEC last season.
Florida at LSU
(Three games)
One thing Alabama has that no other SEC team has since 2007 is a win against Florida. And if that's to change before this year's conference tournament, the Gators' final road trip of the regular season would seem a likely time. LSU is coming off one of its most prolific three-game stretches of the season, but Cody Trahan's pitching will be equally important. When the Tigers came close against the Gators last season, Trahan didn't walk anyone in six innings, losing 2-0 on a pair of unearned runs.
California at Arizona
(Two games)
The Bay Area schools will also swap places in Arizona for single games Friday. No team had a more important weekend last time out than Cal, which took both home games in a three-game home-and-home series with Stanford. That came on the heels of seven losses in 12 games. With their next six league games at home, there's time, but at least one win in Tucson would be a big boost toward securing an NCAA tournament seed.
Stanford at Arizona State
(Two games)
They played only the standard three games last season, but that was still enough to produce 30 innings of softball. It was also a span that saw the Cardinal produce just two runs. Freshman Hillary Bach is Arizona State's ace now, and Megan Elliott hasn't pitched since allowing five earned runs on three hits, three walks and three wild pitches in less than two innings against UNLV on April 7. But Elliott was part of that pitching domination last season, going 9 1/3 scoreless innings in one of the wins against Stanford.
March, 3, 2009
03/03/09
2:33
PM ET
• There will be a lot of talk about the top of the ticket at this weekend's tournament hosted by the University of Alabama, which features a pair of games between No. 1 Washington and No. 3 Alabama. But Baylor, along with Georgia, will also be on hand in Tuscaloosa, and the Bears are starting to look like a team to watch.
Glenn Moore's team wrapped up a perfect weekend Sunday, albeit against unranked competition in Louisiana Tech, Louisiana-Monroe and Rutgers, and sits at 17-3 overall. A year after the Bears struggled to find quality innings in the circle following Lisa Ferguson's graduation, Whitney Canion is out of the gates quickly in the race for top freshman pitching honors. Canion is 10-2 with 117 strikeouts in 81 2/3 innings, including 15 strikeouts and a win in 13 innings against then-No. 1 Florida last month. To put those numbers in some perspective, last season's staff combined for 192 strikeouts in 306 1/3 innings.
• Houston slipped out of the Top 25 last week, and a month into the season, it's still looking for its second shutout of the post-Angel Shamblin era in the circle. But the Cougars did register one of last weekend's notable results in a 3-2 win against Michigan at the weather-shortened Leadoff Classic. Bailee Lott picked up the win for the Cougars, and with an offense averaging five runs per game against a quality schedule, they still have the tools to help out a pitching staff in rebuilding mode.
[+] Enlarge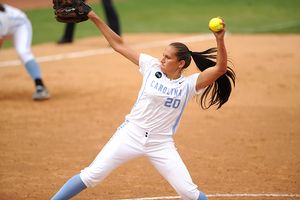 Jeff Camarti/UNC Athletic Communications North Carolina's Danielle Spaulding has struck out 98 batters in 47 innings this season.
Texas A&M visits Houston in perhaps the best midweek offering on the national schedule, with the Aggies fresh off taking two of three from Arizona.
But beyond what should be an intriguing game in the battle for Lone Star bragging rights, it's also the third annual "Striking Out Breast Cancer" game at Houston's Cougar Softball Stadium. Cougar players will wear pink jerseys and batting helmets, which will be autographed and auctioned as part of a silent auction, with proceeds going to the Houston affiliate of the Susan G. Komen for the Cure charity.
For the third time in as many events, Veronica Nordstrom will throw out the ceremonial first pitch to her daughter, Elaina. The elder Nordstrom is a cancer survivor, and in last year's event, Elaina hit a walk-off grand slam against Texas.
• It's not easy to believe (or maybe that's just me who wonders where February went), but North Carolina kicks off ACC play with an important three-game set against Florida State in just six days. That series caps off a run of seven games in five days for the Tar Heels, who play Elon, Georgetown, Michigan State and Princeton this weekend.
The Tar Heels were washed out at the Tennessee classic last weekend, costing them a marquee game against the host Lady Vols, but the team from Chapel Hill has been rolling since a pair of one-run defeats in the opening week. Even the one loss in the interim, a 4-2 setback against Fresno State at the Cathedral City Classic, couldn't stop the Tar Heels for long. Trailing Oregon State a few hours after the Fresno game, UNC rallied for four runs in the top of the seventh and secured a 5-2 win.
That doesn't seem like the sign of a team stuck on last season's postseason disaster, which saw North Carolina go two-and-barbeque on its own field in regionals.
But perhaps it is indicative of a team that knows it can count on its runs to stand up behind Danielle Spaulding and Lisa Norris. The pitchers have allowed just 11 earned runs in 92 1/3 innings this season combined, splitting duties almost exactly equally.
"They're so solid when they go out on the mound," Papa said. "They're two really quality pitchers. They could be starters on any team, the No. 1 on any team. It's just that we have a good complement. And they all like each other and they get along well."
Spaulding, in particular, has been almost unhittable, allowing just 19 hits -- and only four extra-base hits -- in 47 innings, while striking out 98. The Californian throws the ball hard enough, reaching the mid-to-upper 60s in Cathedral City when there was a gun on her, but her ability to move the ball in both the vertical and horizontal planes is what catches the eye.
"My favorite and best pitch is the rise ball," Spaulding said. "I probably throw that 85 percent of the time. … Even when it's not on, I still throw it, just because that's my pitch. I mean, I usually always get a strike with that. That and the curveball is my other go-to pitch."
• And finally, I'm going to try to aggregate the weekly award winners in this space on a regular basis, so we'll see how that goes. For the most recent week of competition:
ACC
Pitcher: Karla Wilburn, Virginia
Player: Sarah Tacke, Virginia
Atlantic 10
Pitcher: Brandice Balschmiter, Massachusetts
Player: Carly Normandin, Massachusetts
Big 12
Pitcher: Rhiannon Kliesing, Texas A&M
Player: Holly Ridley, Texas A&M
Big East
Pitcher: Brittany Gardner, Syracuse
Player: Colby Wherry, Louisville
Big Ten
Pitcher: Kim Reeder, Ohio State
Player: Lindsey Hansen, Michigan State
Big West
Pitcher: Anna Cahn, Cal Poly
Player: Kristin Pocock, Long Beach State; Nicole Matson, Pacific (shared)
Mountain West
Pitcher: Kelli Eubanks, Colorado State
Player: Jessica Camello, San Diego State
Pac-10
Pitcher: Donna Kerr, UCLA
Player: Renee Welty, Arizona State
SEC
Pitcher: Stacey Nelson, Florida
Player: Francesca Enea, Florida
WAC
Pitcher: Mallary Darby, Nevada
Player: Tanisha Milca, Hawaii