Category archive:

Oregon Ducks
January, 26, 2011
01/26/11
11:16
AM ET
Editor's note: Graham Hays is counting down to the start of the 2011 college softball season with a look at each of the teams in his top 20. Check back daily for updates.

No. 13 Texas
Last season: 43-15, lost in Austin regional

Who returns: Six of seven position players who stared at least 50 games and a pair of pitchers who totaled 322 innings in the circle last season lead the returnees. And for all that experience, it's still a team with just three seniors. Pitcher Blaire Luna (30-10, 1.39 ERA) and outfielder Taylor Hoagland (1.098 OPS) are coming off two of the best freshman seasons in the nation among pitchers and position players, respectively. Junior third baseman Nadia Taylor, senior catcher Amy Hooks and junior first baseman Lexy Bennett all slugged better than .575, part of a lineup that was a far cry from some of the low-scoring teams of old.
Who departs: The most notable loss is shortstop Loryn Johnson, who started 222 games at a variety of infield positions during her four seasons in Austin and held a share of the program single-season home run record until Courtney Craig broke it last season. Tallie Thrasher also takes a good run-producing résumé with her, and Erin Tresselt made 10 starts in the circle as a senior.
Who arrives: A three-time all-state selection in Texas as a prep star, Taylor Thom will likely step in for Johnson at shortstop. Lefty speedster Brejae Washington should find a home in center field and add to a running game that lacked anyone with as many as 20 stolen bases last season. And freshman pitcher Rachel Fox, the Texas Gatorade Player of the Year last year, is already earning eye-catching praise from coach Connie Clark, with significant innings likely to follow.
"She's about as good as anybody we've ever had mentally," Clark said.
Statistically speaking: In its first 13 seasons of softball, Texas had 16 instances of a full-time player slugging .500 or better for a season. It added six more to that total just last season, a group which doesn't even include Shelby Savoy, who slugged .720 with 11 home runs in limited at-bats.
Preseason question: Was the way last season ended part of the learning curve?
It's not a subjective statement to say Texas was the biggest disappointment in the opening round of the NCAA tournament. Seeded seventh, Texas was the strongest seed to fail to advance from regionals and one of just two seeds to fall at home.
The back-to-back regional losses against BYU and East Carolina (after an opening win against Iona) were explicable, considering BYU's offense ranked among the most statistically productive in the nation and East Carolina had an ace in Toni Paisley who was capable of shutting down almost any team on a given day. But it wasn't just those results. After appearing poised for much of the season to make a run at the World Series for the first time since the Cat Osterman era, the Longhorns dropped a pair of games at home against Georgia to close the regular season and exited the Big 12 tournament on the wrong end of an 11-6 score against Missouri.
With the season on the line against East Carolina, Luna struck out 11 and allowed just three hits, emblematic of a Longhorns season that wouldn't have been remotely as successful without her. But her ups and downs late in the season seemed representative of an entire team hitting a wall mentally, and in Luna's case after 242.1 innings and 402 strikeouts, perhaps even physically.
"I think that could have been somewhat of a factor, and that even goes into part of the experience that she'll deal with this year in her preparation," Clark said. "She was a hard worker, but until you really get a grind of a year under your belt, I don't think you understand it until you get that."
True for the ace, true for the team. The parts didn't come together when they needed to for Texas. But with almost all of those parts back and wiser for the experience, Clark thinks last season's disappointment was part of the process.
"We're hoping that now, that critical piece, we've got that under our belt," Clark said of experience. "When we talk about the end of the line, we're talking about getting into and playing up in Oklahoma Series at the Women's College World Series this year. If that doesn't happen, it's going to be a complete disappointment."
January, 25, 2011
01/25/11
9:07
AM ET
Editor's note: Graham Hays is counting down to the start of the 2011 college softball season with a look at each of the teams in his top 20. Check back daily for updates.

No. 14 Oregon
Last season: 36-21, lost in Columbia super regional

Who returns: The Ducks return seven starters in the field and all four pitchers from a team that reached a super regional for the first time since the NCAA tournament adopted that format. As a freshman, Jessica Moore set a program record with 238 strikeouts and classmate Samantha Pappas compiled the seventh-best slugging percentage in program history. Allie Burger returns after leading the team with a .387 batting average, while Kelsey Chambers hit .301 with a .497 slugging percentage. In the circle, Sam Skillingstad (2.94 ERA, 100 IP), Mikayla Endicott (3.40 ERA, 47.1 IP) and Brittany Rumfelt (2.65 ERA, 42.1 IP) join Moore.
Who departs: Four-year starter Neena Bryant managed a rare feat in her final season, upping her offensive production in conference play (hitting .307 with a 1.000 OPS in 21 game). Blair Williamson and Carlyn Re also provided productive bats at part-time startwers. Former assistant coach Jessica Allister is also gone after taking the head coaching position at Minnesota.
Who arrives: Infielder Courtney Ceo is the most decorated of the four freshmen in coach Mike White's first signing class. The Californian was an Under Armor All-American in high school. Junior Christie Nieto, a junior-college All-American last season, played a number of positions in the fall but seems like an option with lefty power potential at first base or designated player.
Statistically speaking: Oregon's offense fell off the table in Pac-10 play, its run production dropping from 5.14 out of conference to 3.48 in conference. But one player unaffected was Chambers, who slugged a team-best .567 in the Pac-10.
Preseason question: How many pitchers does it take to screw in a lightbulb in Oklahoma City?
For most of the Oregon roster, the part of the past that includes the program's only trip to the Women's College World Series predates their arrivals in the larger world. So it's only fitting that a pitching strategy some feel is the wave of the future in a game increasingly fueled by offense could be the ticket these Ducks use to make a trip to Oklahoma City.
So will Oregon once again employ the busiest bullpen in the upper echelon of college softball?
Consider how all eight softball-playing schools in the Pac-10 stacked up in terms of the percentage of games in which one of its pitchers registered a complete game.
Washington: 83.1 percent
Arizona: 68.2 percent
Arizona State: 65.6 percent
California: 65.1 percent
Stanford: 53.6 percent
UCLA: 45.9 percent
Oregon State; 40 percent
Oregon: 33.3 percent
Given the injury situations involving UCLA's Megan Langenfeld and Stanford's Teagan Gerhart (who completed 62.1 percent of her starts when healthy), those numbers are about what you would expect when taking into consideration the bona fides of each team's top pitcher. In other words, Danielle Lawrie was going to finish most of what she started because, well, she was Danielle Lawrie.
The most notable exception to that logic? Oregon's Moore. All she did as a freshman was break the school's single-season strikeout record by 35 strikeouts, a wider margin than now separates second from sixth on that same list. Yet Moore completed just 45 percent of her starts, while Skillingstad, Rumfelt and Endicott combined to make 47 relief appearances, each striking out better than a batter per inning in the process.
Only four teams in the Pac-10, Big 12, Big Ten or SEC had fewer complete games than Oregon: Auburn, Indiana, Mississippi State and South Carolina. Of that group, only Auburn comes to close to fitting the same mold as Oregon, going to the bullpen by choice rather than necessity (so, of course, Moore and Auburn's Anna Thompson both went the distance when the Ducks beat the Tigers in postseason play). But with more runs being scored across the sport, a true four-pitcher staff -- essentially two starters who can relieve and two dedicated relievers -- is one way to go, changing up the looks hitters see and reducing the physical toll taken by longer games.
Perhaps Moore continues to emerge as someone White, himself a world-class pitcher, trusts in a Lawrie-like role. But if not, Oregon's ace and the rest of a deep staff will remain at the forefront of innovation.
April, 19, 2010
04/19/10
10:41
AM ET
Here are five teams that had an impact in NCAA softball last week.
[+] Enlarge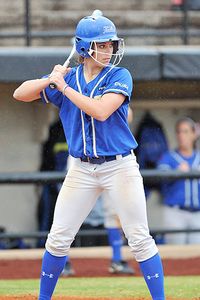 Walt Beazley/The University of TulsaTulsa's Samantha Cobb has 12 homeruns thus far this season.
Tulsa: The Golden Hurricanes lost a chance for a marquee midweek win in a 3-1 defeat at home against Oklahoma State, but got the wins they truly needed Saturday. Down 3-0 after one inning in the series opener against Houston, Tulsa rallied for an 8-4 win in that game and claimed a 7-1 win in the nightcap (Sunday's finale was rained out).
Tulsa opened last week No. 68 in the RPI and in the middle of the pack in Conference USA. It woke up Monday second in the conference heading into a road trip to fourth-place Central Florida, and it makes a strong case for at-large consideration for the NCAA tournament.
Despite the loss against Oklahoma State on Wednesday, Tulsa is 8-5 against RPI top-50 teams, including an earlier win against the Cowgirls in Stillwater.
The wins against Houston even came largely without the services of de facto ace Jackie Lawrence, who coach John Bargfeldt told announcers during Saturday's game had been hit in the head during batting practice. She didn't pitch again after three up-and-down innings in the first game, but freshman Kalynn Schrock came on in relief in both games and walked just three in 8.2 innings (she has a great strikeout rate but had walked 32 in 70.2 innings entering the series).
Shortstop Samantha Cobb, another freshman, had the big hit with a grand slam in the bottom of the sixth in the first game to break a 4-4 tie. With 12 home runs on the season, she's providing good protection for All-America hopeful Lauren Lindsay.
[+] Enlarge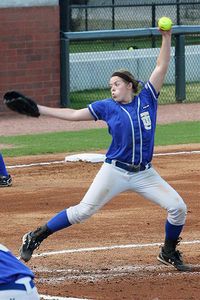 Walt Beazley for ESPN.comFreshman Kalynn Schrock came on in relief for Tulsa in both weekend victories against Houston.
Virginia: The only women's team at Virginia that has never advanced to an NCAA tournament, the Cavaliers bounced back from a bruising trip to Georgia Tech the previous week with four wins, including two to clinch a weekend series at home against fellow postseason hopeful NC State.
Freshman ace Melanie Mitchell went the distance in Saturday's 4-1 win in 10 innings and again in Sunday's 1-0 clincher in regulation. Mitchell is now 21-13 with 235 strikeouts in 214.1 innings. She may be a work in progress, but she gives Virginia the commodity every program needs to turn the corner: a workhorse ace in the circle.
"She's good now, but I don't even think she's really even -- she's going to be so much better in another year or two years, when she gets in the weight room, gets stronger and gets smarter," Virginia coach Eileen Schmidt said during last week's Georgia Tech series in which Mitchell started all three games. "She didn't really come in as high-profile as some of the other [freshmen pitchers] around the country, but she's worked her tail off. She's an engineering major; she's a smart kid."
If the Cavaliers can avoid a disaster at Boston College on Saturday and Sunday, they should be in the NCAA tournament; they already have wins against Michigan, Arizona and Louisiana-Lafayette, plus a top-30 RPI.
[+] Enlarge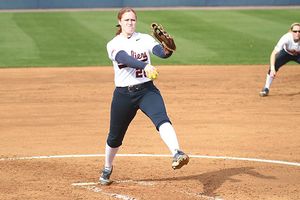 Virginia Athletics Virginia's Melanie Mitchell is a workhorse ace in the circle.
Cal Poly: By the close of business Sunday, not a single team in the Big West was more than a game above .500, the product of brutal early schedules across the board and balanced competition within the league. But even if there's a lot of the regular season left to play without a conference tournament to eat up the final week, Cal Poly helped its cause immensely with three wins against Cal State Fullerton.
The Broncos -- who went 0-10 out of conference against Arizona, Arizona State, Oregon, Stanford and Oregon, and are now 18-7 against everyone else -- claimed sole possession of first place with the sweep. First baseman Krysten Cary, outfielder Dana Perez and catcher Stephanie Correia each had at least one hit in all three games, and freshman pitcher Rebecca Patton won two starts to continue a recent hot streak.
The defending conference champions aren't even halfway home in the league yet, but despite five new starters in the lineup this season, the results look familiar.
Oregon: Hopefully I'll have more on Oregon later this week or soon thereafter, but coming off a sweep of Cal over the weekend, the Ducks defended their home turf as well as any team can reasonably hope to with one win in three starts against Washington's Danielle Lawrie.
It doesn't get any easier, with road trips looming to Arizona State, UCLA and Stanford, as well as a home series against Arizona, but even a hard-earned 4-8 record in those games would give the Ducks double-digit conference wins. First-year coach Mike White has to rank near the top of the list for coach-of-the-year honors for the turnaround he's engineered with a young roster. Freshman Jessica Moore closed out the win against Washington and remains fantastic, but full credit goes to sophomore Samantha Skillingstad for five shutout innings to start that game.
Florida State: Sometimes you move the needle in the wrong direction. Already on the fringes of the debate for an NCAA tournament seed, Florida State dropped two of three games at Virginia Tech and needed Sunday's 3-1 win to snap a five-game losing skid.
The Seminoles scored 14 runs in three games against the Hokies, their most in an ACC series not involving Boston College. But the generally stellar pitching duo of Sarah Hamilton and Terese Gober faltered during a week that also included a pair of losses at home against Florida. Opportunities remain with a home series against Georgia Tech and a trip to Virginia, in addition to the ACC tournament, but it looks more and more like Florida State will have to go the unseeded route in the NCAA tournament, possibly through an SEC landing spot like Gainesville, Fla. or Tuscaloosa, Ala.
Graham Hays covers softball for ESPN.com. E-mail him at Graham.Hays@espn3.com.
January, 14, 2009
01/14/09
10:50
AM ET
Next up in the softball preseason top 20 is No. 17, a number worn by New York Giants wide receiver Plaxico Burress. And after the way Burress' saga unfolded (constantly and often loudly) on television, radio and internet throughout the latter half of the NFL season, that makes it a number that reminds me exactly how much I enjoy college softball.
17. Massachusetts
Last season: 42-13 (Lost to Stanford in Amherst regional)
[+] Enlarge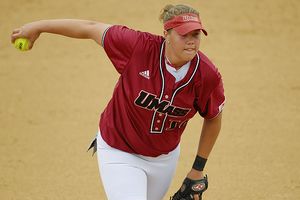 UMass Media RelationsSenior Brandice Balschmiter has allowed only 10 home runs in 818.2 career innings for UMass.
Preseason talking point: It's a moment already slipping into the mists of history, but Northwestern's memorable statement of resurgence under Kate Drohan at the 2006 Women's College World Series almost didn't happen. Hosting a super regional, the Wildcats dropped a 1-0 decision against Massachusetts in the opener and trailed 2-0 with one out in the sixth inning of the second game. After two bases-loaded walks tied the score in the sixth, a two-run double in the seventh won that game. A 9-0 win in the rubber match sent Northwestern to Oklahoma City and eventually the championship series.
And whether or not Massachusetts reaches Oklahoma City this year for the first time since 1998, Brandice Balschmiter is unquestionably five outs better than she was as the outstanding freshman who pitched every inning of that 2006 super regional.
Walks played a part in Balschmiter's undoing in Evanston, Ill., but there aren't many pitchers who have been more efficient over the past two seasons. After walking 102 batters in 289.1 innings as a freshman, she walked a total of 99 in 529.1 innings over her sophomore and junior seasons. And in 818.2 career innings, she's allowed only 10 home runs, or roughly one every 12 games. All of that on top of nearly 900 career strikeouts and a defense behind her with award-caliber gloves like Whitney Mollica at third and Carly Normandin in the outfield.
Even in a year when freshmen grabbed headlines across the country for their pitching exploits, five of the eight teams in last season's World Series arrived with senior aces. And from DePaul's Tracie Adix and Baylor's Lisa Ferguson in 2007 to Alabama's Stephanie VanBrakle in 2006 and Michigan's Jennie Ritter in 2005, one need not look too far into the annals history to find ample evidence that a senior ace is a good place to start when looking for World Series hopefuls beyond the usual Pac-10 suspects.
Random Quick Link
Although primarily an interesting update on Oregon adding lights to its field (though it won't play any Pac-10 games under them this season), Shawn Miller's article in the Eugene Register-Guard also offers a brief overview of Oregon's freshman class. The Ducks took a big hit when Jennifer Salling elected not to return to Eugene after playing for Canada in the Olympics and they don't factor into our preseason top 20, but they at least have some options in the circle with the addition of a pair of decorated freshmen from the Pacific Northwest.