Category archive:

California Golden Bears
March, 29, 2011
03/29/11
11:36
PM ET
The NCAA swimming and diving championships this year were as sweet as milk and honey for California, which swept both the men's and women's titles.
It was the first championship for the Cal men's team in 31 years, and ESPN.com caught up with Cal coach David Durden to talk about what was a memorable weekend in Minneapolis for his No. 1-ranked Golden Bears:
Chris Low: Has it sunk in yet that your team accomplished something that hasn't been done at Cal in more than 31 years?
David Durden: It was a blast, and we were reminded how long it had been by all of our alums who were out there cheering us on. I don't know who was more excited at the end of the meet, us or our alums.
Low: How many of them were there?
Durden: We had 66 swimming alums who made the trip, and I'm talking everybody from recent graduates to guys who graduated as far back as 1975. It was a great mix. We had a dinner on Saturday night, and we had somewhere around 30 Olympic medalists in the room and some of our most distinguished alumni, including Matt Biondi. It was great to be a part of that.
Low: Going into the meet, what did you feel like was most important for your team?
Durden: We just had to go in and swim, and I know that sounds really simplistic. There were some key events, the 100 breaststroke [won by Damir Dugonjic] and the 200 breaststroke [Martti Aljand was second], and the relays were crucial for us [Cal won three of the five]. But we just had to go in and swim. As the competition nears, the expectations mount and you start to hear people saying that Cal's supposed to win and is going to win. We had more than 150 people out there to watch us, so you start to feel that a little bit. What we tried to do was to get our guys to relax and realize what a blast this whole experience was.
Low: Is there any way to overemphasize how important the relays were?
Durden: No, and one of the ones we didn't win, the 800 relay, might have been the catalyst for us. It's not our strongest event by any stretch of the imagination, but for those four guys to step up and get fifth was huge. It was Tom Shields' third race of the night, and he did a phenomenal job of leading that race off, and the other three guys did just enough to get that fifth-place finish. That gave us a great deal of confidence coming out of the middle day, and then Nathan Adrian was the hammer for us on our 400 freestyle relay team to clinch it on the final day. [Adrian also won his third straight 100 freestyle title and was named the meet's top swimmer.]
Low: How satisfying was it to finally break through after finishing second a year ago?
Durden: This was one of those deals that was four years in the making when I first got to campus and all the guys were new. We were all going on this journey together and didn't know what the destination was going to look like. I'm extremely grateful to that group of guys back in 2007 and 2008 that went along that path with me. They could have easily gone the other way and fought me every step of the way, but they didn't. They helped to drive this ship to where we are today.
Low: When you win one championship, the next question becomes: Can you win another? What are the chances for a repeat?
Durden: Ask me again in December. Next year, we have more on our plate than just the NCAA meet. We have the Olympic Trials and the Olympic Games in 2012, and that's where much of the focus will be.
February, 2, 2011
02/02/11
9:22
AM ET
Editor's note: Graham Hays is counting down to the start of the 2011 college softball season with a look at each of the teams in his top 20. Check back daily for updates.

No. 8 California

Last season:
44-19, lost in Athens Super Regional
Who returns: One of the nation's most productive hitters at the plate returns, as does a pitcher who ranked 18th in the nation in ERA and 31st in strikeouts per seven innings. And we haven't gotten beyond Valerie Arioto yet. Whether or not she's the best hitter or the best pitcher, Arioto is ready to fill the role of the nation's most complete player, a role shared rather memorably last season by Megan Langenfeld and Danielle Lawrie.
And Cal returns much more than just Arioto. Former high school teammates Jolene Henderson (1.78 ERA, 192 strikeouts in 192.2 innings) and Lindsey Ziegenhirt (.562 slugging percentage) lived up to the billing in their first season as college teammates and a college battery. A freshman standout at Washington in 2008, Jace Williams (.439 on-base percentage) didn't miss a beat in her first season of eligibility at Cal. Jamia Reid (.380 BA, 48 stolen bases) and Frani Echavarria provide proven run production from the outfield, while Elia Reid, Jamia's twin sister, has 39 stolen bases in two seasons.
Who departs: The middle infield needs to be replaced after the departures of second baseman Shannon Thomas and shortstop Taylor Kelly. Vernae Sevilla was also a frequent member of the lineup who will need to be replaced.
Who arrives: From a distance, Ashley Decker seems a good bet to make an immediate impact. The prep All-American arrives with a résumé indicating an ability to bring speed, patience and some power to the top of the order. And Washington's Jenn Salling may not be the only former Olympian patrolling shortstop in the Pac-10 this season. Britt Vonk, a veteran of the Dutch Olympic team in 2008, arrives in Berkeley.
Statistically speaking: California is one of just two programs in the ACC, Big 12, Big East, Big Ten, Pac-10 and SEC that returns two pitchers who threw more than 150 innings and finished with ERAs of less than 2.00 (Maryland is the other, with Kerry Hickey and Kendra Knight).
Preseason question: How important was last season's super regional trip?
From a gut perspective, California's reaching a super regional was a big deal when it comes to looking ahead to the season at hand. The Bears, after all, were riding two pitchers in new roles, one a true freshman and the other a junior whose workload increased dramatically over effective lesser roles in the circle her first two seasons. They had a freshman behind the plate, a player in her first year of eligibility at third base, and youth around the diamond.
Going on the road to win a tough regional that also included Kentucky and host Ohio State, and then playing through the Georgia heat and humidity in a super regional just feels like part of a larger narrative, a step this core group needed to take on the path to something more.
And that narrative is a big reason why the Bears are here at No. 8, theoretically a vote of confidence for the program's first College World Series appearance since 2005. (That and a healthy dose of the statistical reality that no returning player in the nation was nearly as valuable to her team last season as Arioto, who drew more walks in her plate appearances -- 81 -- than she allowed in more than 200 innings in the circle -- 66 -- and nearly totaled more extra base hits than she allowed.)
But it's at least worth pointing out, if only as devil's advocate, that such a narrative doesn't have a lot of evidence behind it when it comes to the super-regional era.
Since the NCAA tournament shifted to include super regionals in 2005, 40 teams have played out a season after losing in a super regional the previous spring. Of that group, only eight teams took the next step and advanced to the World Series in the subsequent season. As narratives go, a 20 percent success rate isn't the kind of thing on which you want to bet the farm.
May, 16, 2009
05/16/09
12:13
AM ET
AHMERST, Mass. -- It didn't rain on the first day of the regional in Amherst, Mass. In retrospect, perhaps that should have been the first indication that something was amiss.
If not turned upside down, the NCAA tournament bracket was at least shaken like the proverbial Polaroid picture.
Bradley entered with a losing record and left with a win against No. 15 DePaul.
Texas State showed no mercy in run-ruling No. 12 Northwestern in five innings.
No. 7 Oklahoma remains locked in a 0-0 tie with North Dakota State in a game that will resume Saturday in the 10th inning -- and with the Sooners looking for just their second hit.
Oklahoma State got its third shutout in four games -- but just its fifth in the past 28 games -- to knock off No. 16 Florida State.
Hey ya, indeed.
• Bradley's stunner against DePaul may go down in the history books as a bigger upset than it was on the day, if that makes any sense.
It took Friday's win just to get Bradley to .500 on the season. After finishing sixth in the Missouri Valley Conference during the regular season, Bradley secured the league's automatic bid by beating the first-, second- and third-place finishers in the span of about 48 hours in the conference tournament. But senior pitcher Ashley Birdsong pitched all 21 innings in those games, and she's the reason the game was a bigger upset in the big picture than perhaps it was on the field at Missouri.
If those two played 10 times, DePaul would likely win nine against a team that hit just .222 on the season. But with a pitcher like Birdsong, who beat Northwestern with 14 strikeouts last season and quietly put together four stellar years, the odds on any given day probably feel a lot closer to 50-50.
Now the Braves get another break, playing either Illinois or Missouri in a winner's-bracket game Saturday, minutes after those teams play out a postponed game from Friday.
• Full credit to Texas State, which in its demolition of Northwestern exacted a sweet measure of revenge for being left out of the NCAA tournament a year ago. The Bobcats were far and away the most patient team in the Southland Conference this season, drawing better than three walks per game and leading the league in on-base percentage despite hitting a modest .263, good for just fourth in the league.
That was a profile that spelled ready-made disaster for Northwestern and struggling ace Lauren Delaney.
Delaney has thrown a lot of innings with a lot of grit in her first three seasons in Evanston, the past two as essentially the team's only option in the circle because of injuries and inexperience elsewhere. But something clearly isn't working right now. She walked 11 in five innings against Texas State and is on the verge of a 200-walk season with another 50-plus hit batters.
I didn't see the game, so I have no idea whether the Wildcats were ripping line drives into gloves and launching shots to the warning track. But since a 7-6 loss in the opener of a pivotal two-game set against Ohio State in late April, they've scored just six runs in four games (and even that's mostly because of five runs in two games against Wisconsin). At a time when Delaney needs all the run support she can get, everything just seems to be going wrong.
You can't really say Saturday's elimination game against Louisiana-Lafayette is a gut-check game -- because a team could play a great game against Lafayette's pitching and still come away with a loss -- but a two-and-out stay in regionals would be a shocking end to a season that seemed to hold championship possibilities.
• Putting aside upsets for a minute, here are four folks who shone particularly brightly Friday.
Christie Hamilton, Georgia: Hamilton moved the Bulldogs to within a game of a super regional by shutting out a North Carolina team that scored 21 runs in its opening game.
Hillary Bach, Arizona State: It wasn't quite a page out of Katie Burkhart's book with just two strikeouts, but Bach's five-hit shutout probably looked plenty sparkling to the Sun Devils. Whatever Bach's ceiling is, her ability to handle a full load in the Pac-10 as a freshman -- especially with this year's hit-happy league -- says a lot about her toughness.
Sanoe Kekahuna, California: Arizona's Stacie Chambers launched another home run in her team's win, but on this day, Cal's Kekahuna was the power champ with two blasts in a win against Mississippi State.
Kristen Adkins, Georgia Tech: Presumably Georgia Tech's ace, Adkins instead played third while freshman Jessica Coan tossed up 11 strikeouts against Boston University, But it was Adkins' three-run home run that ensured the Yellow Jackets weren't in the upset mix.
UPDATE
Thanks to Georgia Tech for passing along more info on its lineup: With freshman shortstop Kelsi Weseman out of action after surgery earlier in the week to repair a broken arm, the Yellow Jackets had to shift regular third baseman Tiffany Johnson to shortstop. If Adkins pitches today, look for further shifts involving Jen Yee and Christy Jones.
January, 27, 2009
01/27/09
11:31
AM ET
What better team to fill the eighth position in the preseason top 20 than a school founded in 1885 that sits on 8,180 acres and plays in a softball conference with eight teams?
Hey, it was that or a joke about Fibonacci numbers. Although come to think of it, these guys probably know their way around those as well.

No. 8: Stanford
Last season: 49-15 (Lost to Texas A&M in the College Station Super Regional)
Preseason talking point:
When Arizona State freshman Krista Donnenwirth ripped a pitch over the fence in the third inning of the opening game of the Women's College World Series finals against Texas A&M, the blast seemed to confirm that the Sun Devils simply had too much going for them for any opponent to stop.
But capping off a banner debut season, Donnenwirth's hitting heroics also offered a reminder that it's difficult to win a title without freshman production. It's so difficult that no team has done it this century.
Lucky for Stanford, the Cardinal add one of the country's highest-regarded freshman position players to the returning core of their run production. Infielder Ashley Hansen -- the only high school invitee to the selection camp for last year's United States Olympic team -- joins Alissa Haber, Rosey Neill and Maddy Coon, as well as one of the best pitchers in the country in Missy Penna.
Take a look at freshmen position players who started at least 75 percent of a team's games in its championship season. I'm including each player's gross production average, a more accurate measure of a batter's overall offensive production than OPS (to find GPA, multiply on-base percentage by 1.8, add slugging percentage and divide by four to produce a number scaled like batting average … .300 is very good, .400 is terrific, etc.).
2008 Arizona State Sun Devils
Krista Donnenwirth -- 69 starts, .347 GPA
Lesley Rogers -- 55 starts, .288 GPA
2007 Arizona Wildcats
K'Lee Arredondo -- 65 starts, .234 GPA
2006 Arizona Wildcats
Laine Roth -- 65 starts, .261 GPA
Jenae Leles -- 65 starts, .258 GPA
2005 Michigan Wolverines
Samantha Findlay -- 72 starts, .402 GPA
Alessandra Giampaolo -- 72 starts, .302 GPA
2004 UCLA Bruins
Lisa Dodd -- 55 starts, .251 GPA
2003 UCLA Bruins
Emily Zaplatosch -- 57 starts, .333 GPA
Caitlin Benyi -- 61 starts, .281 GPA
Andrea Duran -- 61 starts, .241 GPA
2002 California Bears
Kaleo Eldredge -- 75 starts, .252 GPA
Jessica Pamanian -- 75 starts, .231 GPA
Chelsea Spencer -- 75 starts, .221 GPA
2001 Arizona Wildcats
Leneah Manuma -- 47 starts, .417 GPA
Mackenzie Vandergeest -- 41 starts, .390 GPA
2000 Oklahoma Sooners*
Kellie Braitsch -- 70 starts, .301 GPA
Leah Gulla -- 71 starts, 68 .251 GPA
*The available statistics for Oklahoma's 2000 season didn't include enough information to precisely calculate OBP, so the GPA figures are an estimate.
Only Arizona in 2007 didn't get season-long run production from a freshman starter. And Arredondo, a natural shortstop playing outfield for the first time that season, provided a key glove for the Wildcats and a much-improved .253 GPA in Pac-10 play, when many freshmen tend to wilt. And even players like Cal's Chelsea Spencer found ways to make their presence felt -- in Spencer's case, with a home run in a 1-0 WCWS win against Florida State.
All of which could be good news for Stanford, as it looks to return to Oklahoma City for the third time overall and the first time since 2004. Add five other freshmen to Hansen and the Cardinal core, including speedy outfielder and potential opening day starter Sarah Hassman, and Stanford may have the ideal mix of youth and experience.
January, 20, 2009
01/20/09
12:47
PM ET
Moving on in our softball preseason top 20 to No. 13, the number of original states and thus a fitting place to alight on the day when executive power is peacefully transferred in the nation's capital.
13. Cal
Last season: 43-27 (Lost to Florida in the Gainesville Super Regional)
Preseason talking point: California has been to a World Series more recently than the New York Yankees, so it's not as if the 2002 national champion and one-time Oklahoma City regular is in a sad state of affairs. But after stumbling off the pace in the Pac-10 recently, the Bears may be back in top form in 2009.
[+] Enlarge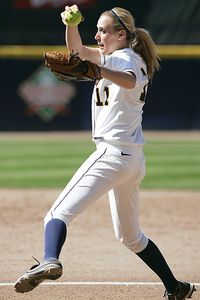 Kelley Cox for ESPN.comMarissa Drewrey should improve this season on already impressive pitching stats.
Speaking of top form, if Marissa Drewrey wasn't the most improved pitcher in the country last season, she was at least in the discussion. Consider the upward trends in her numbers in Pac-10 play from her freshman to sophomore seasons:
2007: 4.97 ERA, 1.28 FIP, 38 IP, 31 BB, 24 K
2008: 2.81 ERA, 0.24 FIP, 99.2 IP, 55 BB, 80 K
Suppose Drewrey plateaus at that sophomore level or even suffers a slight regression -- and there's no reason to think either scenario is a more likely outlook than continued improvement -- that's still a pitching line that could accompany a good offensive team's trek to double-digit Pac-10 wins and a possible trip to the World Series. And despite finishing next-to-last in the Pac-10 in batting average last season, this lineup has the potential to be that good.
Cal's subpar batting average aside (.200 in league games), the team actually ranked a more respectable fifth in runs per game in Pac-10 play. A young Bears lineup did a lot of things at the plate that suggest there's more to come, including tying for third in the conference in home runs and drawing more walks than Washington, Oregon State and Oregon.
Along those lines, there are 18 returning players in the Pac-10 who slugged at least .400 in conference play last season. League heavyweights Arizona, Arizona State, Stanford and UCLA horde 14 of those sluggers, but Cal has two of its own in Gina Leomiti and Bernice Masaniai. And even if standout then-freshman Valerie Arioto took a few lumps once conference play began, hitting .224 in conference and .368 out of conference, she still accumulated more total bases (24) against Pac-10 pitching than all but two of the 15 players immediately ahead of her in batting average.
All of which makes it easier to tout the additions of Texas transfer Shannon Thomas and a star-studded freshman class of twins Jamia and Elia Reid and Frani Echavarria. Cal needs those newcomers to only complement its current core, not save it.
November, 19, 2008
11/19/08
5:00
PM ET
I can't decide if Wednesday's Under-20 World Cup opener for the United States left me more eager than ever to see what unfolds in the final three weekends of the NCAA tournament or more wary of being disappointed.
On one hand, the American side's 3-0 win against France in Chillan, Chile, displayed how much individual skill in the college ranks continues to grow.
The goals were fabulous -- Sydney Leroux's two finishes took a backseat only to the goal she set up by sending a cross on a rope from near the end line that fellow Pac-10 standout Alex Morgan, without a hint of hesitation, volleyed past the helpless keeper. But even some of the misses were jaw-droppers, such as Morgan's blast off the post from several steps beyond the 18-yard box in the opening minutes. And Alyssa Naeher's work in goal in the second half was spectacular in its own right, including a full-extension save on a ripped shot slicing toward the far post from Melissa Plaza that was as good as anything I've seen all fall (even though it's almost summer in Chile).
It's not that the game was perfect from either an American perspective or from an execution standpoint. On the latter front, it looked at times like a typical tournament opener, especially in the number of overly hopeful passes scuttling possession.
And while Tony DiCicco's team showed the kind of quick-strike firepower that will keep opposing coaches awake late into the night, it split possession nearly 50-50 with a French side that isn't among the tournament favorites. There are no complaints about the result in this one, but it will be interesting to see if players such as Ingrid Wells and Becky Edwards become more visible factors in the middle of the field in the games to come.
At the same time, watching all of it unfold made it difficult not to think about the talent that won't be on the field stateside this weekend in the third round of the NCAA tournament. Eight of the Americans who saw the field against France left college teams in the United States that are still in action (and watching Cal's Morgan rip shot after shot and Penn State's Naeher make big save after big save, who knows how many other college teams might still be active had they been at full strength in the first two rounds).
If the United States manages to advance to the championship match at the U-20 World Cup, there's going to be a remarkable amount of talent on the field in Chile on Dec. 7. Hopefully there's enough talent left over for the college game to put its best foot forward on the same day at its championship match in Cary, N.C.