Category archive:

Texas Longhorns
December, 20, 2009
12/20/09
1:41
AM ET
TAMPA, Fla. -- For the Texas Longhorns, the feeling -- and the scoreboard -- were all too familiar: the two-set lead in a women's volleyball tournament environs, the one-set-away-from-victory mentality and the reminder that -- as in their loss to Stanford last year in an NCAA tournament semifinal -- even an early lead doesn't guarantee a win.
The Longhorns started strong in the national championship match against the two-time defending champion, undefeated Penn State, at the St. Pete Times Forum on Saturday night. Texas established a rhythmic offense and notched 16 kills in the first set to Penn State's 11. The second set was even more lopsided, with the Longhorns totaling 17 kills and a .500 attack percentage, while the Nittany Lions managed only 10 kills and a .375 attack percentage.
[+] Enlarge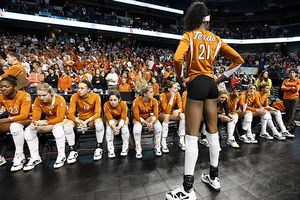 AP Photo/Mike Carlson Destinee Hooker and the Longhorns lost a 2-0 lead to Penn State in the championship match.
"Going into the locker room up 2-0, you obviously have to know that Penn State is No. 1 for a reason," Texas junior outside hitter Juliann Faucette said. "You can't let up, you can't relax, and they definitely fought back and made some huge adjustments."
The Nittany Lions' defense broke through in the third and fourth sets, stopping several Texas kill attempts and forcing long rallies that drew exclamations from the crowd, before forcing a fifth set and winning it 15-13 -- and the national championship.
"It was just an all-out brawl and a really good match," Faucette said. "It swings both ways, and we just fell short."
They fell short in nearly the same way as a year ago. In the 2008 semifinal loss to Stanford, Texas led two sets to none before collapsing to force a fifth set -- which Texas also lost by two points, 13-15.
"The ball bounces kind of a funny way sometimes; I'm just extremely proud of our team," said coach Jerritt Elliott, whose Longhorns finished the season 29-2 (19-1 in the Big 12). "They fought the entire way, and they can walk away from this knowing the year that they had."
While they didn't tally the kind of numbers Penn State did, the Longhorns still finished as an inarguable success story.
"We've had a lot of firsts this year," said senior outside hitter and NCAA tournament MVP Destinee Hooker. "Winning the Big 12 outright, winning in Nebraska [3-1 in the Omaha Regional final] and actually beating Nebraska in front of 10,000 people in Omaha. It's just a blessing."
Hooker ended her Texas career as the Longhorns' postseason leader in kills (295), attack attempts (638) and service aces (28). Her total of 122 postseason kills this year is a school record, a number that also led all players in this year's tournament.
All-tournament team
Libero: Hailey Cowles, Minnesota
Middle blocker: Arielle Wilson, Penn State
Setter: Alisha Glass, Penn State
Setter: Ashley Engle, Texas
Outside hitter: Megan Hodge, Penn State
Outside hitter: Juliann Faucette, Texas
Outside hitter: Destinee Hooker, Texas (MVP)
May, 18, 2009
05/18/09
2:28
PM ET
It's conference tournament time, when bubbles are burst and the field is whittled to 64. Three teams wrapped up bids in the past week, as UC Irvine clinched the regular-season title in the Big West while Army and Bethune-Cookman took home conference tournament titles. Most of the field is set, but what's in store for the bubble teams and the long shots as Selection Monday approaches?
National Seeds
This seemed a lot clearer last week, before Rice and Georgia Tech struggled over the weekend. The top six are still solid, and the last two spots boil down to two separate debates.
First, who gets the second spot in the ACC. Georgia Tech has a gaudy RPI but finished fourth in the conference, while Florida State took the regular-season title with a less impressive RPI. The Seminoles can make this a moot point if they win the ACC tournament, as that should wrap up a national seed.
This will sound like a broken record, but the other debate is in the SEC. LSU has most likely already wrapped up one of the spots, so it comes down to Ole Miss and Florida. This one could be settled in Hoover, as the Rebels and Gators are on the same side of the bracket. For now, the Ole Miss series win at Florida is enough to pick up the last national seed.
Lurking in the shadows is Rice -- the Owls need a lot of help (both Florida and Ole Miss losing early in the SEC tournament), but a deep run in the Conference USA tournament puts them back in the discussion.
National seeds: No. 1 Texas, No. 2 UC Irvine, No. 3 Arizona State, No. 4 LSU, No. 5 North Carolina, No. 6 Cal State Fullerton, No. 7 Georgia Tech and No. 8 Ole Miss.
The Rest of the Top 16
For the past several weeks, TCU has been a traveling No. 1 seed -- at this point, the Horned Frogs' success (as well as the late-season slump by Texas A&M) is enough to land Fort Worth the third hosting spot in Texas.
That doesn't mean the committee won't still be on the lookout for a "northern" host. Louisville has a better résumé than Ohio State, including a midweek sweep of the Buckeyes, and could merit a No. 1 seed if it sweeps through the Big East tournament.
East Carolina moves into a hosting role with a strong finish and the regular-season Conference USA crown. On the heels of sweeping Texas A&M, Oklahoma garners the second home regional from the Big 12.
The other eight hosts (in alphabetical order): Clemson, East Carolina, Florida, Florida State, Louisville, Oklahoma, Rice and TCU.
And Everyone Else
It really seems as if the bubble is a lot smaller than normal this season. College of Charleston looks to be set up for disappointment again, as it slumped to finish fifth in the Southern Conference. None of the other "bubble out" teams has much to complain about if it doesn't make the field. There are usually three or four upsets in conference tournaments that shake things up, so of the last five in, Western Carolina and Baylor have the least to worry about.
Last five in (least secure first): BYU, Troy, Southeastern Louisiana, Baylor and Western Carolina.
First nine out (best chance first): College of Charleston, Duke, Stanford, New Mexico, UC Riverside, Hawaii, Tulane, Oklahoma State and Auburn.
The Field of 64
National seed regionals are shown next to the regional that they match up with for super regionals:
Austin Regional
No. 1 Texas
Texas State
Oregon State
Wagner
Forth Worth Regional
TCU
Kansas State
Dallas Baptist
Missouri State
Oxford Regional
No. 8 Ole Miss
Middle Tennessee
Baylor
Eastern Illinois
Tallahassee Regional
Florida State
Georgia Southern
Troy
Bethune-Cookman
Baton Rouge Regional
No. 4 LSU
Ohio State
Southeastern Louisiana
Southern
Houston Regional
Rice
Texas A&M
BYU
Dartmouth
Chapel Hill Regional
No. 5 North Carolina
Elon
George Mason
Binghamton
Greenville Regional
East Carolina
Virginia
Vanderbilt
Manhattan
Tempe Regional
No. 3 Arizona State
Minnesota
Cal Poly
Gonzaga
Norman Regional
Oklahoma
Arkansas
Washington State
Oral Roberts
Fullerton Regional
No. 6 Cal State Fullerton
Coastal Carolina
San Diego State
San Jose State
Gainesville Regional
Florida
Miami
Illinois
Jacksonville
Irvine Regional
No. 2 UC Irvine
Missouri
Boston College
Army
Clemson Regional
Clemson
South Carolina
Western Carolina
Kent State
Atlanta Regional
No. 7 Georgia Tech
Georgia
Kansas
Illinois-Chicago
Louisville Regional
Alabama
Louisville
Western Kentucky
Dayton
May, 11, 2009
05/11/09
11:41
AM ET
Not a lot of movement this week in my baseball regional projections, as most of the teams that were in either/or situations last week performed about the same as their closest competitors. Only the Southern Conference picked up a spot, as College of Charleston (riding a 10-game winning streak) moved into the field. That bid was at the expense of South Florida, on the assumption that a streaking Louisville would win the Big East's lone bid. Loyola Marymount, which has secured a spot in the WCC championship series against Gonzaga, moved into the field in place of slumping San Diego.
National Seeds
Not a great week for the top SEC teams, and the top teams on the West Coast are all red-hot. This will likely change before Selection Monday, but for now there are three national seeds from out West and just one from the SEC, with Ole Miss and Florida knocking on the door if any of the others stumble down the stretch. Since the selection committee can't match those teams from the Pac-10 and Big West up in the super regionals, they'll likely put all three in the same side of the bracket in Omaha.
National seeds: No. 1 Texas, No. 2 North Carolina, No. 3 UC Irvine, No. 4 LSU, No. 5 Rice, No. 6 Arizona State, No. 7 Cal State Fullerton and No. 8 Georgia Tech.
The Rest of the Top 16
The second tier of regional hosts is pretty well set at this point. Miami and Georgia are both struggling and, in addition to needing to be nearly perfect down the stretch, need others to falter to get back into the discussion. The two teams closest to hosting right now that aren't in the top 16 are a surging Alabama (second in the SEC) and Oklahoma (which could pass Texas A&M in this discussion with a strong showing in their upcoming series).
There's a new name under discussion for a hosting spot from the "northern" part of the country -- on the heels of beating Ohio State twice in the past week, Louisville staked its claim for a home regional. The Cardinals hosted a Super Regional in 2007 and drew more than 12,000 fans for the three-game set against Oklahoma State. TCU once again falls victim to the committee's desire for geographical balance (and the strength of Texas baseball this year) and gets sent packing as a No. 1 seed.
The other eight hosts (in alphabetical order): Arkansas, Clemson, Florida, Florida State, Louisville, Ole Miss, Texas A&M and Virginia.
And Everyone Else
Oklahoma State is all but out of the Big 12 tournament, while Auburn has been eliminated from contention for the SEC tournament (and Kentucky needs some help). With enough strong teams in the mid-major conferences, that should be enough to knock these three off the bubble despite their strong RPI rankings. All eight teams that make the SEC tournament will be in the NCAA field, while Duke and Texas Tech will be the only teams to make their conference tournament and miss the regionals from the ACC and Big 12.
The Southern Conference gets a fourth team again with all of the top contenders playing well down the stretch. The Big Ten stays at three teams (with Illinois on the bubble), while Conference USA (two bids) and the Pac-10 (three bids) remain well below their historical norm.
Two teams that have appeared in every projection up to this point fell out due to recent struggles. San Diego will not be in the WCC championship series, so Loyola Marymount jumped over it and into the field. Hawaii has also played poorly recently -- the Rainbows host the WAC tournament, but for now that bid will go to first-place San Jose State.
Last Nine In (least secure first): Loyola Marymount, Baylor, Western Carolina, Washington State, Illinois, Dallas Baptist, Southeastern Louisiana, College of Charleston and Kansas.
First Nine Out (best chance first): Kentucky, Hawaii, Duke, BYU, San Diego, Troy, New Mexico, Oklahoma State and UC Santa Barbara.
The Field of 64
National seed regionals are shown next to the regional that they match up with for super regionals:
Austin Regional
No. 1 Texas
Oregon State
Dallas Baptist
Sacred Heart
Fayetteville Regional
Arkansas
Oklahoma
Boston College
Oral Roberts
Atlanta Regional
No. 8 Georgia Tech
Georgia
Western Carolina
Manhattan
Gainesville Regional
Florida
Miami
College of Charleston
Bethune-Cookman
Baton Rouge Regional
No. 4 LSU
Missouri
Southeastern Louisiana
Southern
Tallahassee Regional
Florida State
Alabama
Illinois
Jacksonville
Houston Regional
No. 5 Rice
Texas State
Baylor
Dartmouth
College Station Regional
Texas A&M
Minnesota
Washington State
Eastern Illinois
Irvine Regional
No. 3 UC Irvine
Ohio State
San Diego State
San Jose State
Charlottesville Regional
Virginia
East Carolina
Gonzaga
George Mason
Tempe Regional
No. 6 Arizona State
Cal Poly
Kansas
Illinois-Chicago
Clemson Regional
Clemson
Coastal Carolina
South Carolina
Binghamton
Chapel Hill Regional
No. 2 North Carolina
Elon
Vanderbilt
Indiana State
Louisville Regional
TCU
Louisville
Western Kentucky
Dayton
Fullerton Regional
No. 7 Cal State Fullerton
Kansas State
Loyola Marymount
Army
Oxford Regional
Ole Miss
Georgia Southern
Middle Tennessee
Kent State