Category archive:

USC Trojans
December, 3, 2009
12/03/09
11:37
AM ET
Amassing a 98-7 record over the course of a collegiate career is an accomplishment in itself for any student-athlete. But that record isn't enough for the seniors on Southern California's men's water polo team.
As their final season as Trojans comes to an end this weekend, the senior class, led by Olympian J.W. Krumpholz, will try to become back-to-back NCAA champions. With two wins in the NCAA tournament, the class would reach the 100-win mark and secure a second straight national championship.
Three seniors -- Krumpholz, Shea Buckner and Matt Sagehorn -- were recently named to the All-Mountain Pacific Sports Federation teams. Krumpholz, who won a silver medal as a member of the 2008 U.S. Olympic water polo team, was named to his second straight All-MPSF first team. Buckney and Sagehorn were named to the All-MPSF second team and honorable-mention list, respectively.
[+] Enlarge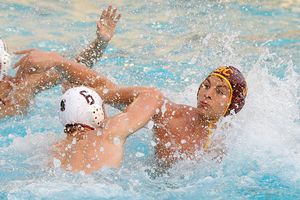 Courtesy of USC Sports InformationJ.W. Krumpholz and USC hope to repeat as men's water polo national champions on Sunday.
"We have tough players that hate to lose," coach Jovan Vavic said. "J.W. has really carried the team. His work ethic is absolutely outstanding."
The Trojans begin their quest to repeat as NCAA champions Saturday against Princeton. The four-team NCAA tournament also includes UCLA and Loyola Marymount. All games will take place in Princeton, N.J.
The top-seeded Trojans finished the season 24-2 (8-0 MPSF) and are looking for their third championship in the past five years.
The Trojans' success has not come without adversity. Last year, redshirt junior Kyle Wooten was seriously injured while diving into a pool.
"He was goofing around and landed awkwardly," Vavic said. "Luckily he didn't get paralyzed, but it was very close."
At the time of the accident, Vavic was recruiting in Europe, but all of Wooten's teammates went to the hospital to show their support. Wooten is now back with the team, but is primarily a leader outside the pool.
"Kyle is one of those guys who helps the team with organizing and, in some ways, is the emotional leader."
As his team prepares to defend its championship, Vavic's biggest concern is complacency.
"When you win so many games, it is difficult to keep them hungry," Vavic said. "Sometimes we didn't work hard enough and we just went through the motion, and I didn't allow that. There's nothing that's a sub for great desire."
Vavic attributes his recruiting successes to the location of the university. Southern California, especially Orange County, is loaded with talent, Vavic said. Of the 41 athletes on the current roster, 33 are from California.
USC has the experience of having played each of the teams in the NCAA tournament in the regular season. The Trojans beat Princeton 14-3 on Oct. 9 and beat Loyola Marymount 11-6 on Sept. 6.
The Trojans split their four regular-season meetings with rival UCLA; three of the four games were won by a one-goal margin. The Bruins won the most recent matchup 10-6 in the MPSF semifinals on Nov. 28.
"The senior class is special and has been carrying the team the last three years," Vavic said.
And with two more wins, the Trojans' senior class will solidify their spot in water polo history.
September, 27, 2009
09/27/09
9:36
PM ET
USC 2, Santa Clara 0
Bracket willing, this hopefully wasn't a preview of anything short of a Sweet 16 game in the NCAA tournament (three years after the two teams played a first-round game in one of the least fair draws in recent memory). There are reasons to believe so for both the winner and loser.
For USC, the win puts a punctuation mark on a six-game winning streak spanning the past three weekends. The streak, which also includes road wins against Oklahoma State and Oklahoma (the latter more impressive after the Sooners took out Texas A&M on Sunday), eases the sting of a 1-3-0 start that dropped the Women of Troy from No. 8 in the preseason to out of the Top 25.
Adjusting to life after Amy Rodriguez and Ashley Nick was always going to be a challenge, and losing junior Ashli Sandoval, last season's leading point-getter, to a torn ACL after five games this fall presented yet another challenge. But with seven goals from six players in the past four games, they're finding ways to get the ball in the back of the net as Pac-10 play approaches.
On the other side, the loss ended a fantastic run for the Broncos that included wins at Georgetown, against Colorado on a neutral field and at home against Notre Dame and Purdue. But it also marked the third game in a row on the field for Amanda Poach.
Like Jordan Angeli, Poach missed the past two seasons, first with an ACL injury and last year with a hip injury. In the first practice this season, she tore cartilage in her knee and needed to have 80 to 90 percent of her meniscus removed. She hadn't resumed practicing when I talked to Santa Clara coach Jerry Smith almost four weeks ago, still bothered by pain in the knee, and he made it clear that there was a very real chance she wouldn't ever be able to get back on the field.
He was also clear about exactly how much of a loss that would have been.
"Jordan's our best leader; Amanda's our most talented player," Smith said. "And that's not close. Amanda is so talented. She ranks right up there with the most talented kids I've ever coached. She is super, super talented. Healthy, I would put everything I had on her making the full national team, let alone a pro league."
Obviously, it's going to take some time for Poach, who played for the United States in the 2006 Under-20 World Cup, to get back up to speed. She played just 25 minutes against USC and hasn't hit 50 minutes in her first three appearances. But come November, she'll be nice to have.
"If we've got the team we have with Jordan and Amanda, we could probably beat anybody," Smith said. "Doesn't mean we're the best team; we just can beat anybody."
Rutgers 1, Villanova 1
Despite losing four key players to season-ending injuries already this season, and playing Sunday night without regular starter Rheanne Sleiman (ankle injury), Rutgers is 8-1-2 overall this season, ranked No. 17 in the nation and tied with St. John's for the second-best record in the Big East at 2-0-1, behind only Notre Dame.
So you might have thought Scarlet Knights coach Glenn Crooks would have been relatively content with the draw against Villanova, earned on Karla Schacher's second-half equalizer from a very tough angle. And while Crooks did express satisfaction with how the team has dealt with its adversity, his agitation at the result of the day offered a glimpse at why the team has weathered the ills.
As Crooks put it: "You can look at our record and say, 'Yeah, great, we're ranked, we're in pretty good position in the Big East.' But for us, we've got to deal with those moments better. There's moments in every match -- and we lost in San Diego because we didn't deal with those moments very well and we tied tonight because we didn't deal with those moments very well."