Category archive:

Texas State Bobcats
May, 16, 2009
05/16/09
12:13
AM ET
AHMERST, Mass. -- It didn't rain on the first day of the regional in Amherst, Mass. In retrospect, perhaps that should have been the first indication that something was amiss.
If not turned upside down, the NCAA tournament bracket was at least shaken like the proverbial Polaroid picture.
Bradley entered with a losing record and left with a win against No. 15 DePaul.
Texas State showed no mercy in run-ruling No. 12 Northwestern in five innings.
No. 7 Oklahoma remains locked in a 0-0 tie with North Dakota State in a game that will resume Saturday in the 10th inning -- and with the Sooners looking for just their second hit.
Oklahoma State got its third shutout in four games -- but just its fifth in the past 28 games -- to knock off No. 16 Florida State.
Hey ya, indeed.
• Bradley's stunner against DePaul may go down in the history books as a bigger upset than it was on the day, if that makes any sense.
It took Friday's win just to get Bradley to .500 on the season. After finishing sixth in the Missouri Valley Conference during the regular season, Bradley secured the league's automatic bid by beating the first-, second- and third-place finishers in the span of about 48 hours in the conference tournament. But senior pitcher Ashley Birdsong pitched all 21 innings in those games, and she's the reason the game was a bigger upset in the big picture than perhaps it was on the field at Missouri.
If those two played 10 times, DePaul would likely win nine against a team that hit just .222 on the season. But with a pitcher like Birdsong, who beat Northwestern with 14 strikeouts last season and quietly put together four stellar years, the odds on any given day probably feel a lot closer to 50-50.
Now the Braves get another break, playing either Illinois or Missouri in a winner's-bracket game Saturday, minutes after those teams play out a postponed game from Friday.
• Full credit to Texas State, which in its demolition of Northwestern exacted a sweet measure of revenge for being left out of the NCAA tournament a year ago. The Bobcats were far and away the most patient team in the Southland Conference this season, drawing better than three walks per game and leading the league in on-base percentage despite hitting a modest .263, good for just fourth in the league.
That was a profile that spelled ready-made disaster for Northwestern and struggling ace Lauren Delaney.
Delaney has thrown a lot of innings with a lot of grit in her first three seasons in Evanston, the past two as essentially the team's only option in the circle because of injuries and inexperience elsewhere. But something clearly isn't working right now. She walked 11 in five innings against Texas State and is on the verge of a 200-walk season with another 50-plus hit batters.
I didn't see the game, so I have no idea whether the Wildcats were ripping line drives into gloves and launching shots to the warning track. But since a 7-6 loss in the opener of a pivotal two-game set against Ohio State in late April, they've scored just six runs in four games (and even that's mostly because of five runs in two games against Wisconsin). At a time when Delaney needs all the run support she can get, everything just seems to be going wrong.
You can't really say Saturday's elimination game against Louisiana-Lafayette is a gut-check game -- because a team could play a great game against Lafayette's pitching and still come away with a loss -- but a two-and-out stay in regionals would be a shocking end to a season that seemed to hold championship possibilities.
• Putting aside upsets for a minute, here are four folks who shone particularly brightly Friday.
Christie Hamilton, Georgia: Hamilton moved the Bulldogs to within a game of a super regional by shutting out a North Carolina team that scored 21 runs in its opening game.
Hillary Bach, Arizona State: It wasn't quite a page out of Katie Burkhart's book with just two strikeouts, but Bach's five-hit shutout probably looked plenty sparkling to the Sun Devils. Whatever Bach's ceiling is, her ability to handle a full load in the Pac-10 as a freshman -- especially with this year's hit-happy league -- says a lot about her toughness.
Sanoe Kekahuna, California: Arizona's Stacie Chambers launched another home run in her team's win, but on this day, Cal's Kekahuna was the power champ with two blasts in a win against Mississippi State.
Kristen Adkins, Georgia Tech: Presumably Georgia Tech's ace, Adkins instead played third while freshman Jessica Coan tossed up 11 strikeouts against Boston University, But it was Adkins' three-run home run that ensured the Yellow Jackets weren't in the upset mix.
UPDATE
Thanks to Georgia Tech for passing along more info on its lineup: With freshman shortstop Kelsi Weseman out of action after surgery earlier in the week to repair a broken arm, the Yellow Jackets had to shift regular third baseman Tiffany Johnson to shortstop. If Adkins pitches today, look for further shifts involving Jen Yee and Christy Jones.
May, 5, 2009
05/05/09
9:44
AM ET
Following up on
Sunday's bracketology
, and since my opinion is just that, check out another take with the
projections over at Ultimate College Softball
.
Now on to a quick look at eight intriguing conference tournaments.
ACC
Host: NC State
Top seed: Georgia Tech
Top challenger: Florida State
Georgia Tech in Twitter length
It's a rare combination, but Georgia Tech is both a great power-hitting team and one of the surest fielding teams in the nation.
Sleeper: North Carolina
No real sleepers, only a sub-favorite. And speaking of defense, the Tar Heels had eight errors in six games against Florida State and Georgia Tech. They had 30 errors in their 48 other games.
NCAA spin
Georgia Tech, Florida State and North Carolina are safe, but there could be at least one NCAA seed on the line. With the weakest RPI of the three, Georgia Tech may need to win both the regular season and conference tournament to be among the top 16 in the national bracket.
AMERICA EAST
Host: Stony Brook
Top seed: Stony Brook
Top challenger: Boston University
Stony Brook in Twitter length
Stony Brook led the league in slugging, on-base percentage and ERA, and was second in fielding. It was also last in vulnerabilities.
Sleeper: Albany
Leah McIntosh threw four perfect games this season. Considering she has allowed just 77 hits and 17 walks in 149.1 innings, she also threw a lot of near-perfect games.
NCAA spin
It's a deep, balanced field of contenders, but this remains a one-bid league.
ATLANTIC SUN
Host: Stetson
Top seed: Campbell
Top challenger: Lipscomb
Campbell in Twitter length
Silenced against North Carolina and East Carolina, the offense put up 27 runs in six games against Lipscomb, Mercer and Florida Gulf Coast.
Sleeper: Mercer
The offense hasn't always been there, but with two of the league's top pitchers in Jenni Holtz and Lacey Richardson, the Bears are built to cause postseason headaches.
NCAA spin
Your guess is as good as mine. All three of the top teams are within a few places of each other in the 50-60 RPI range. Any team that doesn't get to the final is probably out. If two of the three make it to the final, the loser has to hope RPI counts.
BIG 12
Host: Neutral (Oklahoma City)
Top seed: Oklahoma
Top challenger: Missouri
Oklahoma in Twitter length
Although it came in limited at-bats, Krystle Huey's .400-plus on-base percentage in Big 12 play added another layer to a potent offense.
Sleeper: Texas
Texas and Oklahoma may have been separated by a full three wins in conference play, but they were also separated by all of about nine singles across the statistical spectrum. On paper, Texas is a team with upside.
NCAA spin
Oklahoma State needs at least a win to shore up its case. Everyone else looks safe, but a title for Oklahoma might help it host any potential super regional.
CONFERENCE USA
Host: UTEP
Top seed: Tulsa
Top challenger: East Carolina
Tulsa in Twitter length
Tulsa had the best on-base percentage in Conference USA, but in losing two of three at East Carolina, it walked just twice.
Sleeper: Central Florida
Throw out a loss at Florida (and at 3-0, it wasn't a bad loss in its own right) and UCF was 10-5 in its past 15 games. There's no Allison Kime around this season, but junior Ashleigh Cole has allowed just eight earned runs in her past 37.1 innings (1.50 ERA).
NCAA spin
If Tulsa and East Carolina get to the final, whichever team loses would have a very strong case for an at-large bid. The math may not be as kind to Marshall and Houston, but reaching the final is probably their only hope of at-large consideration.
HORIZON
Host: Butler (neutral field)
Top seed: Illinois-Chicago
Top challenger: Cleveland State
Illinois-Chicago in Twitter length
The Flames came alive at the plate after a tough early schedule. They don't hit for power, but they draw walks and move runners over.
Sleeper: Wright State
Without a senior on the roster, Wright State may just be setting the stage for next season, but behind Justine Shilt and Jamie Perkins, the Raiders hit the ball hard and field it well.
NCAA spin
Only the automatic bid will make it, which is why it's intriguing with so many contenders.
SEC
Host: Tennessee
Top seed: Florida
Top challenger: Alabama
Florida in Twitter length
The Gators averaged more than six runs per game in the regular season. Their opponents averaged fewer than six runners per game.
Sleeper: Tennessee
Not exactly going out on a limb with the home team, but the Lady Vols -- fourth in OPS, fifth in ERA and third in fielding percentage -- have the best balance outside of the big three.
NCAA spin
Auburn and Arkansas would cement their profiles with monumental upsets, but getting here was probably enough for both. A win against Alabama in a potential semifinal would solidify Georgia's case for a top-eight national seed.
SOUTHLAND
Host: McNeese State
Top seed: Texas State
Top challenger: McNeese State
Texas State in Twitter length
Texas State went 23-6 during the marathon conference season, losing just one series at home along the way -- against McNeese State.
Sleeper: Nicholls State
Only one pitcher worked more innings in conference play than Nicholls State junior Lacey Gros, who struck out 147 batters in 132 innings.
NCAA spin
Texas State has an at-large case if it doesn't win, but as it learned last season, that's a route that often leads to disappointment for mid-majors.
April, 14, 2009
04/14/09
2:27
PM ET
---
Everything is bigger in Texas, even the statements made by the little guy.
With a month left in the regular season, we already have an unofficial state champion in the Lone Star State. It's not Texas A&M, which played in the final series of the Women's College World Series last season, or Houston, which played in a super regional a year ago.
[+] Enlarge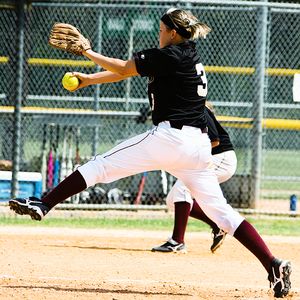 William Newton Chandler Hall's impressive freshman season is running under the radar.
It's not Texas, which held down second place in the Big 12 last week, or Baylor, which replaced the Longhorns this week as the team in closest pursuit of Missouri.
With a 4-1 record against those teams, it's Texas State. The Bobcats also split a Monday doubleheader against Texas Tech, winning the first game 5-1 and losing the nightcap 3-2 in nine innings, so they aren't perfect against in-state rivals (they lost a game to the Longhorns and one to UTEP, in addition to their Texas-based conference foes).
But beating the four highest-profile programs in the state is a feat.
Then again, it's not as if Texas State is new to success. Everyone (in this case constituting Bobcats fans and those, like me, who complain about these things incessantly) remembers it as perhaps the most onerous omission from last season's NCAA tournament field after dominating the Southland regular season before losing in the conference tournament.
But one reason that slight seemed especially unfair from afar was the difficulty the team was surely going to have replacing senior ace Ragan Blake (not to mention senior battery mate Ashton Peters). Returning pitcher Katie Garnett was a proven No. 2 behind Blake last season, but she pitches to contact (102 strikeouts in 218.2 career innings). Garnett is doing her job again this season, with 11 wins and a 1.90 ERA, but there aren't a lot of teams in the NCAA tournament whose staff leaders have strikeout rates along those lines.
Enter Chandler Hall.
The younger sister of current senior Taylor Hall, Chandler is quietly putting together one of the more impressive freshman seasons below the big-conference radar. She took the tough-luck loss against the Red Raiders on Monday, striking out 12 without allowing an earned run while going all nine innings, but she's been in the middle of a lot of the big wins. In fact, in the wins against Texas A&M, Houston and Baylor, she worked 17 innings and allowed just two earned runs and three walks against 12 strikeouts.
With 159 strikeouts in 157.2 innings, she misses bats and takes pressure off a defense that is in the bottom half of the Southland Conference in fielding percentage.
The Bobcats still have work to do to put Nicholls State and McNeese State away in conference, and have a pitching showdown looming between Chandler and Stephen F. Austin's Monika Covington the weekend after next. But they're once again in the mix.
Looking to the great space to the west of Texas …
Look which team is back in familiar territory atop the Pac-10. Granted, Arizona's standing has something to do with the fact that it's played the fewest games -- in the demolition derby that is league play this season, that's the best recipe for success. But there the Wildcats are, in first place, in large measure because of the scariest offense in the country (even if it's the scariest offense in the state by only a small margin), but also because their pitchers are giving those bats a chance to outscore the opposition.
Arizona is going to have to make its run at Oklahoma City without the kind of ace it's used to having. But working within that new paradigm, the fact that the Wildcats are first in the Pac-10 in walk rate may be more important than the fact that they're seventh in team ERA.
Florida ace Stacey Nelson made an interesting point this weekend when I inarticulately butchered a question about her improved walk rate this season (yeah, that walk rate last season really slowed her up en route to All-American honors). Showing the same kind of poise she uses to get out of jams on the field, she noted that despite her improved rate, walks aren't the worst thing in the world for her because they still mean the offense isn't hitting the ball.
In Nelson's case, that's true. Not only does she have an elite defense behind her, she can get herself out of trouble with a strikeout rate near the top of the national charts.
That's not the case for Arizona's pitchers. The lower the strikeout rate, the more balls that are in play and the greater the likelihood that the runners who take first via walks will come around to score. So when Sarah Akamine has just two walks in 19 innings in conference play -- and 19 in 106.1 innings overall -- it's a big deal.
As long as Arizona is giving up one-run doubles and two-run home runs instead of two-run doubles and three-run home runs, its offense is going to come up with a lot of wins. All of which will be put to the test as Mike Candrea's team continues a 13-game stretch in which it plays only Arizona State, Cal, Stanford, UCLA and Washington.